Everyone dreams of achieving that perfect toned body but honestly, how many of us have the time to achieve or even maintain that?
I have always struggled a little bit with my body due to the fact that I am a hard gainer, i.e. someone who does not gain weight easily no matter how much I eat. Sounds like a blessing right? Not so much when you are trying to put on weight to avoid looking all sickly.
Fast forward to recent years and I have managed to get my weight up with a combination of high-calorie diet but although I did get bigger, I was always losing definition during the bulking phase and just like everyone else, the mid-abdominal region seems to be the first area to show signs of weight gain. It was really tough trying to balance between weight gain and making sure I wasn't getting fat in places I do not want.
CoolSculpting by Zeltiq was introduced to me by Dr Terence Tan as a no downtime, non-invasive fat reduction treatment. Contrary to what many people think, CoolSculpting isn't a treatment just for people who are bulky or overweight. In fact, it isn't a weight loss solution but a body contouring solution. It is also for people with healthy weight like me who struggles with stubborn fat in the abdominal area which is getting in my way of achieving more toned and well-defined abs. CoolSculpting uses the concept of cryolipolysis to freeze and destroy unwanted fat cells. The treatment removes 20-25% of fat cells in the treated area each time. The body will then remove and pass out the dead fat cells naturally. And because our body is unable to produce any new fat cells after five years of age, the fat cells that die after fat freezing will be gone forever. That is why CoolSculpting is used to remove unwanted fat in the stubborn area, which cannot be removed through spot toning exercises. No downtime and permanent results? I jumped at the chance of achieving my body goal with Dr Terence Tan's help.
The applicator that he prescribed me was the latest CoolAdvantage applicator, which reduces treatment time by nearly half. Treatment time with traditional CoolSculpting applicators takes 60 mins but this has been reduced to 35 mins with the CoolAdvantage applicator. In my case, the CoolAdvantage treatment was for my left and right abdominals, which would normally take about 2 hours with the old applicators. But instead, treatment time for me took just slightly over an hour. The new applicator also features an enhanced cup design for improved patient comfort as well as a larger cooling area to treat a bigger area. To help patients save even more time, Halley Medical Aesthetics also offers DualSculpting, which is the use of two CoolSculpting machines in tandem to reduce treatment time by half.
What I love about Dr Terence Tan is that he is always really patient when it comes to explaining the process to me and telling me what to expect even before the treatment. That always puts me at ease knowing that I am in good hands and that the good doctor knows what he is talking about.
Using the CoolAdvantage templates, he carefully marked out the areas that required treatments. Right after that, the clinic assistant applied gel pads onto the treatment area to protect the skin during the treatment itself.
Although the treatment was slightly uncomfortable for the first 10 minutes, mainly due to the fact that I do not have a lot of body fats in the first place and that my aim was to tone and sculpt. But as time passed, I found it getting increasingly comfortable and I was just using my phone without feeling any discomfort. Halfway through the process, Dr Terence Tan offered me a drink containing Myotein, which is a powder form whey protein concentrate. He explained that this is to help me in my weight training efforts as Myotein is designed for people who are trying to gain muscle and it also helps as a meal replacement protein shake or supplement for simple muscle recovery after a workout. Best of all, Myotein can be mixed into any foods or beverages without altering the original taste.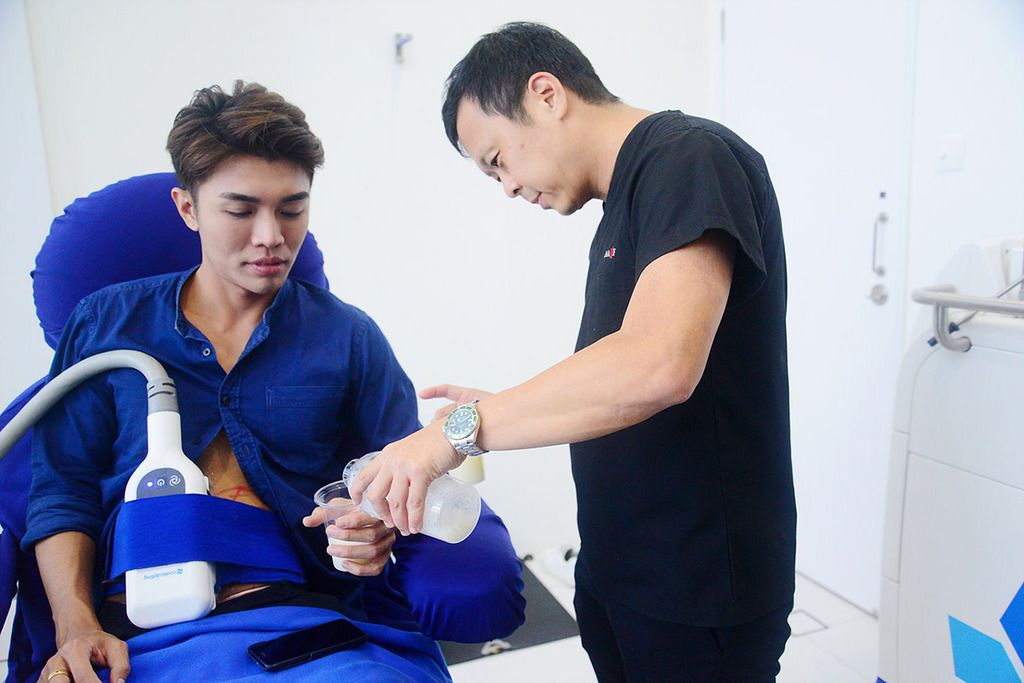 The treatment cycle was complete before I knew it and the clinic assistant removed the applicator and massaged the treated area to help break down the crystallised dead fat cells, which would eventually be passed out by the body.
Treatment results are not immediate but I can expect improvements over the next three months. Can't wait to share the results with all of you. If you need tips on how to achieve your body goals, Halley Medical Aesthetics also has an additional resource site dedicated to this at
https://mybodymygoal.halleymedicalaesthetics.com/
Halley Medical Aesthetics
277 Orchard Road #03-15
Orchard Gateway Singapore 238858
T: 6737 8233
halley.com.sg
facebook.com/halleymedicalaesthetics
instagram.com/halleymedicalaesthetics
blog.halleymedicalaesthetics.com
youtube.com/HalleySGMedicalAesthetics