It's just 9 more months to our wedding and we are taking extra care to our faces because we want to look our best on our big day. We have been visiting Dr Celine Leong from Astique Clinic for the last 2 years and we focused too much on enhancements instead of better skin so we have decided to do otherwise! We have recently embarked on the Dual Yellow Laser journey!
There are a lot of other Laser Treatments which you can find at Astique Clinic but there are just too many people raving about Dual Yellow Laser so we just have to give it a try!
What is Dual Yellow Laser?
"Using a combination of yellow and green lights, the Dual Yellow brightening laser can combat a wide range of skin concerns like dark spots and pigmentation due to aging or sun damage, scars, melasma, stretch marks, acne and bulky lesions (moles, skin tags and other raised lesions). The green light in Dual Yellow targets melanin which causes pigmented lesions like freckles, sun spots and age spots or skin discolouration like melasma.
An immediate change in the appearance of dark spots will be noticed and some might appear to darken slightly and gradually fade after a couple of days.
Not only are treatments fast, precise and targeted with reduced skin damage and no downtime, the Dual Yellow brightening laser will effectively treat your skin condition, at the same time it will also stimulate collagen generation to keep your skin supple and brighten your complexion.
Why did we go for Dual Yellow Laser instead of other lasers?
James has some scars on his face and gets breakouts sometimes. As for me? I can't escape from sunspots since I am ALWAYS out in the sun. I do not have scars or stretch marks but I don't mind having extra collagen stimulation to help keep my skin glowing!
More importantly, the procedure is pretty fast and painless. As we have to attend events or engagements on a daily basis (almost), we want to avoid having any downtime and Dual Yellow Laser has absolutely no downtime. We can step out of the clinic in 10-15 minutes. I can even apply my makeup right after the laser.
The laser is a quick process and all you need is just two steps.
Step 1: A layer of cooling gel will be applied to your face to help cope with the heat (in fact, I couldn't even feel any heat!).
Step 2: Laser!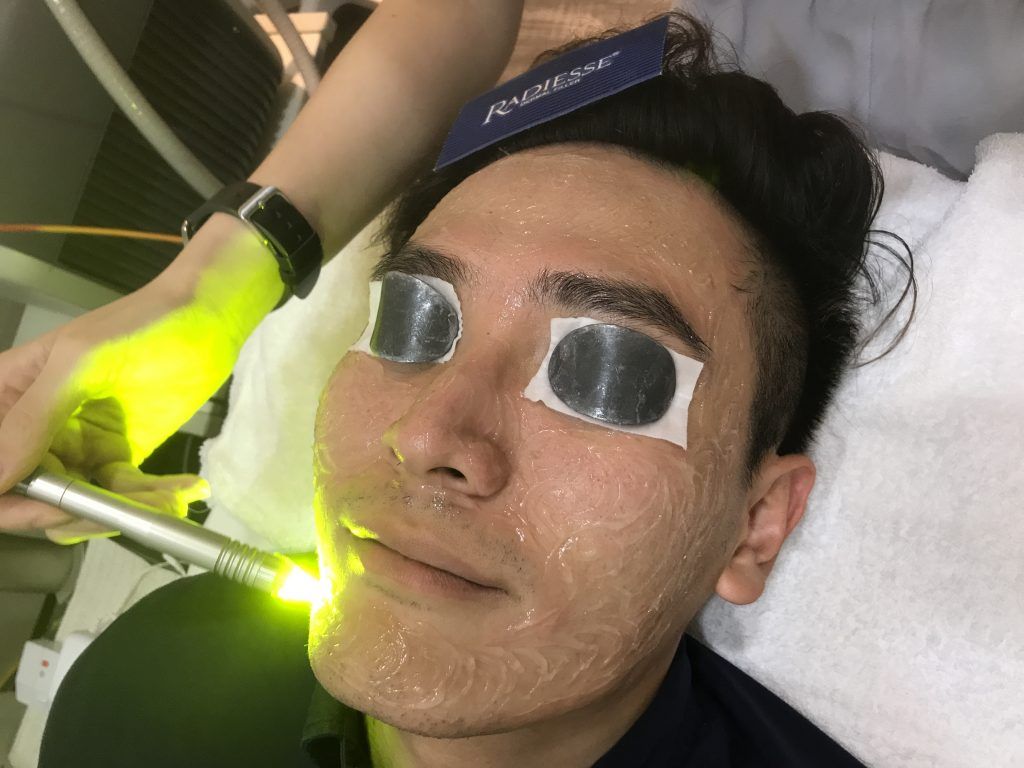 We do not have any pain throughout the entire treatment and the skin always feel extra smooth for the next 1 week after the treatment! If you google, some people may experience mild redness after the laser but it works pretty well for us so far. We are currently at our third session and we can't wait for the fourth! I hope we will have even more radiant skin on our big day next year!
I will strongly recommend you to do the laser once a month for maintenance. You can even skip applying foundation after a few sessions (depending on your skin condition).
Please visit www.astiqueclinic.com.sg for more information on the laser.
You can also visit them at:
350 Orchard Road, Shaw House, Singapore 238868