I recently came across something called CoolSculpting (aka fat freezing) when I visited Halley Medical Aesthetics to consult Dr Terence Tan about two major body problems that have been bothering me for a long time.
Unlike other fat reduction treatments, Halley Medical AestheticsCoolSculpting freezes fat problems away through a non-invasive procedure that has no downtime. It contours and shapes your body by freezing unwanted fat cells at your troubled spots and the dead cells are then disposed of by the body naturally. The best part of CoolSculpting is that the dead fat cells that are removed will never come back again!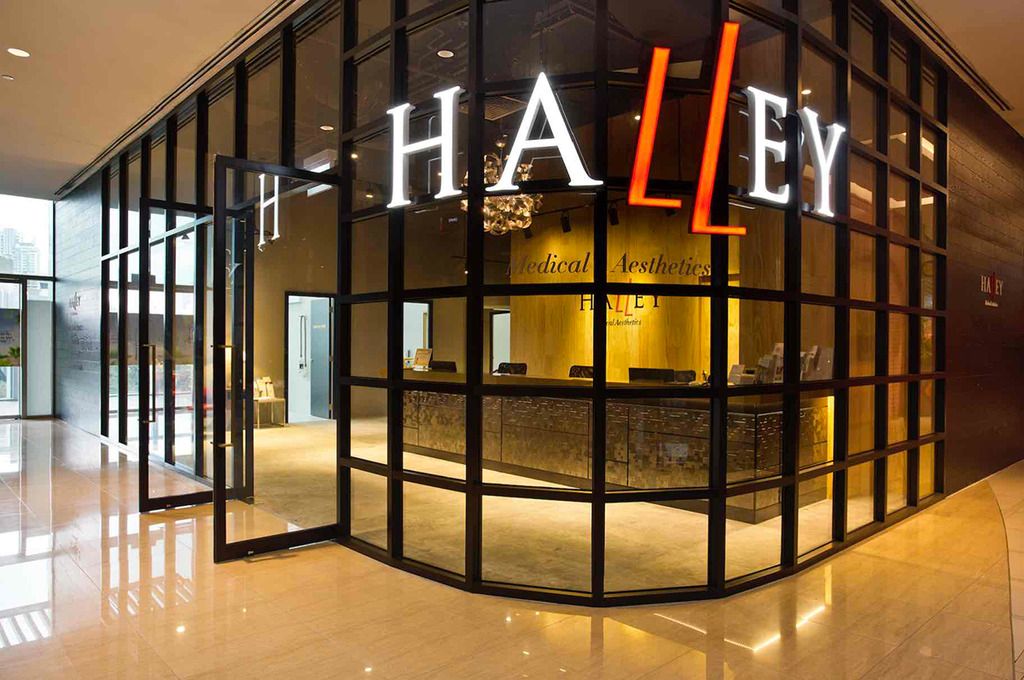 It is not a weight loss solution but it is perfect for people who have stubborn bulges of fat that just won't go away even with exercise. No surgery, no needles, no downtime. CoolSculpting is best paired with a weight loss regime for a complete body makeover. I did not believe it could be that easy when I read about it. I thought it might be a gimmick because, after all the stuff I tried, fat reduction surely can't be that easy.
An Apple A Day Did Not Keep Fats Away
For many years, I have been trying various ways to "reshape" my body. No matter how much I tried, I just couldn't get rid of the mini love handles on my sides and the bulge below my belly button. This battle of the bulge started right after secondary school when I adopted an extreme diet of eating only ONE apple a day to lose weight. I tried that for a month and although I lost so much weight, I became too weak and lacked the energy to do anything. My love handles and tummy bulge, however, remained. That got me really angry because even after one month of suffering, I did not achieve what I wanted. What's worse, I regained the weight I lost equally fast.
I decided to take things to the extreme. I wore a waist compressor and placed a corset over it to reduce the 'thickness' of my trunk. I would tighten the corset till I hear a creak of my bones, and I did this every night before I slept and wore them through the night. I sometimes woke up gasping for air or had problems walking in the morning. This carried on for years. This also caused my lower three ribs to go inwards, causing slight breathing problems as well as spine issues. And if I overeat or drink, I can feel my ribs against the stomach, causing pain and breathing difficulties.
Around my mid-twenties, my friends brought me to the gym where I started running and working out once or twice a week. I gradually got into better shape but my two body bugbears never went away.
Halley Medical Aesthetics CoolSculpting – Addressing My Weight & Stubborn Fat Problems
During consultation with Dr Terence Tan, I was very nervous and I was still sceptical. But Dr Terence Tan patiently answered my questions no matter how ridiculous they were. He even reassured me and helped set all my worries aside.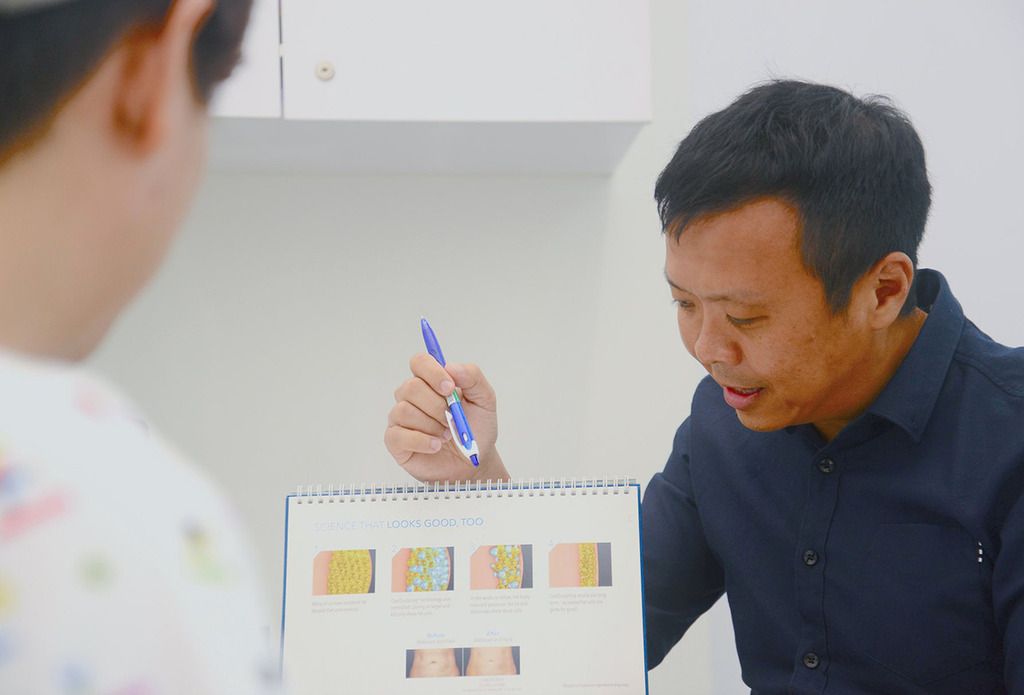 The clinic assistant took my measurements, including my percentage body fat and muscle. We also took 360° photos of my mid-section so that we could compare photos after the whole treatment process.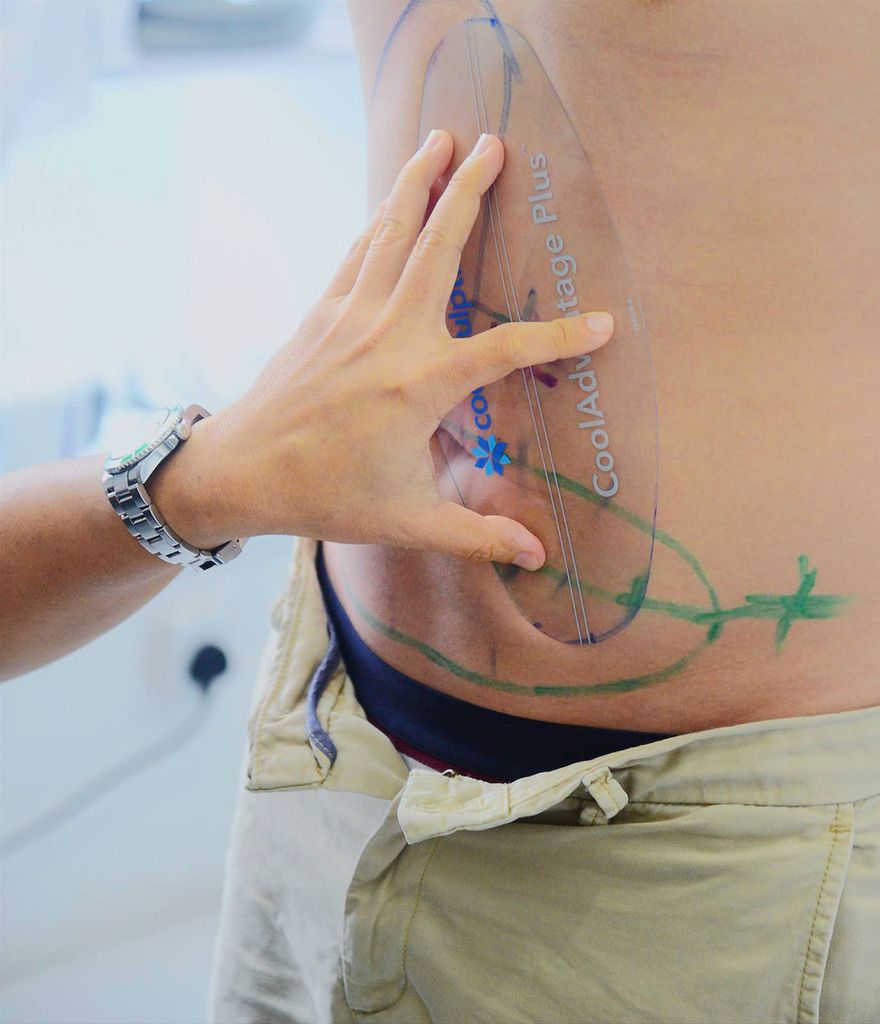 After reviewing my measurements, Dr Terence Tan said that he could bring my weight down to a healthier range. The goal is to lose 4.9kg and reduce my BMI to 24.2 after three months. This would be done through medically-approved weight loss medications to suppress my appetite and cravings to achieve my body goal. My progress will be monitored by him and the clinic's nutritionist, Jean Tong, throughout my three-month journey, which is very reassuring. The medications help to curb a person's cravings by satiating his appetite. This means you will not feel like snacking or even go for those late night suppers. It is not magic; you still have to put in some effort on your part.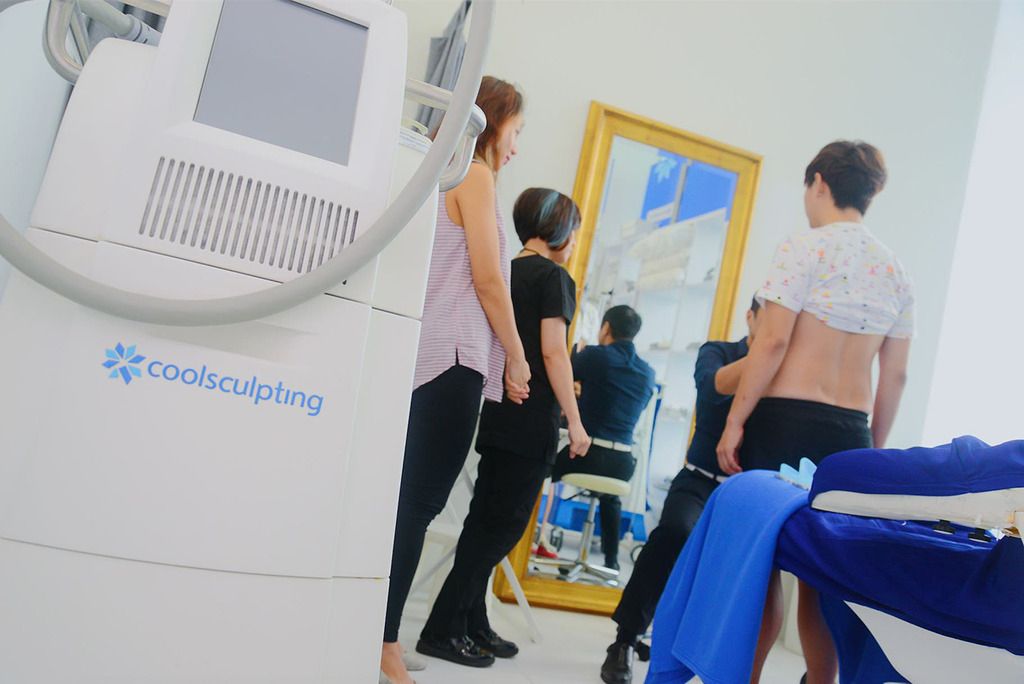 Halley Medical Aesthetics CoolSculpting – The Procedure
To get rid of the stubborn fat on my tummy, Dr Terence Tan prescribed three CoolAdvantage Plus applicators for me. He marked out the areas where the applicators would be placed to freeze my fat and lie me down comfortably on the chair. I thought the treatment was going to take a very long time, but I was wrong. Because of the CoolAdvantage Plus applicators used at Halley Medical Aesthetics, treatment time can be reduced by almost half. Instead of spending slightly more than one hour per applicator or treatment cycle, the time is reduced to 45 mins.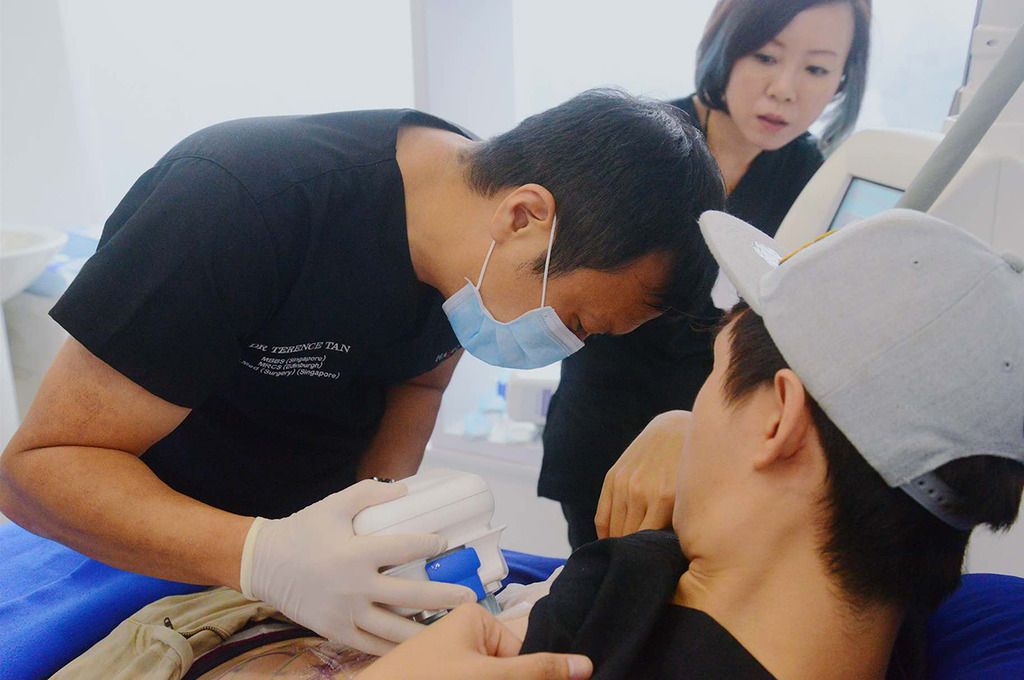 Before they placed the applicator on the area marked out, they placed a cooling gel pad to protect my skin during treatment and wow, it was cold. I was thinking: "Is that how cold it'd get? It is not that bad." When they turned on the machine, it felt like a cold vacuum cleaner sucking onto your skin, applying pressure to it before you feel your skin getting colder. I was slightly surprised by this sensation at first but your skin will become numb very fast so you won't feel much thereafter.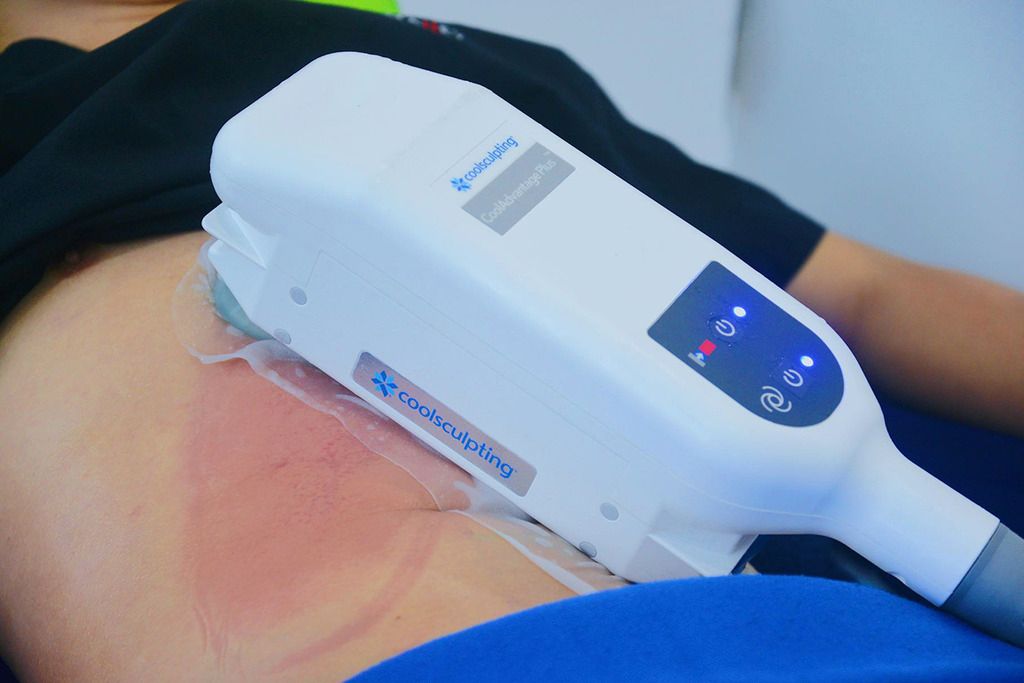 They kept the room nice and warm for me and even provided me with a blanket to snuggle in. The Halley Medical Aesthetics staff made sure I was comfortable and checked on me often. I spent the time checking email and playing games on my phone. I even fell asleep.
After each treatment cycle, the clinic assistant would remove the applicator and immediately massage the treated area to break down the crystallised fat cells further. It feels like you're pressing on a bruise. It does not hurt and everything is bearable. I told myself that the feeling I am experiencing is my frozen fat cells screaming as I evict them. The gel pad left my skin feeling slightly sticky but they were quickly and easily cleaned off.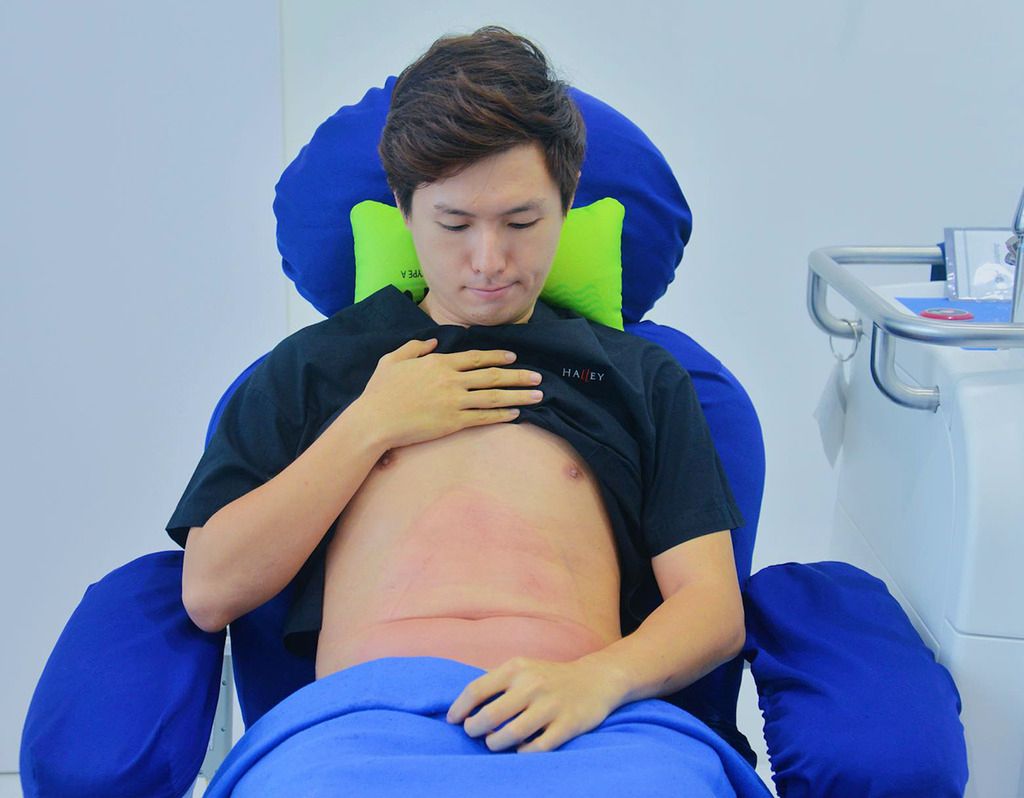 I would say CoolSculpting is the ideal treatment to get rid of all those stubborn fats that simply won't go away. Pair this up with a healthy diet and an increase of exercise, I can achieve my ideal body goal. Dr Terence Tan said that the full results of CoolSculpting are expected after three months as it takes time for the dead fats cells to be disposed of. I am so excited to see the overall outcome and bid a final bye-bye to that bulge on my tummy. I will be updating the results of this treatment soon. So stay tuned for the results and part two of my experience.
By @Ivannavich