Though we love Christmas, yet a part of us just dread it. We couldn't help feeling that way, as the season often means calling up several restaurants to secure a dinner reservation; surviving thousands of WhatsApp notifications to decide the perfect party venue; and browsing countless online stores for the right Christmas gifts to us. Yes, we have to get through all these while juggling with our 9-6 job! Thankfully, the Christmas Village is here to take our (yours too) pre- Christmas woes away.
Credit: Scribblinggeek
For the first time ever, Orchard Road's European- inspired Endless Wonder Christmas Village is coming to our shores (till 25 December) and transforming the iconic Ngee Ann City's Civic Plaza into a magnificent wonderland. Here's how it can ease your woes:
1. F&B Booths with Al-fresco Dining Area

Credit: Scribblinggeek
With 9 F&B booths offering pocket-friendly food, and an al-fresco dining area, there's no need to frown over where to dine for Christmas or getting annoyed over unsuccessful reservations. As the saying goes "the more the merrier", we strongly suggest getting small bites from each booth and sharing it with your friends. Here are some foods that are worth trying:
Thai Style Hot Dog Bun ($6) from Sawadee Cup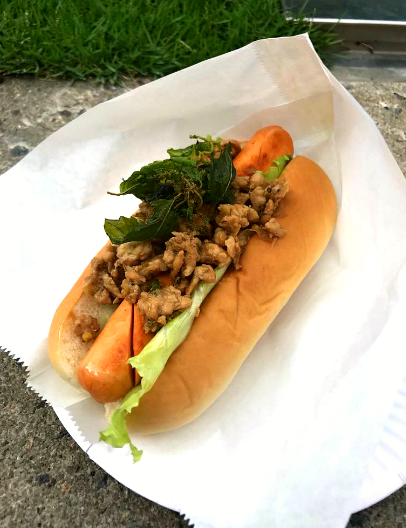 If you are a fan of Ikea's hotdog bun, then you will definitely fall head over heels for this! Here the regular hot dog is topped with Thai chicken basil to offer a tangy kick that is highly addictive. Feel free to use the Sriracha sauce at the counter that that extra bit of spiciness.
Mango Loco ($6) from Guilt-free Indulgence
This bright yellow sorbet is packed with fruity flavours of mango and bananas and boosts a sweet-sour taste. It's indeed a perfect thirst quencher, and for a price of $6, you get to choose 3 toppings from plum grapes, strawberries, melon, maple glazed nut brittle and cocoa drizzle.
Handsome Burg ($8) from Word Café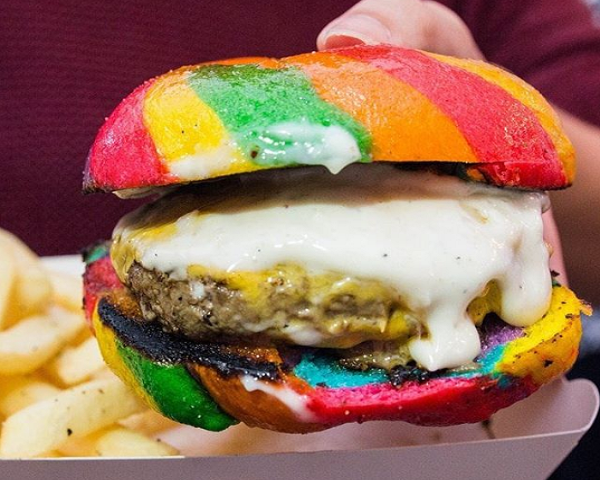 Don't you feel happy upon seeing the vibrant colours of this savoury delight? Biting into the buttery bagel, your palates will be exposed to a mixture of spicy peanut butter, black pepper, turkey bacon and cheese flavours. Trust us when we say, the burger tasted as good as it looked.
Combo C: Shawarma Platter with Fries ($18) from Beirut Grill
If you fancy juicy, tender, well-seasoned meat you are in for a real treat because whether you are looking for a tasty lunch or a late night snack, you can't go wrong with a shawarma.
Sambal Cheese Russet Fries ($5.90) from Katoshka 

Credit: Instagram/konranting
The real kicker for the Russet fries is definitely its double fry technique. It's such a brilliant technique as it produces a glorious golden end product with a cracker-like, crisp exterior and fluffy interior. Paired with the rich sambal cheese, you might possibly enter food heaven after tasting it.
Christmas Tree Dark Mocha from Starbucks
This gorgeous drink is concocted with dark mocha sauce, espresso, and velvety smooth melt and topped with fluffy green-tea whipped cream and candy crystals. We could almost taste Christmas in our mouths while drinking it. 
2. All Day Music & Amusement Rides
Forget about the clubs with expensive entrance fee!  With the daily live band performances and carolling, both your girls and you can just sit back and dance to the Christmas classics under the glistening lights for FREE! You can even surprise them by dedicating their favourite song at the UNIQLO MUSIC IN THE AIR booth (only available on weekends). 

Credit: Instagram/offthecliff.music
Do try out the 3 amusement rides-Ocean Ride, London Train and Tea Cup ($5/ ride) with your girls to double the fun. You can also choose to purchase the Family Pass ($15 for 4 rides) that comes along with a *$10 shopping voucher for Takashimaya's Toy Department. 

Credit: Instagram/ Maybelinesim

Credit: Scribblinggeek
*Do note that the promo is only valid during weekends for the first 200 pass holders from now until 23rd December on a while-stock-last basis.
If you guys enjoy mass singing karaoke sessions, then be sure to join the Christmas Eve Countdown Party (24th December, 8 pm onwards) to bask in the party atmosphere and sing along with local bands like Kings and 53A. Get your cameras ready too, for there will be the fireworks show at midnight!
3. Wide Range of Retail Goods
The Christmas Village consists of a total of 12 retail booths that offers an interesting mix of products ranging from cookies, magic drinks, musical box, figurines, apparels, accessories, roasted meats, and toy merchandises. With the huge range of options, you will have no qualms finding the perfect Christmas gift!

Credit: Scribblinggeek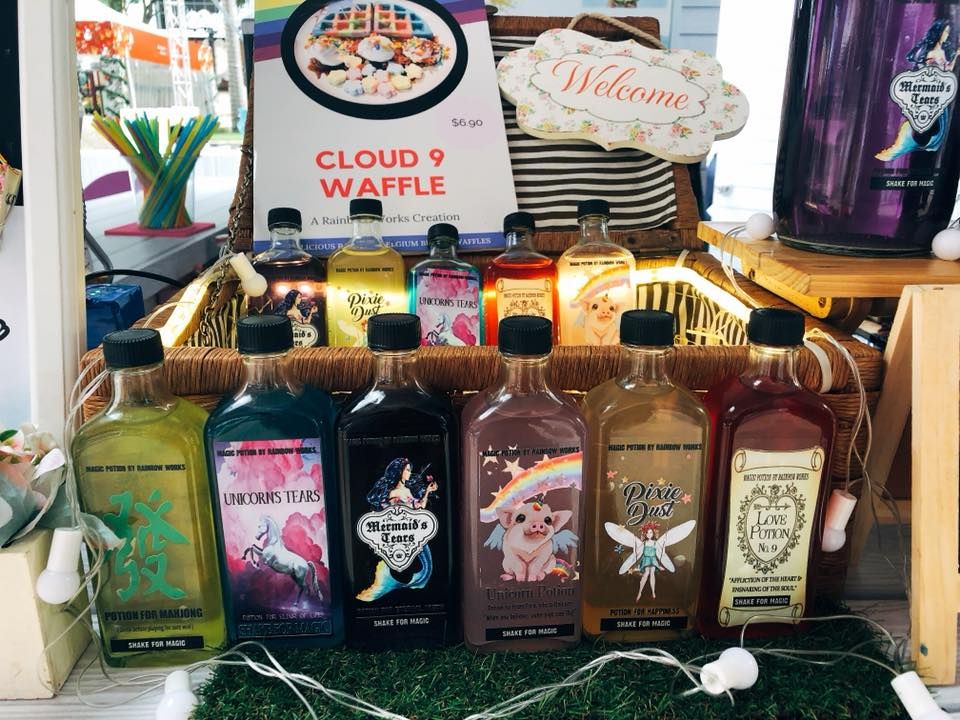 Credit: Instagram/anbbauble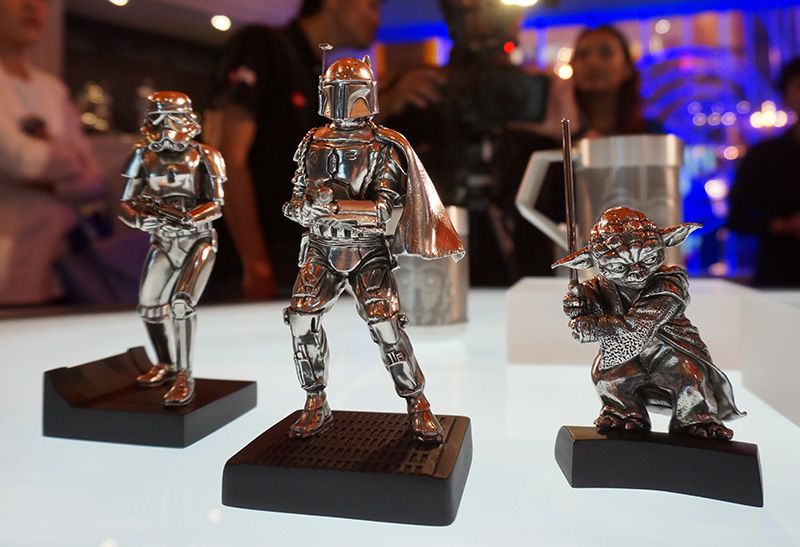 Other than the Christmas Village, do check out these beautiful Endless Wonder Installations for that memorable selfie:
Walk of Wonder (In Front of Forum Shopping Mall)
This 20-metre long passage is constructed with special reflective fabric and fairy lights that's amorphous in nature and shaped solely by its environment. Passing through it is indeed an invitation to a fantasy world in Orchard Road to discover how beautiful Christmas can truly be on a great street.
Tree of Time (In Front of Ngee Ann City- Pita Kiosk)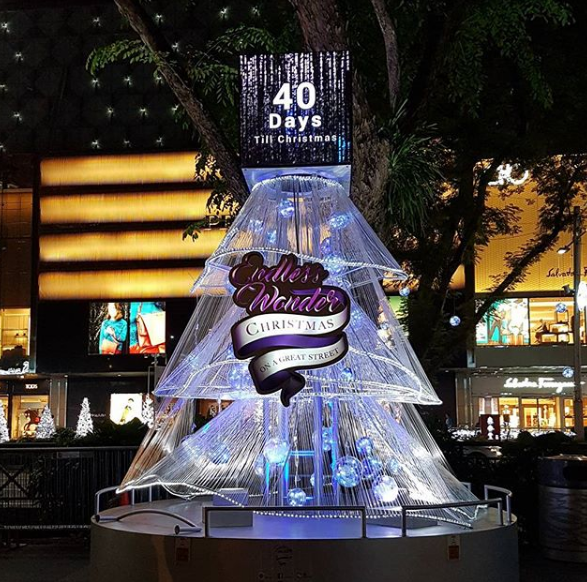 Inspired by the waves of a dancer, the free-flowing form is presided over by a clock at its apex as it counts down to the arrival of Christmas Day.
The Enchanted Tree (In Front of Wisma Atrium)
Here Christmas comes to life in the form of an awe-inspiring Enchanted Tree with an illuminated canopy. Be enchanted by this brilliant structure (like us) as you stand underneath this hidden galaxy of stars revealing itself against the night sky.
Info Set Up Piece
With its intricate details and stunning light display, this display is poised to be popular photo-taking spots for many of us.
Celebrate Christmas with Orchard!
https://www.youtube.com/watch?v=y87peh-GWZQ
Endless Wonder Christmas Village
Ngee Ann City Civic Plaza
Saturday 25 Nov- Monday 25 Dec 2017
Operating Hours:
Sun – Thu, 11 am – 10 pm
Fri – Sat, 11 am – 11 pm
Christmas Week, 11 am – 11 pm daily