Thinking of going on a short getaway with your partner to avoid the crowd during the festive season but hate the hassle of going overseas? Go on a staycation, we'll say, because our local hotels have got so much to offer for a relaxing and romantic stay.
Staycations are getting more and more popular in Singapore, especially for couples who want to spend some private time together away from the hustle and bustle. With so many hidden gems in Singapore, it isn't too difficult to pick a hotel with great features and amenities to complete a romantic getaway.
We did the footwork for you and picked 5 unique hotels to up the romantic factor for your next staycation.
For the fun-loving couple who prefer things a little more quirky, get ready to be welcomed by a stylish and modern lobby.
Nestled in the heart of Orchard, but standing in its own quiet little corner, enjoy the accessibility to the shops and restaurants in Orchard road, yet immerse in your private moments at the same time.
Its complimentary buffet-style all-day light refreshments is definitely one of its most attractive features, and don't forget to romance your partner with a midnight swim at the 24 hrs swimming pool.
The rooms come with a glass door bathroom for couples but if you are really shy, you can opt to draw the blinds.
It is hard to miss the red building that is covered by contrasting green vines situated in the heart of CBD. With earthy and tranquil vibes, Oasia Hotel Downtown promises a romantic yet relaxing getaway for you and your partner to recharge in.
Cabanas and lounge chairs can be found all over the hotel for guests to relax in. Alternatively, go for a dip in the two rooftop pools which are shielded from the sun by the plants. For Club Room guests, watch the sunset with your partner at the exclusive Club Infinity Pool that offers a breathtaking view for a romantic evening. Yogi couples will find the open lawn at level 12 perfect for yoga and meditation to clear their mind from the daily work stress.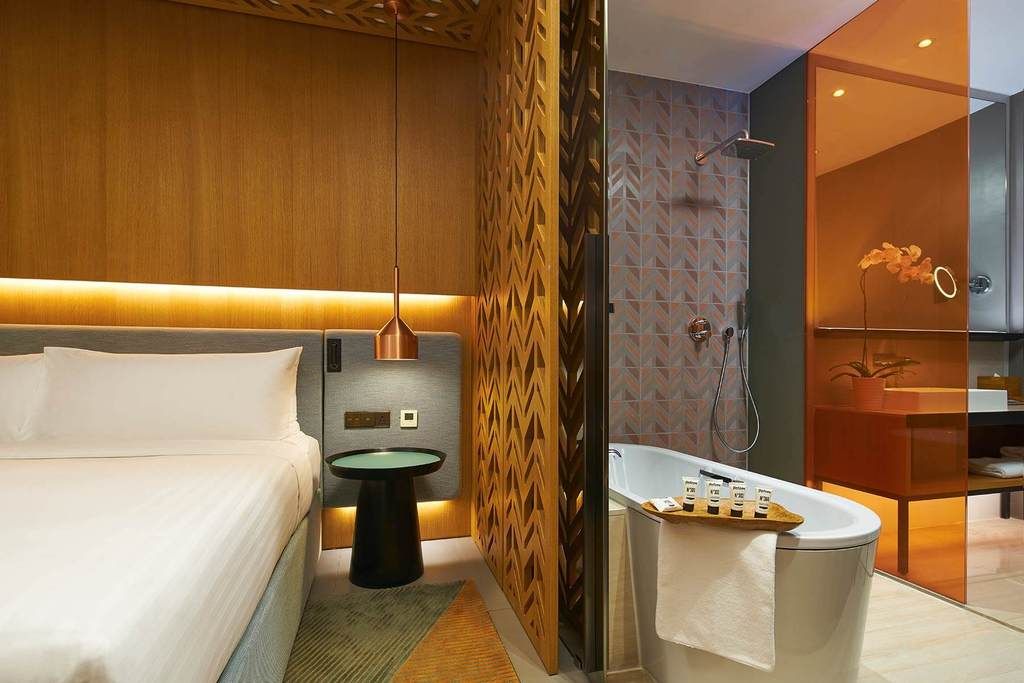 The rooms in Oasia Hotel Downtown are installed with an open concept bathroom which can be concealed with a sliding door. Get a soak in the bathtub, watch a movie, indulge in a glass of red wine all at the same time.
After its renovation in 2014, The Rendezvous Hotel is known to be a contemporary art-centric hotel. For the artsy couple who love to immerse themselves in the arts, The Rendezvous Hotel may be your top pick and you can even go museum hopping at the museums nearby.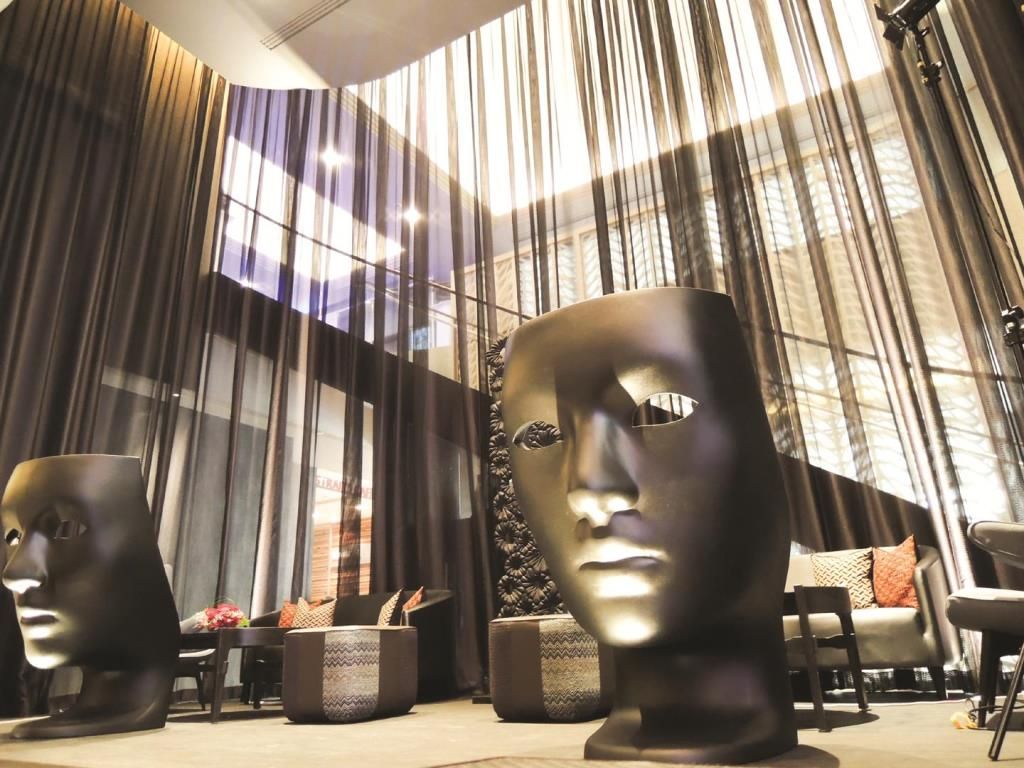 Feel like watching some blockbusters instead? Take a 5 minutes walk to the nearby Cathay Cineplex for a movie marathon. Its location is one of the main draws for couples who like to go out for activities since it is located right along our shopping belt.
Going back to the hotel, the rooms are cozy and chic to spend a night in. The famous Strait Cafe also offers all-day dining to make sure that you and your partner don't get hungry during your stay.
Together with the calming interiors that is made up of natural elements, the unique Oasia scent made up of lavender, lemon and black tea infused with coriander and ginger will definitely calm your nerves and prepare you for a relaxing getaway when you enter the lobby.
Spacious rooms with huge windows overlook the Singapore cityscape and we especially love the ledges by the window where you can read a book or chill with a cup of afternoon tea while enjoying the breathtaking scenery. Melt away the everyday stress of city life by soaking in the spacious bathtub (available in the Club Room) with your partner. Don't forget to play some jazz music and have a glass of wine while you are at it too.
Head to the Club Lounge for all-day refreshments, and Club Room guests can also visit the 24hr gym, the steam and sauna room and the rooftop pool all located on the 8th floor.
5. Village Hotel Katong
Bid the urban skyscrapers goodbye for a while and discover the historic Katong and Joo Chiat district that is peppered with Peranakan flavour. Village Hotel Katong will transport you back in time with its Peranakan decor and couples who love a little bit of history and exploring the lesser known cultural areas of Singapore will love this place.
Instead of wooden elements and white tiles that are commonly seen in hotels, Village Hotel Katong is decorated with Peranakan motifs. Get your taste buds tingling with the good spread of Peranakan cuisine at the Katong Kitchen. Definitely something different from the usual staycations that you are used to!