Dear singletons quit dedicating your February 14th to your couch or sappy Netflix movie marathons. In short, no staying home this time round, it's time to celebrate! Date your fellow super soltera friends, and spend the lovey-dovey day together. After all, they do love you unconditionally, and we're sure the adoration is mutual. No idea where to party? Just head to Central Perk Café! Find out why below!
You Get to Take Amusing Wefies
Stepping into Central Perk, you would realise that the café's décor is reminiscent of the production site of the popular 90s comedy-F.R.I.E.N.D.S. With the gigantic orange sofa, neon signboards and bricks wall, it will instantly hit upon you that every corner is an Instagram-worthy spot. As the saying goes, "if it's not on the gram, it did not happen", so ditch your shyness. Grab some free props and snap a silly wefie to celebrate like us. Our favourite spot is the Monica's Kitchen, which is incredibly detailed with real food products on the shelves, table and stove. 
You Get to Challenge One Another 
Other than being an Instagram worthy spot, the café serves as a playground for big kids like us. Take your pick from foosball, darts or the childhood favourite- Pacman. With such fun games, it will never take long for your squad and you to burst into gales of laughter when you start playing with or against each other.  

Credit: Vulcanpost
You Get to Take a Mini Tour Together
The cafe displays many specially curated replicas from the F.R.I.E.N.D.S sitcom which will be a shame if missed. We suggest strolling around the café to explore and learn more about the assemblages with your gang. Start your tour by admiring the stunning wedding gown of Rachel Green, followed by the studying the paleontology collection of Ross, and then getting freaked out by the doll painting- Gladys.

Credit: Daniel Food Diary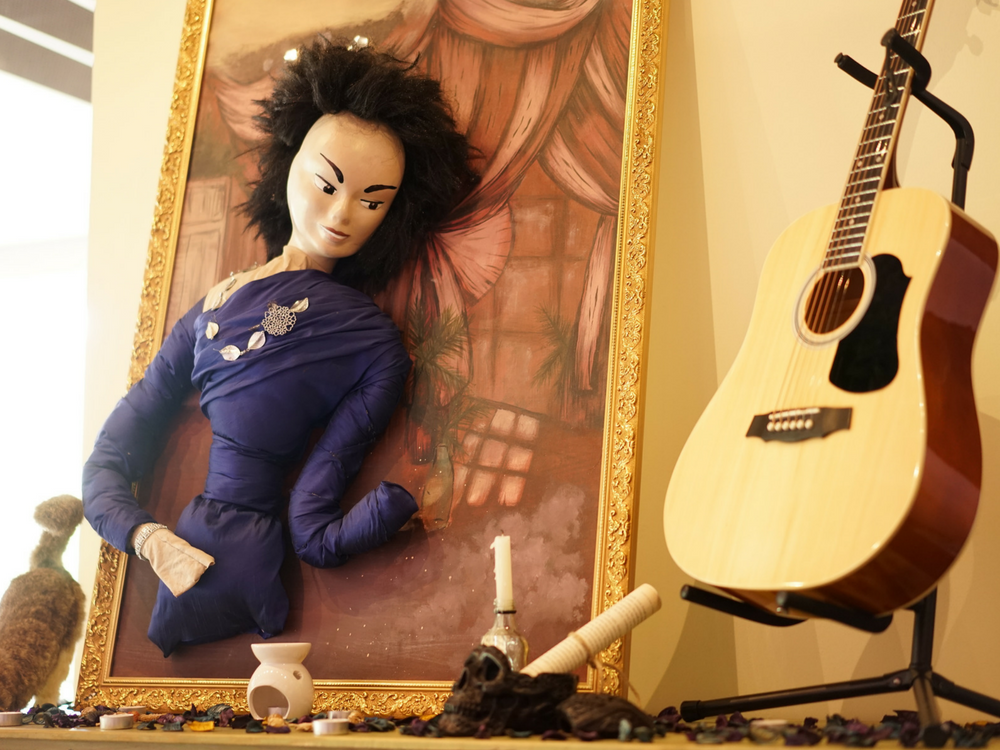 You Get to Savour Yummy Food Together
Should you get peckish, there are many thematic and character-centric dishes to go for.  With quirky names like Ross & Rachel's Break Up Pizza, Joey's Fisherman Stew and Chandler's Righteous Mac & Cheese, the menu will certainly serve as a conservation starter for your squad.
For meat lovers, we recommend digging into the Janice's Oh My God Baby Back Ribs (SGD 39), which uses free-range Iberico pork. Cooked and braised for 72 hours to achieve the stunning fall-off-the-bone effect, the ribs are really tender, with a robust and slightly sweet nutty taste. The sides include compressed fruits and pickled vegetables which provide a refreshing touch to the entire dish.
Go for Monica's Too Much Garlic Aglio Oilo (SGD 28) if you're craving for some carbs. Cooked to al dente and infused with Dashi, the pasta is indeed pleasurable to chew on. The Dashi adds a pleasant sweetness to the dish without overcomplicating the basic garlic-and-oil flavour.  Besides, just like what Monica would have done, fresh scallops and prawns and none of the frozen stuff are used for the dish.
You Get to Tailor Your Coffee Based On Your Personalities Together
If you do not know yet, the coffee blends at Central Perk actually correspond to the characters (their personalities too) in the F.R.I.E.N.D.S sitcom. With the array of blends, we're sure both your friends and you will have an enjoyable time picking out the most appropriate blends for one another. Click here to find out more about the blends. Well, if your gang prefer something wilder and quirkier, we suggest picking up a glass of Ross' Dinosaur Cocktail or Phoebe's Smelly Cat Cocktail.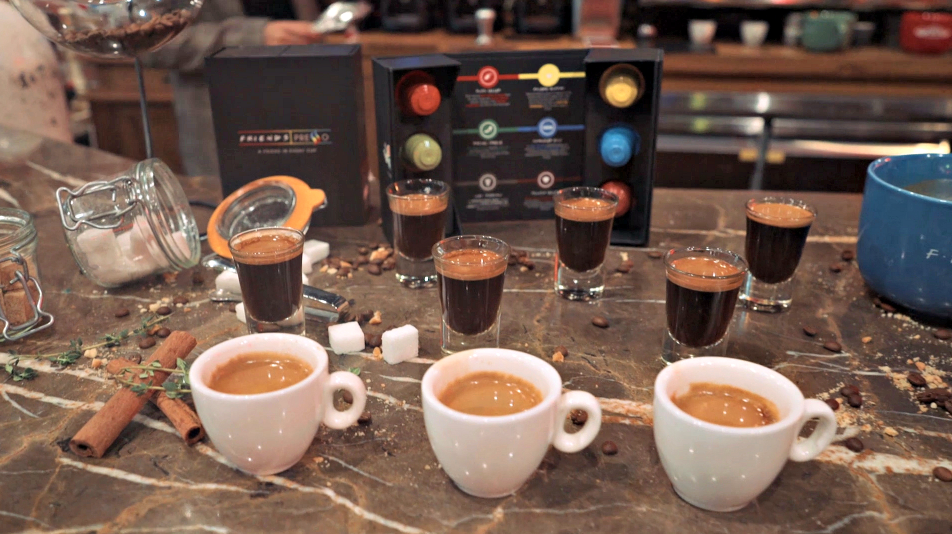 You Get to Experience Being Daisy Duck Together 
We have to say your friends and you will be greatly disappointed if the usual sweet-tooth remedies (think cakes, brownies, ice-cream) are what you ladies are looking for at Central Perk. However, all of you will be thrilled to find the Chandler's Helium Balloon Dessert, which enables you to speak in a nasal "daisy or Donald duck voice" for a few seconds (we're not kidding)! Coming in 3 flavours: strawberry (red), banana (yellow) and blueberry (blue), these edible balloons come attached to a chocolate stick, along with Nutella cake crumbs, chocolate sauce and a dollop of frozen yoghurt. We say get your IG-stories ready for this!

Credit: The Straits Times
You Get to Groove Together
Just like its onscreen counterpart, a corner of the café is reserved for live performances. Sit back with your squad and groove to the beats of covers like F.R.I.E.N.D.S' theme song and Phoebe's classic- "Smelly Cat". You can even sing along if you want to, for no one is judging. Well, if the live band is not your squad's kind of thing, there's always free re-runs of the F.R.I.E.N.D.S sitcom to rely on (in this case, you get to laugh together).

Credit: Seth Lui
You Get to Shop Together
From colourful mugs, tote bags, pillowcases and coffee capsules and etc., your gang and you not only have the chance to shop till you drop together but also get to gift your friend something from the café itself. Just remember to go easy on your credit card.

Credit: Central Perk Singapore Facebook
You Get to Learn Something New Together
As if the entertainment and great food weren't enough, Central Perk also aims to enrich your souls with its fun and interactive coffee barista workshop. For a price of SGD 480  per pax*  (claimable via Skills Future), both your squad and you can get first hands experience on grinding the aromatic coffee beans and create your own latte art using the award-winning coffee machine-Black Eagle. The wonderful thing is you get to learn under the guidance of a master roaster, who happened to be the world champion for the World Coffee Show; and you get to lay your hands on a complimentary SGD 100 Central Perk's voucher too!
Sign up for the barista course today!
Come and have fun like we did at Central Perk today!
Central Perk
1 Magazine Road, 01-01 Central Mall, Singapore 059567.
Operating Hours: Tue-Sun 10am-10pm