It's wedding season again. And I bet you have a whole bunch of invites to weddings (one or two each month at least????!!!). Here are some very important wedding etiquette to take note of so you don't commit a social faux pas or upset your friends who are getting married.
Credit: CNBC
1. Remember to RSVP
Pay attention to the deadline on the invitation. In fact, if you know your reply, then give it straight away. A couple usually has a long guest list to manage, it's not considerate of you to expect them to chase up after you for that overdue RSVP.
2. Don't assume you can bring a date.
Or your kids! Unless it says "and guest" on the invitation, only you should be attending. And if it's a child you are thinking of bringing, you should definitely ask first. Not all wedding events are suitable for young children and even if they are, the couple needs ample notice to arrange for kids meals and high chairs etc.
3. Don't wear white
Credit: Martha Stewart Weddings
… unless you are trying to pretend to be the bride. Tsk! Have some shame. This goes for almost white colours too like off-white, eggshell, ivory.
4. Turn your phone off
At the very least, keep it silent during the marriage ceremony. It's very disruptive to hear someone's phone start ringing during a solemnisation or during the speech.
5. Do stay out of the photographer's way.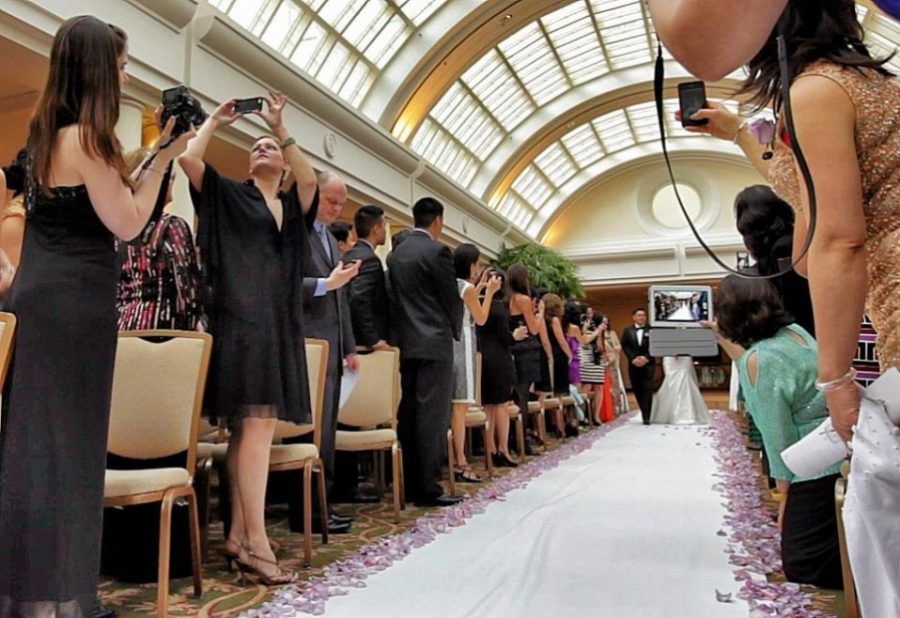 Credit: Your Perfect wedding Photographer UK
He or she needs to capture those special moments… without your damn iPad blocking the way. I've seen so many photographs of special moments like the bride and grooms first kiss as Husband and Wife… ruined by some auntie stepping out in front of the wedding photographer because she wants to get a better view or take a blurry photo using her iPhone with shaky hands.
6. Do sign the guestbook.
If there is a guestbook , so sign it. Years down the road, the bride and groom will want to remember everyone who attended. Prepare something nice to stay in advance so you don't have to think it up on the spot (pressure!). Usually well wishes and perhaps a fond memory you have of the couple.
7. Don't SMS or Call the bride and groom on the day itself
They will be sibei busy getting ready and sorting last minute details out. If you have a question, then check the invitation or the internet or call someone else like the maid of honor or parent who is likely to know the details.
8. Don't try to steal the thunder
It is not your day to start announcing that you're pregnant or any big news like that. Or worse still propose to your partner during the event. It is in bad taste to freeload on someone else's party to celebrate your own good news. And please do not get so drunk that you end up creating a big scene, like starting a fist fight or toppling the wedding cake.
9. Don't be late for the ceremony
If you are, grab some seats near the back so as to cause as little interruption as possible. Stay off the aisle! If the wedding venue is a particularly small space, I suggest waiting outside until the solemnisation is over as even your entrance can be distracting.
10. Don't be absent
If you don't want to attend (like maybe you have too many weddings to go for already and you're sick of it), that's ok. Just let them know when you RSVP. What you should never do is say you're coming and then don't turn up! Don't think that the bride and groom won't care about your absence because they spent hours planning the guest list, seating arrangement and are spending quite a lot on a meal that you are not there to eat!