Don't you agree that the colloquial translation of dim sum- "small delicacy that touches your heart" captures the essence of the dainty morsels? This spring, Si Chuan Dou Hua not only want to capture your heart but entice your senses with its rejuvenated selection of handcrafted dim sum delicacies and dessert bar through its "Nostalgic Dim Sum Buffet Feast".
Featuring exquisite creations by Executive Cantonese Chef- Leung Wing Chung and Master Dim Sum Chef- Wen Xin Wen, get ready to embark on a gastronomic bonanza with 40 finely crafted dim sum delicacies including signature specialities, double-boiled soups and a dessert bar. Here are some of our favourites.
Deep-fried Signature Pork Belly Roll with Yam
This is one of the dishes not to be missed. Coated with crunchy soybean crisps and fried to golden perfection, the rolls provided an interesting mouthful with its crispy exterior and alluring fork-tender interior. Beneath the crunchy skin, the piping hot pork belly remained juicy with subtle notes of sweetness from the yam. It only takes one bite to understand why these rolls become one of the restaurant's signature dishes.
Minced Meat Dumpling with Green Tea Paste
Known for his creative expertise, Chef Leung has given the minced meat dumpling a twist in its flavours by dousing it with green tea paste. For a team that is not enamoured by green tea, we were glad that it was not overpowering. In fact, it was addictive with the perfect balance of savouriness from the meat and sweet, mellow flavour from the tea paste. The steamed dumpling options also feature "Hakka" Dumpling with Turnip, Steamed Vegetarian Dumpling with Black Truffle, and Prawn Dumpling with Coriander.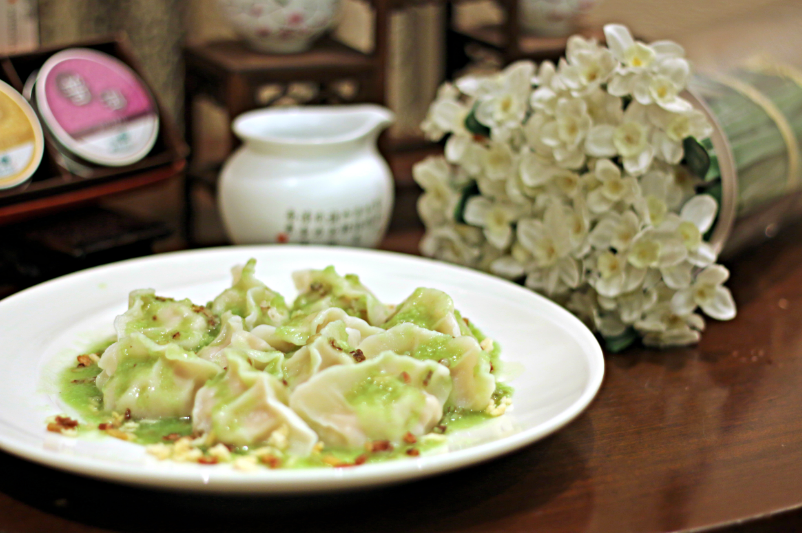 Siew Mai with Diced Abalone
This dish was an absolute winner for us. Encased in the thin wonton skin, is a generous mixture of succulent chicken and plump prawn meat which accentuated the sweetness of the siew mai. Topped with the lavish steamed abalone, the dish was stunning both in taste and appearance. Trust us on this; each bite will send a burst of flavours in your mouth. We are salivating already, are you too?
Double-boiled Chicken Soup with Abalone, Sea Whelk, Cordyceps Flowers and Conpoy
No dining experience is complete at Si Chuan Dou Hua Restaurant without a bowl of their hearty double-boiled soup. The bubbling hot soup emanates a strong fragrance that is sure to get you excited before you even begin sipping it. Each mouthful is robust and flavourful, with a right balance of umami and herbal notes. In fact, we were delighted with the generous portion of ingredients, especially the chicken. The meat was silky, which is an indication that the soup having been boiled for a long time.
Homemade Bean Curd with Wolfberry
Wrapping up the satisfying meal, you can look forward to exploring the dessert bar for items such as Double-boiled Pear and White Fungus with Osmanthus, Cream of Fresh Mango with Pomelo and Chilled Osmanthus Jelly. One of the desserts we relished in is the popular Homemade Beancurd with Wolfberry. The smooth beancurd is characterised by its silkiness and served with a dollop of fresh wolfberries. Our palates were saturated with mild sweetness and fragrance of soy with each spoonful. All we could say is, the bean curd indeed added the perfect finishing touches to the entire buffet experience.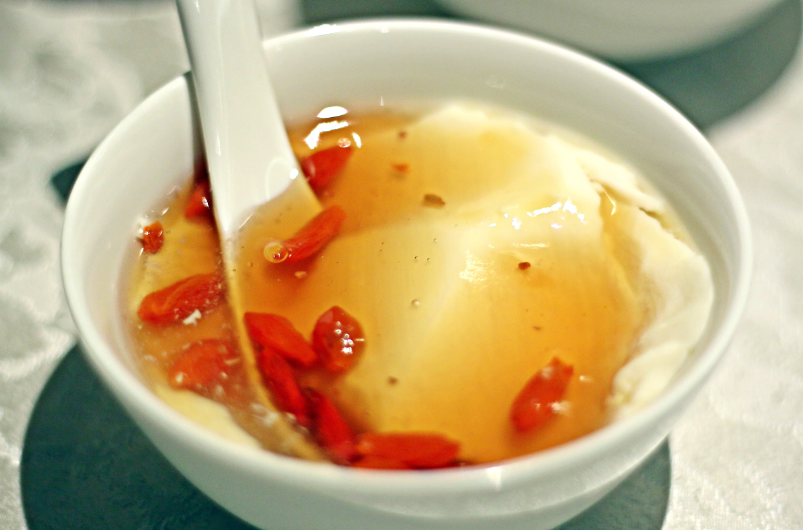 Exclusive Discount
From now until 17th June 2018, the buffet is priced at SGD 118 (before GST and service charge) for a table of 4 adults. Terms apply. Mark your calendar, and date your foodie gang for a rejuvenating feasting session!
The Nostalgic Dim Sum Buffet Feast is available daily for lunch at SGD 38 per adult and SGD 22.80 per child (with a minimum of 4 adults to dine).
Si Chuan Duo Hua Restaurant
PARKROYAL on Kitchener Road
181 Kitchener Road, S 208533, Level 3
Operating Hours:
11.30 am – 2.30 pm (Lunch on weekdays)
11.30 am – 1.00 pm and 1.30 pm to 3.00 pm (Lunch on weekends, the eve of public holidays & public holidays)
Telephone: 65 6428 3170
*Minimum four to dine. 
*Tea and pickles are at a compulsory charge at SGD5 per person. 
*Regular price will apply for additional diners (Adult: SGD38 | Child: SGD22.80)