I'm back at Astique Clinic to try out their new HydraFacial Treatment.
I was feeling excited because it's been too long since I had my last facial session, and this is also my first time getting a facial done at Astique Clinic. I do have high expectations as this is the clinic I entrust my face and skin with for the past year. I was told that this treatment is unlike the traditional facial that requires needle extractions which may leave redness and scabs on the face which I hated.
I love this cosy place so much.
Main counter where I book my treatment sessions at.
HAHAHA just for laughs! Look who I've spotted on the TV? I miss you already Meibao! We are long-term loyal customers of Astique Clinic!
After registering, the therapist brought me to the treatment room.
I was greeted with this little machine here.
The friendly therapist explained to me that this was the machine she will be using during the HydraFacial Treatment.
I still had my makeup on since I headed there straight after work so the first step was to remove my make-up.
One more photo before I close my eyes to enjoy the rest of the massage.
The process gently cleaned my skin and exfoliates the outer most layer of the skin to remove dead skin cells, creating a brighter complexion.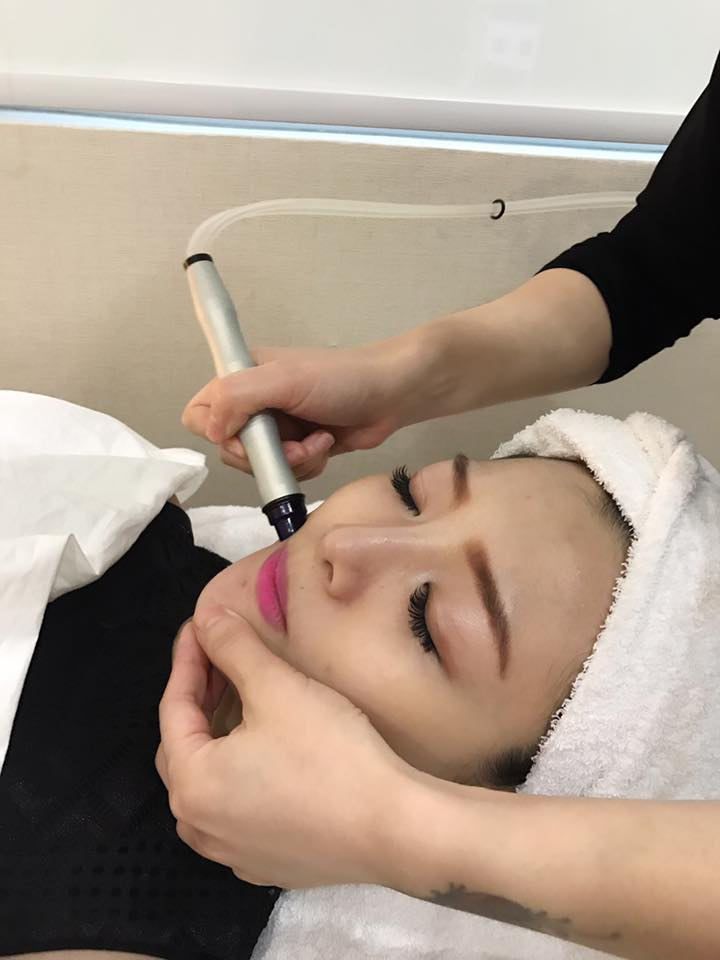 The treatment started right away.
Disclaimer: My lipstick and my eye makeup, including the eyebrows, weren't removed as I will be heading out right after the treatment. You can opt not to too. But the rest of my make-up base and foundation were thoroughly removed. Well, I'm sure you can tell from the acne scars on my face.
I'm smiling because I'm obviously enjoying the painless vortex extraction! This involves using a strong vacuum suction to remove impurities and black/white heads from the skin, cleaning up my pores in the process and my face felt really clean after that.
In fact, I'm really glad that the extraction did involve any painful squeezing and pressing on my pores or acne because I have a dinner appointment after that, and I do not wish to have any red marks or scars on my face as I will be in town for dinner. Phew!
After the vortex extraction, a hydra-serum was sprayed directly on my face using the same machine as shown in the photo above.
This step uses the vortex-fusion tool, which infuses an antioxidant and collagen into the skin for hydration as well as to increase skin elasticity.
My eyes were covered with a protector to prevent the serum from touching my eyes.
Since the serum was sprayed directly onto my face, it actually felt pretty good on the skin. I absolutely love the cooling sensation when the serum touched my face, especially when it was sprayed onto the cheek areas.
This process lasted for around 10 minutes and the therapist proceeded to gently massage the remaining serum into my skin for better absorption. Super "SHIOK" haha!
This treatment then ended off with a hydration facial mask that was left on for another 10 minutes.
The light was dimmed during the 10 minutes masking session for me to have a good rest and here's my view!
And we are all done!
The best part of this treatment is that the entire process only took 30 minutes and there is no downtime, so you can do this treatment during lunch hour or after work, just before your dinner.
Disclaimer again! A thin layer of tinted sunblock was applied onto my face by the therapist since I was heading out for dinner after the facial. Although I kept my eye and lip makeup on, there was no foundation on my face.
It was amazing that I looked like I still have all of my makeup on, isn't it? Also, thanks to the magic of eyelashes extension, I wake up looking less like a ghost every day! Do take a closer look at my complexion, though. It looked so bright after the Hyrafacial that I did. My face looks so much more radiant and nourished!
And nope, in case you were wondering, there was no discomfort during the HydraFacial treatment. Everything was done quickly and painlessly.
I highly recommend you guys to try HydraFacial as this is an effective treatment that helps to cleanse, exfoliate, extract, and hydrate our skin all at once and it only requires 30 minutes of your time. Too good, but it's true!
The main benefits of Hydrafacial include evening the skin tone, improving acne-prone skin, refining the skin texture by removing dead skin cells and most importantly, hydrating the skin which results in an improved suppleness and elasticity of the skin.
Happy skin, happy me!
More information:
Astique Clinic Singapore
Address: 350 Orchard Road
#08-00 Shaw House
Singapore 238868
Opening Hours
Mon, Wed and Thu: 8:30 am to 5:30 pm
Tue and Fri: 11:30 am to 8:30 pm
Sat: 8:30am to 3:30pm
Sun and PH: Closed
For booking, Tel: 6732 3801