Are you always being asked if you're exhausted when you're not feeling that way?
Yeah, I know how that feels. I've had allergies and a sinus problem and I sometimes find myself rubbing and scratching my eyes even though I know I shouldn't. Needless to say, I pay for it in the form of puffy eyebags and dark eye circles that give me the appearance of a sleep-starved panda. Not a great look honestly.
The deep lines and loss of volume at my undereye area became more obvious in the last year.
I've previously done a tear trough filler treatment to improve the appearance of my sunken undereye area several years ago. It was really effective, but the effect has worn off, so I'm way overdue when it comes to treating my undereye area. I've noticed deeper lines and loss of volume in the last year which makes my dark circles harder to conceal than ever.
Ultherapy® to the Rescue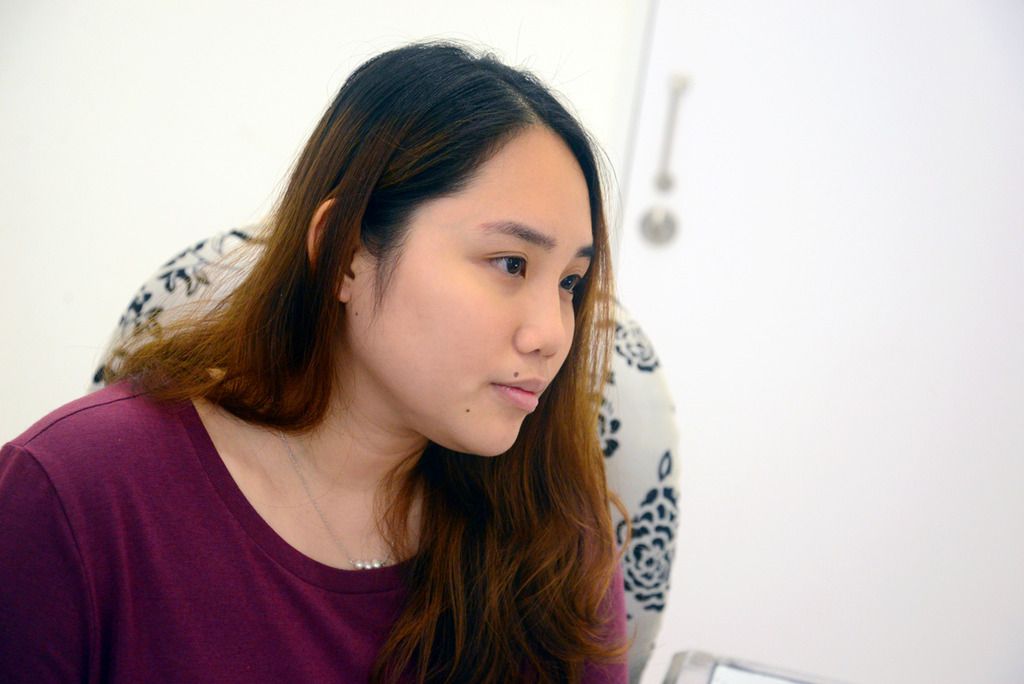 Sharing my concerns during my consultation at Halley Medical Aesthetics
No amount of sleep (even my lovely full 12-hour sleep binges on weekends) or eye cream can make me look attentive and bright-eyed. I find that really frustrating and I'm really thankful I was given the opportunity to find a fix for my undereye woes with Halley Medical Aesthetics by Dr. Terence Tan.
I was recommended Ultherapy®, an FDA-approved, non-invasive and non-surgical skin tightening procedure that utilises focused ultrasound and the body's own natural healing process to not only tighten, but also lift and tone loose skin.
It's commonly used to lift sagging jowls, tighten the brow and forehead area, jawline (for a sharper more refined look), neck and chest, but Dr Terence Tan from Halley Medical Aesthetics piqued my interest in this aesthetics treatment, when he mentioned it could help with my sunken undereye area.
How Does Ultherapy Work?
Dr Terence Tan from Halley Medical Aesthetics
After a consultation with Dr Tan, he prescribed Ultherapy as it would stimulate collagen production under our skin. This will volumise the hollow areas under my eyes, as well as tighten and lift the sagging skin under my eye area. The effects of Ultherapy will also improve over time as my body continues producing collagen stimulated by the focused ultrasound, giving me a more youthful and radiant appearance.
Who Should Consider Ultherapy?
If you're unhappy with the sunken appearance of your undereye area. This is definitely a treatment you can consider. Plus, it can also help with:
Lifting of droopy eyelids
Smoothening out wrinkles and fine lines
Reducing the appearance of puffy eyebags
Tightening of sagging skin on the eye (also cheek and neck) areas
Is It Safe For The Eye Area?
Ultherapy will be done using the Ulthera device and real-time ultrasound imaging
One of the main concerns I had was the application of ultrasound energy on the sensitive eye area. After all, the reason why my eyes look so darn tired all the time is also because of how thin the skin is at the area and prone to ageing.
The Ulthera device which will used to administer the "shots" to my skin
Dr Tan reassured me that the treatment could be applied with precision using a special Ulthera device. The ultrasound energy can be directed with pin-point accuracy to different depths (1.5mm, 3.0mm and 4.5mm) underneath the skin without disrupting the surface, hence no downtime at all. This makes the treatment suitable to target the layer of fibrous tissue right beneath my skin's surface, which gives our faces it's shape. The gradual renewal and rejuvenation of fresh, new collagen will recondition my saggy and tired-looking skin, plumping it up and resulting in a tighter, firmer appearance.
Real-time ultrasound imaging used during my Ultherapy procedure
He would also use real-time ultrasound imaging while the procedure takes place. This visualisation of the exact treatment area underneath the skin's surface enables him to apply the ultrasound energy to the right areas that will give the best results.
My Experience With Ultherapy
Not the most flattering image of me, but just to show how the treatment goes
The experience was extremely tolerable. Dr Tan's constant reassurance and explanations as he placed the Ulthera device on my undereye area also helped me anticipate what would happen next. You will feel pin-pricks and mild heat during the procedure.
Close up of the Ulthera Device on my undereye area
Ultherapy is a quick treatment that can be done less than an hour. I believe in my case it was only 30+ minutes. This is one of those amazing lunch-time procedures that's over before you even know it with no downtime at all. I was out of the clinic and rushing off to handle my errands immediately after the treatment. There was some minor soreness, but it was no big deal and not at all disruptive to my daily life.
The only thing you'll need is patience. The optimal effect of Ultherapy will only be seen after about two to three months, so don't expect an instant fix. Of course, you can couple Ultherapy with a few other undereye procedures like dermal fillers or/and a threadlift if you'd like a more instant improvement (which I'll share about in my next post).
How Much Does It Cost?
The treatment cost for undereye Ultherapy is $420 (includes GST).
Halley Medical Aesthetics
277 Orchard Road #03-15, Orchard Gateway, Singapore 238858
Open daily from 10:00am to 9:00pm
Call 6737 8233 to request for a consultation or book an appointment online
By Carrie Sim