Great news fellow buffet lovers! The annual sale season has just got a little more rewarding with dining promotions which allow you to get 1-for-1 dining deals. With a scrumptious spread of food at a friendly price tag, we say these deals indeed offer the best of both worlds. The best part is some of them are even available until next year. Read on to find out where you can enjoy the deals.
Credit: Groupon
1. Mandarin Orchard (Triple Three)

Credit: Meritus Hotel
Located in the heart of Orchard, this Japanese–inspired restaurant holds true to its inspiration with "daily delights" Japanese themes featuring something unique every day. With themes such as Foie Gras Frenzy, Kagoshima Wagyu Beef Night and Weekend Lobster Treat, diners can expect mouth-watering dishes like Pan-seared Foie Gras with Miso Sauce & Daikon, A4 Wagyu Beef in Shabu Shabu Style and Lobster Mentaiyaki besides a plethora of sushi, teppanyaki and sashimi.
Promotion: 1-for-1 lunch buffet and 50% off 2nd diner for dinner buffet
DBS/POSB cardholders (valid until 31st December 2018)
UOB cardholders (valid until 9th April 2019)
Address: 333 Orchard Road Level 5 @ Mandarin Orchard Singapore Singapore, 238867
2. Seasonal Tastes (The Westin Singapore)
Situated in the 32nd storey of The Westin Singapore, the restaurant promises a truly gastronomic experience coupled with panoramic views of Singapore's skyline and the South China Sea. Diners will be thrilled with the luscious spread of contemporary international bites, local cuisines, prime cuts and wholesome salads. The restaurant is also equipped with "live" carving, roasting and grilling stations to bring every diner a truly personalised dining experience.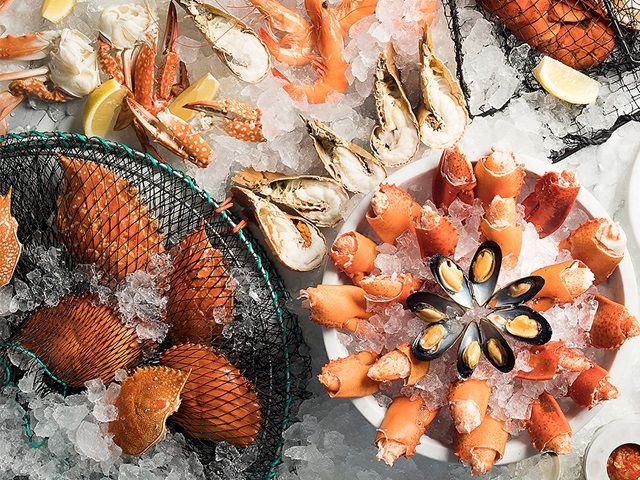 Promotion: 1-for-1 dinner buffet
Citi Bank and HSBC cardholders (valid until 31st July 2018)
UOB cardmembers (valid from 1st August to 31st October 2018)
Address: 12 Marina View, Level 32 Asia Square Tower 2, 018961
3. Shin Minori

Credit: Daniel Food Diary
Best known for its a la carte buffet offering (more than 160 items) the restaurant is set to satisfy even the most pernickety eater with its extensive selections of dishes from nigiri sushi (21 kinds) to sumiyaki dishes (27 kinds) and even heavier alternatives such as pizza, soba and spaghetti. Make sure to lay your hands on the chef's specials which include the Karashi Maguro Sushi and Aburi Shake Sushi.
Promotion: 1-for-1 lunch buffet
HSBC cardholders (valid until 31st December 2018)
4. Straits Cafe (Hotel Rendezvous) 

Credit: Seth Lui
Nestled in Hotel Rendezvous, Straits Café offers a delectable Halal-certified buffet spread by drawing flavours from neighbouring cities such as Penang, Ipoh, Melaka and Kuala Lumpur. Diners can look forward to savouring regional delights including Klang Chic Kut Teh, Lamb Rendang Lasagne and Ipoh Chicken Rice. Also not to be missed is the Seafood Sambal Live Station (available on weekends), where fresh seafood is cooked a-la-minute with sambal sauces. Do leave some stomach space for Pulut Hitam, Burbur Cha Cha as well as Sweet Potato & Ginger Soup.
Promotion: 1-for-1 lunch and dinner buffet
HSBC cardholders (valid until 30th December 2018)
Address: 9 Bras Basah Road, Level 1, 189559
5. Tiffany Cafe & Restaurant (Furama City Centre)

Credit: Fave
Decked in pretty hues of blue, Tiffany Café and Restaurant is not only a hot favourite among foodies but selfie lovers too. Whet your appetite with oriental favourites like Hainanese Chicken Chip, Stir-fried Prawns with Teriyaki Sauce, Authentic Laksa or indulge in western classics like Coriander Pesto and Stewed Penne with Seafood. We suggest trying the Chocolate Fondue and Durian Pengat if you have a sweet tooth.
Promotion: 1-for-1 lunch and dinner buffet
UOB cardholders (valid until 31st December 2018)
OCBC cardholders (valid until 30th December 2018)
Address: 60 Eu Tong Sen Street, Singapore 059804
6. Sun's Cafe (Hotel Grand Pacific)

Credit: Hotel Grand Pacific
Filled with warm and inviting vibes, the café is indeed the perfect spot for spending an idyllic afternoon with your loved ones over authentic Peranakan cuisine. Nonya food lovers will be delighted to find perennial favourites like Babi Pongteh, Itik Siok, Sambal Udang and decadent selection of kuehs and desserts. A la carte specialities like Hainanese Chicken Rice and Laksa are also available upon request.
Promotion: 1-for-1 lunch and dinner buffet
DBS/POSB and UOB card holders (valid until 31st December 2018)
Address: 101 Victoria Street, Hotel Grand Pacific, Singapore 188018
7. The Kitchen Table (W Singapore – Sentosa Cove)

Credit: Honeycombers
Tucked in the lush enclave of Sentosa Cove, it's impossible not to be mesmerised by the beautiful embellishment of the restaurant. But we say, keep your eyes on the petite menu cards on clip-stands scattered throughout the buffet line. Why? Because they contain dishes that the chefs will cook for you at the live stations and your hungry souls will be rewarded with mouth-watering Duck and Scallop Noodle Soup, succulent Octopus Salad on Toast with Jamon Crumbs and many more.
Promotion: 1-for-1 lunch and dinner buffet
Standard Chartered card holders (valid until 31st August 2018)
8. Window on the Park (Holiday Inn)

Credit: Holiday Inn
Window on the Park is certainly a paradise for anyone who enjoys the rich and diverse flavours of Southeast Asian cuisines. Diners can find all-time-favourites such as Chinese Rojak and Kueh Pie Tee at the D.I.Y counters, or head to the live station to have the chefs personally prepare a bowl of yummy laksa for themselves. Do remember to add some sweetness to your meal with delights such as ice cream waffles, hot bread and butter pudding and local kuehs.
Promotion: 1-for-1 lunch and dinner buffet
Maybank card holders (30th September 2018)
OCBC cardholders (28th February 2019)
Address: 11 Cavenagh Rd #02-00 Holiday Inn Orchard City Center, Singapore 229616