Readers who followed my Instagram @iamyukinglove would know that I've been pretty upset about my weight gain.
My weight jumped from 48kg to 53kg, and then it shot up to 59kg, breaking my own record. Well, it's not exactly something that I'm proud of, though!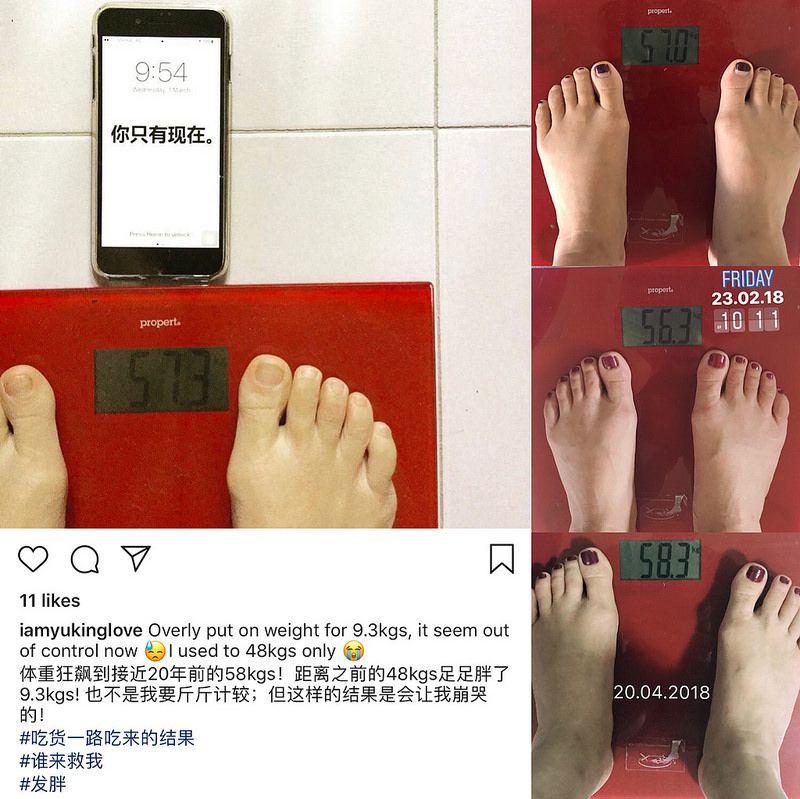 As a travel blogger, I get to explore and try all the local delicacies in different parts of the world. To add on to those calories, I tend to feast during festive seasons too. I'm definitely having the time of my life but all of these made it extra hard for me to slim down.
I've mentioned that I'm someone who puts on weight easily. And with all the eating and drinking, things are getting worse.
My weight is like a rollercoaster ride, going up and down all the time even after I return home from traveling and keeping my food intake in control. To add fuel to the fire, the fats are all gathered on my thighs and that really what irks me the most. On top of that, my boobs were the ones to lose all the weight when I try to slim my thighs!
My inner and outer thighs both expanded in circumference and it got to the point where my inner thighs suffered from abrasion from cycling and it left scars after that. I can only hope that the scars will fade over time.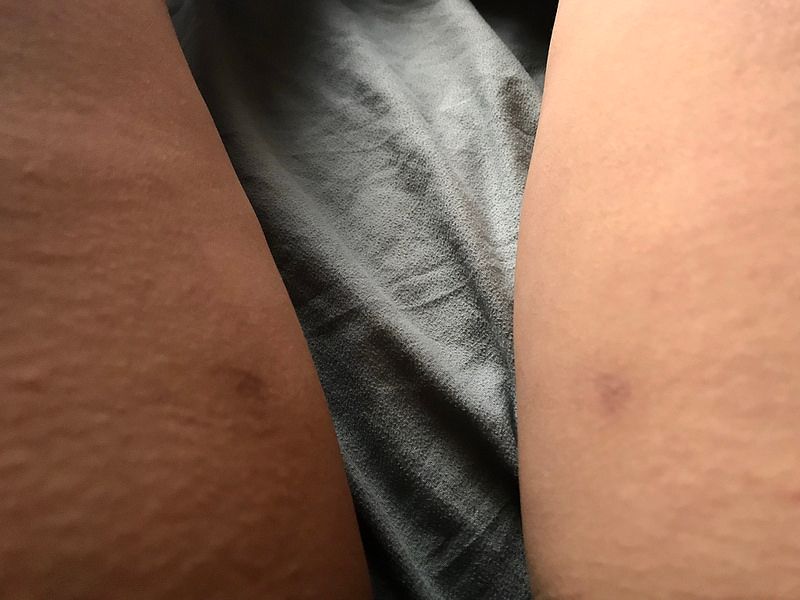 With my thighs out of proportion, should I lose weight or should I go for body contouring?
My friends who were concerned advised me to consult a doctor and seek help. I headed to Halley Medical Aesthetics to look for Dr. Terence Tan, since I've heard a lot of good stuff about him.
During the consultation, Dr. Terence Tan shared with me that there are many people who tried to slim down using unorthodox methods because they do not know the difference between losing weight, fat reduction, and body firming. Therefore, there are actually three different issues that we need to deal with, and not just one.
What is the difference between losing weight, fat reduction, and body firming?
Fat reduction will not decrease your weight significantly; what it changes are your body contours. You will find that your clothes fit better, and stubborn fat bulges that are hard to get rid of via workout can be easily eliminated.
If you experience wrinkles and loose, saggy skin after fat reduction and weight loss, they can be easily resolved by undergoing laser or radiofrequency skin tightening treatments.
With a combination of these fat reduction and skin tightening treatments, it isn't too hard to achieve the body shape you covet.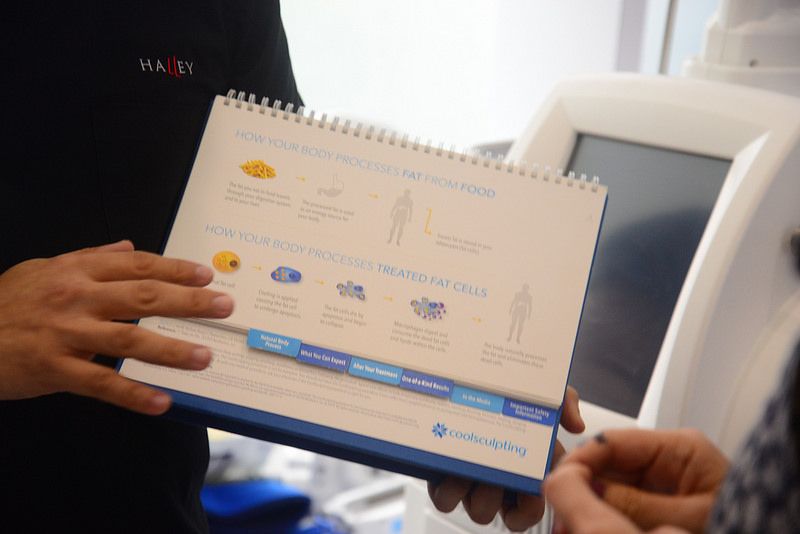 I've been wrong all these time!
The root of my problem is my fat cells. The fat cells in my body reduced in size when I lose weight and I appear slimmer. However, they are always present and they expand when I put on weight, making me look bigger again, if I do not get rid of them.
To get to the root of the problem, I need to reduce the number of fat cells, especially over the stubborn fat bulges in my thighs to effectively slim them. Dr. Terence Tan advised me to try out CoolSculpting®to freeze away my fat to permanently get rid of those pesky fat cells.
After taking some body measurements and checking my blood pressure, Dr. Terence Tan concluded that my inner and outer thighs accumulated excess fats in relation to my body proportions.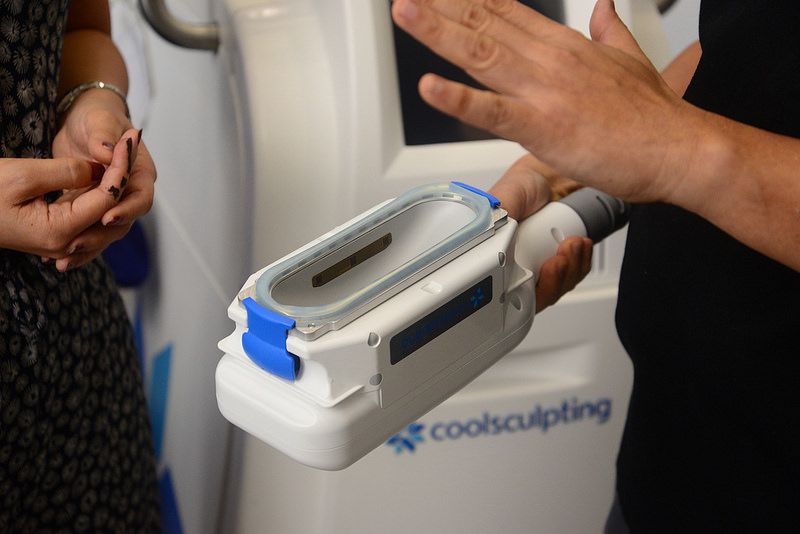 What is CoolSculpting?
CoolSculpting® is a US FDA-approved, non-invasive treatment that utilises cryolipolysis technology that targets only fat cells. The frozen and crystallised fat cells are eliminated and the fat cells are gone for good. With this device, the doctor can perform spot reduction and body contouring with the kind of precision that is impossible with any spot toning exercise.
CoolSculpting works especially well on stubborn fat bulges that are difficult to eliminate with working out or dieting, and it has been proven that fat cells are reduced by 20% to 25% after treatment with permanent effects.
The new generation of the of its applicator, the CoolAdvantage, can target very stubborn fat bulges easily and cover a bigger surface with a lesser chance of bruising. Therefore, the time taken for the treatment is also shorter and it can be done in 35minutes, which is almost half the time taken by the older generation applicators.
In simpler words, CoolAdvantage can freeze away our fat cells in a shorter time at the targeted spot. With the fat cells eliminated, we will not look as big as before even when we gain a little weight and we can take preventive measures or start working out to slim down whenever that happens. Of course, a good figure only comes with a healthy and disciplined lifestyle. No amount of treatment will help if you decide to feast every day!
CoolAdvantage™ treatment
Before the treatment starts, Dr. Tan made some markings my skin before place the applicators on my thighs. He used used CoolSmooth Pro on my outer thighs, and CoolFit Advantage on my inner thighs.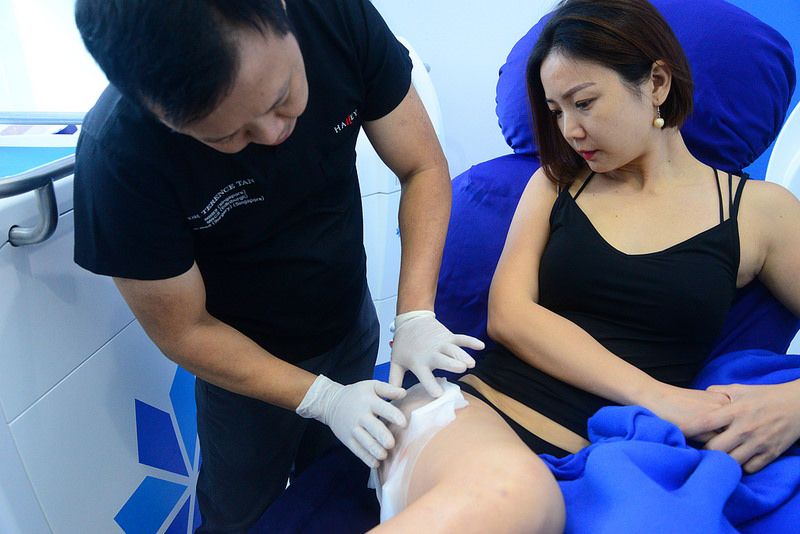 Treatment time:
Left inner thigh – 35 mins
Right outer thigh – 1 h 45 mins
And what did I do in the meantime? Just chill and use my phone!
I was given a massage when the treatment ended to break down the crystallised fat cells. And at this point in time, my legs felt like some frozen pork! Haha!
There is no downtime after the treatment and I can go about my usual activities. There are no bruises but the treated area is tender to touch and it felt a little hard. The feeling will go away in a week or so.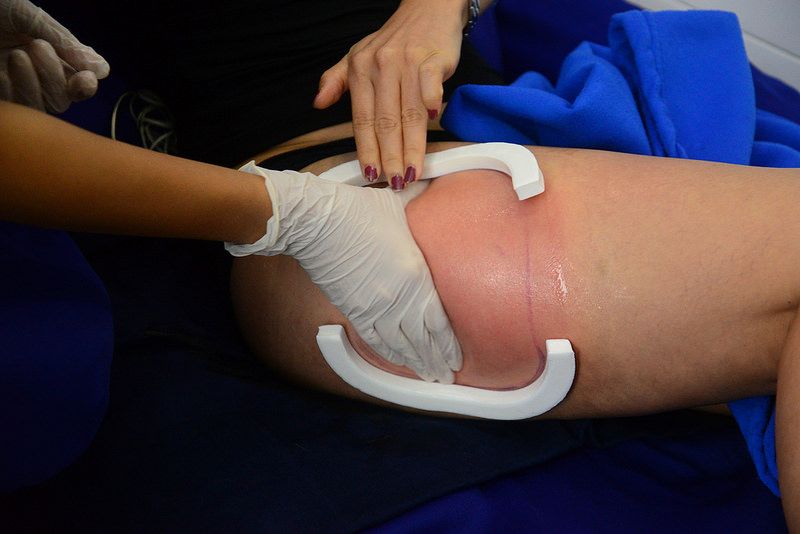 Dr. Terence Tan told me that the best effects of the treatment can be seen in around 3 months time and I'll definitely share my results with you all again then.
See, even with a professional medical treatment, it still takes a little time for the effects to be seen. Therefore, don't rush things when it comes to losing weight, our health is always more important.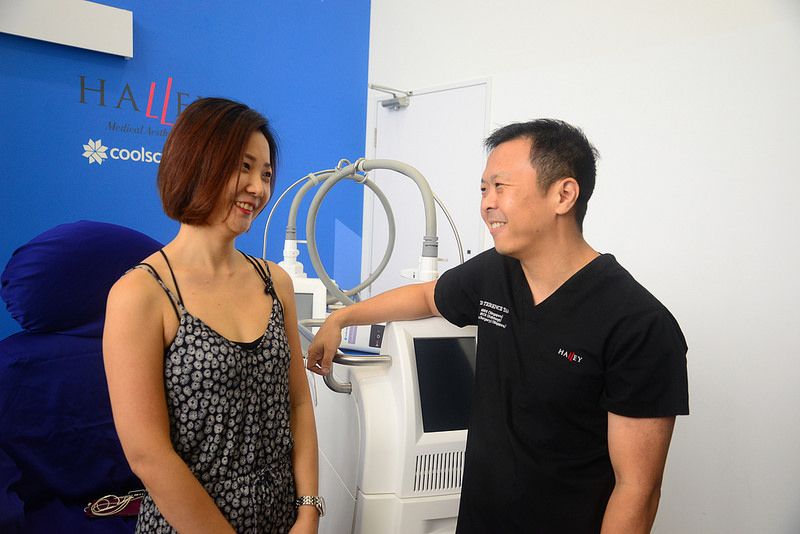 My thoughts on my first CoolAdvantage treatment at Halley Medical Aesthetics
Halley Medical Aesthetics is located in the heart of Orchard Road and it is very accessible and convenient for me. The cosy environment in the clinic also made me felt very welcomed.
From the reception, all the way to the treatment, the staff and doctor at Halley Medical Aesthetics were all friendly and helpful, and Dr. Tan was especially humourous and that helped me feel very relaxed before my treatment. He also listened to my concerns patiently and answered all the queries I had before I make any decision. Dr. Tan also made me felt assured by tailoring a programme just for my needs.
My treatment cost:
CoolSmooth Pro = 2(both thighs)x $760
CoolFit Advantage = 2(both thighs)x $760
Total cost :$3040
Halley Medical Aesthetics
Translated by Xinyi Soh
Original article below.
________________________________________________________________________________________________
酷塑在魅丽医学美容诊所
By Yuki Ng
有跟随我的@iamyukinglove Instagram ig 故事分享的读者都知道,姐被突然不断爆增的体重困扰好久了!从本来的48kg,到53kg ,到一下子飙升到59kg,我的天啊!这辈子第一次刷破这个个人纪录!*这种记录没什么好骄傲的呀!
以旅游博客的身份受邀到访好多国家观光旅游,尝尽赏珍海味各地美食很是享受,但是长期在外国一路吃吃吃,加上佳节过年也是吃吃吃,看似很享受是没错,但是这样要——想——瘦,就好难呀!
曾经说过,我是易胖型,就连喝水都会胖,何况这样没有节制的吃!
就算回国后,我已经开始控制日常饮食,还有做做轻运动勤练瑜伽,但是体重好像过山车起起伏伏很难控制,想靠自己努力瘦下来的进度赶不上已经发胖的状况,尤其最讨厌局部肥胖!偏偏我的局部肥胖部位就是最难减的大腿!更为难的是当你想瘦大腿偏偏努力减肥后给你瘦的是胸!就是无法准确的瘦我想瘦的部位!
不说你不知,我的大腿外围与内围的肥肉感情好到说好一起胖!就连我踩脚车时因为腿肉不断磨蹭而擦伤脱皮,留下伤疤。这样怎能让人不气馁呢?
如今已经留下伤疤了,希望疤印能慢慢淡化吧
超出比例的肥胖大腿,我应该减重、减脂还是塑身?
后来朋友提醒与其自己乱来搞坏身体,不如找专家询问如何解决这个恼人的问题。于是就到信誉良好的Halley.Medical.Aesthetics魅丽医学美容诊所,寻找陈锦良医生的协助。
在见陈锦良医生时,他为我讲解很多人减肥使用错的方法,因为不了解正确的知识。当我们注意体重、体形、柔韧性和身材时,涉及的其实是三个不同的方面,但这常常被误解为是同一个方面。
区别在哪里?
减脂并不会大幅改变您的体重;它改变的是您的"体形"。您的衣服会更加合身,难以通过运动消除的腰部赘肉和背部脂肪都可以轻松除掉。
而减重和减脂导致的皱纹、脂肪团和松弛皮肤,可以通过激光和电波射频疗法及其他刺激技术变得紧致。
这种三管齐下的方法可以打造出美丽的身体,而它背后的科学理念十分简单。
姐知道错了!原来我一直减错肥了!
怪不得每次和别人提起我很胖时,他们总是纳闷的问回我,你明明看起来很瘦,你哪里胖啦?
也就是说,即使我多努力让我的体重下降,外形可能略微显瘦,但原本就已经存在的脂肪细胞虽会变小,数量却保持不变。如不根治,脂肪细胞还是有机会增长在我的大腿位置的!
必须消脂才能减少脂肪细胞数量的累积,把脂肪细胞含量减少,才能有效让该部位消瘦下来。
而在Halley.Medical.Aesthetics魅丽医学美容诊所的冷冻溶脂法或通过CoolSculpting® 进行脂肪冷冻减脂,才能有效永久性地消除脂肪细胞。
在进行了一轮体重身高的量身,血压测试等记录,陈锦良医生也观察了我的身体各部位而得到的结论是:
依我的身型比例,大腿的外围和内围都累积了多余的脂肪,脂肪含量增加在大腿外围和内围不断扩张,就直接影响了大腿的外形,视觉(尺寸)上就看起来很胖。不结实,不美观!
陈锦良医生建议我做消除脂肪对抗局部肥胖最佳疗程的CoolSculpting®酷塑。
关
于
CoolSculpting®
酷塑:
CoolSculpting®酷塑是唯一通过美国食品药品监督管理局 (FDA) 严格认证批准的无需手术,非侵入性,无恢复期的减脂疗程。它使用受控的冷冻效果,高效、精准地冷冻皮下脂肪细胞,易于耐受。被治疗的脂肪细胞结晶,随后死亡。随着时间推移,身体会自然处理这些脂肪,通过新陈代谢排泄出体外,消除这些冻死的细胞。
这可以帮助消除无法通过饮食和运动减除的顽固脂肪!疗效经过临床检验、能使治疗部位的脂肪细胞数量减少 20% 至 25%。效果显著持久,给您的身材带来全方位的提升,永久性脂肪破坏。
新一代冷冻减脂CoolAdvantage™酷塑优手握把,是个全新设计的3D全方位雕塑杯型探头,能够针对更难瘦部位。不仅如此,CoolAdvantage™酷塑优探头能够更大的传递低温面积和更大的组织吸取面积,大幅提升疗程舒適度至45%,术后瘀伤状况也大幅减少。这探头将治疗时间缩短为35分钟,约为上一代探头一半的疗程时间,同时温度由原本-10ºc进化为-11ºc,加强治疗效果。
医学简单说:
就是花更短的时间,轻松让仪器帮你以高效的技术,精准的冻死你的"脂肪细胞",准确性的让你知道何时能瘦下来,效果比一般减肥方法持久。就算将来不小心发胖也不会胖回之前的脂肪细胞数量,意思是就算胖也胖得慢一点,赶紧做些措施还是能控制下来不会脂肪一下子爆增而增胖。当然我们是不能自暴自弃不监控自己的生活作息和饮食习惯,却还期待身体自然保持苗条,一些日常自律管理自己的付出还是要的啦!
CoolAdvantage™
酷塑
优疗
程
进
行
时
:
陈锦良医生针对我的大腿局部问题而配置CoolAdvantage酷塑优技术的探头、CoolSmooth Pro适于大腿外侧和 CoolFit Advantage适于大腿内侧。
在进行治疗前,陈医生先用酷塑专用画线版在治疗的部位做记号,接着在皮肤上覆盖专用防冻伤凝胶片,才把探头紧贴上去。
疗程时间:左腿内侧:35分钟 | 右腿外侧:1小时45分钟
这时的我该做什么呢?什么都不用做。。。就坐躺着用手机上网消磨时间吧!
当治疗结束后,医生会进行两分钟的按摩,让以结晶的脂肪增加细胞破坏的效率。*此时此刻,你会觉得你的大腿好像刚从冰箱里拿出已经冻结的肥猪肉块!哈哈哈!
疗程后无需休息期(downtime)可以正常作息。皮肤表面没有淤青但碰一下会有"好像有淤青"硬邦邦的感觉,大约1星期后这种感觉就会消失。
陈锦良医生解释,CoolAdvantage™酷塑优疗程的疗效,通常最显着的效果是在治疗 3 个月后。那我们就一起耐心期待3个月后再与你分享成果吧!
*看吧,就算有先进疗程帮助还是需要一段时间来消除脂肪的,所以爱美想塑身的你,一定要以正确的心态耐心静待效果哦,可别超之过急!
第一次体
验
CoolAdvantage™
酷塑
优疗
程的感想:
由于的地点就在市中心乌节路非常方便,环境气氛也令人感觉舒适。
从接待到医疗人员都很亲切,当和陈锦良医生接触后,交谈中发现他为人好风趣,一直开玩笑逗你笑。那不是很好吗?不会搞得我们病人好像上战场那样紧张。而谈到我的烦恼时,看他耐心的听完我所发出的每个疑问,在过后都能慢慢地详细为我解答。陈医生推荐的也是针对我的需要,适合我,能够接受的条件下量身定做的疗程。
营业时间:每天10:00 AM – 9:00 PM
联络电话: 6737 8233
电邮:info@halley.com.sg
官网:http://www.halley.com.sg
Instagram: www.instagram.com/halleymedicalaesthetics
我的疗程费用建议价如下:
CoolSmooth Pro = 2(双腿)x $760
CoolFit Advantage = 2(双腿)x $760
总花费 :$3040