Writing this post is a walk down memory lane. I don't know why my wife dug up this photo of me, which was taken about two decades ago. I don't know how she managed to find it either, considering we have moved multiple times since getting married.
Well, but here I was, looking very young and fresh. Aesthetic therapies were the last thing on our mind then. We were busy pursuing our career and we were traveling whenever we could.
We all age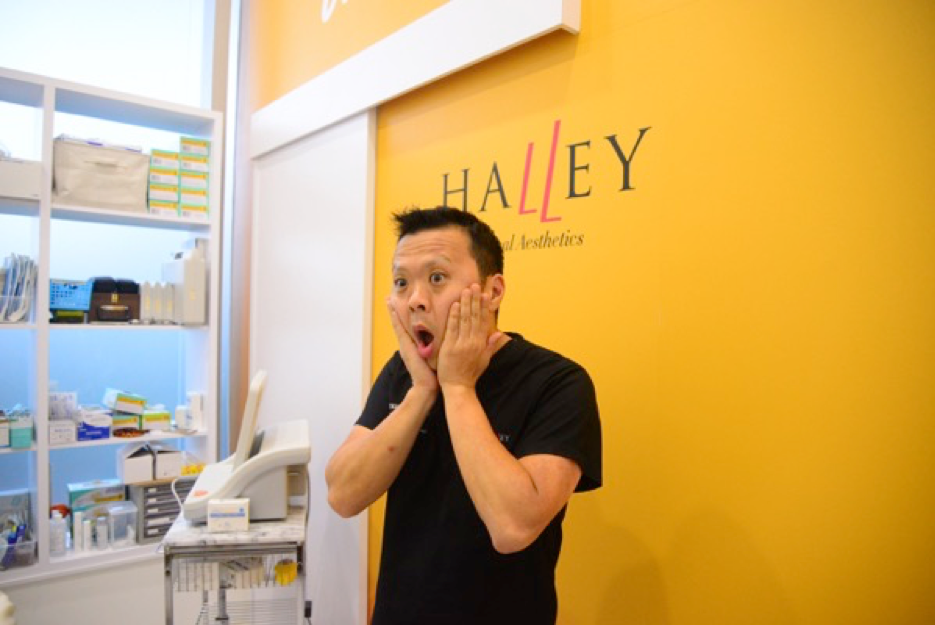 Fast forward to today and inevitably, I have aged! I have lost volume in my undereye area and my cheeks have started to sag. I am seeing the aspects of ageing that I always speak to my patients about.
Every time we go under the sun, we age. Wrinkles, folds, and loose skin start to show on our jowls, brow, and undereye areas. Even if we do a good job of staying out of the sun, we cannot stop the ageing process. As we age, bone resorption kicks in, where bone tissue is absorbed by the body. With the bone mass that props up our flesh and skin shrinking, facial drooping sets in.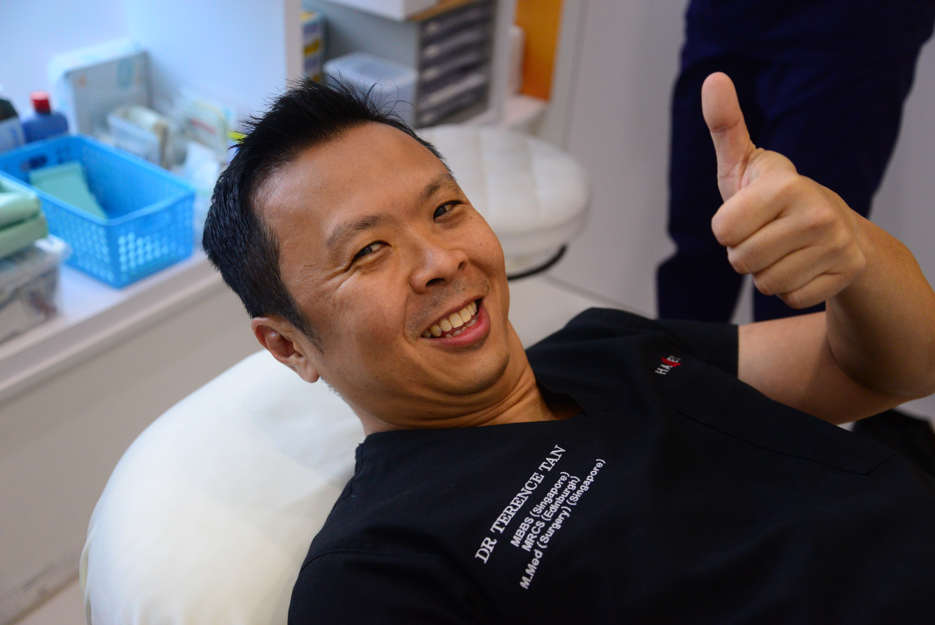 If there is one rejuvenation treatment that I really want for myself, it would be Ultherapy. Why? It is approved by the US Food and Drug Administration (US FDA), which means it is safe, plus it is effective; I have seen the results myself time and time again. The easy part was calling Merz, the good company behind the Ulthera machine, to give me a hand. The tough part was clearing my schedule to make it happen!
My "big" day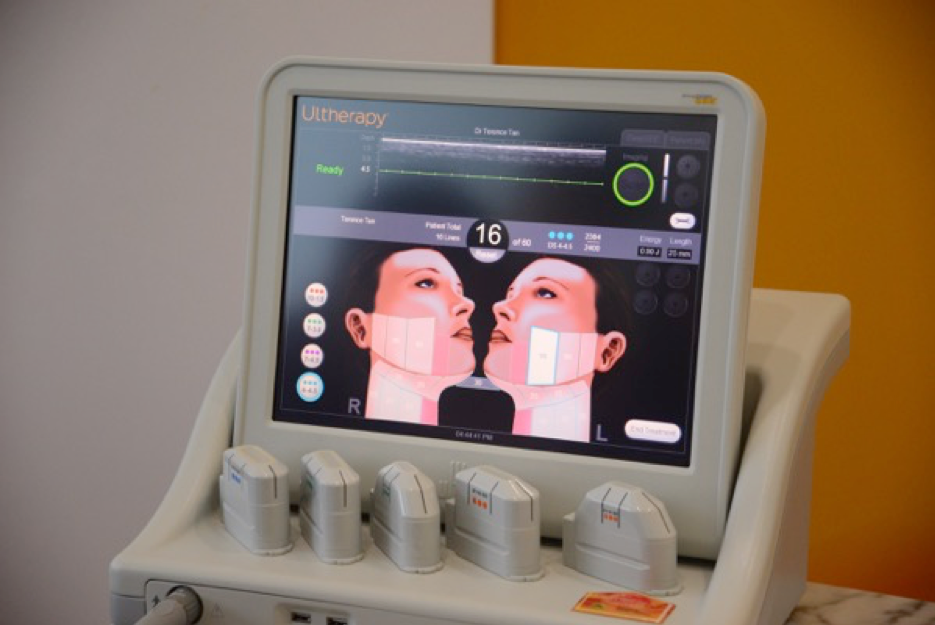 Ultherapy needs no introduction. It is the only FDA approved non-invasive, no-downtime skin tightening treatment that uses focused ultrasound to trigger the body into producing collagen. Everyone knows collagen is important for achieving plump, youthful skin, which probably explains the obsession behind consuming collagen drinks and partaking in collagen hotpots—a practice that has no scientific evidence that it works but if it makes you feel good, eat it!
I get asked this many times: Why should I do Ultherapy with a doctor when I can to a spa and get a facial therapist to do a similar treatment on a copycat machine. My answer is to always look for treatments with good evidence supporting its effectiveness and safety!
Ultherapy is the only treatment that allows the doctor to see where to treat. The treatment is done with the Ulthera device that has a very advanced, ultrasound imaging system that allows us to scan the layers of skin tissue. Then using what we call the transducer, we are able to apply the ultrasound energy at precisely 4.5mm, 3.0mm, and 1.5mm under the skin at the SMAS layer, to kick-start collagen production. This ensures high accuracy with minimal risk during the treatment process.
I will not go into the technical details but if you want to know more about the treatment, please read the exclusive interview on Ultherapy that the DoctorxDentist website has done with me.
Let's move on to my treatment process. Or if you prefer, watch my treatment video:
Numbing cream is applied and left on for about 20 minutes. There is no need for any cuts or incisions. All that is needed is the focused ultrasound energy to penetrate the skin to trigger collagen production, leaving the surface of the skin untouched. That's why there is no downtime and my patients typically go back to whatever they need to do after treatment.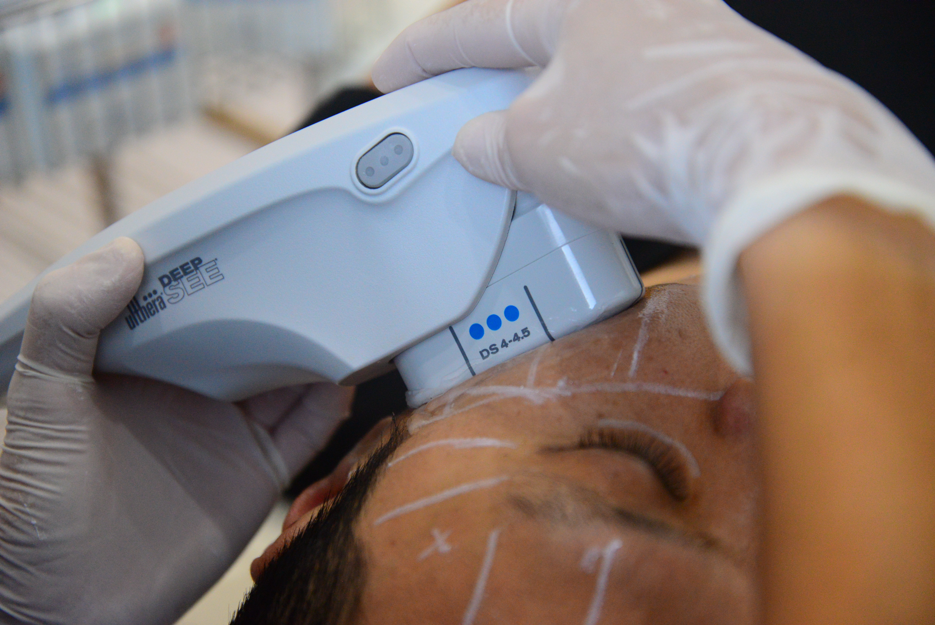 A full-face and jawline Ultherapy session takes about 1 hour to complete, and it will take about three to six months to see the full result of the treatment. See you later!