Following the success of their Dim Sum Buffet and Teochew Porridge Buffet, Spice Brasserie is back (on their woks) again to bring us on a gastronomic journey with their brand new "Gifts of the Sea" buffet dinner.
As the name suggests, the buffet features a stellar spread of crustacean dishes. From perennial favorites such as Chili Crab, Black Pepper Crab and Salted Egg Yolk Crab to innovative items like Homemade Lobster Bao, this is certainly one buffet not to be missed!
Here we rounded up some of the must-try items!
Baked Hokkaido Oyster
These oysters are truly the one-bite hors d'oeuvre not to be missed! The salinity of the oysters in combination with the refreshing taste of the Hollandaise taste will certainly leave your palates in awe. Before you know it, you're already reaching for a second serving. Imagine the flavours embracing, melding and becoming one on the tip of your tongue! Chilled Snow Crab Claw Think plump flesh and sweet juices upon the first bite – you might prefer your crabs to be served hot, but trust us when we say you certainly don't want to give this chilled snow crab claw a miss. For the uninitiated, snow crabs come at a hefty price tag, therefore, do not miss the opportunity to savour them to your heart's content.
Homemade Lobster Bao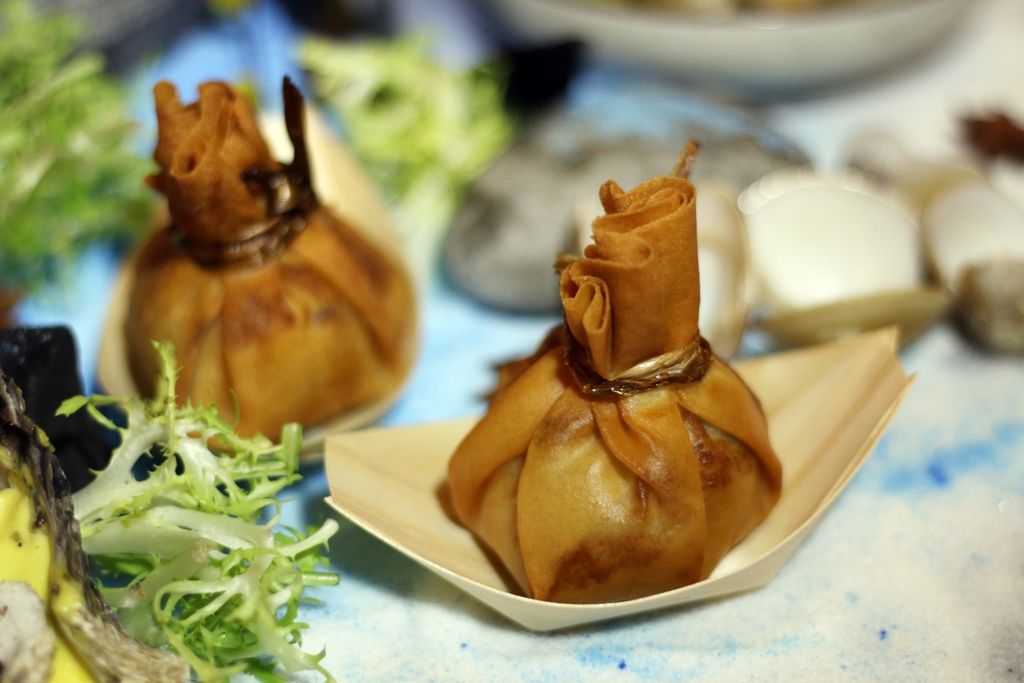 It's true when they say "don't judge a book by its cover". Expect to be greeted with a generous portion of diced lobster flesh, swiss mushrooms and chives underneath the seemingly boring brown skin. Be warned that these dainty delicacies are highly addictive! Nyona Baked Whole Mackerel Fillet Despite being baked whole, the mackerel remains delicately moist and is nothing short of flavourful. Lavishly doused in Assam Chilli, the dish provides the right degree of spiciness, which enables you to feel a slight sting on your tongue without much perspiration.
Wok Braised Live San Har King Prawns Noodle
The Wok Braised Live San Har King Prawns Noodles will certainly do the trick if you're craving for something comforting yet indulgent. Cooked with fresh, succulent prawns and silky noodles, this bowl of goodness boosts a subtly sweet herbal taste that isn't too overwhelming. All we would say is, this is indeed one dish that warms up your heart.
Aside from the array of delectable seafood, diners also get to enjoy various hot Asian and International dishes, fresh sushi and sashimi, and end the feast on a sweet note with luscious desserts.
The dinner buffet is priced at SGD 65 and SGD 32.50 for both adult and children respectively, and is only available from Thursdays to Sundays, on the eve of and on Public Holidays. UOB cardholders get to enjoy 20% savings off the total bill.
That's not all, create Instagram-worthy moments at PARKROYAL on Kitchener Road – share them and stand a chance to walk away with dining vouchers! Follow @PARKROYALKitchener, include #PARKROYALKitchener and #ShareYourMoments when you share your posts! One lucky winner will be selected each month and announced on Instagram! Contest is open until 31 October 2018.
Book your tables today! For more information and reservations, please call +65 6428 3160 or visit www.parkroyalhotels.com/kitchener.