Although I previously did face thread lift to lift and tighten my face, it didn't change the fact that my facial skin still lack the glow and radiance. I suffered from dehydrated skin, fine lines, and uneven skin tone. To add on to my already numerous skin woes, I also have dark eye rings, eye bags, crow's feet, and deep lines on my forehead.
I look tired and haggard and I guess it's time to have a little "revamp".

After speaking to Dr. Terence Tan from Halley Medical Aesthetics and having a better understanding of my skin problems and the available treatments during my earlier CoolSculpting treatment,  I thought I should follow his recommendations and give the Halley's Baby Skin Healer Trio Treatment a shot.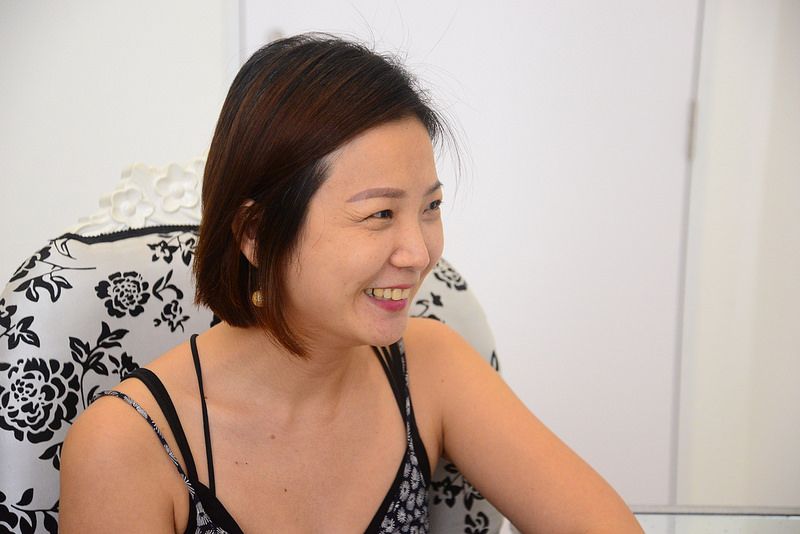 Beauty aficionados would definitely heard of skinboosters and their effects. Dr. Terence brought skinboosters a notch higher with his Halley's Baby Skin Healer Trio. The treatment is a combination of Rejuran Healer, Restylane SkinBoosters, and Micro-Botox, and they come together to give our skin more elasticity, radiance, and glow.
Halley's Baby Skin Healer Trio:
Rejuran® Healer
Rejuran Healer is one of the most popular treatments in Korea now. Its active ingredient is derived from the salmon's DNA which has shown to have regeneration ability. By stimulating the skin's fibroblast to produce collagen, Rejuran Healer can tighten saggy skin, reduce wrinkles and fine lines, minimise pore size, reduce inflammation, and improve skin tone.
Restylane SkinBoosters

Restylane Skinboosters can deeply hydrate our skin to firm it up and give it the extra glow. Hydration is the key to good skin so keeping your skin hydrate is the first step to anti-aging.
Micro-Botox

Micro-botox are botox injected in small doses to tighten skin, remove fine lines, and refine skin texture.
Benefits of Baby Skin Healer Trio
Baby Skin Healer Trio, which is a combination of Rejuran Healer, Restylane SkinBoosters, and Micro-Botox, is delivered into the skin via injections. They are injected right below the surface of our skin and is a great treatment for anti-aging.
Baby Skin Healer Trio can:
– Restore skin elasticity
– Minimise pores
– Restore youthfulness
– Reduce fine lines
– Improve acne scars
– Hydrate skin
– Tighten skin

Baby Skin Healer Trio FAQ:
1. Is it safe?
It is definitely safe. However, it is important that you look for a reputable doctor to carry out the treatment for you. He or she should be familiar with the procedure and is skillful in carrying out the injections to prevent having too many needle marks or bruises on your face.

2. Any downtime?

Be prepared to see tiny needle marks on your face immediately after the treatment. But fret not, they will be gone really soon.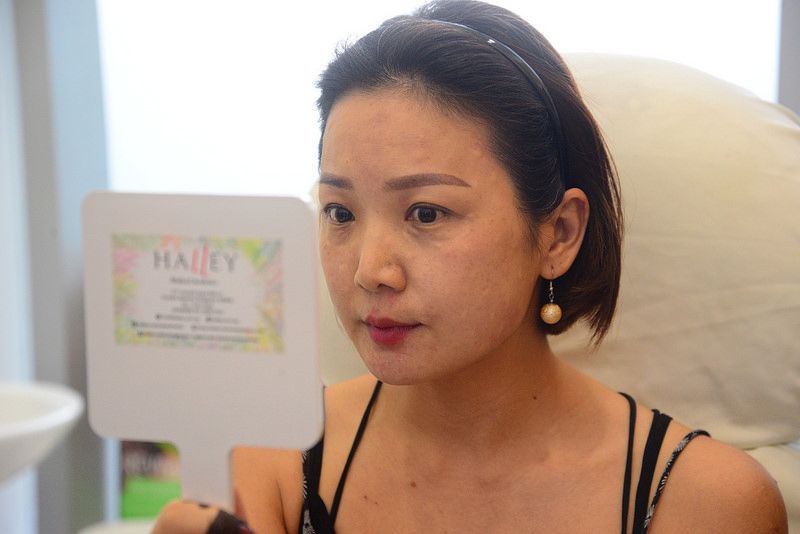 3. How long can the effects last?
You can see visible results after a month and the effects should last about 6 to 9 months. It is recommended that you have at least 3 sessions of the treatment, once a month for 3 months, and having one treatment every half a year subsequently, for you to see the best results.

After the injections are done, the beauty therapist applied Vitamin C and stem cell serum onto my skin, and soothe them on with electric pulses to make sure that my skin absorbs them well.
Vitamin C is an antioxidant which can combat aging, while stem cells can regenerate our skin and stimulate collagen production. This add-on treatment further hydrates my skin and give it the nutrition it needs.

Comparing my photos from before the treatment and one-month post-treatment:
* No makeup and photo unedited

My skin looks more glowy and my dark eye rings seem to have lightened too. My nasolabial folds and the fine lines around my mouth are reduced, and my forehead, cheeks, and undereye area look fuller too. My face is significantly firmer, and my friends commented that I look younger than before. Nowadays, I just need to put on some sunblock and light makeup and I can head out with confidence.

This is me travelling on a Korea and Japan trip 2 weeks post-treatment. Although the doctor told me that the results can only be seen in a month, I felt that there was already a difference after 2 weeks? Was it my illusion?
*With light makeup on

3 weeks post treatment and I felt that my skin was more hydrated and glowy. I don't look too bad in photos, do I? I only have sunblock and no makeup on my face!

Exactly 1-month post-treatment and my skin tone became more even, fine lines were reduced, and my skin felt so much firmer.
*I'm completely without makeup. Please ignore my freckles!

1 month and 1-week post-treatment, I traveled to India for a Yoga Ambassador trip and we did not have to put on any makeup for the whole trip. Can you see my radiant skin?

I did a video interview with India's DD News with no makeup except my lipstick!

1 month and 3 weeks post-treatment and I went for a staycation to enjoy my weekend. It's been long since I saw myself looking good even without makeup and I really love it.

Around 2 months post-treatment and I went for a variety programme recording in Guizhou.

The camera came on immediately when I stepped out of the arrival gates. I wasn't prepared and didn't have a chance to put on any makeup. But on second thoughts, I was confident even without makeup, wasn't it? The director told me that I looked good on camera too!

You know what, I was really worried when I had to take photos with all the young girls with small faces and great skin, just like these two co-emcees from Macau. Initially I was worried that I won't look good but it wasn't too bad!

For the rest of the journey and filming, my skin was in a great condition, all glowy and firm. Most of the crew couldn't tell my real age and said that I look youthful!

With age and frequent travels, it is really hard to maintain my skin. However, it is important that I look good on-screen for my job. The treatment helped me keep my skin in a good condition. My face looked slimmer and more 3-dimensional, and my skin is more elastic and glowy.
I'm glad that I did the Baby Skin Healer Trio at Halley Medical Aesthetics. I felt so much more confident.

If you are plagued by skin woes and your skincare products aren't doing much to help, perhaps you might want to give the Baby Skin Healer Trio a shot.
Total cost:
Halley Baby Skin Healer Trio = $1390
Watch this video for more information on skin rejuvenation:
Halley Medical Aesthetics
277 Orchard Road #03-15
Orchard Gateway
Singapore 238858
Opening Hours
10:00 am – 9:00 pm Daily
Contact
Tel: +65 6737 8233
Article translated by: Xinyi Soh
Original article below
__________________________________________________________________
Halley Medical Aesthetics Halley's Baby Skin Healer Trio 魅丽医学美容招牌疗程逆龄魅丽针
虽然之前做过脸颊埋线,提升并稳定了脸部内层肌肉,防止脸部下垂得太快。但这并无法改善我的皮肤不够水嫩,有细纹,没有光泽和脸色不均匀的问题。尤其额头已经出现明显的皱纹,眼袋,黑眼圈加上眼角纹。。。令我看起来很累很憔悴的样子。是时候让肌肤来个大整修行动了!
在Halley Medical Aesthetics与陈锦良医生初次见面聊开后,了解了许多能对我皮肤状况有帮助的疗程。而既然在魅丽医学美容诊所进行Cool Sculpting 酷塑疗程, 那我也决定接受陈锦良医生的建议,进行诊所的招牌美容疗程——Halley's Baby Skin Healer Trio 逆龄魅丽针!
很多爱美人士都有听过"婴儿针"的功效。陈锦良医生研发Halley's Baby Skin Healer Trio逆龄魅丽针的目的是把这逆龄针的效果增强,更深层改善肤质与肌肤,使我们的脸更有弹性,光滑,白皙水嫩!所以这一针不仅包括了Rejuran Healer 丽珠兰逆龄针,陈锦良医生也配加了Restylane Skin Booster 瑞然皮肤活化剂与Micro-Botox 微量保妥适 。
Halley's Baby Skin Healer Trio魅丽针各产品的功效:
Rejuran® Healer 丽珠兰逆龄针
韩国医美界现在最风靡的莫过于丽珠兰逆龄针了。是从三文鱼里抽出(DNA)以人体皮肤组织匹配精致的多聚核苷酸。三文鱼DNA能促进皮肤保护膜再生,增加真皮的厚度,使皮肤屏障具有更强大的能力来进行自然防御,抵抗外在因素的伤害。
注射丽珠兰逆龄针不但能促进生成胶原蛋白,还能够活化皮肤再生能力,从而改善皮肤内部结构。不仅如此,它能激活成纤维细胞,促进细胞生长,增长皮肤的弹力,对抗老抗炎的方面有神奇的功效。
Restylane Skin Booster 瑞然皮肤活化剂
玻尿酸水光针能深层滋润皮肤细胞,从里到外提供深度保湿,让皮肤紧实提亮!皮肤喝饱水就会从内而外焕发活力,呈现饱满状态肤色均匀有光泽!也能协助抗老效果!
Micro-Botox 微量保妥适
BOTOX(保妥适a型)是一种神经传导的阻断剂,治疗过度活跃的肌肉。微量注射能紧实收缩肌肉,从而让脸颊提拉,减少皮肤下垂,更为自然立体的显瘦。它还能收缩毛孔,控制因表情过多而造成的细纹,减缓细纹加剧产生。
逆龄魅丽针对肌肤有什么好处?
逆龄魅丽针是以微注射的方法,以3合1产品Rejuran® Healer 丽珠兰逆龄针 + Restylane® Skin Booster 瑞然皮肤活化剂 + Micro-Botox® 微量保妥适,而组成的美容3合1菜单,注射在皮肤表面下。如果想预防老化的过程或逆转老化迹象,逆龄魅丽针是非常理想的治疗。
 逆龄魅丽针的主要功效:
美白嫩肤效果
恢复皮肤弹力
减少角质,收缩毛孔
抗老抗炎效果
减少细纹
改善痘痕
保持皮肤的水分
肌肤紧致
逆龄魅丽针问与答:
安全吗?
逆龄魅丽针本身非常有稳定性,安全性很高,也不会对人体造成副作用或排斥反应。
首先一定要找信誉良好,专业的医美专科医生为你进行注射疗程,不仅如此,熟练的手工注射技巧也很重要,这样才能避免造成太多太明显的注射创伤伤口或淤青。
恢复时间?
要有心里准备小小的针孔印。但不用担心,这状况很快就会会淡化消失, 皮肤恢复正常。
维持时间?
最理想的疗程是注射3次,每次施术间隔1个月左右,随后每6个月回来注射以维持长期效果。
注射后大约在1个月后看见显著效果,状态可维持6到9个月左右。
打完逆龄魅丽针后,治疗师使用离子导入护理,通过柔和的电脉冲将维生素C和干细胞精华露导入我的皮肤深层,以确保皮肤能吸收。
维生素C是一种抗氧化剂,有助于防止皮肤老化、淡化色素沉淀,促进痤疮易发皮肤的愈合。干细胞精华露能够促进皮肤再生同时也能促进胶原蛋白生成。这个另加疗程可以让我的皮肤更加滋润,滋养,给予肌肤额外的健康与柔亮。
皮肤变得更有光泽,黑眼圈暗淡了许多。法令纹,口角纹与其它细纹也减少了。额头,脸颊及眼睛下方也比以前丰满。我的脸也明显的变得更紧致,尤其是颚部。身边的朋友都说我变得更年轻。现在出门我也只需要擦防晒乳,或是画淡妆。对自己更有自信了!
2个星期后,姐飞往韩国和日本旅行,心情,气色和状态很好!
是心理作用吗?即使医生说效果是1个月后才显著,可是就觉得皮肤看上去很粉嫩对吧?
*只是画了淡妆。
3个星期后,已经开始觉得皮肤较有水份,一点点的开始发光。就连只是搽了防嗮霜出席发布会活动,
和美肤产品代言人站在一起合影,姐还不算太差是吧?
刚好1个月!最明显是肤色已经均匀。皮肤的亮白真的是从里面散发出来的。
皮肤细纹开始淡化,感觉也较紧实, 有弹性。
*完全不化妆裸脸的我, 请忽略我本身还没处理的雀斑!下一步应该轮到对付你了!
1个月+1星期后,启程到印度喀拉拉参加世界瑜伽大使之旅。当然全程我们是不用化妆的。
有没有看见我白里透红的肌肤呢?哈哈哈!
只搽了口红,就敢敢上镜接受印度喀拉拉的国家新闻记者DD NEWS的采访。
1个月+3星期回国后,入住酒店好好享受我的周末。已经很久没有看见裸脸不化妆都看起来都好有气质的我!好喜欢这样的自己!
将近第2个月,姐受邀飞到中国贵州,参与南方卫视拍摄的「潮流假期之爽爽贵阳FUN转一下」旅游节目当主持嘉宾!
一出机场闸门就直接被逮住进行拍摄,真是吓死我什么都没准备连妆也没有化,
但想想其实我已经准备好以最好看的皮肤状态上镜呀!
来呀,你在拍我吗?没化妆也没什么好怕的!导演还称赞说我很上镜呢!
知道吗,最怕和年纪轻轻,脸小小,皮肤超好的女人一起合照。
我就和差不多同样时间抵达机场的南方卫视女主持人(左:美希)和澳门小姐兼澳门受欢迎的主持人(中:伍家仪)一起合影。
本来还很担心自己状态不好看,看回照片发觉其实我也不赖嘛!
过后在中国贵阳一路的拍摄,姐的状态都keep到最好最美,皮肤好有光泽很水嫩,QQ有弹性呢!
人人都看不出我的真实年纪,大家都说看起来我好年轻哦!这就是我梦寐以求的美肤状态!
熟龄的姐加上频密的海外飞行旅游,皮肤真的比较难保养,工作需要经常上镜的我皮肤不好怎么行?
治疗后耐心的等待结果,如今,很明显在各个角度拍摄都觉得脸型变更瘦小立体了些,皮肤更有弹性,光滑,白皙水嫩!
不禁打从心里要感谢Halley's Baby Skin Healer Trio 逆龄魅丽针的神奇功效,让我可以如此的自信!姐对这次抢救皮肤,逆转年龄抗衰老的医美治疗十分的满意!
如果目前你的皮肤状态试了什么护肤产品都没有明显改善,试图想用较短时间复原健康美肌的长期功效,也许Halley's Baby Skin Healer Trio逆龄魅丽针是你可以考虑的途径。
总共花费建议价:
Halley's Baby Skin Healer Trio逆龄魅丽针 = $1390
地址:277 Orchard Road乌节路 #03-15 orchard gateway Singapore新加坡238858
营业时间: 每天10:00 AM – 9:00 PM
联络电话: 6737 8233
电邮:info@halley.com.sg
官网:https://www.halley.com.sg/cn
Facebook: @halleymedicalaesthetics
Instagram: @halleymedicalaesthetics
YouTube:@HalleySGMedicalAesthetics