Your brows are the most prominent features of your face apart from your eyes. We already know that a good pair of brows can frame the face but the right brow shape can also create a more youthful look.
Achieving that #browsonfleek look can be quite a daunting task, especially if you are rushing for time in the morning before school/work. What better way to save your time and effort to get those perfect brows on 24/7 than with semi-permanent makeup? Semi-permanent makeup procedures have taken over the beauty industry by storm recently, and it's almost as if every girl I see has jumped on the brow-wagon! Well, to no surprise, I HAVE TOO, with the LA VIDA™ Deluxe Creative Brows Embroidery Service. I can finally spend more time with my pillows and bed in the mornings!
Microblading, also known as eyebrow embroidery, is a new and popular technique that gives you semi-permanent, natural-looking brows. It's a procedure that utilises a micro-blade (essentially a very small blade) to create tiny incisions with loaded coloured pigments that mimic eyebrow hairs. This means that once you have gone through microblading, you will also experience the convenience and beauty of having your #makeuponpoint. Looking perfectly polished before you head out can never be as easy as this, and well, you can finally boast and say, "I woke up like this!"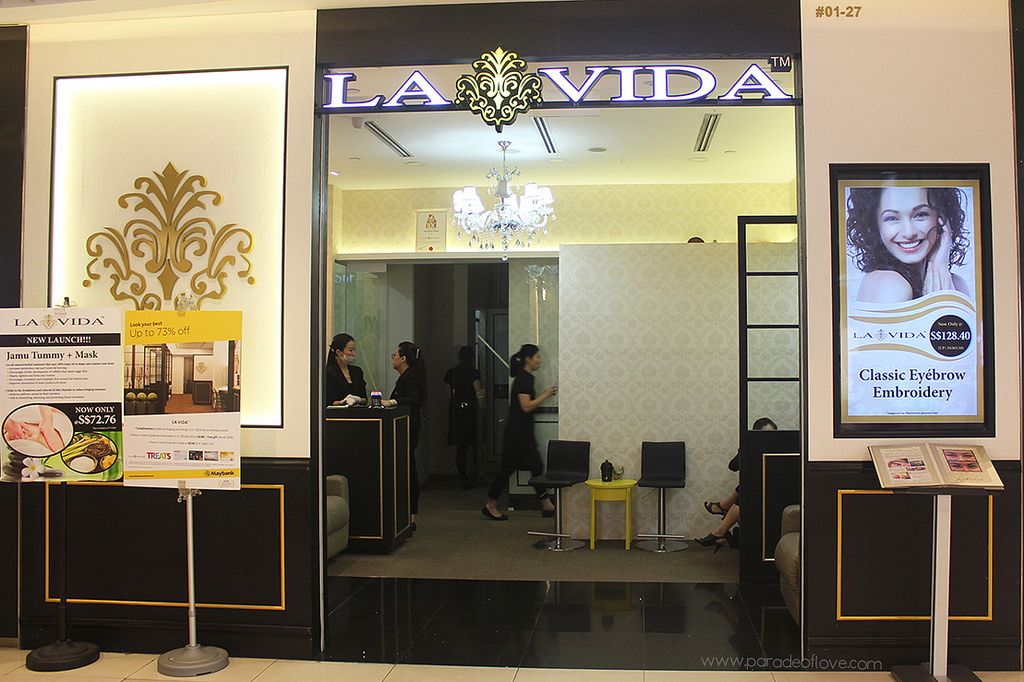 To be very honest, I was once skeptical about eyebrow embroidery and never wanted to have my brows done. Even though eyebrow embroidery is super on-trend right now, I did not want to just hop onto it just like everybody else. When it first started, there were not many advanced techniques out there, which resulted in brows looking artificially done. I'm thankful for the continuous innovation and improvement in techniques being done by beauty companies so that we can now enjoy fuller and more natural-looking eyebrows. I decided to give eyebrow embroidery a try at LA VIDA™ after much research, courtesy of LA VIDA™ and MyFatPocket.
Opening its doors since 2014, LA VIDA™ had numerous clients who entrusted themselves in the good hands of the brow specialists. Part of the reason why I said "YES!" to LA VIDA™ was because their brow specialists are well-trained and highly qualified. The company prides itself as one that constantly looks into developing skills, techniques, and technology employed to create the best results for their clients.
I went to one of LA VIDA™'s seven outlets, at Bedok Mall for the Deluxe Creative Brows embroidery service, one of the highly rated semi-permanent makeup services at LA VIDA™ and I'm thrilled to share the process and the results with you!
The Deluxe Creative Brows embroidery service, as mentioned, uses a micro-blade to create small incisions along the brow line with a pigment. Before the start of the eyebrow embroidery service, I had a consultation session with the brow specialists on recommendations for an eyebrow design that complements my facial features, skin tone, and hair colour. This is a complimentary session for anyone taking up the service. I wanted to go for au natural, so the brow specialists chose a chocolate brown shade for me. Apparently, as time goes by when the skin heals, the colour will fade to about 1/3 of the original shade, so you do not have to worry about it looking too dark and stark.
After the consultation, my brow areas are then numbed with a numbing cream so that I do not feel anything during the session. The numbing took about 20 minutes, so I had a chance to speak to the brow specialist to understand more about the procedure. After which, my designated brow specialist then mapped out the shape of my natural brows with a pencil to demarcate the thickness and length. Because I'm all about achieving that natural brows look, I had my specialist go with the natural shape of my brows.

Numbing the brow areas

Trimming the brows for brow mapping

Mapping the brows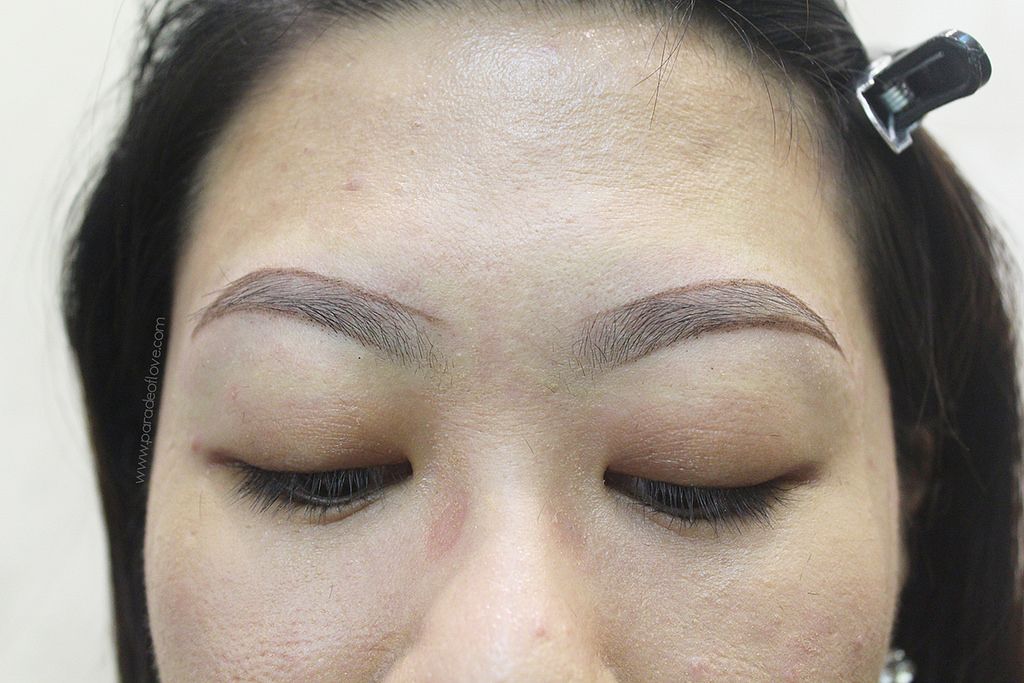 Brows mapped!
My brow specialist then took out her tools, including a brand-new micro-blade she popped open and started creating individual brow strands on my brows. Combining unique strokes, in accordance to the growth of the eyebrow, she created fine brow strokes with a plant-based industry-leading natural pigment.
Creating and mixing of the coloured pigments.
If you are wondering about the pain, I can tell you that there's NONE! I was pleasantly surprised because I was honestly expecting some tingle. However, be prepared to feel a slight stinging sensation about an hour later as the numbing cream subsides, for the next 2 days or so.
This is how my brows look like right after the session versus my actual brows before the embroidery: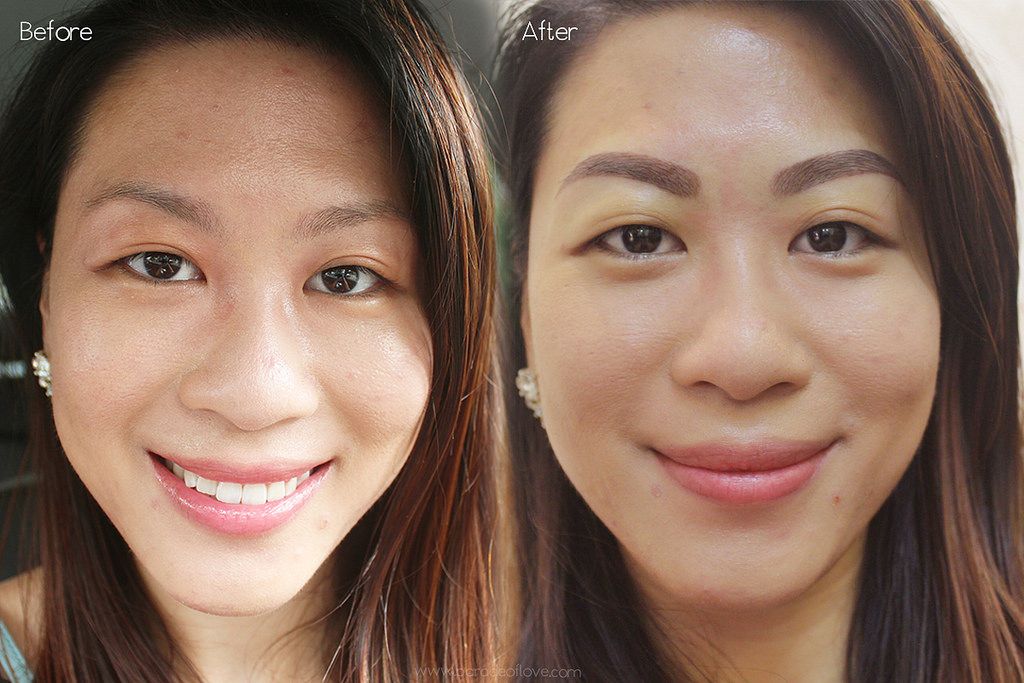 It's a total game changer for me!
Post-embroidery, I was told to not have makeup nor skincare on the brows so that the skin can heal. You are also not allowed to swim, dive or go for steam baths – basically anything that requires prolonged contact with water and/or sun. I was also given a gel to apply thinly to speed up the healing process.
Here's a photo to show you the state of my brows after about 4 days:

The skin has started to peel on the left and as you can see, the skin on the right has pretty much healed.
The very reason why I decided to do my brows was due to my hectic work schedule. Once the eyebrow embroidery is done, it can last for about 18 – 24 months (that's almost 2 years!). It's goodbye to the daily drawing of my eyebrows and hello to extra 5-10 minutes of sleep!
Brows after a week. No makeup needed!
Great Eyebrow Promotion
As part of LA VIDA™'s on-going effort to bring on point eyebrows to everyone, and in conjunction with this collaboration, the parlour is offering their highly raved Deluxe Creative Brows embroidery service at a promotional price of SGD398 (usual price of SGD1369.60) with a complimentary touch up session (worth SGD388) to all first-time customers*.
To enjoy the promotion, quote "ROANNA398" when you book your appointment!
*By appointment only, for age 23 years old and above, at all of LA VIDA™'s 7 outlets.
To learn more about LA VIDA™, please visit the website at www.lavida.com.sg. There are altogether 7 outlets across Singapore, and are pretty spread out with locations at:
AMK Hub #B1-24, Tel: 6481 5484
Bedok Mall #01-27, Tel: 6384 3218
Bukit Panjang Plaza #03-12, Tel: 6465 4491
Grantral Mall @Clementi #01-09/10, Tel: 6774 7372
Compass One #04-23, Tel: 6386 2585
Lot One #02-02, Tel: 6769 3244
Northpoint City #B1-168 Tel: 6873 1168