I have finally gone ahead and did something I've always wanted to try, and I can't wait to share what this post is going to be about. So please read on.
I have always wanted to try eyebrow embroidery but like many others, I do have certain levels of fears and doubts at heart. Where and how should I source for a skilled brow specialist when there are so many eyebrow experts out there in the market in Singapore? Will it be painful? How much does it cost? Will it be too expensive? Is it worth going for it?
My doubts were cleared when I got to know about LA VIDA. To be honest, I was still afraid to get my eyebrows done initially. But after doing some research, I realised how good LA VIDA is. The number of positive reviews are insane and the reviews came mostly from their own customers.
Opened in 2014, LA VIDA brow specialists have been very popular as they emerged with the most natural-looking eyebrows, semi-permanent eyeliner, and lip embroidery. They are highly-trained and qualified professionals who are constantly learning new skills, techniques and technology, to create the best results for their clients.
I headed down to LA VIDA at one of their main stores at Ang Mo Kio Hub. The store is spacious and it's a one-stop beauty salon. They offer spas and nails services under the same roof too.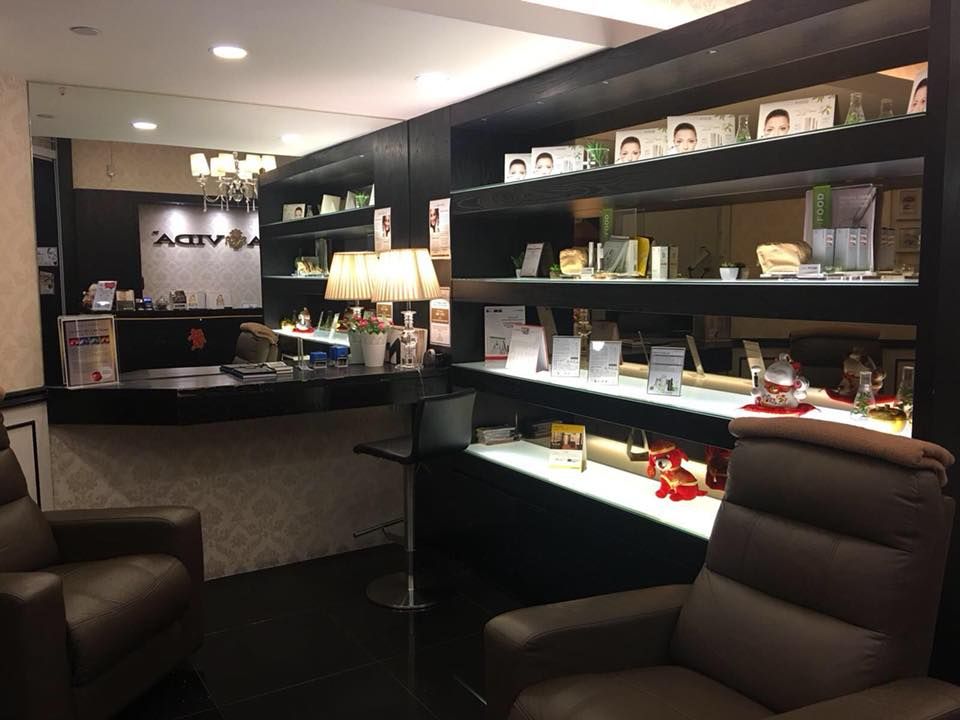 This area is specifically dedicated to eyebrow embroidery.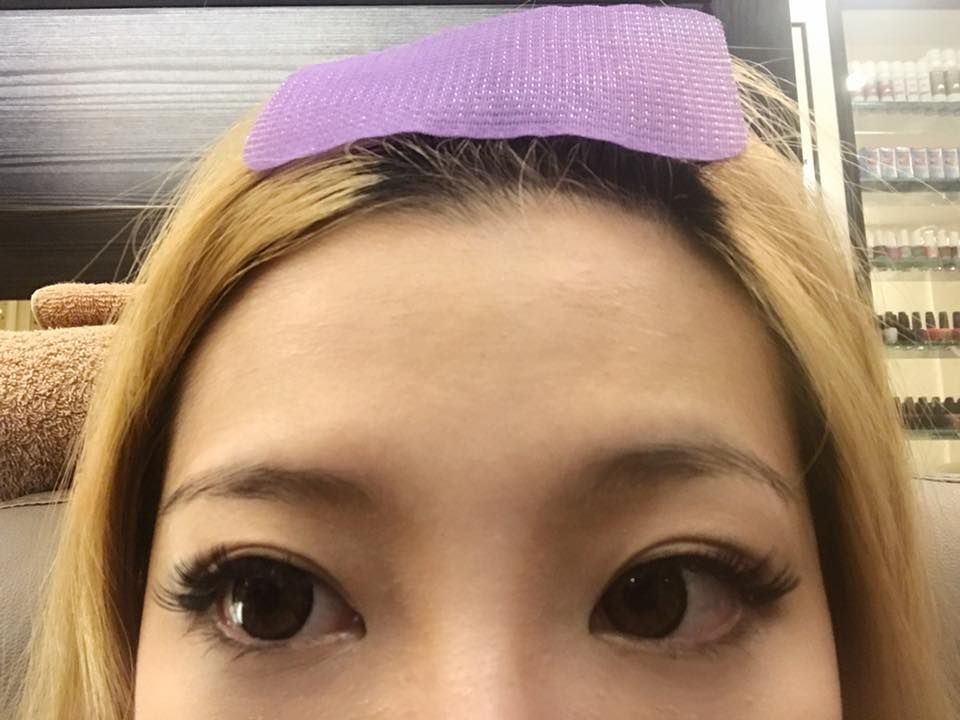 I felt so inferior right after removing my eyebrow makeup!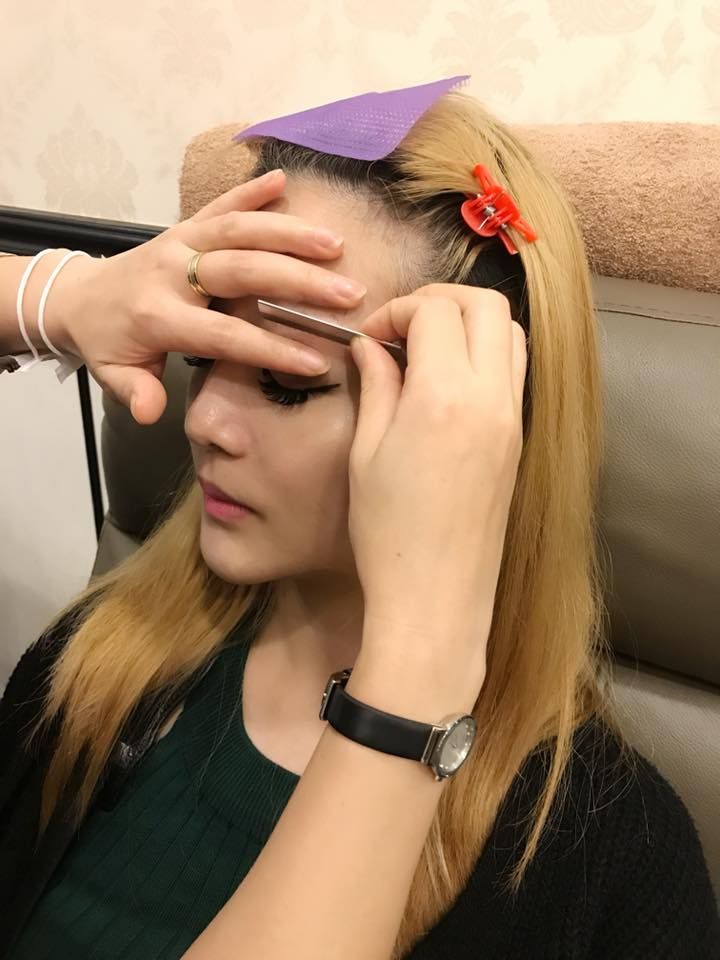 Here's the brow specialist shaping my eyebrows before the procedure.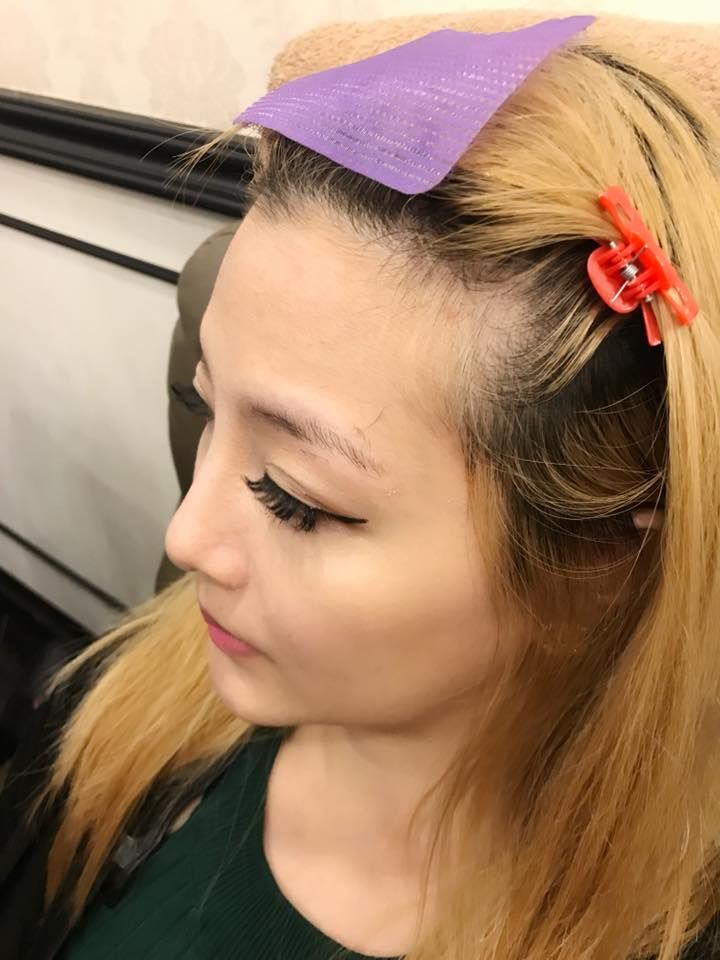 Look at the sparse eyebrows I have. I can't wait to see the final results.
After some discussion and thorough consultation with the brows specialist, she recommended me to go with their Deluxe Creative Brow Embroidery after getting to know my concerns and the kind of eyebrow design that I prefer.
Deluxe Creative Brows embroidery service is one of their highly rated semi-permanent makeup services. Using a micro-blade, small incisions are made along the brow line to mimic existing eyebrow hairs. Combining unique strokes in accordance to the growth of the eyebrow, individual brow strands are created with a natural three-dimensional tone. It is very natural-looking in my opinion! (Especially when the scabs fell off!!) There is a complimentary consultation session by the brow specialists for a unique eyebrow design that will complement your facial features, skin tone and hair colour. Once the entire treatment has completed, the embroidery can usually last up to 18-24 months!
Applying numbing cream.
While waiting for the numbing cream to take effect. It usually takes 15-20 minutes for the skin to feel nice and numb.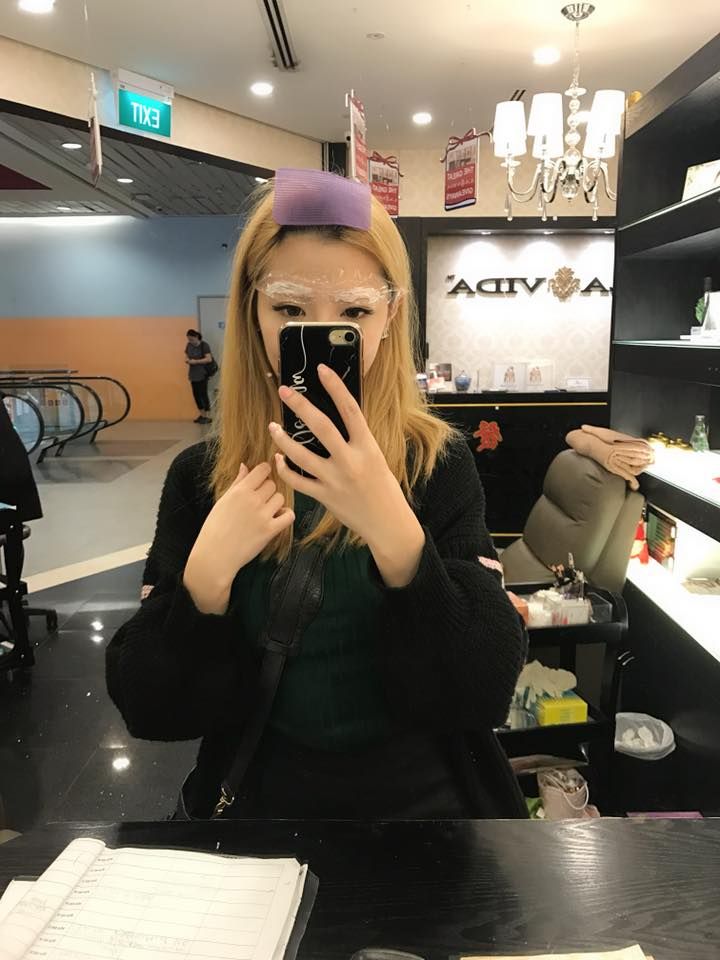 A mirror selfie while waiting!
I was surprised that the whole embroidery wasn't painful at all. Last I check, a few of my friends that went for eyebrow embroideries (at other places) told me that they felt pain during the process even after applying a numbing cream. And honestly, that frightens me a lot.
The pain level is definitely a 0/10 for me. Disclaimer: I kept emphasising to the brow specialist that my pain tolerance is really low and therefore the brow specialist put the numbing cream on my eyebrow area for a longer period.
To play safe, I have asked them to leave the numbing cream on for 40 minutes. I know 40 minutes is a tad too long, but I did not regret one bit at all. I felt no pain throughout the process and I was so at ease. But well, I guess this may vary according to individuals. You should consult the brow specialist when you are there to double check.
Mandatory selfie once it was all done.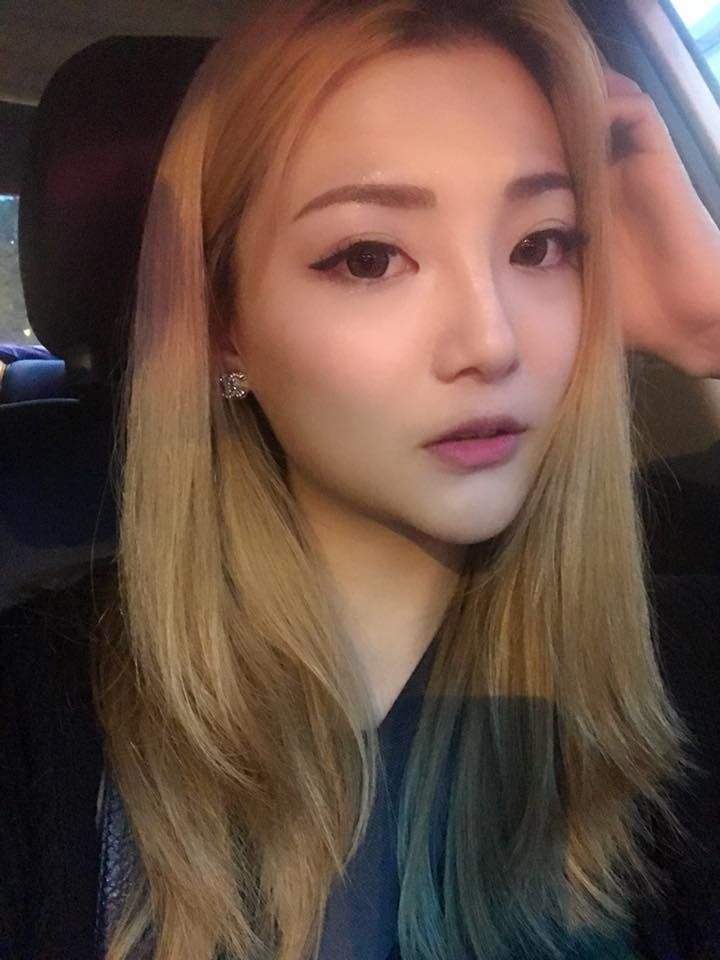 There are perks of getting your eyebrow done, though. Imagine waking up to perfect brows and of course, getting more rest in the morning because there's no need to draw my eyebrows anymore. Well, definitely one of the best decision made in my life.
It is no secret that semi-permanent makeup are trends that have been sweeping the makeup industry and once you experienced how convenient they can be, there is no turning back.
There will be another complimentary touch-up session 30 days later so that the eyebrow embroidery can last for a longer time. I will keep you guys posted till then.
More about LA VIDA™
The Art of Brow Specialist
Since its inception in 2014, LA VIDA has rapidly become a dominant player in the semi-permanent makeup industry and getting increasingly recognised by clients as the leading brow and lash speciality boutique.
LA VIDA specialises in cosmetic artistry for eyebrows, eyeliner, lips where their specialists design and create makeup looks that look so natural and effortlessly beautiful for their clients. These can only be achieved through extensive training, using highly skilled feather-stroke techniques and industry-leading safe colours by our specialists. LA VIDA™ also provides some luxurious spa treatments for clients who are always in pursuit of effective beauty solutions in an elegant, fully relaxing European-inspired haven where luxury meets comfort, lifestyle and beauty all integrated into one.
GOOD NEWS! – LA VIDA™ Great Eyebrow Promotion
As part of an on-going effort to bring on point eyebrows to everyone, LA VIDA™ will be offering their highly raved Deluxe Creative Brows embroidery service at a promotional priced of $398 (U.P$1369.60) plus a complimentary touch up session (worth $388) to all first time customers (by appointment), 23 years old and above, available at all of LA VIDA™ 7 outlets by quoting "Joanna398"!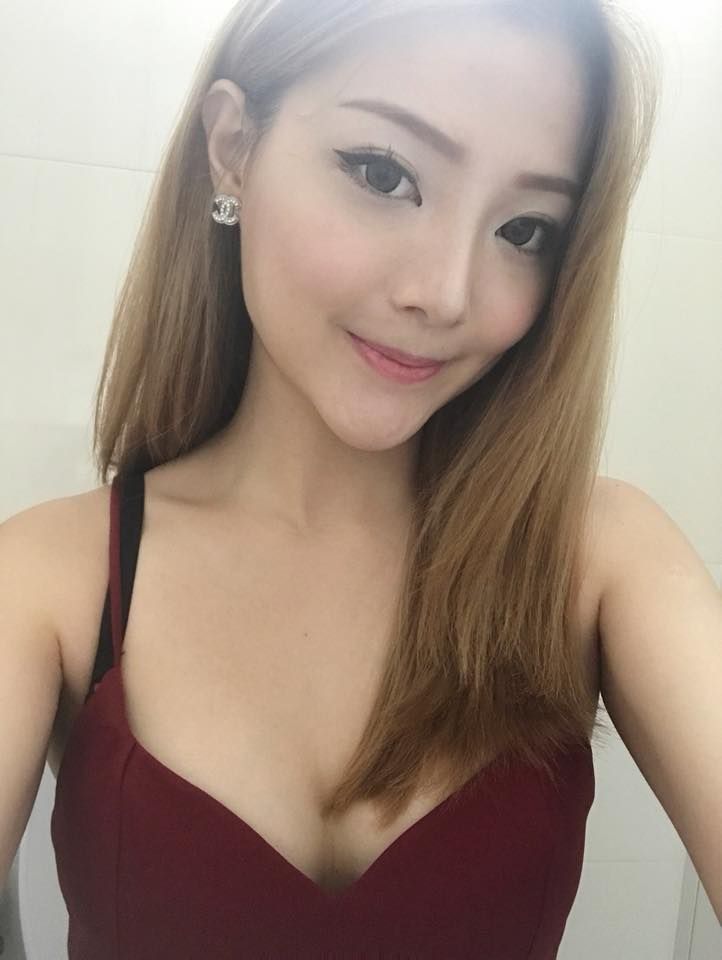 Can you tell that I'm very in love with my new brows!?
With the right brows, it helps to shave years off our looks, creating the illusion of bigger eyes and an instant eyelid lift! With LA VIDA Deluxe Creative Brows, clients can expect fuller natural looking eyebrows to regain the confidence they rightfully owned and the confidence that comes with it!
Outlet locations
AMK Hub #B1-24, Tel: 6481 5484
Bedok Mall #01-27, Tel: 6384 3218
Bukit Panjang Plaza #03-12, Tel: 6465 4491
Grantral Mall @Clementi #01-09/10, Tel: 6774 7372
Compass One #04-23, Tel: 6386 2585
Lot One #02-02, Tel: 6769 3244
Northpoint City #B1-168 Tel: 6873 1168
By Blogger Joanna Soh