I love tattoos, and in fact, I'm in the process of adding more on my body. I see them more as a form of self-expression, rather than a rebellion. As I mature, the tattoos that I put on my body are all carefully thought through with meanings behind them, and some are even designed by myself, and perfected by my tattoo artist.
I have a total of 4 tattoos that I did over the years and I've been toying with the idea of removing the very first tattoo that I did on the back of my right shoulder. I did that tattoo when I was much much younger, without really knowing what exactly I wanted. There wasn't any meaning attached to it, and well, the tribal butterfly design does look kind of Ah Lian to me now. I asked around to check if any of my friends had experience with tattoo removals on my Facebook and many of them told me that the removal may cause blisters and even leave scars and I should do a tattoo coverup instead.
I didn't mind keeping the tattoo if it will leave scars, rather the tattoo than scars, right? But after some googling around, I found out that there's a new type of laser called PicoSure that can effectively remove tattoos and so I thought that I should go and find out more with a doctor before I make any decision.
So off to Halley Medical Aesthetics I went since they have that technology there. I met up with Dr. Terence Tan who gave me very clear details on how PicoSure Laser works, and answered my queries (and fears) of tattoo removal. With the confidence he gave me, I made my decision and went ahead for my first session of laser tattoo removal.
Watch the video to find out what went on during the consultation, and how the treatment was done.
Will I get blisters and scarrings post-treatment?
Dr. Tan told me that blistering is very common after laser tattoo removal and there is nothing to worry about. However, if that is one of my concerns, he can do a CO2 laser for me before the PicoSure Laser to prevent blisters from appearing.

CO2 laser treatment
I was first treated with a CO2 laser, a fractional ablative laser which is used for skin rejuvenation as well as skin toning (e.g. lightening and removal of scars and pigments). According to Dr. Tan, treating the outer-most layer of the skin with a CO2 laser minimises blistering and scarring. This treatment was then followed by the PicoSure laser, which is considered a gold standard for tattoo removal. The whole tattoo removal process was uniquely different from traditional tattoo removal treatments that typically uses only one Q-Switched laser.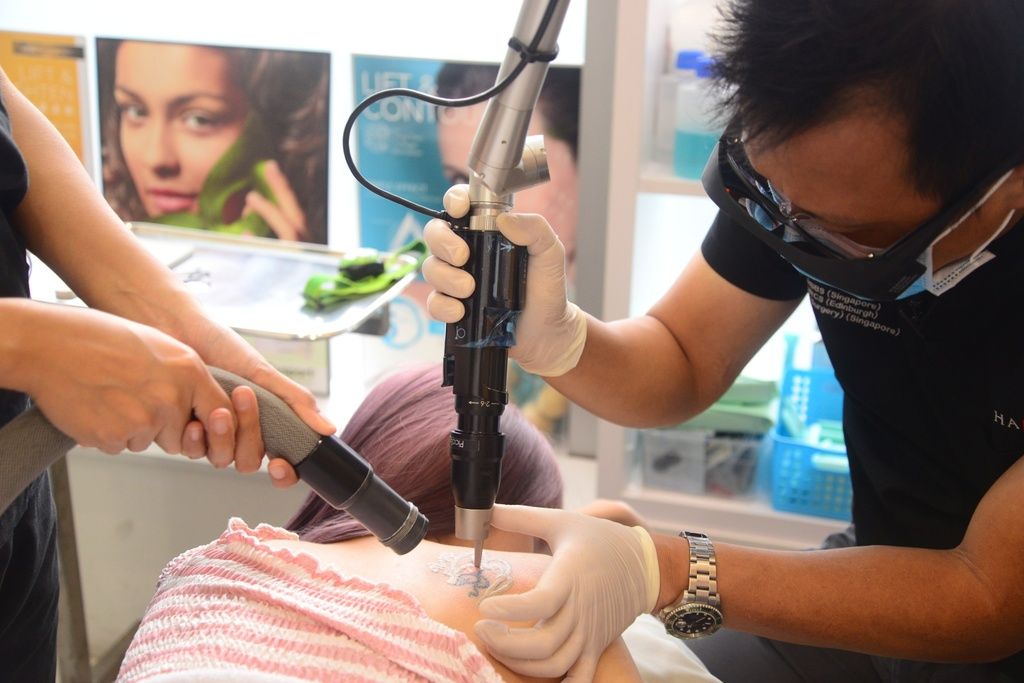 PicoSure Laser treatment
We did exactly that and there wasn't any blistering after the treatment. My fears were unfounded!
What is PicoSure Laser?
It's going to get a little more scientific here so bear with me for a while. But it is good to understand what exactly the treatment is before you go through it.
The PicoSure laser delivers ultra-short pulse bursts of energy to the skin in picoseconds (trillionths of a second), shattering the ink pigment into tiny dust-like particles which are then absorbed by the lymphatic system and eliminated by the body naturally. In addition, PicoSure laser's ultra-fast pulses and unique PressureWave technology work together to minimise the amount of heat that is transferred to the skin. Less heat means less damage to surrounding skin and less risk of injury.
How many sessions do I need for complete removal?
While the tattoo looked kind of "whitish" after PicoSure Laser, the whitish parts go off after a while. When I removed my bandage at home, the tattoo looked pretty much the same as before. Dr. Tan told me that I'll need at least 6 sessions of laser treatments before the tattoo will be gone, so I wasn't surprised to see that the tattoo was still very much there.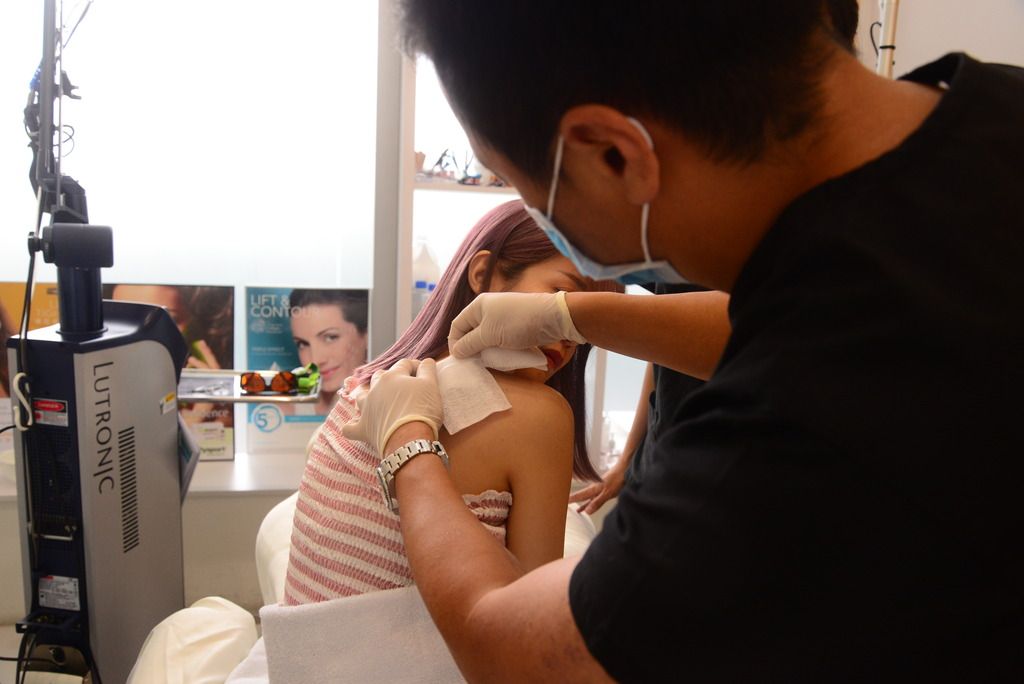 The number of sessions required will vary from patient to patient as well as the ink pigments used. According to Dr. Tan, black inks are the easiest to remove.
Is it painful?
Before I even went for the tattoo removal, everyone around told me that they heard about how laser tattoo removal is super painful, and that it will be even more painful than the act of tattooing itself.
For me, tattooing is really not that painful. As compared to my cartilage piercings, I think tattoos are just like ant bites, and the consistent zzzz-ing of the tattoo pen numbs you after a while so except for the bony hip area that I cringed a little, tattoos are generally ok for me.
Numbing cream was applied prior to the laser to make the process more comfortable. I was worried for nothing because the treatment process was quite painless and I'm not trying to act cool here yo. I'm not sure if it is the new lasers that Dr. Tan was using that made it so painless, though.
There was some discomfort after I left the clinic, around 10 to 15 minutes after the laser session. The feeling was uncomfortable, but definitely bearable. Don't worry too much about it, it isn't as bad as what the rumours said it will be.
The clinic I went to and the treatment cost:
Halley Medical Aesthetics
277 Orchard Road #03-15
Orchard Gateway
Singapore 238858
Opening Hours
10:00 am – 9:00 pm Daily
Contact
Tel: +65 6737 8233
CO2 laser = $570/session
PicoSure laser = $390/session (per-palm sized tattoo)
Total: $960/session (incl. GST)
Let me know if you have any other questions, I'll ask Dr. Tan on your behalf the next time I'm there.