Changi Airport T4 was filled with screams from enthusiastic fans last Friday as we awaited the arrival of K-pop band Highlight for their interview session and performances, as they took on the new role of The Shilla Duty Free's ambassadors.
Formerly known as Beast, Highlight is one of the well-loved K-pop boybands who is 9 years into the industry. They are appointed as the newest ambassadors of The Shilla Duty Free and were invited to Singapore for the exclusive media interview and fanmeet as The Shilla Duty Free's way of expressing its 'Thank-You' to customers for their support over its past four years of operations in Changi, as well as a toast to more bright years to come.
Their thoughts on The Shilla Duty Free at Changi Airport
Dongwoon loved how the products are nicely displayed so that customers can shop at ease. He likes to buy fragrances and he could try out the scents there. He also added that The Shilla Duty Free carries a wide range of products and he can buy gifts for his family when he travels back to Korea. Dongwoon also revealed that his mother's birthday just passed and he will buy her a birthday present from The Shilla Duty Free!
The experience at the Shilla Beauty Loft
Junhyung said that there are detailed product information on the different products and it was great that there are areas for travellers to rest. He also did a hand and facial massage at the Shilla Beauty Loft and he really enjoyed the pampering session.
Gikwang was impressed by the services that Junhyung mentioned, and he said that looking at the beautiful display of lipsticks and eyeshadows, he could almost empathize with how the ladies must have felt there!
Their must-have beauty products when they are travelling
Gikwang opted for a facial mist to hydrate his skin since the air can be pretty drying on the planes, while Junhyung chose a lip balm to maintain his "handsome lips". Dongwoon said that he will make sure that he has a foundation with him so that he can touch up and look his best when he meets his fans at the airport. On top of that, he also brings along a hand cream to keep his hands pretty since he will often greet his fans with his hands.
The type of scent that they like
Gikwang answered that he prefers a sexy scent that has a manly smell.
On Junhyung's songwriting inspirations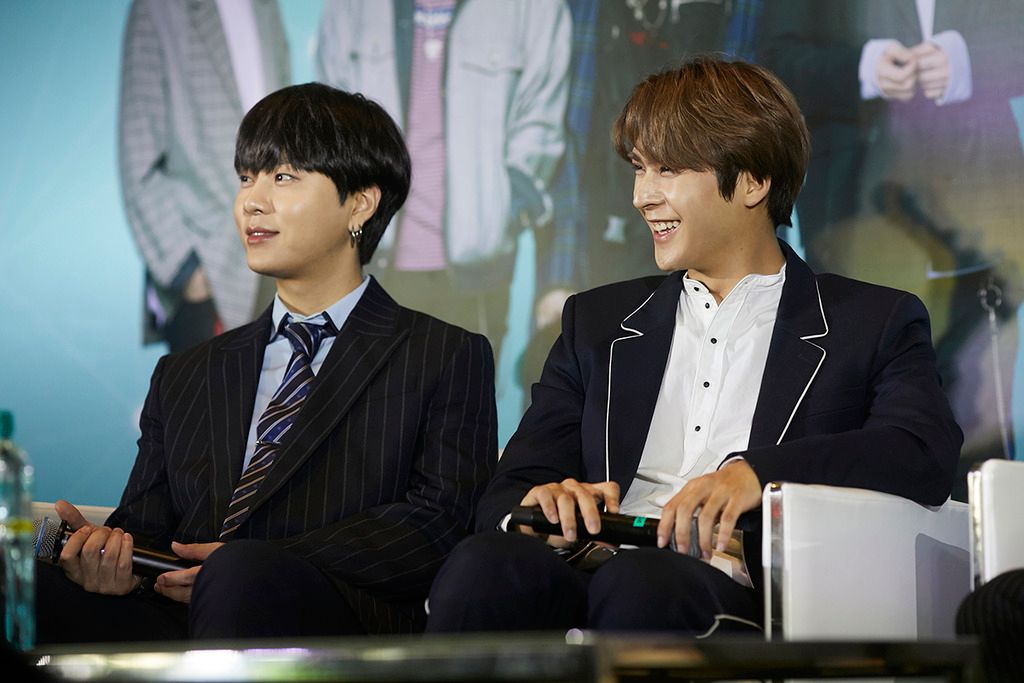 Junhyung explained that he gets his inspirations from his daily life, but jokingly added that he also gets his inspirations from The Shilla Duty Free.
Yoseub's secret to staying young and cute
Yoseub confessed that he doesn't put in much effort to stay young and thinks that his youthful looks are in fact, a gift from his parents. Following Junhyung's footsteps, Yoseub also joking said that if he wants to put in any effort, he will do so at The Shilla Duty Free.
On acting roles that Gikwang wants to try out in the future
Gikwang first thanked his fans for the support on his recent drama "Love Horribly", and said that he would love to be wearing nice suits and hopes to be in The Shilla Duty Free's commercial next.
Dongwoon on his solo single release
Dongwoon felt nervous since it was his first solo album. However, he added that he was appreciative that the other Highlight members gave him lots of encouragement and told him that he had done his best, and recognized that he has put in a lot of effort.
On how Highlight save their members' name in their contact list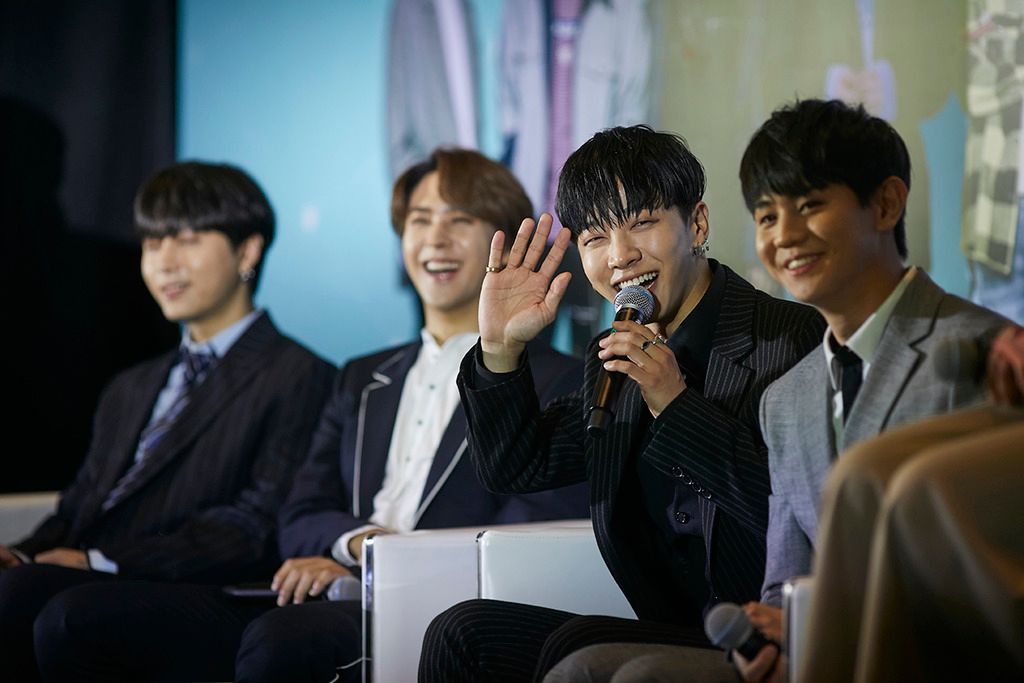 Gikwang said that he used to save his members' numbers under their nicknames, but subsequently found it a little hard to find them on the contact list, and has since changed them all back to their names.
Keeping in touch with Doojoon who has been enlisted into the army
Highlight members send Doojoon letters, but said that it was more like a one-way communication since he is in the army and they can't really communicate with them.
The secret to Highlight staying together for 9 years
Gikwang highlighted the importance of communication between members, but they also balance serious talk with humourous jokes to relieve stress and keep them going.
Highlight in the next decade
Gikwang said that they will be 10 years older and definitely be more mature in their performances. He also promised fans that he will continue to perform as Highlight and hopes to enjoy the time together with their fans.
Yoseub added that he hopes to have better songs and performances in the future and will definitely still be together with their fans.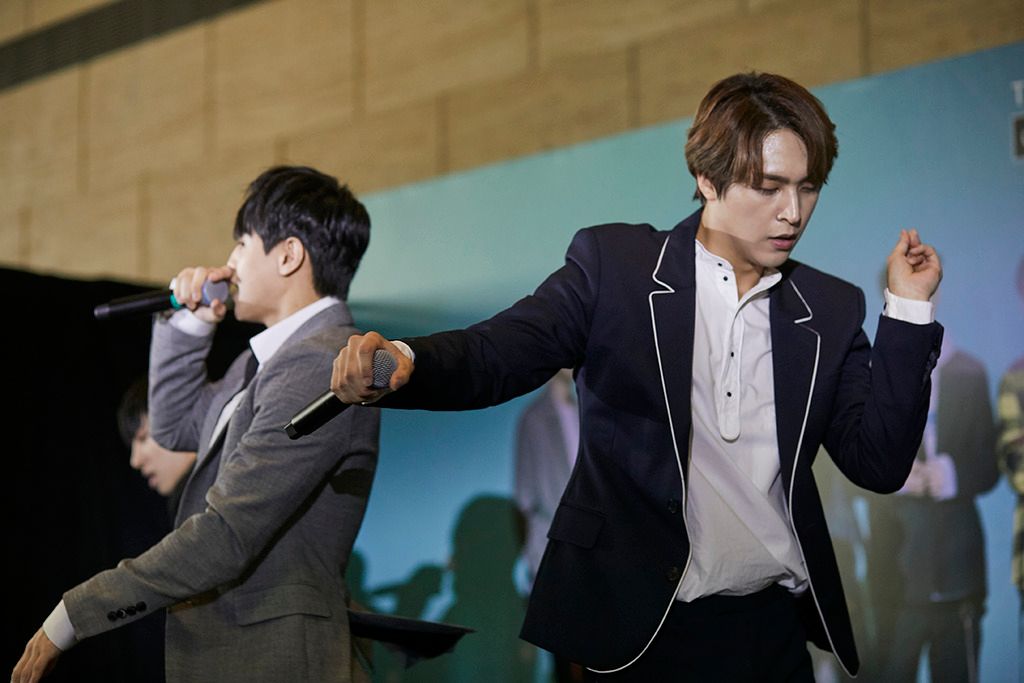 After the media conference ended, Highlight mesmerised their fans with a performance with hits like "Plz Don't Be Sad", "Calling You", "Celebrate" and "Beautiful Night," followed by a hi-touch session with some lucky fans!