Anime fans rejoice! C3 Anime Festival Asia Singapore 2018 celebrates its 10th-anniversary with blockbuster content and exclusive treats, and it's all happening on 30th November to 2nd December at Suntec Singapore Convention and Exhibition Centre.
Celebrity cosplayer, Angie, at the Singapore C3AFASG18 press conference last week.
Local and overseas fans of Japanese popular culture can immerse themselves in a weekend of heart-pumping, non-stop premium content and entertainment across two levels of Suntec Singapore Convention and Exhibition Centre. The specially curated anniversary #C3AFASG18 festival line-up will cross both online and physical platforms, including Singapore-exclusive activities such as a celebrity red carpet event, and an online star-studded charity auction. The festival grounds will host both new activities and mainstay favourites – from anime showcases, special guests, a stellar lineup for the I Love Anisong Concerts, and the World Cosplay Summit Singapore Preliminaries.
A world-class Experiential Festival that stays grounded to fans at home
For the first time, #C3AFASG18 will hold a dazzling star-studded red carpet event in front of Suntec Singapore. To celebrate 10 Years of Anime Festival Asia, the event will be broadcasted online on Sunday, the last day of C3AFA Singapore 2018. Full details of confirmed stars will be announced later.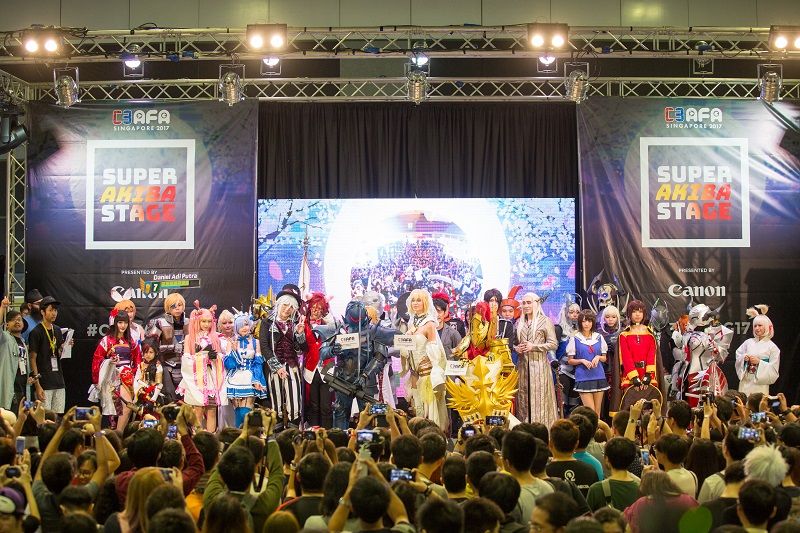 Cosplay Singles showcase at C3AFASG 2017.
The celebration transcends the convention grounds to share the joy and rally the online community as #C3AFASG18 gives back to society with its inaugural initiative, Anime for a Cause. An online portal will be launched for fans to participate in a lucky draw to purchase special items donated by celebrities and partners that C3AFA has collaborated with previously. Full details will be announced shortly.
Other celebratory initiatives include a stamp rally to collect commemorative stamps and claim fantastic prizes on-site during the festival weekend. Fans can also reminisce their favourite festival moments at #myAFAMoment, a collection of photos and anecdotes contributed by fans who have attended and grown with C3AFA SG since its inception. Fans can contribute photo moments with the hashtag #myAFAmoment on Instagram, Facebook and Twitter.
The latest and hottest anime titles and talent
Bringing the latest and hottest anime titles yearly, fans can look forward to a series of exclusive premieres.
Japanese rock band SPYAIR
The star-studded festival grounds will welcome special guests including voice actors Rika Abe and Erii Yamazaki (who voice Hresvelgr and the Materia Sisters respectively from Frame Arms Girl), Minami Tanaka (who voices Mary Saotome from Kakegurui XX), Haruka Terui (who voices Sarah from Gundam Build Divers), Atsushi Abe (who voices Toma Kamijo from A Certain Magical Index III), Ai Furihata and Shuka Saito (who voice Ruby Kurosawa and You Watanabe from Love Live! Sunshine!!), Ai Kayano (who voices Alice from Sword Art Online Alicization), Mimori Suzuko and Momoyo Koyama (who voice Hikari Kagura and Karen Aijo from Revue Starlight) and Sumire Morohoshi (who voices Emma from The Promised Neverland).
Other guests include Eri Sasaki, a rising anisong singer who wrote, created and arranged the music for the song "Fuyubiyori", the ending theme to the popular anime, Laid-Back Camp, and nob-c, the lead character designer for The Price of Smiles – a project celebrating Tatsunoko Production's 55th Anniversary, that will air in January 2019.
Gear up for themed booths and exclusive merchandise
Highlights of exhibition booths include Fate Grand Order, a free-to-play role-playing game developed by the FGO Project, consisting of DELiGHTWORKS, Aniplex, and Notes, based on the immensely popular Fate franchise by TYPE-MOON. Fans can also look forward to giveaways and photo-taking opportunities with the Gudako mascot.
A myriad of exclusive merchandise including a T-shirt capsule collection from Pop Team Epic, a Hatsune Miku Nendoroid exclusive from Good Smile Company, Honkai Impact exclusives from miHoYo, and merchandise from MUSE await fans and collectors.
The Best of Cosplay to Gather at the Festival
Celebrity cosplayer Hakken
Organisers revealed the line-up of international celebrity cosplay guests at the festival. They include Angie (Malaysia), Baozi & Hana (China), Hakken (Malaysia), Kaname☆ (Japan), Siutao (Hong Kong) and Ying Tze (Malaysia). Also announced today was a new addition – HedY (Taiwan).
See all the celebrity cosplayers who will be gracing the event:
On 2 December 2018, four competing teams – Rithe & Kai, Melanie Joanne & Gearchi, Knife & Saiko, and Disco Dandy & Jesmond, will battle for the chance to represent Singapore in the Grand Finals taking place in Japan, Nagoya from 27 July to 4 Aug 2019.
Japanese Popular Culture at its Finest, with Something for Everyone
With less than a month to the festival, fans can look forward to an experiential festival of epic proportions, with the exhibition hall, the I Love Anisong concerts, stage activities, meet and greet sessions and more. More updates will be shared closer to date.
Prior to #C3AFASG18 event days, VIP and General Admission I Love Anisong tickets can be purchased through the APACTix website at https://animefestival.asia/singapore18/tickets.
During event days, tickets can be bought on site at Suntec Singapore Convention & Exhibition Centre's 3rd floor concourse for the "EXHIBITION ONLY" and "EXHIBITION + STAGE" tickets. Tickets for the "I LOVE ANISONG" (EXHIBITION + STAGE + CONCERT) can be purchased outside Suntec Singapore Convention & Exhibition Centre's Hall 404 on the 4th floor.
For more information on the festival, please check out www.c3afa.com/sg18 and www.facebook.com/animefestivalasia.
C3 Anime Festival Asia Singapore 2018
Dates: 30 November – 2 December 2018
Location: Suntec Singapore Convention and Exhibition Centre (Levels 3 & 4)
Exhibition Timing: 10am ~ 8pm