There is nothing more embarrassing than to have a pimply face at this age in our lives.
Singapore's humid climate condition worsens our skin condition and made our skin oily. On top of that, the stress of motherhood adds on to my acne problems. Hence I am always on the lookout for skincare that hydrates and treatments that keep the recurring acne at bay and Clifford Clinic's AGNES Acne Treatment came to my rescue. So, here we are with the brief Clifford Clinic Acne review which was a decent experience.
AGNES Acne Treatment
A few months ago, I went to Clifford Clinic to see Doctor Gerard Ee to have my recurring acne sorted. Knowing the stress of parenting and my not-so-healthy diet, Doctor Ee recommended the AGNES treatment to stop the acne from appearing.
Related: What is Acne?
How AGNES Acne Treatment is done
First, Doctor Ee assessed my skin and found that my pores were congested and damaged. He also found that my oil glands were overactive and he used the AGNES machine to zap and destroy them. This will stop the sebum from blocking the pores and hence halting the formation of pimples. The zapping felt like an ant bite. There was an intense discomfort for a split second but it didn't last long. THANK GOODNESS!
Post AGNES Acne Treatment
A few more of my adult acne appeared after the AGNES Acne treatment but I am very certain they won't be back for quite a while because Doctor Ee permanently cured my acne with the AGNES Acne Treatment.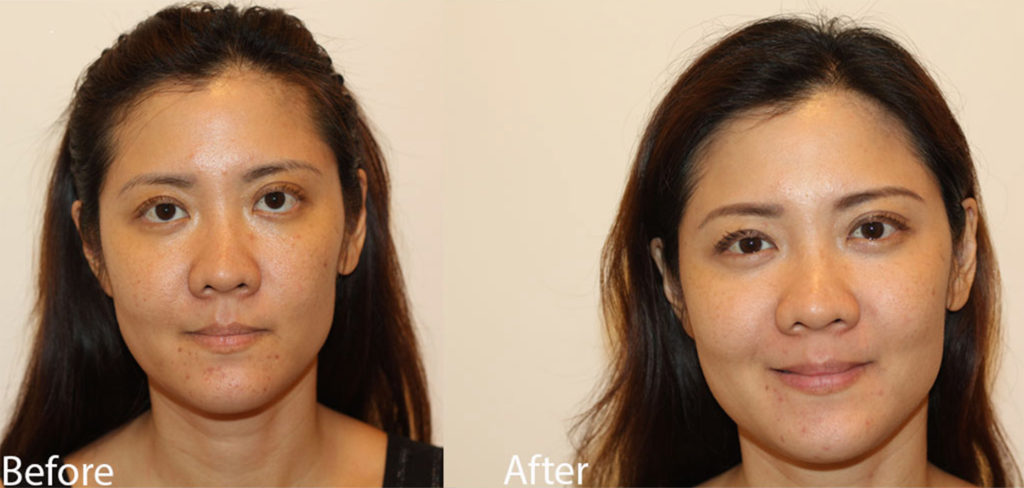 Read more: Restoring Flawless Skin with Q-Switched Laser
Restoring Flawless Skin with Q-Switch Laser Treatment
Often enough, when we experience adult acne, it leaves a dark scar on the affected spot. I hate that and I always apply concealer over it to hide the scarring. Doctor Ee addressed this HUGE concern of mine by recommending the Q-Switch Laser Treatment to reduce the appearance of the scars. The Q-Switch Laser Treatment uses a non-invasive high-energy laser pulse on the scars to break down the pigmentations into smaller fragments, which will later be absorbed by the skin and purged naturally.
Quick and Fuss Free
The Q-Switch Laser Treatment is quick, has zero downtime and was a great lunchtime treatment for me. I was in and out of Clifford Clinic in 30 minutes – I removed my makeup, Doctor Ee lasered my face and I can put on makeup immediately after that, and was back at work after lunchtime without any redness.
Amazing Results
Instead of enduring the embarrassment of adult acne, the two treatments restored our confidence and produced flawless radiant looking skin. While Q Switch Laser is great for reducing the appearance of scars, it is also great for removing and reducing pigmentation like freckles and sun spots. We particularly like this treatment for my pigmentation because it is effective, painless and fast. We would totally recommend every mother plagued by adult acne to try the Clifford Clinic Agnes acne treatment and Q Switch Laser treatment at least once!
DETAILS:
The Clifford Clinic address:
24 Raffles Place, #01-03 Clifford Centre, Singapore 048621.
(Exit A from Raffles MRT)
Opening hours (Closed on Sundays & Public Holidays):
Monday to Friday – 10am to 8pm | Saturday – 10 am to 5pm.
Telephone: +65 6532 2400 | Whatsapp: (65) 8318 6332
Read more on CLifford Clinic's blog:
By Katherine Sng
https://bubbamama.com/clifford-clinic-acne-treatment-review/