So the day finally came for me to say goodbye to my cellulite thighs sometime in early January. I had written about why I needed to freeze my fats in an earlier post and some considerations I went through before making the decision.
The answer was pretty clear after my consultation with Dr Terence Tan of Halley Medical Aesthetics: it's non-invasive and the effect is long-lasting, so why not?
I was really excited about it. Good riddance to bad rubbish, and I cannot wait to say goodbye.
In fact, I had announced it almost everywhere I went, from Christmas dinner gatherings to every circle of friends.
Because freezing my fats seems like the best thing that would happen to me in this new year!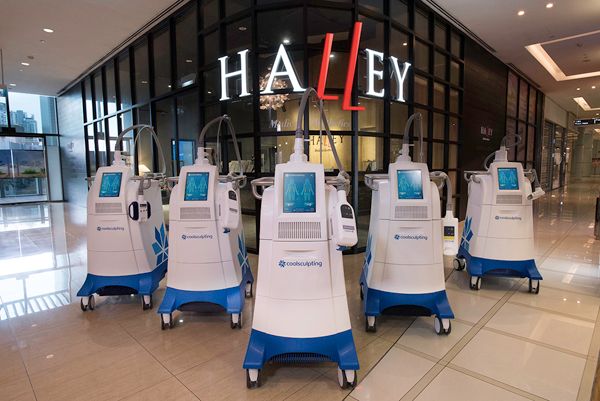 So back to Dr Terence Tan. On Treatment Day: I confirmed that I wanted to 'CoolSculpt' my outer and inner thighs. I then got my blood pressure, BMI, height and weight and body fat percentage measured and started the CoolSculpting process immediately after.
First, I got changed into comfortable clothing that would allow Dr Terence Tan to draw and mark the treatment areas. My 'Before' treatment photos were taken for documentation.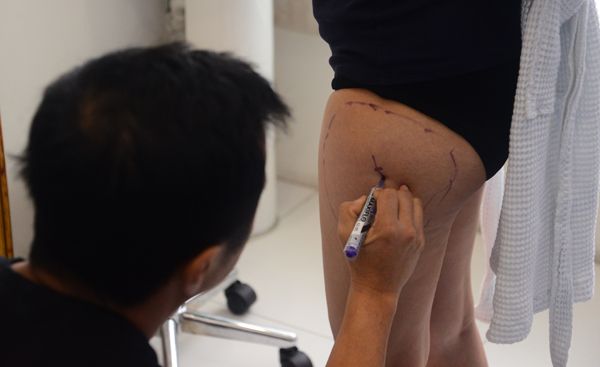 Next, I was invited to lay comfortably on the treatment chair and get ready for CoolSculpting. Dr Terence Tan and his assistant, Mandy, went straight to work placing the applicators on my already marked out treatment areas.
Halley Medical Aesthetics actually has DualSculpting, which means they use two CoolSculpting machines to treat 2 areas at the same time, which reduced my treatment time by 50%.
So, my left outer thigh was treated in tandem with my right inner thigh first, and then the other way after.
The outer thigh will take 75 minutes with the CoolSmooth Pro applicator, which will be applied by a binding method. The inner thigh will take 35 minutes with CoolAdvantage applicator, which will be applied through suction.
There was minimal discomfort. In fact, after a while, the cold numbed any sensation I had and I was at total ease.
While waiting for the treatment for one side to be completed, my time was well-maximised. I had a chat with Halley Medical Aesthetics' in-house nutritionist, Jean, about my current eating habits, my medical history, and the possibility of going on the weight loss programme. She walked me through some suggestions of meal planning according to my preferences and lifestyle.
While being treated on the other side, I worked on my phone for a bit…
And even had a rest!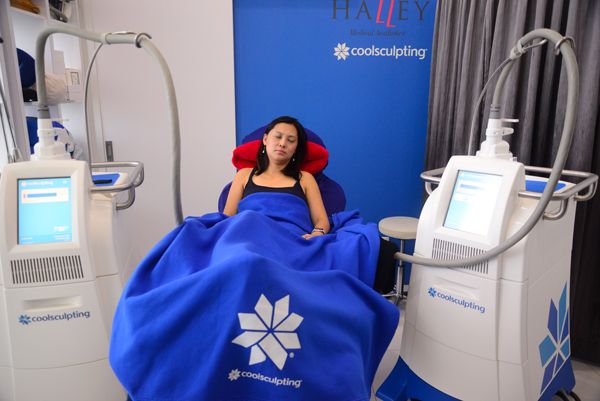 After each treatment, there would be a 5-minute massage of the area. This massage breaks down the frozen fat cells further and accelerates the lymphatic drainage for fat loss. I was warned ahead of time that there may be discomfort and to be mentally prepared for it, so whilst it was something I knew, I was – at least for the first few seconds – shockingly unprepared for how sensitive my skin felt to the rub. Other than that, I manage to survive those 5 minutes!
There, I did it! CoolSculpting, or also known as fat freezing! I left the clinic feeling a little numb from the treatment in my thigh area, but ecstatic at the same time.
I can't wait to see the results in 3 months!
Knowing that about 25% of the fat cells will be completely annihilated on that day was the best thing ever. Look out for the follow-up post of my results.
Actually, without needing to see real-time change, I am glad to have gone through this. THE FATS – THEY ARE FROZEN. GONE FOREVER!
YESSSSS!
If you are interested to try out CoolSculpting at Halley Medical Aesthetics, here's where you can look for Dr Terence Tan directly:
Address: 277 Orchard Road, #03-15 Orchard Gateway, Singapore 238858
Contact Number: (+65) 6737-8233
Email: info@halley.com.sg
Here are some quick links for you to check out the details for yourself:
Halley Medical Aesthetics Price List | Website | Blog | Facebook | Instagram | YouTube
Disclosure: All opinions here and in my earlier post are my own. Including my deathly hate for cellulite.
By Elizabeth Kao
http://motherkao.com/my-coolsculpting-journey-with-halley-medical-aesthetics-part-2/