If there's anything that Walt Disney's fairytales have taught us, is that if you wished hard enough, your fairytale godmother will appear, wave her wand, and volia! You'll be in a beautiful gown, off to the ball to meet Prince Charming, and live Happily Ever After.
Of course, today we know that all of it is just sexist bullshit (are they saying that without the dress, Prince Charming would never have given Cinderella a second glance, in all her dirty rags?? Oh the nerve!), but you can't deny the magical charm and elegance of a long flowing frock that's reversed just for those special occasions.
And who says you need to have a ball to go to and a man to meet before you can own one of these glorious dresses?

Walt Disney may have their Fairy Godmothers, but the fashion industry have their dress designers! Essentially, these dress designers are fairy godmothers themselves, working their magic and whipping up dream dresses with a good eye and plenty of lace, silk, satin, tuelle and god knows what else they can come up with. The end result? Gorgeous dresses straight out of a fairytale.

Marchesa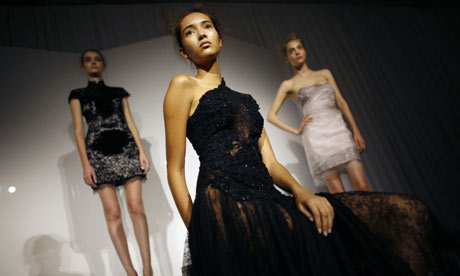 A label that's popular among many of the Hollywood starlets, Marchesa's dresses are well known for their vintage and Asian influences and beautifully crafted designs that fuse high fashion with an eclectic aesthetic.
With nineteenth-century eccentric aristocrat Marchesa Casiti as their muse, designers Georgina Chapman and Keren Craig brought to life the icon's grandiose vision of being a living work of art. The look of Marchesa has been described as "pretty evening gowns that offer extra delicacy and detail make up the bulk of the collections. Far East–inspired embroidery, draping fabrics, and a modern, feminine perspective lend the label its distinctive look". Red-carpet stunners and paparazzi-friendly cocktail attire are Marchesa's signature looks.
With intricate craftsmanship and whimsical flourishes, their modern glamorous evening wear has gained high profile and fabulously dressed devotees such as Scarlett Johansson, Anne Hathaway and Olivia Wilde.
Oscar de la Renta

Undisputedly the king among dress designers in the fashion industry, Oscar de la Renta started his illustrious career launching his eponymous read-to-wear collection in 1965 after a stint designing Elizabeth Arden's couture collection and an apprenticeship at Balenciaga in Spain. His penchant for refined, ladylike looks struck a chord with women of means and garnered De la Renta a slew of awards, and the label's popularity still showing no signs of waning.
Today Oscar de la Renta has a name that graces everything from lingerie and shoes to perfumes and wedding gowns. Perhaps it's his love for use of ornate embroidery, sumptuous fur, cheerful florals, and a dash of exotic Latin detail, or the lavish embroidery, exquisite beading, and an abundance of fur, no matter what it is, his creations are adored by socialities and Hollywood A-listers like Sarah Jessica Parker and Scarlett Johansson alike. From breathtaking cocktail dresses and gowns to sportswear and trim, perfect-for-lunch suits, Oscar de la Renta's creations are synonymous with luxury.
Betsey Johnson

Definitely not for the weak of heart, Betsey Johnson is known for her cocktail-ready, flamboyant, over-the-top designs, and the person who dares wear Betsey Johnson is one who's unafraid to wear the latest trend with wild colours, patterns, shapes and movements.
With her outrageous fashion sense, exuberant personality and penchant for tattoos, critics were skeptical when Betsey Johnson decided to start her own company in the 1970s. However, with a steely determination and inherent design sensibility, Betsey managed to thrive in the notoriously fickle fashion industry, her financial independence allowing her to stay true to her roots while many independent design labels have sold out to larger corporations.
Her quirky, colorful, and whimsical clothing has always been her trademark; imagine floral-printed baby-doll dresses, hoop-skirted dresses, sequined jackets, and striped rompers. Celebrities—ranging from Cyndi Lauper to Heather Graham and Salma Hayek to Courtney Love, have always adored her. One thing remains certain: Johnson's designs are her vision alone and don't follow any fashion trends.

Diane von Furstenberg

Known for her signature Wrap dress, a dress that symbolizes female power and freedom, Diane Von Furstenberg first made waves in 1972 with a simple yet radical directive: "Feel like a woman. Wear a dress." Five million wrap dresses later, she was touted as the new icon of female liberation and the most marketable designer since Coco Chanel.
The impact of the wrapdress on the fashion industry is notable. Even today, the wrapdress replicas are extraordinary—every designer, it seems, has his or her own version of this extremely versatile look. The DVF empire forever has expanded to include a full range of ready-to-wear, including chic suits, pretty dresses, fluid blouses, swimwear, accessories, and luggage. Like the wrapdress, the Diane von Furstenberg label exudes a certain femininity, timelessness, and style—making her a hit with celebrities like Eva Longoria Parker, Molly Sims, and Katherine Heigl.
Today, the DVF empire includes sportswear, beauty, and fragrance lines, and DVF hallmarks include graphic floral prints, cinch-waist skirt suits, and forties glamour by way of seventies hippie chick.
Vera Wang
Most famously known for her sweeping glamorous wedding gowns, Vera Wang, one of New York's leading fashion designers may be a every bride's fairy godmother, but her true passion lies in ready-to-wear collections, which she launched in 2004 after the massive popularity of her wedding gowns.
The Womenswear Designer of the Year in 2005, Vera Wang has a loyal red-carpet clientele with good reason – the love she has for clothes and her whimsical personality shines clearly through her designs, which veer towards decorative, feminine and artsy-intellectual, with a keen interest in silhouette and a passion for the sheer and textural. As a result, her collections are known for their sophistication and elegance, always constructed of the most luxurious fabrics and with a fashion-forward sensibility.
Vera Wang's style celebrates the romance, sensuality and spirit of modern young women, and you don't have to be a bride to wear Vera Wang!