I need to visit outlets once every quarter for work and I may meet different staff on duty. And for the past couple of months, I had been hearing the same thing, albeit from different people, and that is none other than remarks on my girth. They will either say that I "发福" or tell me straight in my face that I grew fat!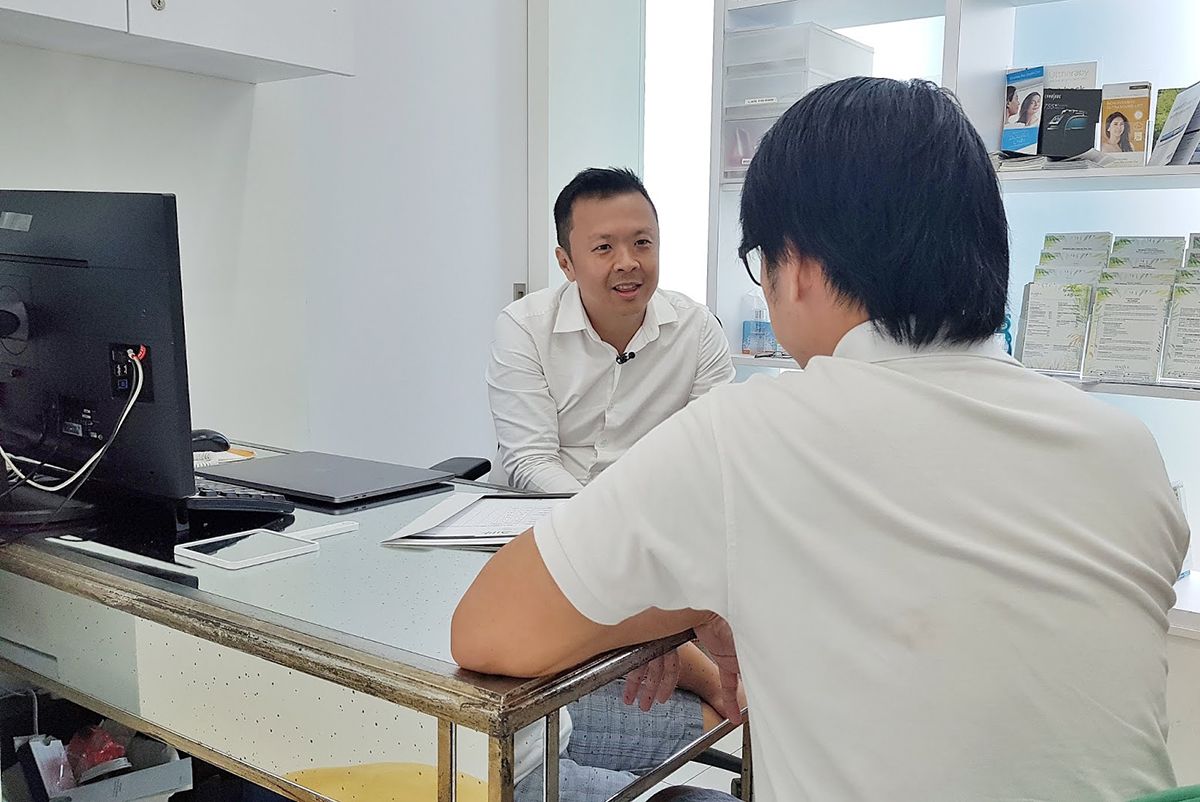 I have taken part in medical studies where I needed to stick to a very strict diet and I lost weight drastically but that didn't last, unfortunately. I also underwent other treatments such as cupping but they had to be accompanied by a diet as well. And yes, I lost weight too, but the treatments and diets were not sustainable.
Truth be told, I knew that I had to do something about my bulging waistline not entirely because of my vanity, but because of practical reasons too:
My pants are all getting too small and I get the itch around the waist at the end of the day because of constriction;
I cannot bend down to put on or take off my socks easily because of obstructions;
My smaller T-shirts are all feeling like tights nowadays, and most importantly;
I have a wife, 5 kiddos and parents to take care of, and therefore, I need to take better care of my body!
There are many ways to do it, such as going on a healthier diet and exercising (both of which I had been procrastinating) but who doesn't want an instant fix?
Hmm… how about liposuction? That would definitely be fast alright, but like any major surgeries, this procedure carries its own set of risks, which can be deadly. I ain't taking chances with that.
Who knew I would be introduced to Coolsculpting at the tender age of 40, to try to address the problem of my dad bod, the result of the eating one too many leftovers, thanks to the 5 kiddos! I did my own "research" of the treatment online and is convinced that it is safe.
What is Coolsculpting?
To put it in very simple terms, it is simply using machines to freeze the fat under the skin so that a good portion of it dies and get disposed of by the body's natural mechanisms. Hopefully, by targeting the right sections, the body will be better sculpted. They say adults don't grow new fat cells, so the results will show and it will be a long-term solution.
The Procedure
Well, I was seen by Dr Terence Tan from Halley Medical Aesthetics who gave me the consultation prior to the actual procedure. Of course, the measurements of my vital statistics were taken too. Friendly and candid, he answered my queries and put me at ease.
Had a consultation with Dr Terence Tan prior to treatment.
Once it was confirmed that I would be a suitable subject, he went on to propose the treatment areas that would be most beneficial to my abdominal shape, which you can say is practically round. After marking out the shapes onto my stomach, I jokingly asked him to give me the biggest possible device, to which he smiled slyly.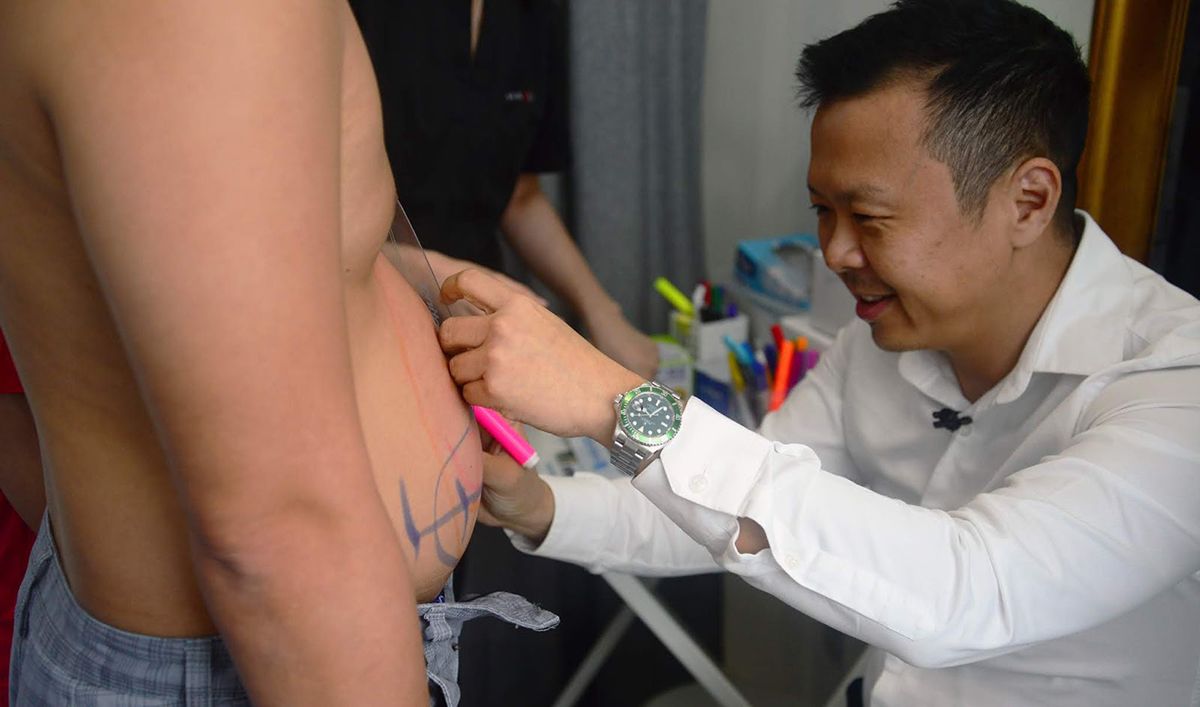 Smiling doctor marking out the areas for improvement.
Before I knew it, I was on the bed and Dr. Terence Tan was applying the antifreeze gel pad on my tummy, which protected my skin during treatment. It was cold and slimy and he reassured me that I would be feeling some slight discomfort initially, but everything will be alright, until it was time to remove the applicator for THE massage. He had mentally prepared me prior to THE massage.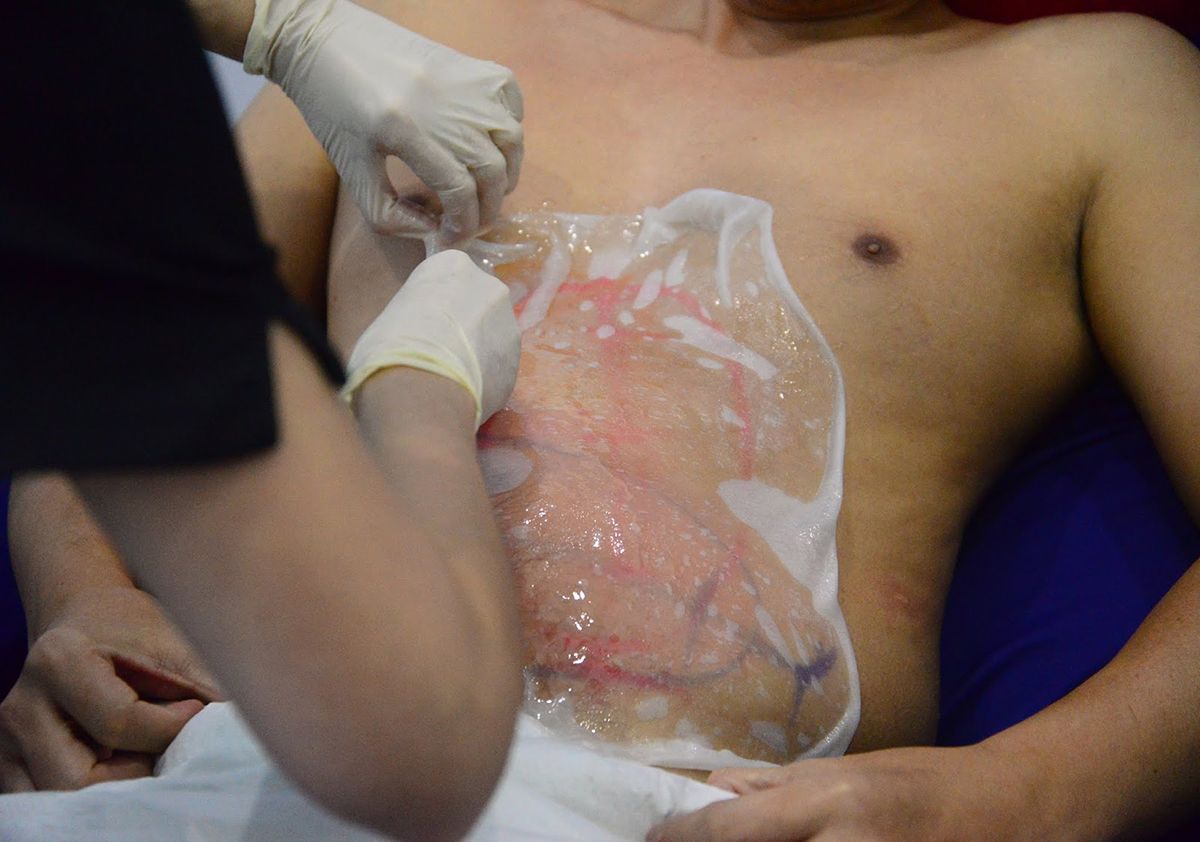 This was how the anti-freeze is applied to the skin to prevent frostbite.
Let me try to best describe the feeling of the treatment to you. Just imagine someone pinching the slab of fat around your waistline and then applying ice on the skin. The saving grace was that once the numbness kicks in after 15 mins, it was a breeze and I actually fell asleep after that!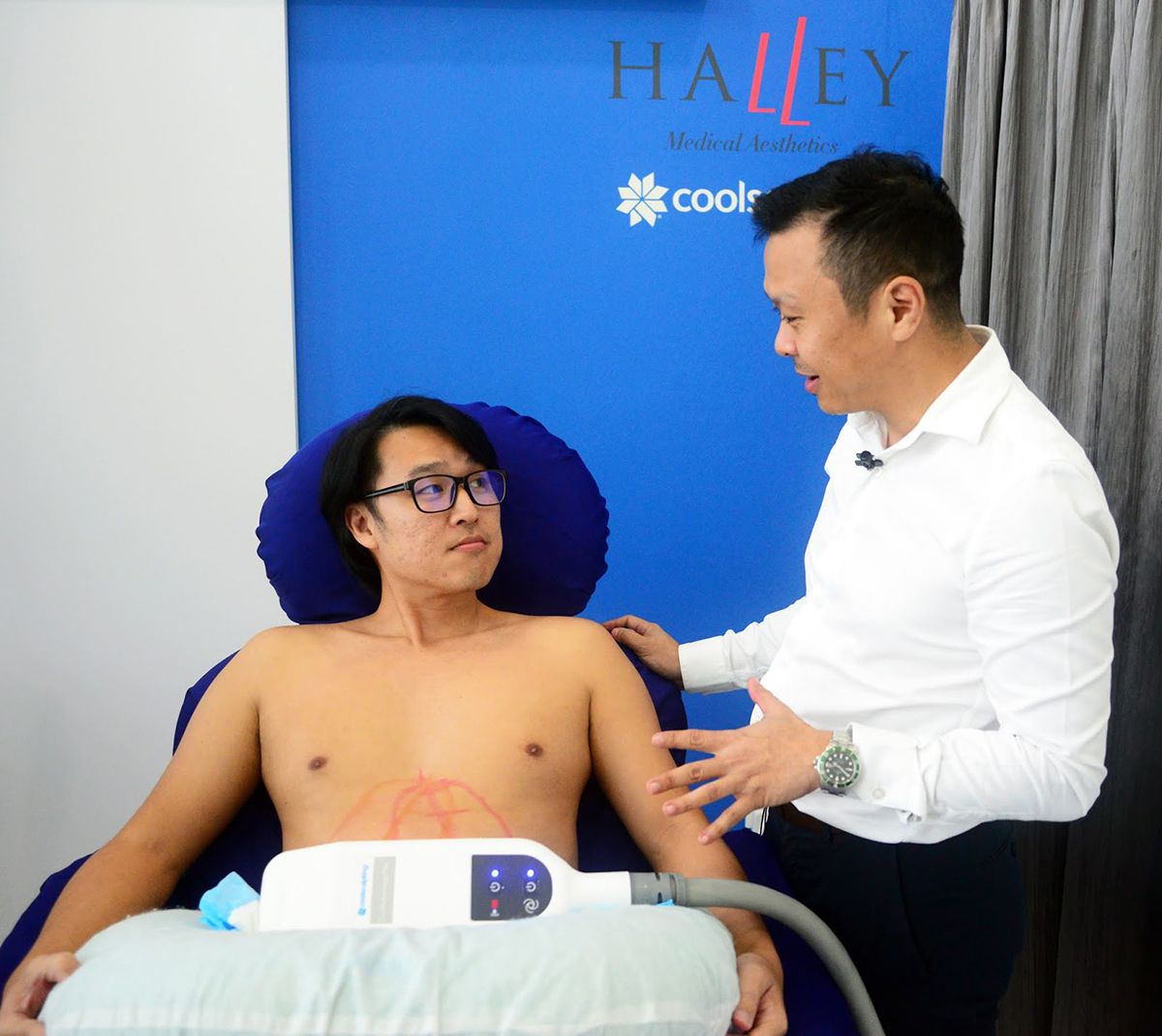 Running through with me on what to expect and preparing me mentally
Now the part that Dr Terence Tan warned me about, the removal of the applicator after 45 mins. He asked me to feel the area myself and it was truly a weird feeling. It was as if a block of ice had formed in my body! I could feel the big lump inside and it was icy cold too! My fat cells had crystalized and now he had to RUB that lump down to help speed up the breaking of the crystallized fat cells. It was definitely no joke. It was as if my abdominal muscles had worked too hard, and it felt like someone pinching.
It was absolutely amazing how it felt right after the removal of applicator. Icy cold and lumpy, and I could still smile.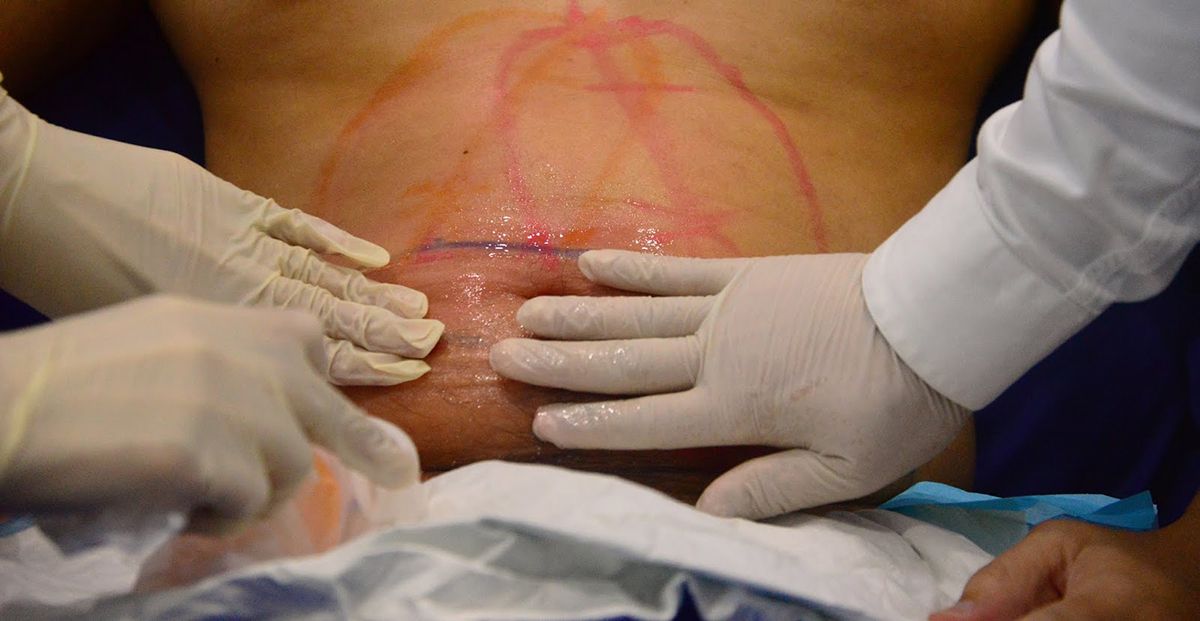 But I had to clench my teeth when he massaged the lumpy fat into oblivion!
The same steps were repeated a total of 3 times using the CoolAdvantage Plus applicators. These applicators are the latest in the CoolSculpting family of applicators, which feature an enhanced cup design for improved patient comfort as well as a larger cooling area to treat a bigger area. Treatment time with the CoolAdvantage applicator can also be reduced by half, depending on the type of CoolAdvantage applicator your doctor is using.
The treatment of my abdomen required 3 applicators, so my treatment time was 2 hours and 15 mins instead of 3 hours if the legacy CoolSculpting applicators were used
The Recovery
It is true that the treatment is safe, non-invasive and had no downtime. I only had this weird feeling in my treated area right after the treatment and went home after that. However as the numbness slowly wore off, I felt an ache in my abdominal muscle, exactly like how it would have felt if I did crunches non-stop for hours.
I know different individuals react to pain differently and have different tolerance levels. For me, my tolerance level is quite low and the poking by my kiddos was enough to send me shouting. I had read quite a few online reviews and it was said that the discomfort would take 1 – 3 weeks to subside and yours truly took a 3 weeks before everything got back to normal.
Results
Alamak! The tummy is still there, How???? Relax… I was told that the results will show in about 3 months so I have exactly another 2 months to wait it out. Wish me luck everybody ! I shall update everyone again really soon!
While waiting, you can watch the video to see what I went through during the CoolSculpting treatment with Dr Terence Tan at Halley Medical Aesthetics.
Address: 277 Orchard Road, #03-15 Orchard Gateway, Singapore 238858
Tel: +65 6737 8233
Email: info@halley.com.sg
www.halley.com.sg
www.facebook.com/halleymedicalaesthetics
www.instagram.com/halleymedicalaesthetics
www.youtube.com/HalleySGMedicalAesthetics
By Steven
https://theperfectfathersg.blogspot.com/2019/03/CoolSculpting.html