Acne is a bothersome and painful skin problem. Like most teenagers, I suffered from acne and it affected my life, self-esteem and mood. I used to lock myself in my room and not go out. Even when I do, I tend to not look at people when I talk to them. I even look in the mirror and ask myself why is it that there are those who can have flawless skin and why am I plagued with acne.
When I was still a teenager, I do not have the budget to seek any doctor's treatment for my acne problem. Watsons and Guardian became my best friend and I could spend about 30-60 mins in the store just checking out acne products. I tried almost every product I could in the store but none actually worked for me, the acne just kept coming.
To add oil to the fire, I also have a bad habit of popping my pimples, despite being advised not to. Squeezing those icky pimples can lead to inflammation and cause scarring.
I'm currently in my 30s and thankfully, my war with acne stopped and I don't get acne that often anymore. Even if I do, they are just some small ones (touch wood and hope no more is coming). However, I realised that the scars from the acne are just equally frustrating. When you thought that you have defeated acne for good, the scars are there for you to remind you of the past!
Acne scars aren't just acne scars. There are different types of acne scars and here's the breakdown for you:
Hypertrophic, or keloid: When acne repair prompts an overproduction of collagen, it results in a permanent bump, and hence the raised keloid scar.
Atrophic: The term for depressed scars or "acne holes" resulting from a loss of tissue. These include Rolling, Ice Pick, and Box Car Scars.
Acne Marks: An acne mark is an alteration in skin pigmentation, usually either dark brown or reddish in colour.
Are there ways to get rid of these scars?
Yes! Thankfully with today's technology, we have aesthetic treatments that are able to address different types of scars issues.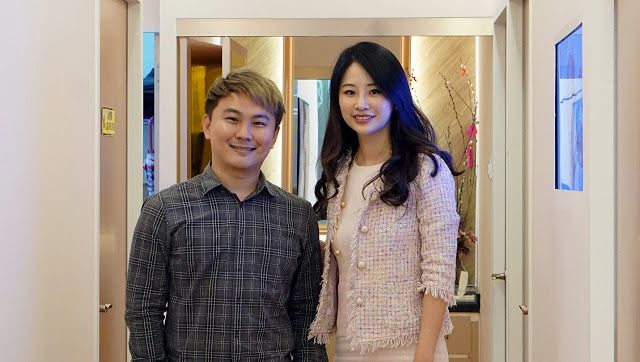 I recently visited LUX Aesthetic Clinic at The Cathay and address my issue to Dr Kellyn Shiau. Dr Kellyn is very experienced and well-versed in a broad range of aesthetic procedures ranging from jaw reduction injections, fillers, lasers, skin-care, acne scar treatments, thread lifts to non-surgical skin tightening devices.

Everyone has a different skin type and the treatment that I do may not be suitable for your skin type. Let Dr Kellyn recommend a combination of treatment techniques to maximize your skin's fullest potential. Lux Aesthetic's Ultimate Acne scar program offers the flexibility of a credit system which gives you the option to mix and match treatments to suit your individual needs. The number of sessions and types of treatments required would be specially formulated and advised by our doctor after a thorough consultation.
The two treatments that Dr Kellyn recommended for me are
1) Fractional CO2 Laser
2) Intracel
According to Dr Kellyn, she said that typically each session can give about 5-10% improvement. For my case, if I want to see good results, I would need at least 3 sessions of Intracel and 3 sessions of Fractional CO2 Laser.
Fractional CO2 Laser ( Acne scar laser treatment)
What is Fractional CO2 Laser?
Fractional CO2 Laser treatment uses CO2 laser beam and pixelates it into little shafts of light, penetrating deep into the skin. The skin will then undergo acne scar remodelling to replace the damaged skin, using tissues from the surrounding healthy skin. At the same time, the body will regenerate collagen beneath the surface of the skin, to heal the ablated areas. This is usually used for most types of acne scars, especially boxcar acne scars.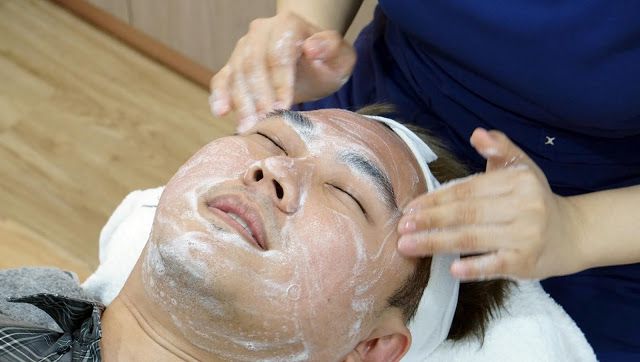 First, the nurse cleaned my face.
Numbing cream was applied and left for 30 mins.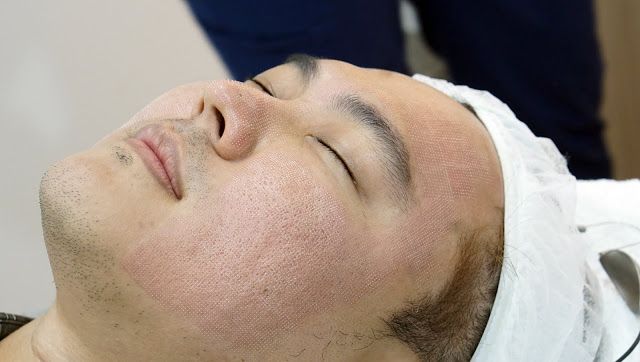 How long will it take to see results?
This skin rejuvenation process will take place over a duration of weeks to months. After about 3-4 weeks, I realized that my skin is softer and smoother.
Is there any downtime?
Yes. Immediately after the treatment, there is some mild redness and a slight tingling sensation. After 2 or 3 days, scabbing might occur, and they will usually fall off in about 5 to 7 days for new skin to appear.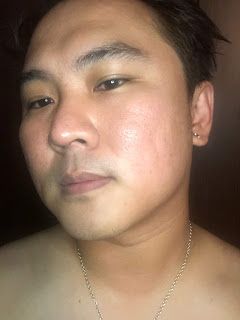 Intracel Treatment
On my 2nd visit (about a month after my Fractional CO2 laser) back to the clinic, I did my Intracel treatment as recommended by Dr Kellyn.
What is intracel and what does it do?
The Intracel treatment offers microneedling coupled with Fractional Radio Frequency (RF), applied at just the right depth within the skin. This helps to improve acne scars. At the same time, it reduces pore size, lifts and tightens the skin through collagen stimulation.
The Fractional RF is delivered through an array of microneedles into the skin. Each needle is fully insulated except 0.3mm of the needle tip where RF energy is emitted. This special technology ensures that the RF energy is delivered into the skin exactly where it is needed, without damaging the top layer of the skin.
What are microneedling and radio frequency and what do they do?
The combination of Microneedling and RF further improves collagen stimulation within the skin. This helps to smooth acne scars, tighten skin and reduce pore size. When treating acne scars, it is usually recommended to utilize a
combination of treatments
. Combining Intracel together with
Edge Fractional CO2 laser
can help to further improve the smoothening of acne scars to obtain even better results.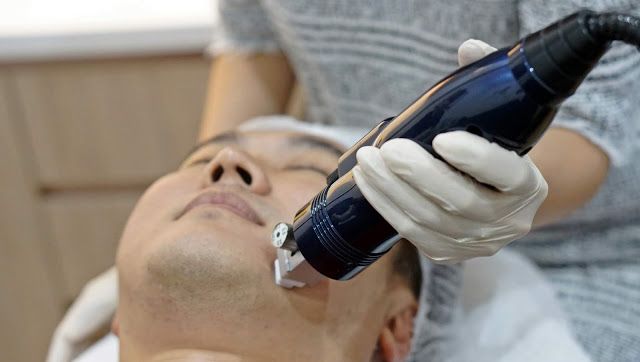 How are the treatments done?
A layer of topical numbing cream is first applied to the skin. This helps to make the procedure more comfortable. The Intracel Microneedle array is then applied to the skin. When the treatment starts, the needles from the array penetrate the skin surface and deliver RF into the skin where it triggers the body's own collagen production process. The increase in the amount of collagen within the skin smoothens acne scars and firms the skin.
Is there any downtime associated with the procedures?
I experienced mild redness and the redness lasted about 2-3 days.
Will my acne scars improve immediately?
The full result from each Intracel session can be seen after 2-3 months. This is the usual amount of time taken by the body to stimulate collagen production. Immediately after treatment, one might find that the scars have improved tremendously and the skin is much tighter. This is usually due to the slight swelling of the skin immediately post-treatment. This effect may last 1-2 weeks before seemingly returning the skin to its original state. The condition of the skin will then continue to improve slowly over 2-3 months as the body stimulates collagen growth.
It is recommended that we undergo 3-4 sessions of Intracel treatment for even better results. A consultation with a doctor will help to determine the number of sessions required.
6 Mar (1st day after treatment)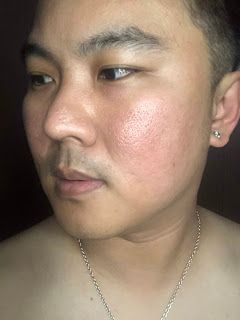 16 Mar (10 days after Treatment)
26th Mar (20 days after treatment)
Are there any side effects?
I did not have any side effect from the treatment. The Intracel treatment is FDA approved, safe and has been used to treat many satisfied and happy patients. According to Dr Kellyn, side effects are rare but they include infections, pigmentary changes, slight swelling and acneiform rash.
Conclusion
I have done 1 session of Fractional CO2 laser in Feb and 1 session of Intracel treatment in March. So far, I feel that my skin condition has improved a lot. It is smoother and the skin tone is more even too.
I'm looking forward to my 2nd session of Fractional CO2 in April! Please follow me on Instagram and my blog for my next update.
Address:
The Cathay, 2 Handy Road, #02-09 Singapore 229233 T: +65 68159922
SMS/WHATSAPP: +65 88669922
By William Tan