BLACKPINK released its highly anticipated EP "Kill This Love" last Friday and has already accumulated 117 million views in a short span of 4 days. The loud and catchy tune with that bad girl element made headlines and we couldn't take our eyes away from the many beauty and fashion looks the 4 gorgeous girls sported in the music video.
From the Lara Croft-inspired streetwear and neon outfits to the glitter eyeliners, diamante stick ons, and hair transformations, continue scrolling to check out all the beauty and fashion looks that BLACKPINK's Lisa, Jennie, Rose, and Jisoo wore without further a ddu-ddu-duu.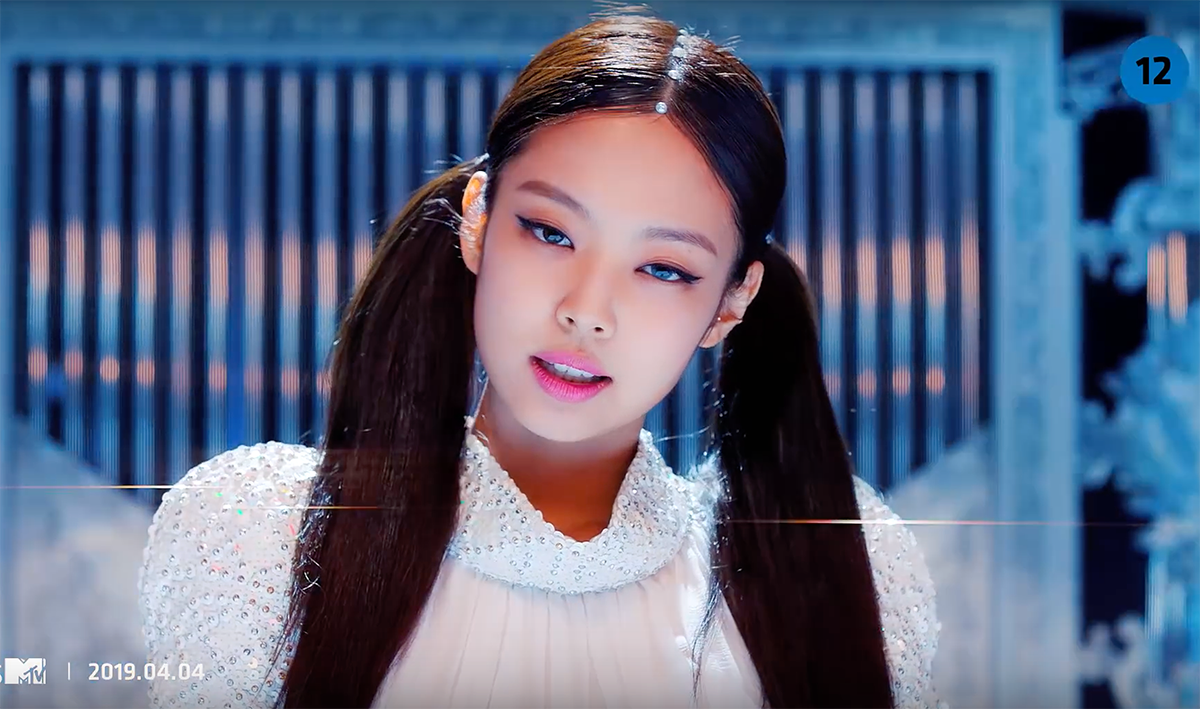 Who knew that a cute puff sleeves top and our pre-school hairstyle can look so good. And what jazzes up the hairstyle further? Those diamante stick-ons that sat nicely on Jennie's hair parting.
Lisa transformed her manes a lot in this music video and this blue ponytail is one of our favourites. And if you want to be noticed, don't forget those bold and bling shades that will definitely turn heads.
Queen Rose is here with her crown and rose gold hair, completed with pink eyeshadow and pink lips. The touch of pink glitter liner on the lower lash line pops the look. Instead of the typical leather choker, the queen went for one filled with blings to bump up that royal factor.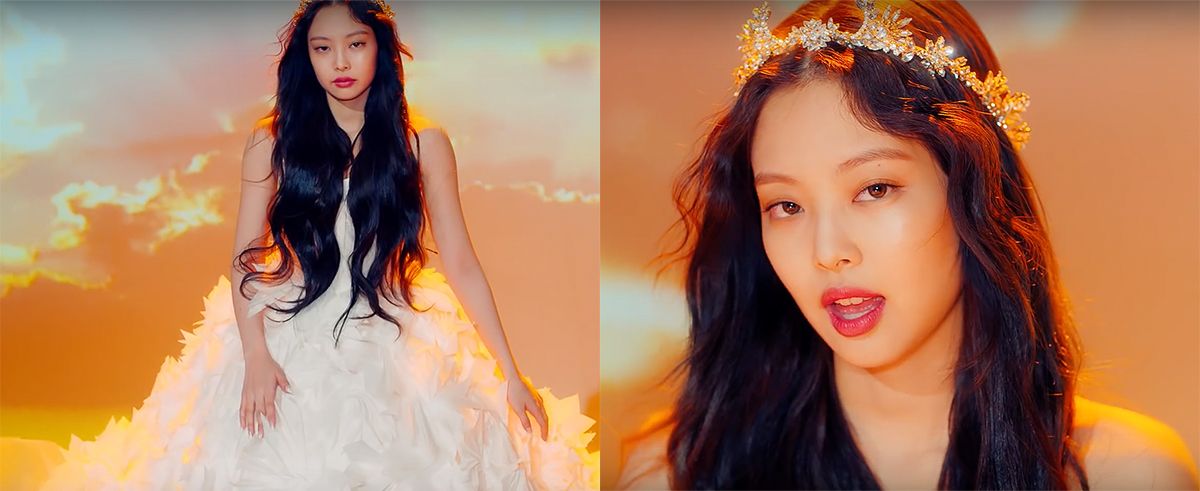 If you are a fan of Greek mythology, you wouldn't want to pass Jennie's Greek Goddess look up. I don't know about you but this is a perfect bridal inspiration!
Jennie reappears with a cat eye created by purple glitter, and a comb back, high ponytail a.k.a Ariana Grande style.
Hair queen Lisa sashayed through the red door with her grey cornrows (we call that swag!). Her candy-striped furry coat worn over her cropped top, high-waisted shorts were matched with a pair of knee-high denim boots.
Jisoo made wet-look hair looked so good. Let those wispy fringe fall naturally, and remember to add some sparkle at your lower lash line. Don't you think those tear-like glitter added to her damsel in distress look?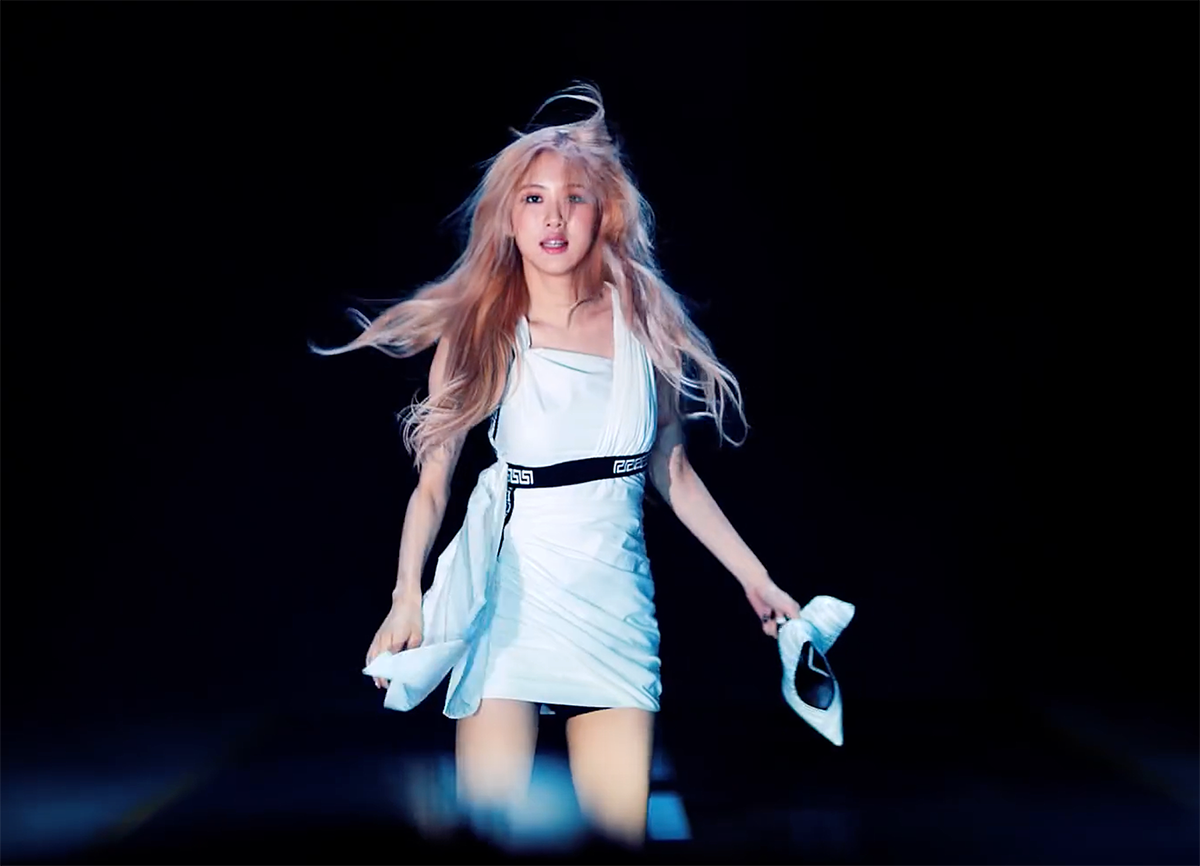 Rose in a simple, white bodycon dress with white stilettos.
BLACKPINK rode on the utilitarian fashion trend and Lisa, Jennie, Rose, and Jisoo were dressed in Lara Croft-inspired outfits with crop tops, leather gloves, leg pouches, and knee-high combat boots that screamed badass girl power. Yes, kill this love that isn't doing any good for you.
A close up of Jennie's Lara Croft look. Smoky eyes with stick-on diamante at the inner corners of her eyes. Go for a light pink-beige lip colour for this look. We noticed that out of the 4 girls, Jennie's look is the closest to Lara Croft. Not just because of her outfit, but also because of her long, braided ponytail!
We really need to learn mascara skills like this. Jisoo's clean and defined lashes deserve a shoutout here. We love how her hair and brow colour matched, and that her blue contact lenses stood out from all that reddish brown tones.
Rose had a head of beautiful champagne pink hair and those tight braids on the side of her head gave off some real biker-chic vibes. Go heavy with brown eyeshadow on your lower lash line to achieve this look. A matte brownish-red lipstick should do the trick too.
Did Puddin' pay us a visit? This glam Harley Quinn inspired makeup is a great idea for your next look if you are heading for your next music festival (Pss: BLACKPINK is preparing for their first ever Coachella performance that will be happening on 12th April!). Use red eyeshadow around your eyes, playing with different tones of red, and the general rule of the thumb is to work the lightest to the darkest shade from the inner corners to the outer corners. Use a white eyeliner and draw a line down the centre of your eyes. Switch it to a black liner if you prefer.
While Jennie channelled her inner Harley Quinn, Lisa invoked our favourite Barbie. Go bold with neon pink eyeliner all around your eyes in bold, well-defined strokes. Complete your Barbie look with perfectly lined neon pink lips and blonde locks.
Leather jacket, bra top, and glittery tassel mini skirt for Lisa; a long-sleeved top with ruffles at the hem, matched with high-waisted black shorts for Jennie. Both showed off their miles of legs – Lisa with knee-high socks and Jennie with knee-high boots. Don't for to accessorize heavily for that K-pop look.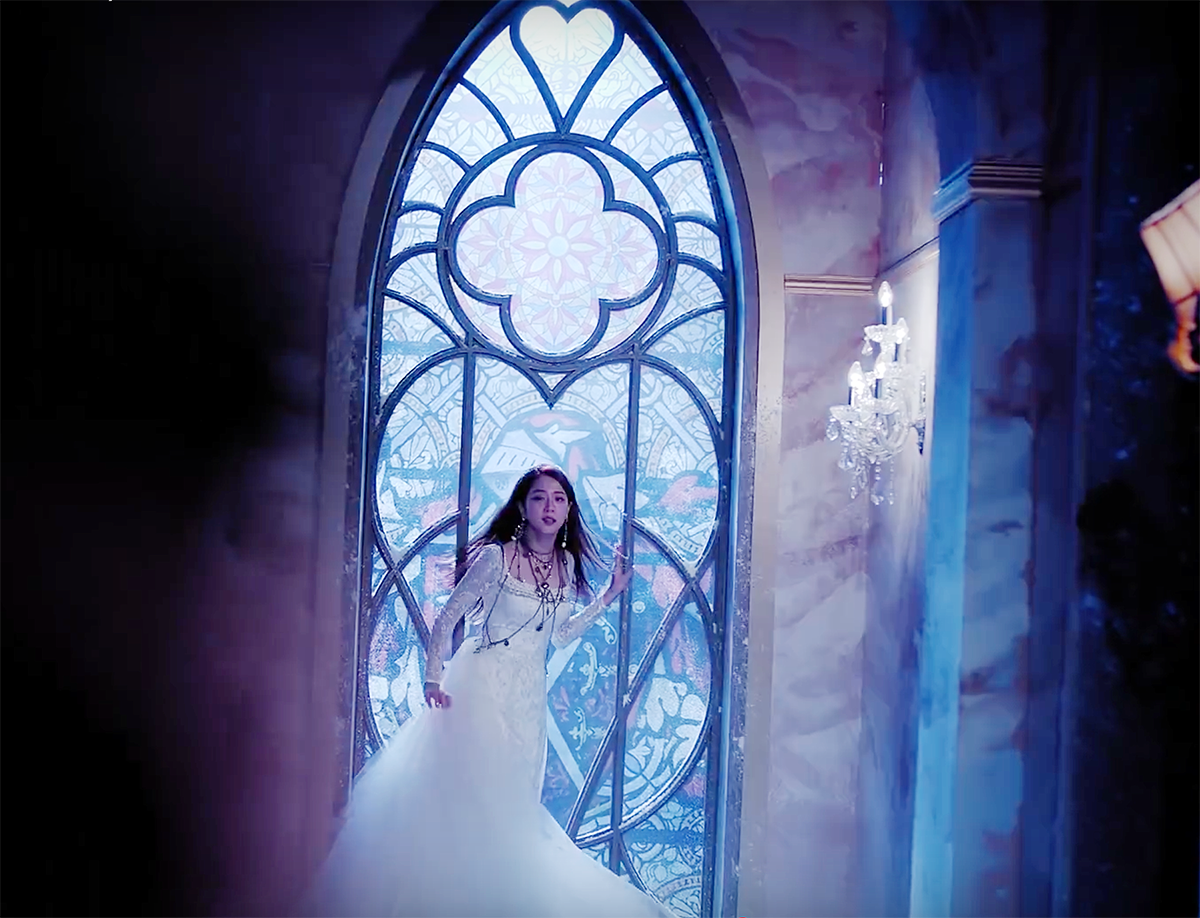 Another bridal look that brides-to-be can consider. While Jennie did a Greek Goddess bridal look, Jisoo was more like the Gothic princess in Dracula's castle.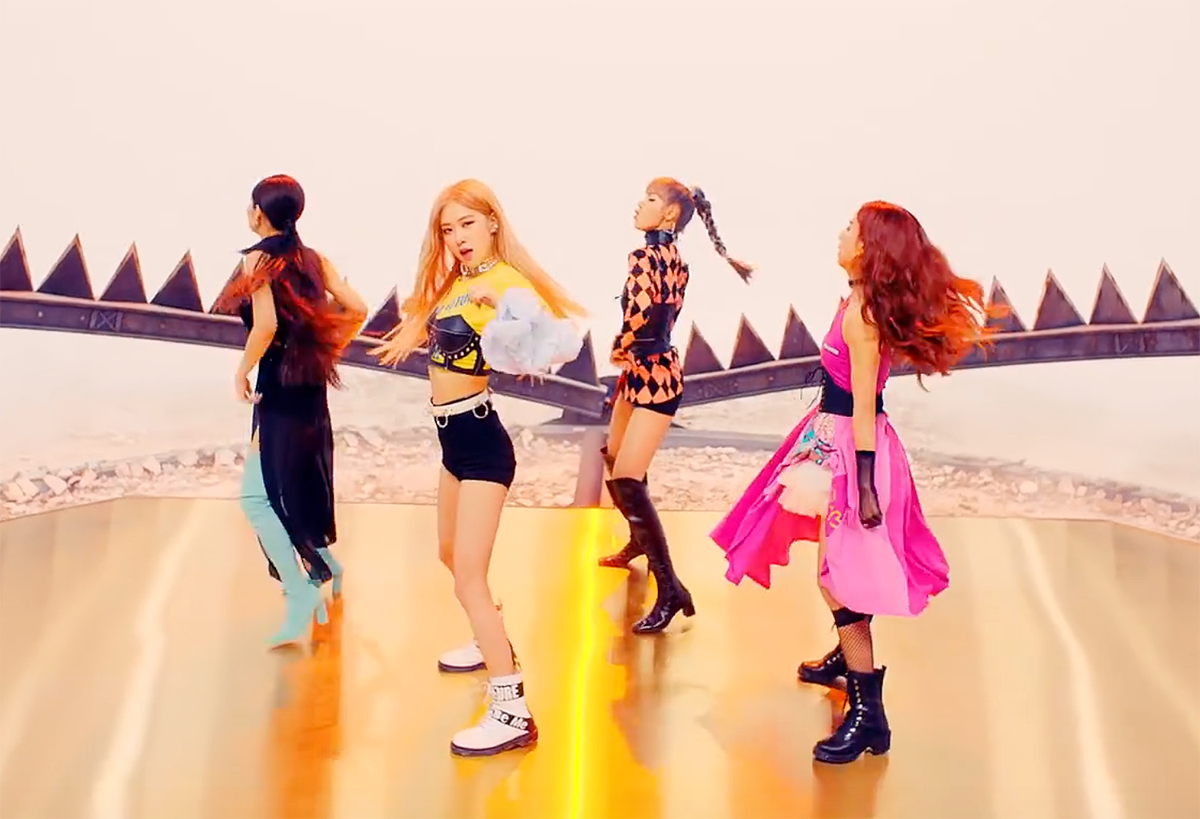 Neon colours were a big part of this music video. You will not go wrong pairing neon colours with black or white.
Jennie switched her centre-parted hair to a side part and tie it in a classy, low ponytail. Count on hoop earrings as the easiest accessories to wear.
Glitter on your lower lash line seemed like the way to go. Go for pinkish or purplish tones for some BLACKPINK vibes. Thinking about getting a new piercing? Go for a cartillage piercing with a unique placement like Rose's!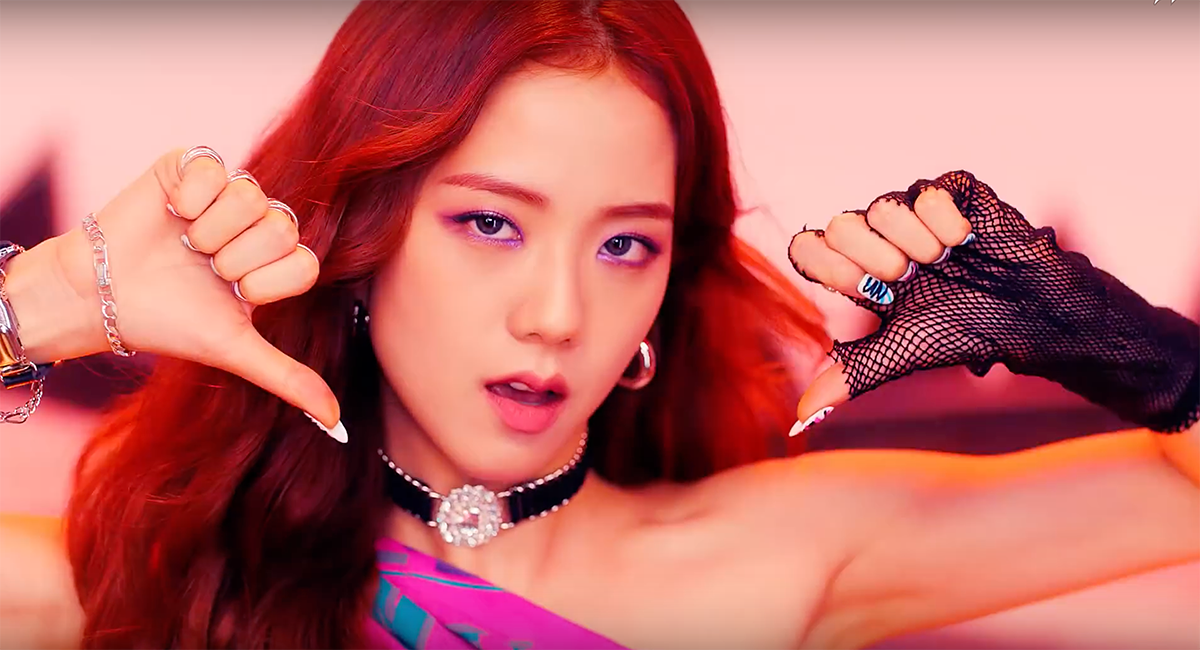 What did we say about eyeshadow and glitter? Go all around your eyes with different tones of the same colour. Don't forget the glitter! Jisoo's purple eye makeup went perfectly well with her purple dress. Go crazy on those rings and bracelets, and put on a statement choker.
These versatile ladies switch between hiphop streetwear, glamorous gowns, and rock chic looks so effortlessly! Go for black as the primary colour and try lots of leather, metal studs, and fishnets.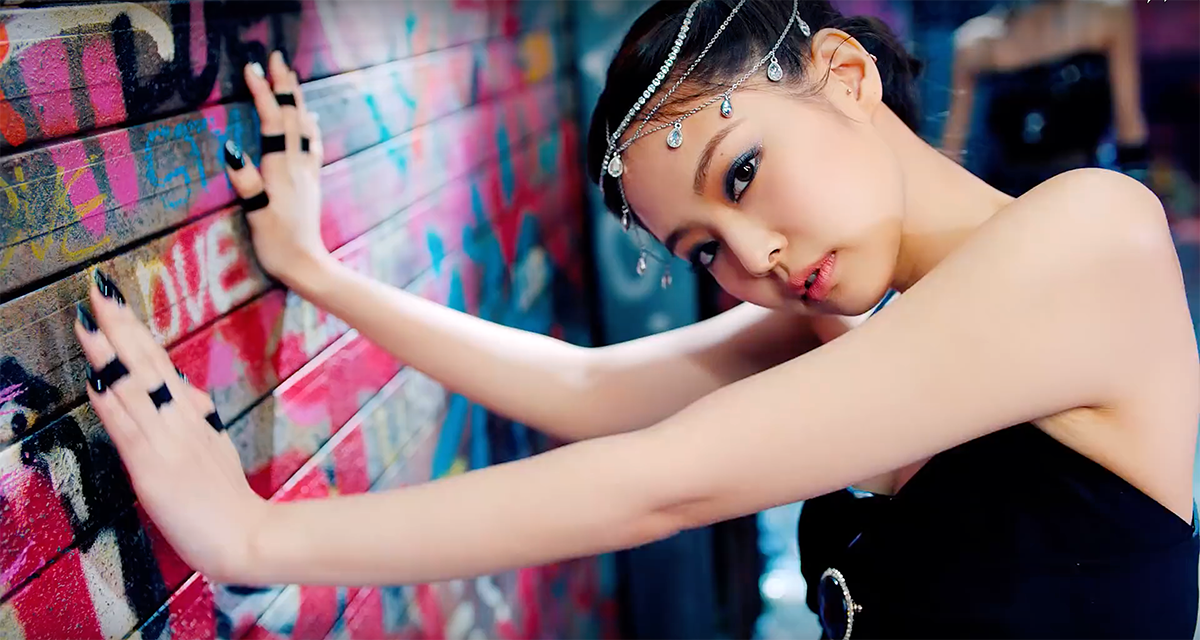 Are those black finger bandages that Jennie matched with her black nails? We love her blue-green eyeshadow with sweet pink lips, and how she balanced the girly makeup with a cool, bad girl look. It is definitely too typical to wear a Gatsby-inspired hair accessory with a flapper girl dress, so Jennie contrasted it with her black rocker-chic outfit!
Spacebuns like Lisa's for Coachella, anyone? Or if you are heading to the Skechers Sundown Music Festival that is happening from 19 to 21 April at Siloso Beach that is closer to home? Lisa's look is definitely festival-fit. Add some braids at the crown to spice up your space buns hairstyle. Instead of using an eyeshadow, go straight for a glitter eyeliner for a bolder take on green, glitter, winged eye makeup.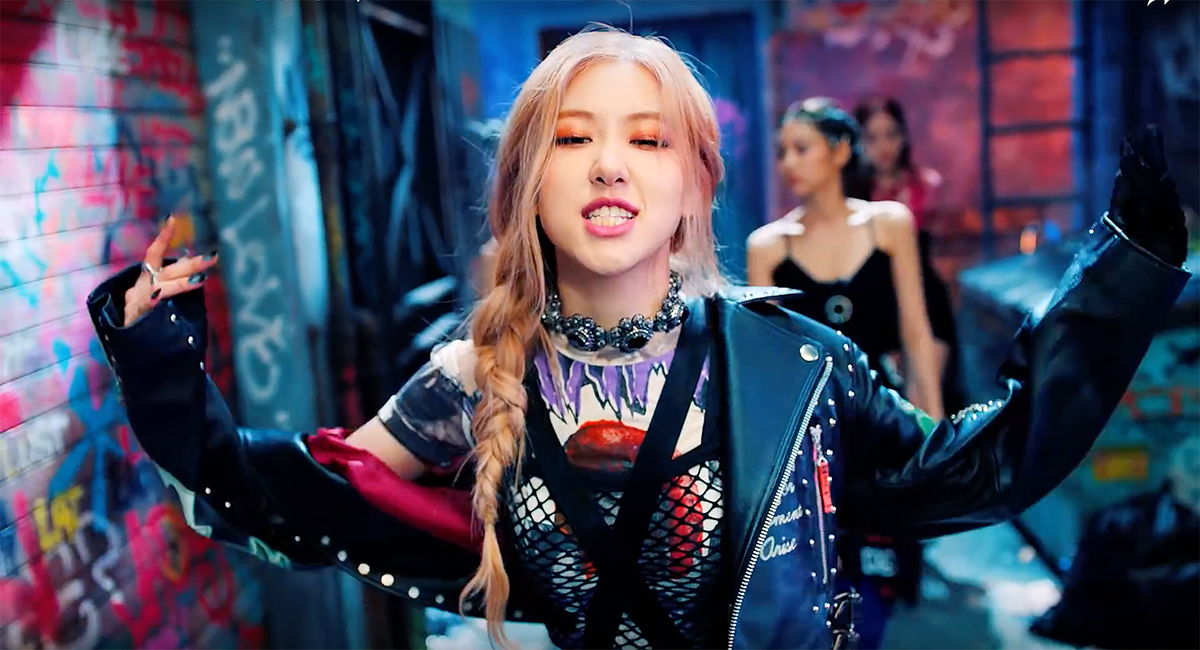 Coral eyeshadow is definitely one of the most versatile for Asian skin tones.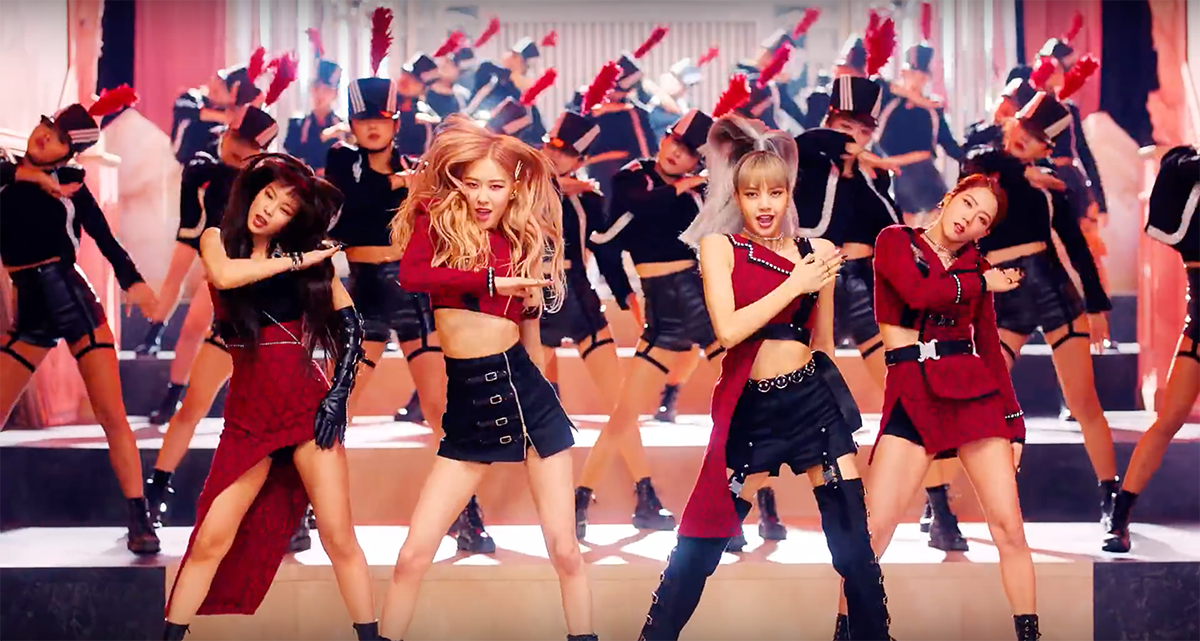 Now, check out how BLACKPINK styled their hair.
Jennie: Sports full bangs now but we are pretty sure those are fake bangs. She looks Cleopatra-ish and is edgy AF.
Rose: Jennie brought hairpins into trend in her solo "Solo". Now, it's Rose turn to put on those cute pins.
Lisa: Lisa has chopped her hair significantly shorter this time, but she is playing around with lots of hair clip-ons to play with hair colour and hairstyles. Her grey ponytail is definitely attention-grabbing.
Watch the full music video of BLACKPINK's "Kill This Love", and spot these beauty and fashion moments as you enjoy the music if you haven't!
All images credit to YG Entertainment.