Mummy Tummy – the endearing name I gave my post-pregnancy bump (yup, still looks like a bump to me) after accumulating all the chubs around my waist from the past 3 pregnancies.
After my recent pregnancy, my tummy shrank after my postnatal massage, but I wasn't as diligent with binding and continued to consume lots of calories during meals and snacks (#foreverhungry). So despite losing some weight while breastfeeding, my mummy tummy seems set to stay.
When I shared about my concern with Dr Terence Tan during my consultation at Halley Medical Aesthetics, he recommended that I try Coolscuplting to eliminate the fat cells around my tummy area.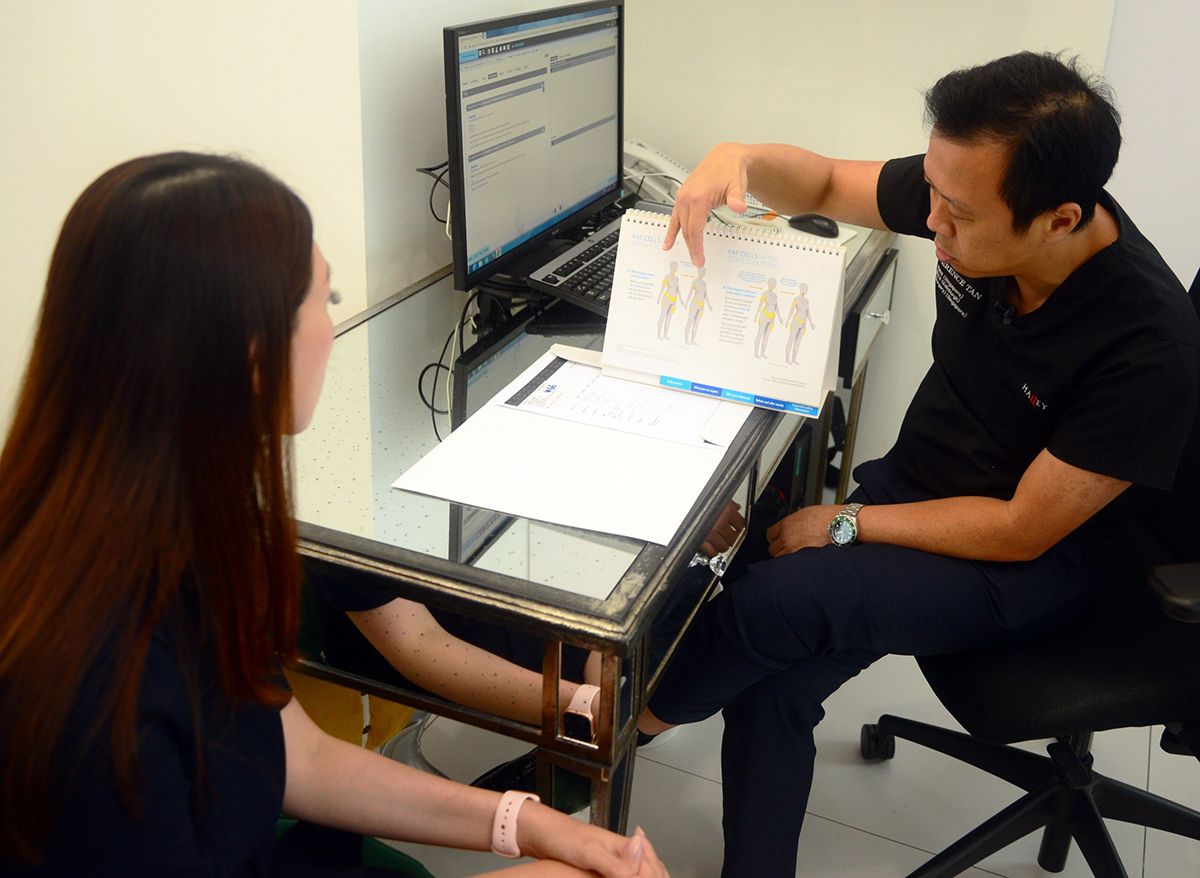 Consultation with Dr Terence Tan
CoolSculpting is a non-surgical, non-invasive, no downtime fat reduction treatment. It's the only US FDA-approved fat freezing treatment that uses the concept of cryolipolysis to freeze and destroy unwanted fat cells, which are then disposed from the body naturally.
The treatment removes 20-25% of fat cells in the treated area each time. And because our body is unable to produce any new fat cells after five years of age, the fat cells that die after fat freezing will be gone forever. That is why CoolSculpting is used to remove unwanted fat in stubborn area, which cannot be removed through spot toning exercises.
Sounds just like what I needed!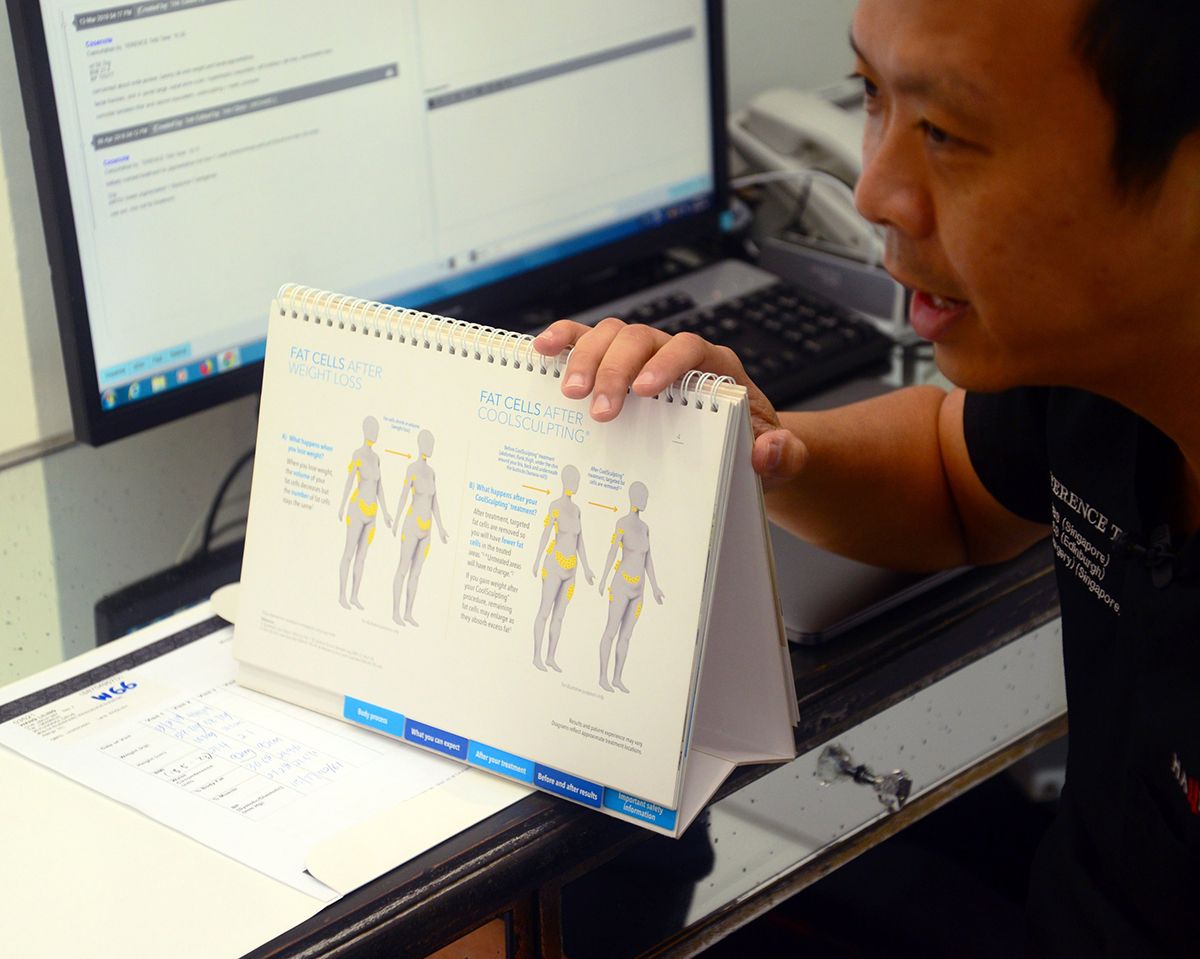 Dr Terence Tan explaining about fat cells
I met up with Dr Terence Tan again on the day of the treatment and he helped to clarify any questions I have regarding the treatment and also explained to me what to expect during the procedure. When we took my measurement that day, I found out that I've lost weight since my first consultation but my waistline remains the same! Shows how stubborn those fat cells are.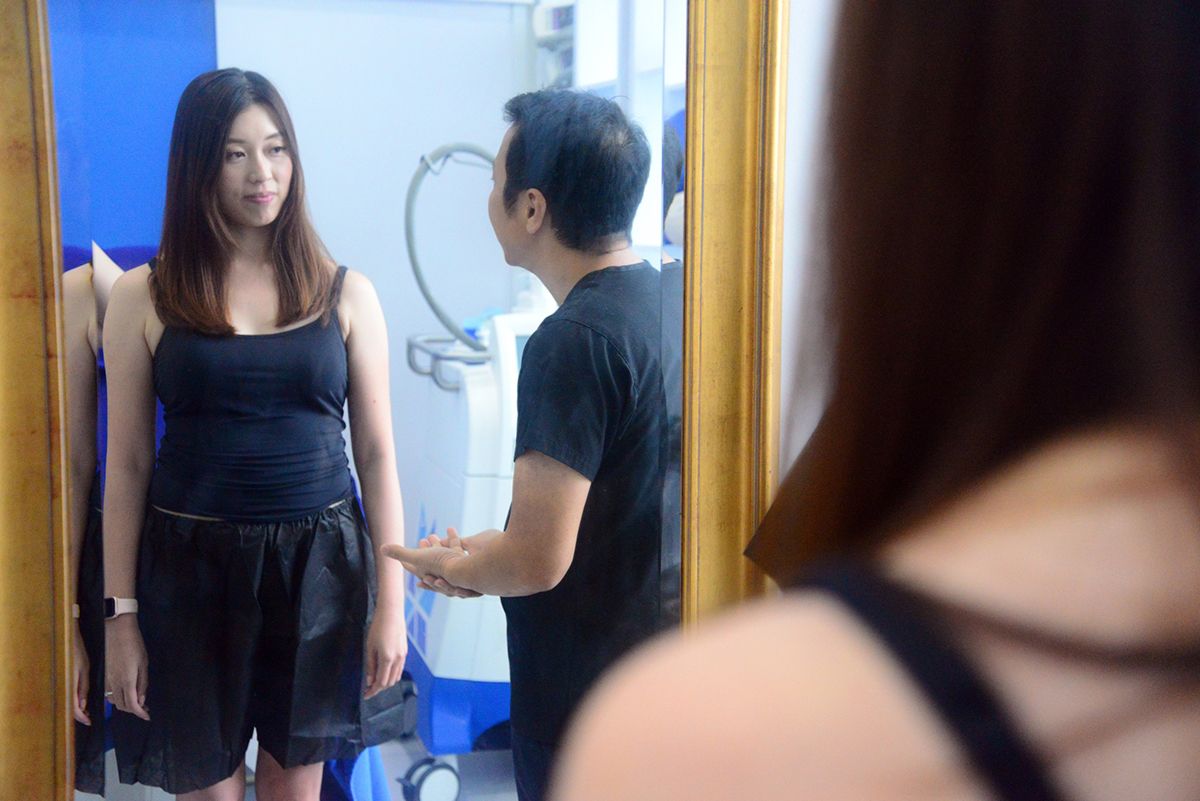 Dr Terence Tan explaining to me about the marking process
To prepare for the treatment, Dr Terence Tan assessed my area of concern and used the CoolAdvantage templates to mark out the areas that required treatment. For the areas that we are looking at, Dr. Terence Tan prescribed two CoolAdvantage and one CoolAdvantage Plus applicators. Compared to traditional legacy CoolSculpting applicators, the CoolAdvantage range of applicators reduces treatment time by nearly half depending on the type of applicator used. This three-applicator session took 1 hr 55 min to complete compared to the 3 hr it would have taken if the legacy applicators were used.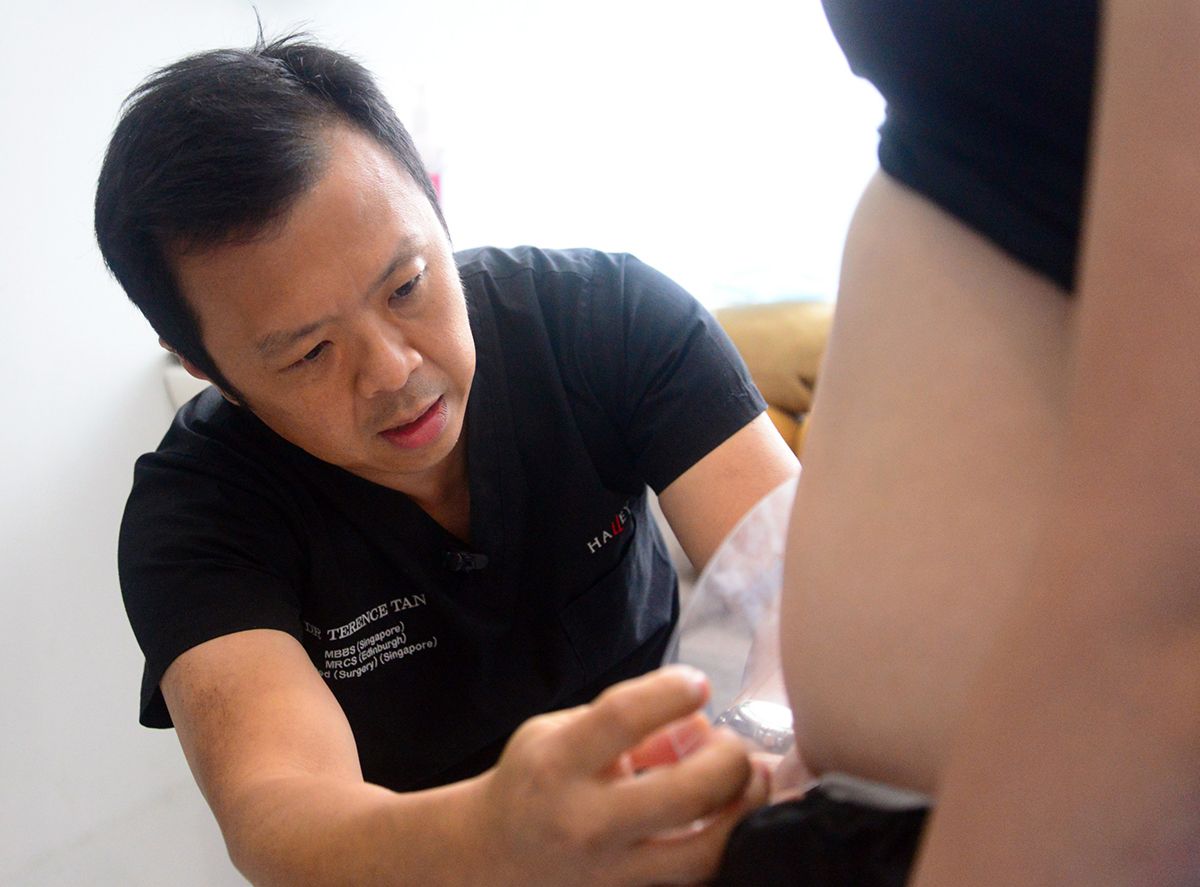 Dr Terence Tan marking out my treatment areas
The three treatment areas
A gel pad was first applied on the marked area to protect the skin during treatment. When the applicator was first applied on the marked area, I could feel a sucking sensation as the machine attaches on to my tummy to work it's freezing magic (actually science lah, not magic). After a while, the area feels numb and I didn't feel any pain or discomfort. The CoolAdvantage Plus applicator needs to run for 45mins and the CoolAdvantage applicators for 35mins each. I spent those time checking my phone and almost fell asleep on several occasions.
Gel pad applied on the treatment area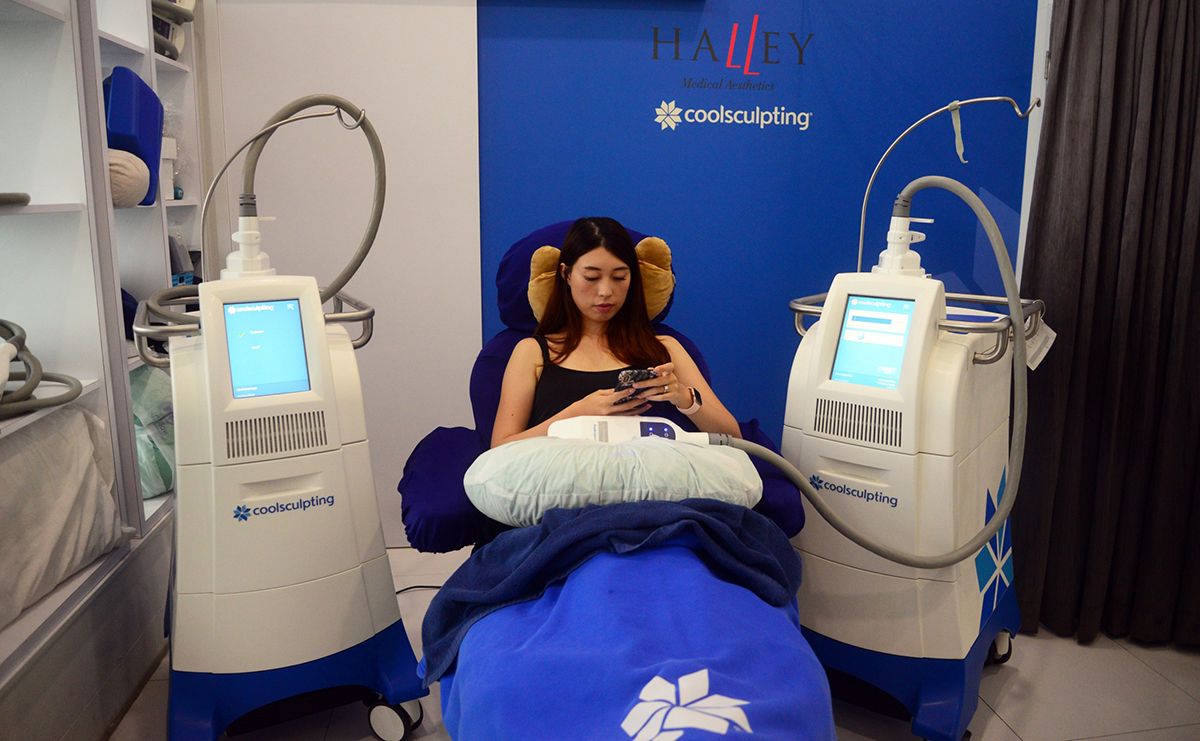 Enjoying some quiet moments during my treatment session
After each treatment cycle, Mandy, the clinic assistant, removed the applicator and massaged the treated area. Mandy applied quite a lot of pressure when massaging to help me get the best result. It was a little uncomfortable but feels pretty much like my postnatal massage, so it is very tolerable for me.
By the way, Halley Medical Aesthetics offers DualSculpting as well, which means the use of two CoolSculpting machines in tandem to reduce treatment time by half.
Mandy massaging my treated area
When the full treatment was completed, there were some redness over the treatment areas and the feeling of pins and needles. The redness went away quite quickly, but the numbing and achy sensation lasted for about a week.
I also experienced some swelling, which is a common side effect. The swelling made my tummy look more flabby, but once the swelling started to subside after a week, I started to feel that my shorts are getting a little looser around the waist.
It hasn't even been a month since my CoolSculpting treatment with Halley Medical Aesthetics and the full results will only be most obvious three months after the treatment, but I thought I'll share with you the progress so far!
Sorry you guys had to look at my flabby mummy tummy, but now you know why I always say I'm not thin, my fats are just well-hidden! I'm really looking forward to seeing the full results 3 months later – do check back again for my review post! Meanwhile, here's a short video of my CoolSculpting treatment.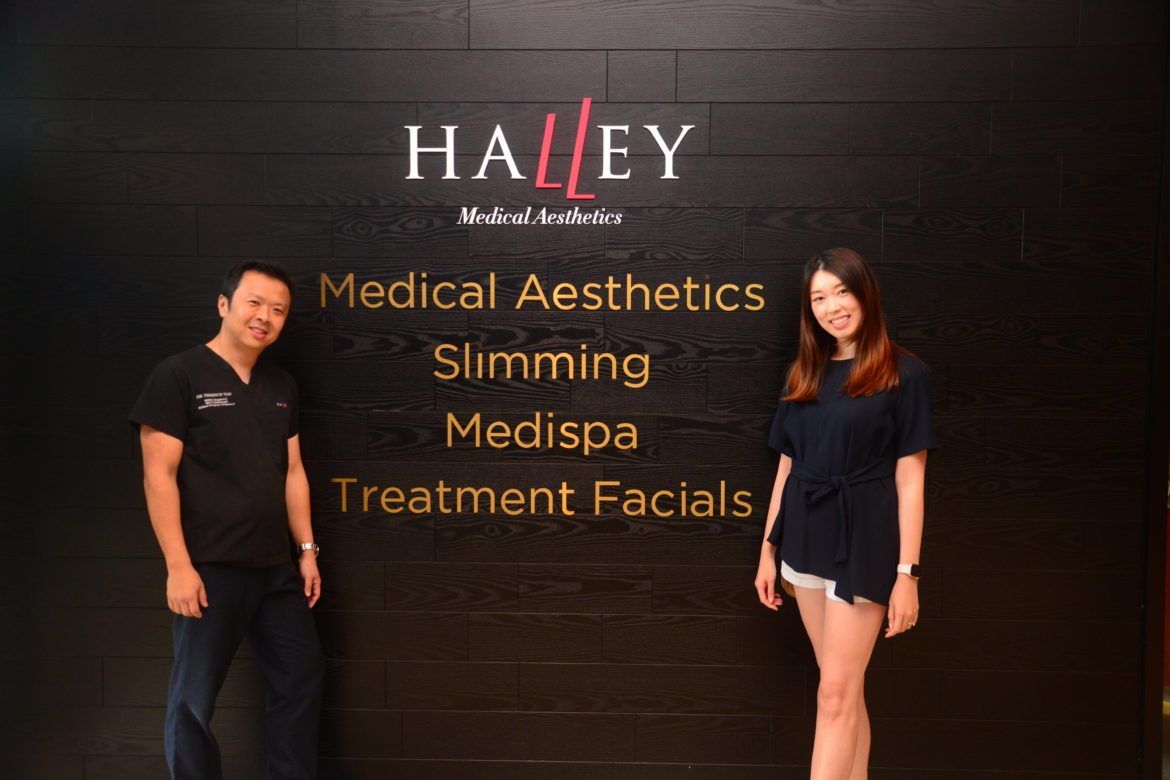 Address
277 Orchard Road, #03-15 Orchard Gateway, Singapore 238858
– 6737 8233
– info@halley.com.sg
– halley.com.sg
– facebook.com/halleymedicalaesthetics
– instagram.com/halleymedicalaesthetics
– youtube.com/HalleySGMedicalAesthetics
Treatments prescribed:
– Two CoolAdvantage (35 min each) applicators
– One CoolAdvantage Plus (45 min) applicator
Total Treatment Cost
– Two CoolAdvantage applicators: 2 x $760 = $1,520
– One CoolAdvantage Plus applicator: $1,520
Total : $3,040 (price include GST)
By Dawn
http://daprayer.com/losing-my-mummy-tummy-coolsculpting-with-halley-medical-aesthetics/