DIY skills are said to be one of the sexiest traits in guys and even women too. Couples who engage in fun, creative and new activities together have higher quality relationships. Let's face it, in Singapore, we don't have a lot of space for large DIY projects in our flats. So instead of getting knee-deep in dirt in an actual garden, we can create a Mason Jar Herb Garden.
Credit: Uncommon Goods
All you need are Mason Jars, a large tray to set them on, some soil and herbs.
Place a layer of small stones on the bottom of each jar. This creates drainage and excess water can seep down there so the soil is not too wet and the roots of your plant will not rot. Then fill the jar with potting soil until the 3/4 mark. Do not pact the soil tightly, it needs to be loose for aeration.
Now you're ready to plant your seeds or seedlings by burrowing them into the soil. If you're not very green-thumbed or lack patience like me, go for seedlings instead of growing your herbs from actual seeds. Water your herb garden with a spray bottle regularly. It's THAT simple.
Consider herbs like Thyme, Parsley, lemongrass, Basil and mint. These do well in mason jars and can flourish indoors (place them by your kitchen window).
Don't just stop there, decorate your mason jars with some hand-painted designs or you can wrap them with twine for a more rustic look. Here are 2 awesome Mason Jar Herb Garden inspirations that I love, decide on a theme you both would like.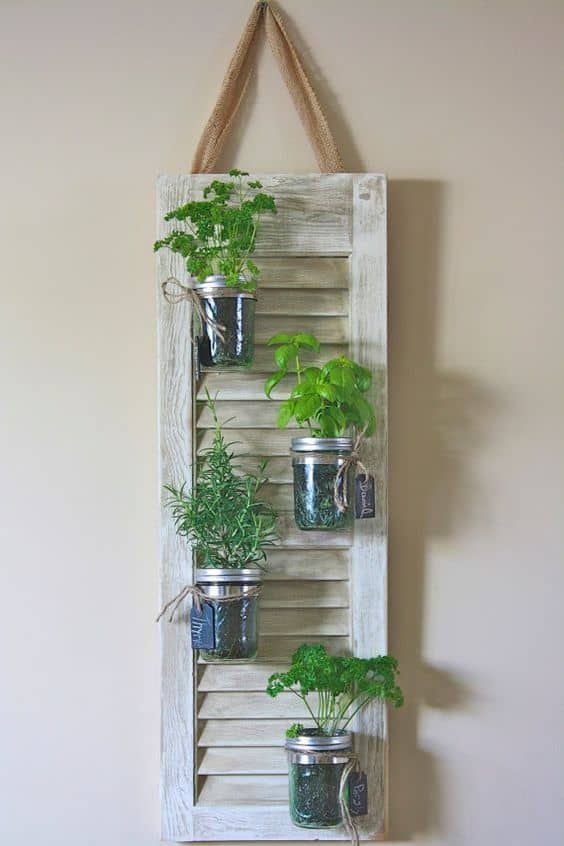 Credit: The Whoot
Suspend the jars vertically instead of placing them on a tray. This is a great option if you have no table space to set the tray of jars on.
Credit: Gold Standard Workshop
If you're not artsy and can't draw anything to save your life then just paint the whole jars with your favourite colours using acrylic paint. Go for a palette of pastel shades or a combination of both your favourite colours.
Gardening together with your partner is an inexpensive date activity which is therapeutic, relaxing and bonding. It involves getting your hands deep into nature and there is multi-sensory stimulation. It gives you a common interest and goal with your partner. Plus it is pocket-friendly and it will enhance the meals you cook for each other too! Start gathering some mason jars now!