Why go for a staycation in Singapore when you can take a flight out and explore the world? Maybe you don't have enough time for a long trip; maybe the high cost of travelling ain't exactly pocket-friendly; maybe you just want to have a short getaway for a special occasion.
However, the last thing you want is to book a room that looked totally spacious and decorated to your taste in photos, only to have it turned out otherwise when you finally checked in. Therefore, we send one of our team members, Staycation King William, to stay a night at Grand Copthorne Waterfront Hotel La Residenza One-Bedroom Service Suite to run the test for you.
What we saw on their website were impressive, and the hotel was also recently conferred five prestigious awards by the International Hotel Awards 2019, in the categories of Luxury Hotel, Luxury Convention Hotel, Luxury Hotel Marketing Singapore, Luxury Hotel Marketing Asia-Pacific and International 5 Star Standard; Her World Brides Venue Awards 2019, and the BCA Green Mark Platinum award for Excellence in the Built Environment. However, William will share his experience with us and give us his honest review.
Room type: Grand Copthorne Waterfront Hotel La Residenza One-Bedroom Service Suite, inclusive of Club Benefits and breakfast.
The room
Many hotel rooms are small and space tight in Singapore since our land prices are sky-high. An oasis in the desert, Grand Copthorne Waterfront Hotel La Residenza One-Bedroom Service Suite is very spacious, ranging from 60 to 72 sq metres.
The huge space is divided into a living area, a dining area, a kitchen, the bedroom, and a toilet. On top of that, there is also a private patio for you to dine in, or have a nice chit chat with your BFFs.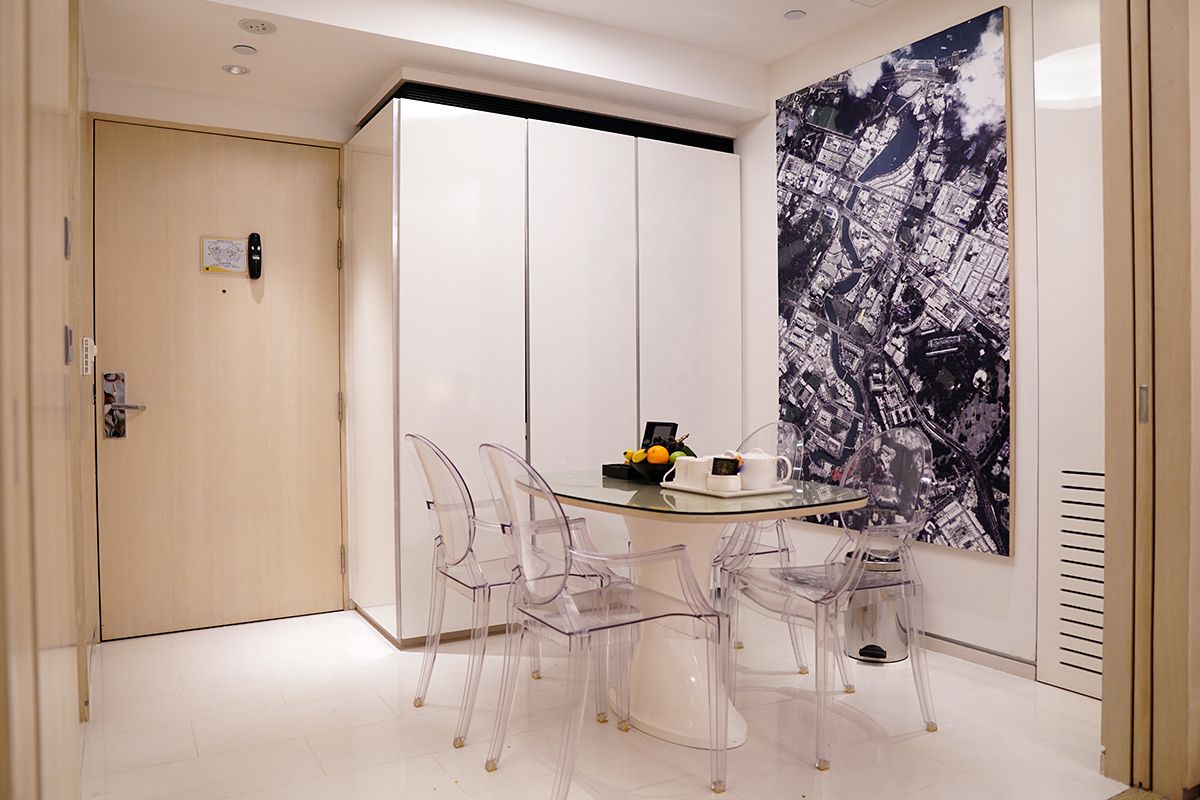 The room came with a fully equipped kitchen for those who plan to surprise their loved ones with a homecooked meal. As for our aspiring chef William, he took the opportunity to whip up a salmon dish during his staycation because his mother doesn't allow him to cook at home as she fears that he will mess up the kitchen. We have to say that he is quite a good cook!
There is also a minibar, complete coffee and tea making facilities, in-room entertainment, and complimentary WiFi to complete the package.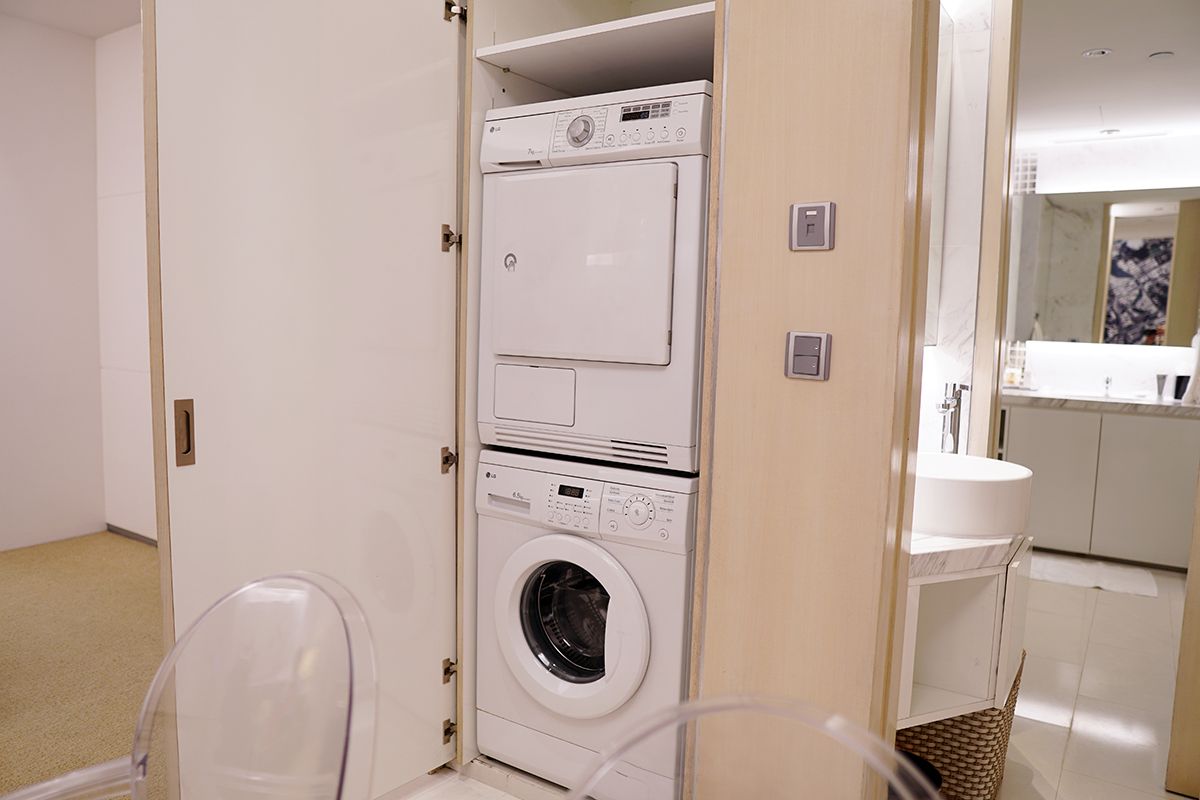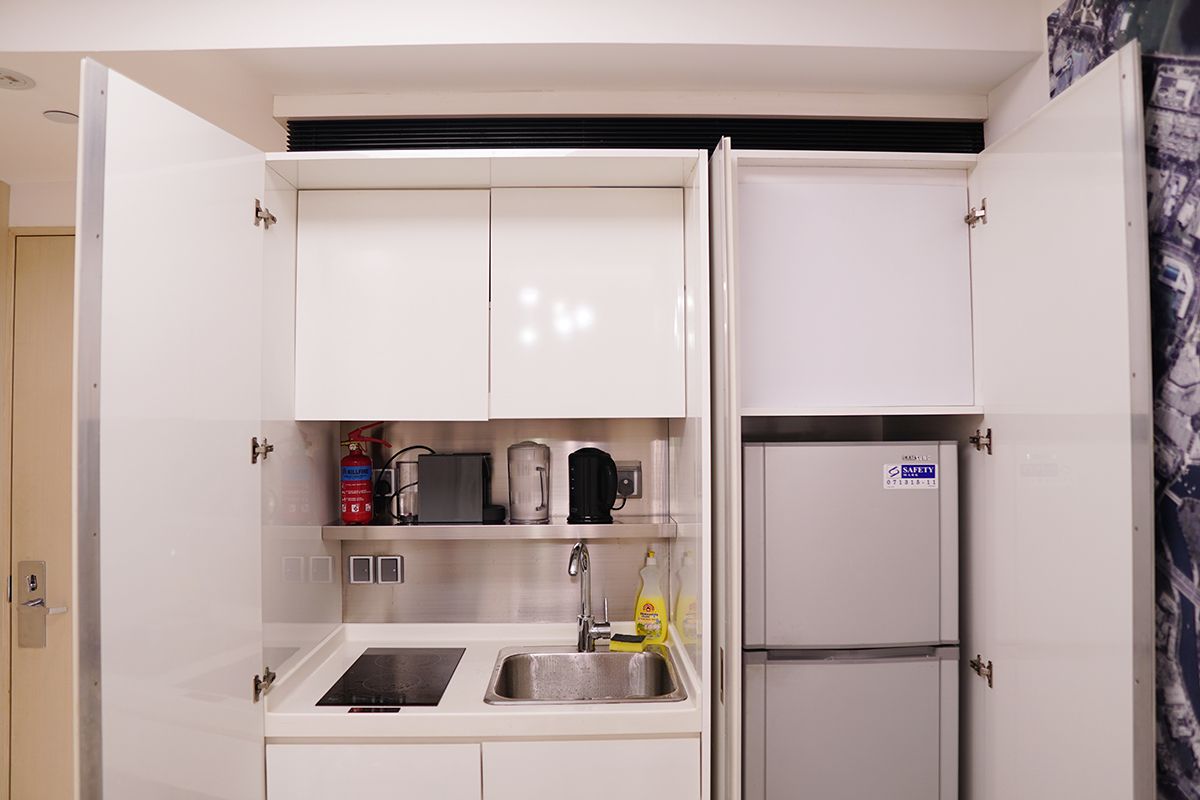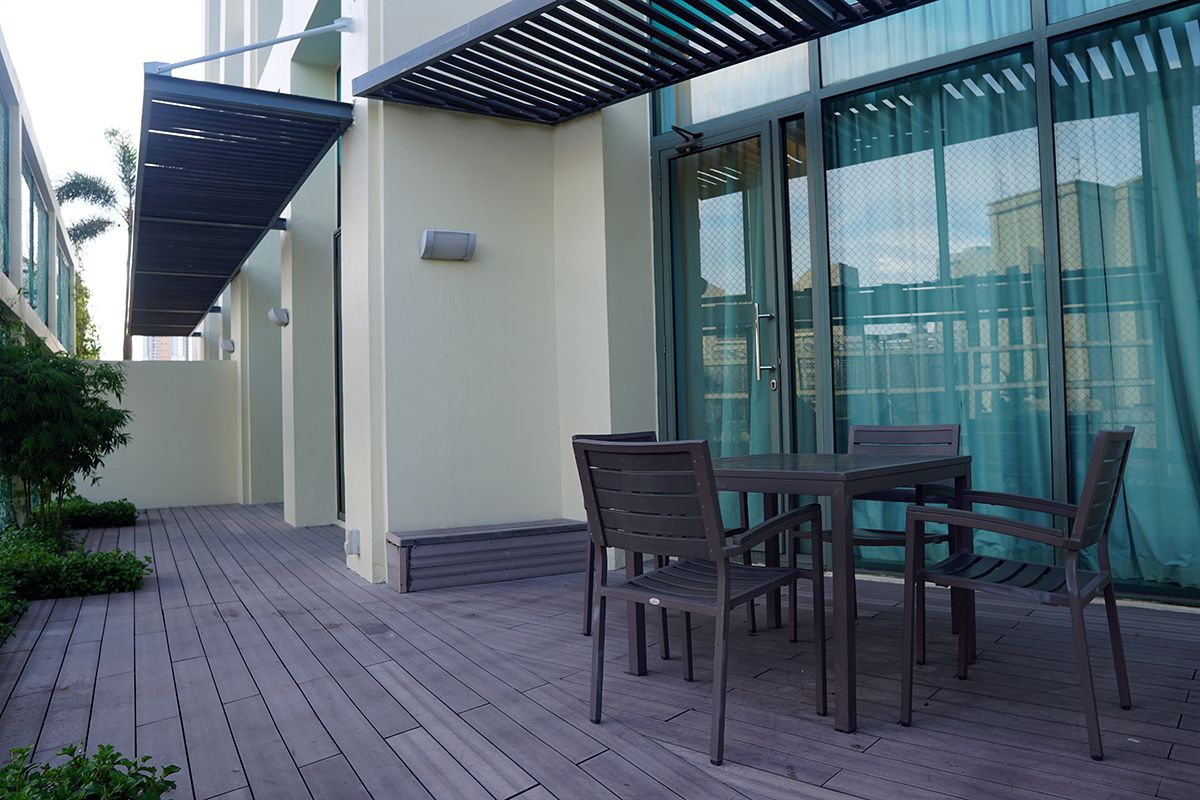 Facilities
William explored the gym and the pool in the afternoon after he checked in. The pool wasn't crowded and towels were readily available for guests to use. The gym is opened 24 hours daily for guests to use at their own convenience, and it was well-equipped with all the necessary fitness equipment that workout fanatics need.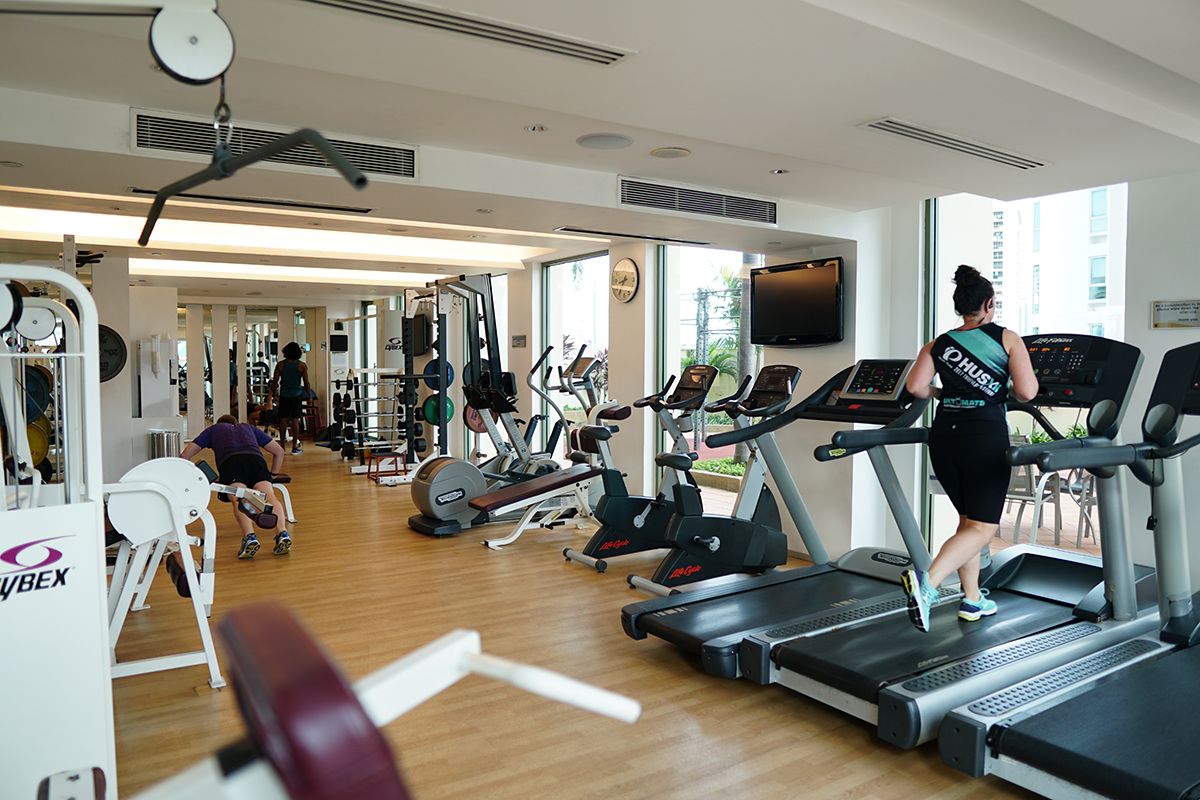 Food
A getaway or celebration would be nothing without good food! For those of us who aren't exactly chef material and whipping up a meal in the fully equipped kitchen isn't part of the programme, good food in the hotel will make life a lot easier.
William checked out the Singapore Inspired Tempo Tea at Grand Copthorne Waterfront Hotel and our resident foodie wasn't disappointed. Available from 2.30 pm to 5 pm daily, and priced at $48++ for two, the Singapore Inspired Tempo Tea includes delightful savoury creations and dainty confections, with free-flow coffee or tea. Our sweet tooth William really enjoyed the cakes!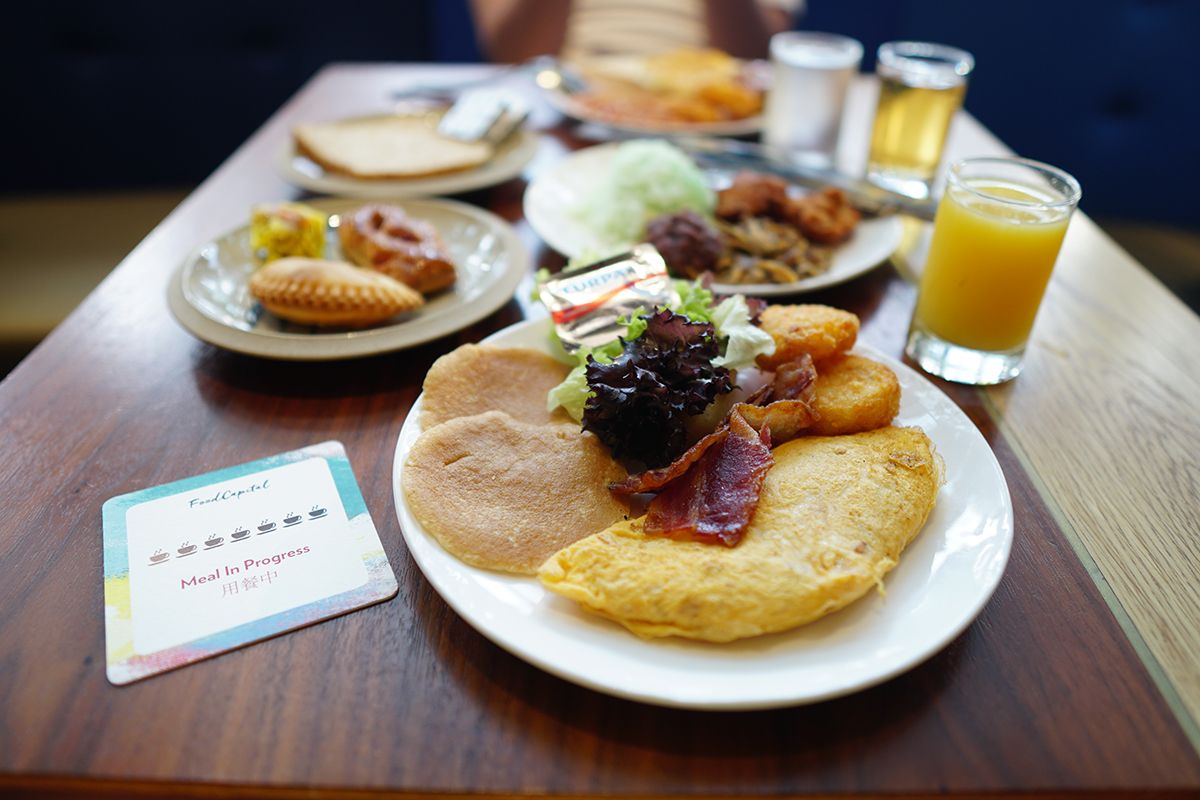 William also woke up early the next day to try the buffet breakfast and his tastebuds were definitely grateful for his effort. The international spread includes Chinese, Western, and also Japanese fares and there is definitely something for you.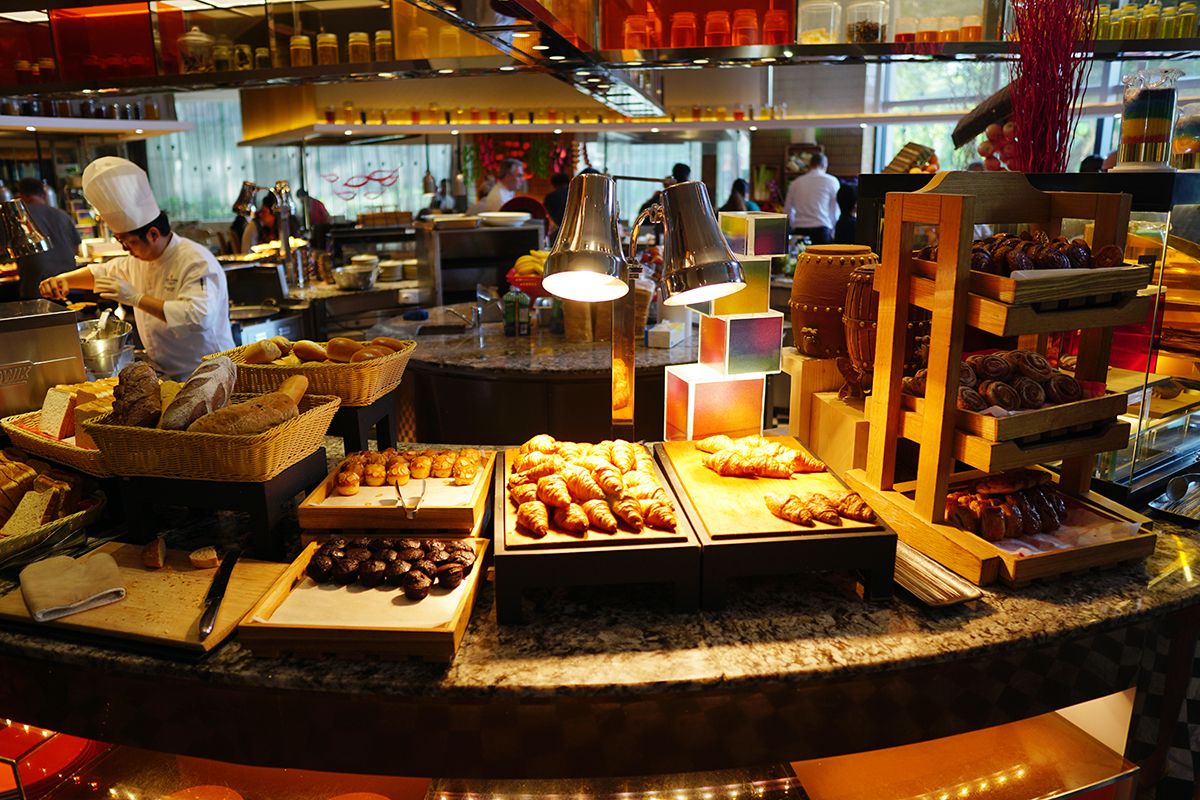 Club Benefits
Booking a stay in the Grand Copthorne Waterfront Hotel La Residenza One-Bedroom Service Suite comes with Club Benefits, and it includes exclusive check-in and check-out at the Executive Club Lounge, access to the Executive Club Lounge which includes complimentary buffet breakfast, high tea, evening cocktails and more. William mentioned that checking in and out of the hotel was a breeze for him. The friendly staff at the hotel ensured that the process was smooth for him, and that he could rest at the Club Lounge and enjoy some refreshments while they process the paperwork.
Tours and Activities
What should you do if you find staying in the hotel a tad too boring? There is no need to coop yourself up in the room (although we really would love to that, since the room is so nice and comfy) because you can join the hotel's tour or in-house hotel activities.
Tours are available every Saturday with compliments from the hotel, and there are absolutely no extra charges for them. Go for a half-day guided walking tour at Tiong Bahru, one of Singapore's oldest housing estate and rediscover Singapore all over again. Alternatively, take part in their specially curated in-house hotel activities like art jamming which William took part in in an attempt to flaunt his artistic talent.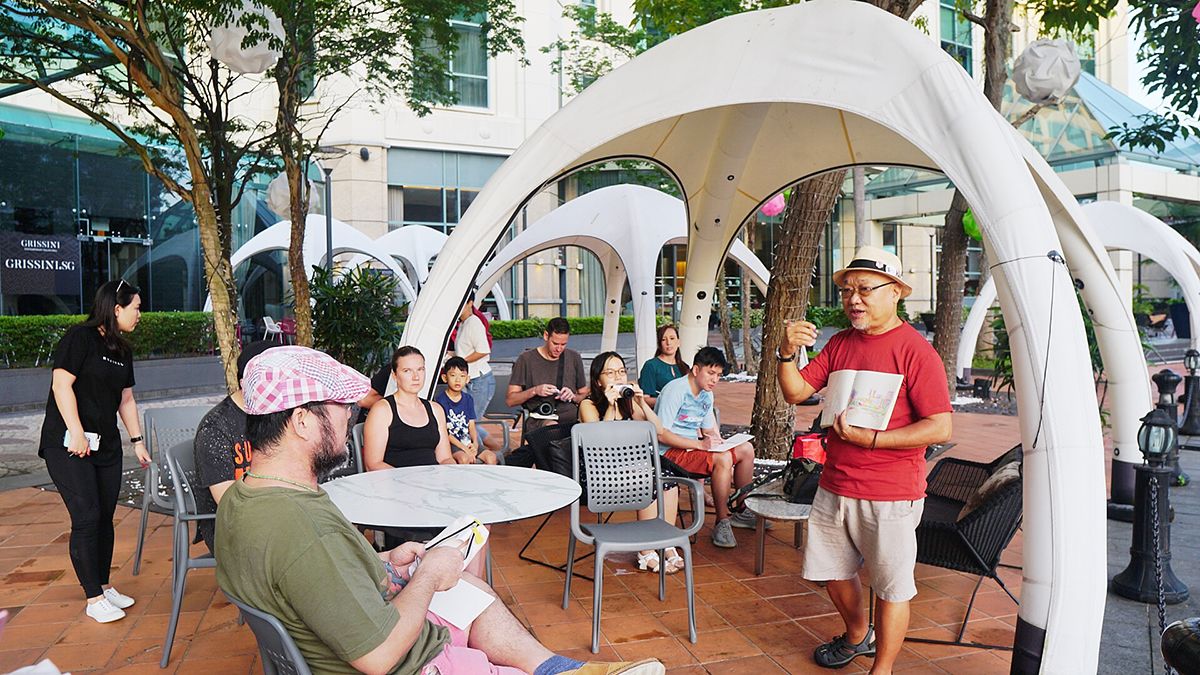 William's overall verdict? He will definitely recommend Grand Copthorne Waterfront Hotel La Residenza One-Bedroom Service Suite to anyone who is looking for a staycation. Grand Copthorne Waterfront Hotel also has other room types available to suit your needs, and you can take a look at the different options here.
Promotion: Staycation by the River
Check-in on a Friday, Saturday or Sunday and enjoy a relaxing weekend Staycation with Up to 15% off Rooms,Complimentary breakfast and other exclusive benefits. Click here to find out more.
Grand Copthorne Waterfront Hotel
392 Havelock Road Singapore 169663
+65 6733 0880
enquiry.gcw@millenniumhotels.com
Check-in: 1400 – Checkout: 1200