Award-winning rooftop Italian restaurant, il Cielo, helmed by Chef de Cuisine Yohhei Sasaki is known for continuously elevating the Italian culinary standards in the city with his unique Japanese influence.
Chef Sasaki is inviting diners on yet another gastronomic best to experience Tuscany through his eyes. As a tribute to the beautiful region where he once called home and honed his skills as a young chef, Chef Sasaki has curated a new five-course Italian degustation menu that is priced from $138++, drawing inspiration by Tuscan landscapes, flavours and culinary techniques.
Bruschetta al Pomodoro e Burrata
Italian classics are given a modern and innovative spin in the five-course tasting menu. The starters are contemporary versions of traditional favourites – Bruschetta al Pomodoro e Burrata is a delightfully refreshing tomato sorbet and basil crumble with creamy burrata cheese, parma ham and balsamic vinegar jelly; and the Insalata all Cacciatore is Chef'sversion of the traditional stewed meat dish with dollops of chicken mousse and a frothy, light egg white mushroom mayonnaise over marinated butter lettuce sprinkled with dried olive and tomato powder for a tangy, umami finish.
Capellini Burro e Timo
The popular Capellini Burro e Timo remains on the menu – a hearty serving of house-made capellini, seared Maine lobster and rich thyme butter sauce finished with a generous handful of porcini crumble and shaved black truffle for added mouthfeel and a deep, earthy flavour. Grigliato di Caramaro alla Viareggina is a quirky parcel of grilled squid stuffed with minced Viareggio prawns accompanied with a bagna càuda cream sauce and squid ink herb powder to bring out the flavour of the ocean, Chef Sasaki's modern take on the classic seafood ravioli.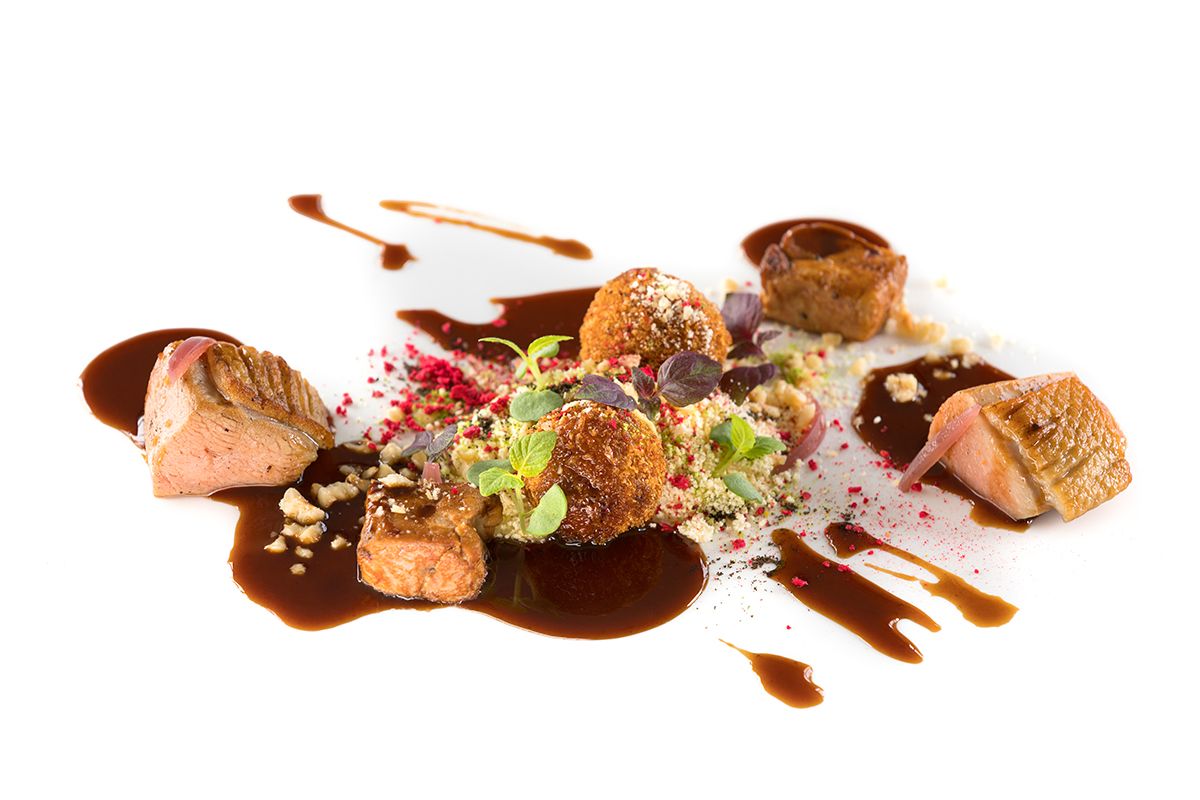 Anatra Arrosto
Anatra Arrosto is an adaptation of the popular wild game and pigeon stews in Italy featuring duck prepared three ways – seared duck breast is paired with crispy, creamy confit duck leg croquette and a house-made foie gras powder, with a tart raspberry sauce to cut through the richness and toasted, crushed hazelnuts for added mouthfeel. Tramonto is a sweet way to end the night, a gorgeous, colourful plate of strawberry granite, yogurt gelato, white chocolate yogurt espuma and yogurt meringue artfully and delicately arranged to resemble the stunning glow of a Tuscan sunset.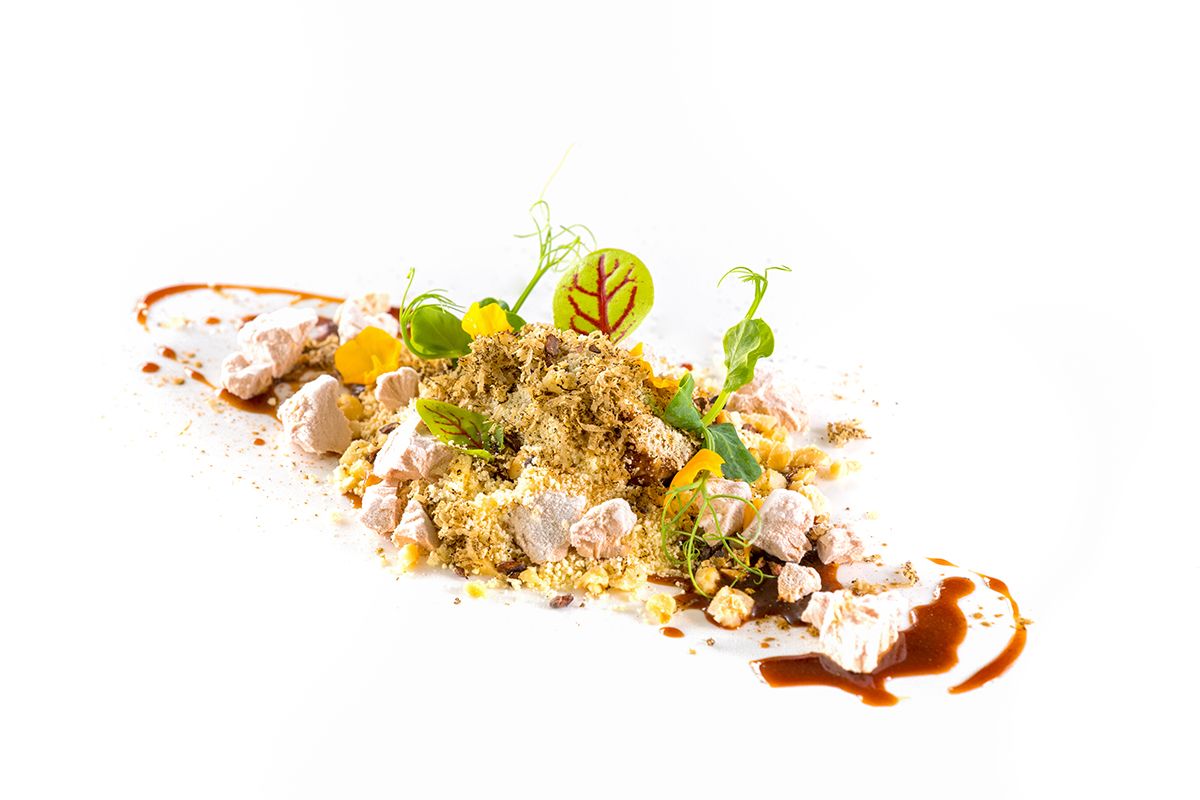 Tartare di Quaglia con Terrina di Foie Gras
Chef Sasaki's adventures of hiking and foraging through the forests of Tuscany have also found a home in his new Autumn Seasonal Menu that is priced from four-course menu at $118++, which features his signature style – fusing Italian and Japanese cuisine. Do not miss the Tartare di Quaglia con Terrina di Foie Gras, a delightful combination of confit quail tartare, smoked foie gras terrine and porcini powder arranged in a manner reminiscent of the dense forest floor; and the Grigliato Maiale di Vino e Fungi Giapponese, Miyazaki wine pork prepared two ways – grilled over charcoal and braised with soy sauce, mirin and sake then grilled and basted to create a sticky, caramelised crust. Italian truffles also factor heavily in the seasonal menu, with the indulgent Uovo al Tartufo – a decadent dessert of truffle milk jelly and sweet pumpkin cream paired with white truffle gelato and generous shavings of black truffles.
Experience the taste of Tuscany at the newly refurbished il Cielo – a space designed to reflect the lightness of its namesake and bring little touch of the Mediterranean to the heart of Orchard Road.
Newly Renovated il Cielo Rooftop Italian Restaurant
Newly Renovated il Cielo Private Dining Room
Five-course Italian Degustation Menu
5-course: $138 (additional $50 for wine pairing)
Seasonal Autumn Menu | Available in October and November only
4-course: $118 (additional $50 for wine pairing)
5-course: $138 (additional $60 for wine pairing)
7-course: $168 (additional $80 for wine pairing)
il Cielo Restaurant
Level 24, Hilton Singapore
581 Orchard Road, Singapore 238883
Opening Hours:
Lunch Noon – 2.30 p.m (Monday to Friday)
Dinner 7p.m. – 10:30 p.m. (Monday to Saturday)
For reservations, visit hiltonsingaporerestaurants.com/ilcielo, call +65 6730 3395, or email ilCielo@hilton.com.
All prices printed herein are subject to seven percent GST and 10 percent service charge.