The Loewe fashion house, which is spotted for its minimal designs and unique color patterns, has already launched a new gorgeous handbags collection for the warm season.
Steven Vevers, who is the creative director of Loewe now, decided to leave his career at Mulberry and promote this small brand with his unique designs. 
Loewe spring 2011 bag collection presents a line of chic and alluring handbags designs, suitable both for semi-formal and casual outfits. It's not a chance that Angelina Jolie, Kylie Minogue and Jessica Alba chose exactly Loewe handbags. If you also want to be spotted for your luxury handbag, just study Loewe spring 2011 bag collection and find yours among a cavalcade of interesting designs.
Loewe 2011 bags contain some characteristic features peculiar to the Mulberry style, such as minimalism and old time classy touches. There's no doubt, Steven Vevers tries to preserve his great fashion fantasy, expressing this through neat tailoring designs and refined silhouettes.
Feminine details, stunning color and texture combinations are the key factors of the entire collection. Never try to choose a handbag that will blend with your outfit. Follow the recent accessories trends of footwear, jewelry and handbags and choose an eye-catching, unique design and color that will add an extra glam to your appearance.
Go for fabulous Amazon bags in fuchsia, yellow, black or ivory shades or choose a cute boxy bag design, capable to carry all your style and beauty items. Don't give in restrictions and try to flaunt your style creativeness, choosing the best design close to your preferences and interest.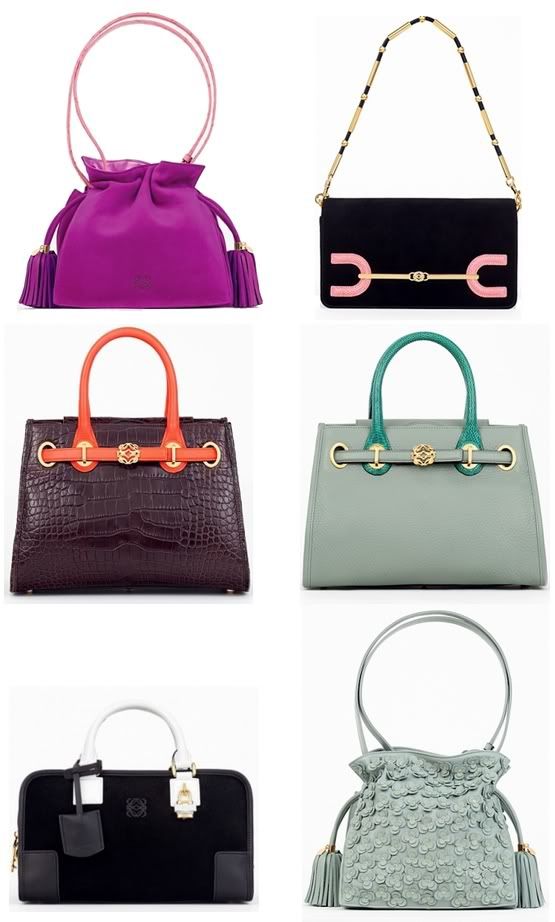 Source: Fashionizers