With the pumpkins carved and the spider webs hung, Halloween has official arrived. By now, most are scrambling to put together a costume or planning to attend a fabulous Halloween party.

Since Halloween calls for frightening and creative costumes, many of them will call for unique footwear. Shoes generally make the outfit, so let me introduce 5 perfect shoes for you this Halloween? I have taken 5 popular costume and paired them with the perfect shoe. Making Footcandy's top 5 Halloween shoes this holiday season are:
Masquerade Costumes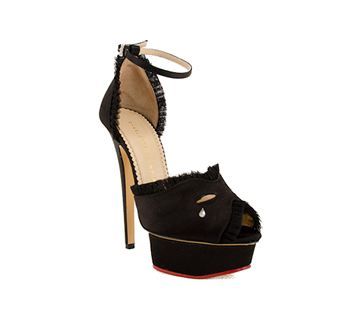 Masquerades emit romance, mystery, and intrigue but who said you couldn't emulate this on your feet? Charlotte Olympia's "Masquerade" is a unique and innovative design that will compliment any homemade or store bought masquerade costume this Halloween. The crystal tear drop and cut outs are playful yet mystifying. But perhaps the best part about this shoe is that it is absolutely comfortable and will get you through your night of dancing.
Insane Asylum Costumes


You'd be crazy not to want to wear this design by Moschino! Escape the ordinary straitjacket and fly over the cuckoo's nest with these fabulous high heels. This design might seem frightening to walk in but the three buckle straps actually provide you with the perfect fit. Whether you're dancing, walking, or just handing out candy to trick or treaters, these shoes will without a doubt make a crazy statement.
70's Go-Go Gal Costumes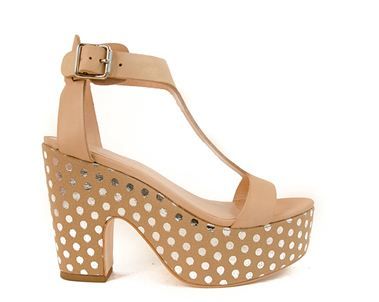 The 70's were all about disco, dancing and platform shoes. This very funky 70's inspired design by Loeffler Randall completely embodies the go-go gal vibrations. So whether you're wearing hot pants or a multi-colored flared dress these platform shoes will absolutely complement your costume this Halloween season.
Pirate Costumes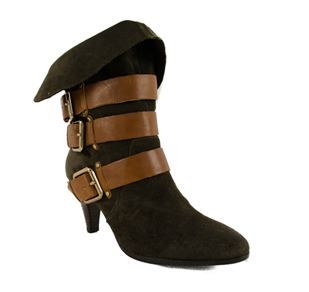 Ahoy, Matey! Pirates are staples for Halloween costumes every year; so we thought we'd show you a boot that will coordinate perfectly with any corset dress, velvet waist coat, and rustic hat. The "Bliss" by Rebecca Minkoff will have you walking the plank, trimmin' yer sails and watching for ships this Halloween. So sail the seas with this incredible design, you'll absolutely love how comfortable these boots truly are.
Witch Costumes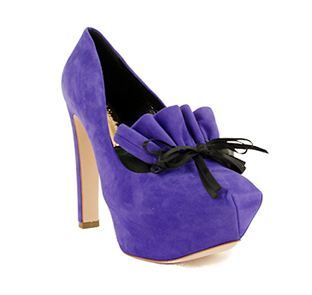 Bippity, Boppity, Boo. The "Favell" by Rupert Sanderson is the perfect high heel to complement any witchery this season. Not to mention the rich suede textile and purple hue embodies all things Halloween. So before you head out to your spooky cauldron party, make sure you throw on the "Favell." They are incredibly festive and perfect for any witch costume
We hope these 5 terrifying and sweet shoes will complement your Halloween costumes this season.
To purchase these great Halloween style shoes, or find more of your own, be sure to visit Footcandyshoes.com