When skin is dull, looks uneven and feels flaky, these are signs of dryness and dehydration. This is caused by two main factors: Firstly, the uneven distribution of skin's internal water content. Secondly, a weak skin barrier, which causes skin to lose water through Trans Epidermal Water Loss (TEWL). To solve this, you need a skincare range that works on multiple levels to intensely hydrate skin so that it has a natural luminosity that lasts.
Whenever we try on a new moisturiser, we hope that it will turn out to be the miracle we have been waiting for – that one product to give us perfectly supple and smooth skin that will never feel dry again.
This incredible skincare feat does exist. Bioderma Hydrabio is the answer to dry, dehydrated skin. It doesn't just infuse skin with moisture from the surface, it increases skin's natural irrigation from the inside.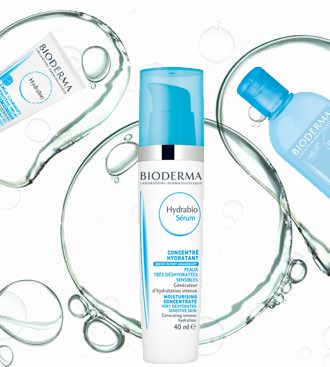 THE PIONEER SKIN CARE TO USE AQUAPORIN DISCOVERY
Aquaporins. This term has recently been the most promising buzzword in hydrating skincare. The Nobel Prize-winning discovery of aquaporins was made by an American hematologist called Peter Agre in 2003, almost 10 years ago. He was studying blood groups in cells when he discovered 'water channels' in every cell's membrane.
These are aquaporins, channels that move and control the circulation of water from cell to cell throughout the skin. Two years later, Bioderma released Hydrabio, the first skincare brand to pick up on this new discovery, and the pioneer skin care that promises to stimulate and restore the natural functioning of these aquaporins in the skin.
SKIN IS CONSTANTLY FIGHTING FOR WATER
Due to the environment, age, or certain skin conditions, the number of these water channels diminish, causing poor water circulation and dry, dehydrated skin.
Besides diminishing water channels, our skin is also battling seven causes of water loss every day. These include UV exposure, environmental factors like cold weather or airconditioning, damage to skin barrier, lack of natural moisturising factors in the skin, harsh cleansers and unsuitable products, unhealthy lifestyle habits like smoking and drinking, and natural water evaporation from the skin's surface.
That's why simply 'watering' the skin with a topical moisturiser isn't enough. Typical moisturisers only hydrate the upper skin layers and never reach the depths. That's where Bioderma's Hydrabio range comes in. It offers a triple hydrating action – giving superficial moisture with glycerine and other moisturisers, teaching skin to retain hydration from within, and facilitating water circulation with a unique apple seed extract that opens up skin's aquaporins so water flows though every layer of the skin. One powerful active ingredient in the range is vitamin PP, which rebuilds the lipids between the cells, so it acts like cement to help retain water in the skin layers.




Hydrabio Serum (40ml), $45.90.

A lightweight yet intensively hydrating concentrate that works even on the driest skin. It also contains hyaluronic acid for immediate and intensive hydration.




Hydrabio Tonique (250ml), $36.50.

After cleansing, pat on this moisturising toning lotion.




Hydrabio H2O (250ml), $29.90.

This is a water-based, no-rinse cleanser and makeup remover. It is pH balanced and has cucumber extract to perfectly soothe skin while cleansing.




Hydrabio Gommant – Exfoliating Cream (75ml), $29.90.

Made for sensitive, dry, or dehydrated skin, this scrub is gentle enough not to aggravate skin, but yet reveals a smoother, radiant complexion.




Hydrabio Legere – Light Cream (40ml), $39.90.

Available in Jan 2013. This soufflé-light cream leaves skin soft, smooth and fresh. It's also an excellent makeup base.
WHERE TO FIND US:
Guardian outlets: Paragon, Centrepoint, Clifford Centre, Ion Orchard, Ngee Ann Ci ty, CityLink Mall, Raffles City Shopping Centre, Marina Bay Sands, United Square, Mount Elizabeth Hospital Noven a, Amara Hotel, Compass Point, Holland Village, Star Vista, IMM , Jurong Point, Parkway Parade, Serangoon Nex, Vivocity , NorthPoint, and Causeway Point.
Nishino outlets: Liang Court, Meidi Ya Shaw House, and Isetan Supermarket T akashimaya Department Store.