By now, most of you have seen at least one Korean show in a talk show format or one of their popular variety shows that typically involves people being thrown into pools and having mud fights. Yes, they do that out here. Not quite as rowdy or gut bustlingly hilarious as their Japanese counterparts, but there are a few celebrities in the TV world that are worthy of mention.
Yoo Jae Suk
Mc Yoo, Grasshopper, Nation's MC, and Yooruce Willis are just a few of the nicknames that this nationally beloved personality has been adored with. Yoo Jae Suk boasts an accomplished resumes with a trophy case that rivals Michael Jordan's.
Think a Korean version of Conan O' Brien minus the goofy hair. The host of some of the most popular shows in South Korea such as Infinite Challenge and Running Man also debuted worldwide in Psy's Gangnam Style and Gentleman videos.
Yup, that was him in the yellow suit doing the herky jerky dance. MC Yoo also previously had an infatuation with adult videos but as he is married now to a beautiful announcer that perfectly normal hobby has probably been brought to a halt. If you're curious about his style, flip on the tube at any time and there is bound to be at least one of his shows on air.
Park Myeong Soo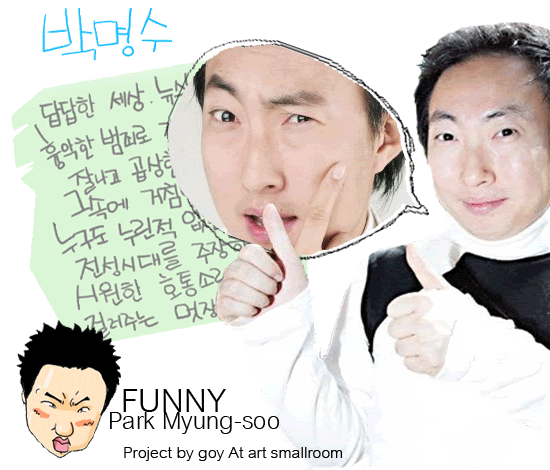 Boasting a potent comedy repertoire with an extremely unique face that makes him easy to pick out in a crowd, Park Myeong Soo is well known for his hotong gag. His character involves berating and yelling at the other hosts which unfortunately made many question his personality. Supposedly, he is a nice guy in real life though.
Park also released a few albums, as he has a surprisingly decent voice that one wouldn't expect out of him. One of his more common nicknames is Worthless Brother after a co-host called him a worthless person with a worthless body, as well as The Devil's Son due to his somewhat scathing humor. The Worthless Brother is also quite well rounded, having previously run one of the incredibly delicious Kyochon chicken franchises as well as currently being the manager of a pizza restaurant.
Kang Ho Dong
The larger than life personality rose to fame as Korea's top wrestler back in the day. No, not the wrestling with the fake scripts and steroid bound superstars smashing chairs on each other. After a brief hiatus in 2011, Kang stormed back onto the scene. One of his first smash hit shows was with Yoo Jae Suk called X Man, which was a variety show that involved playing a series of games with celebrities of which one of was the "Xman."
The Xman's mission was to discretely sabotage his team so they would lose. Kang is probably most known for his show 2 Days 1 Night (1박2일) where he and the other members travel around Korea playing games and also allowing people to get a look at many different parts of Korea. In case you haven't guessed, Koreans LOVE playing games of all kinds. Just head to any bar or park and you'll understand.
Noh Hong Cheol
Noh is extremely popular in Korea for his bizarre antics, unique fashion, and the ability to speak a mile a minute. He gained international recognition as his popular dirty dance was featured in Gangnam Style, where he plays the Elevator Guy. Let's not kid ourselves, we've all done the elevator dance somewhere in Korea as some bewildered spectators watch in horror.
One of the more notable incidents involving Noh was when he was attacked by a mental patient at his house. Though he suffered broken ribs, pictures of him putting his arm around the attacker and telling him that he was ok earned him a lot of brownie points with fans.
As part of the Infinite Challenge team, he shaved his head after losing a challenge where he had to get a six pack. For those of you scoffing, keep in mind that shaving a head is a pretty big deal out here as many Korean guys prefer to have a long and full flow of hair ala Fabio.
Ha Dong Hoon aka HaHa

Ha Dong Hoon aka HaHa is a well-known comedian. The diminutive 168cm former rapper follows Yoo Jae Suk like a shadow on the shows Infinite Challenge and Running Man, where the German born Korean entertains the audience with his typical dance and comic routines. Although he released a number of songs, his music career didn't really gain any serious steam. Haha became a household name after becoming a regular on the show Xman, and eventually a member of Infinite Challenge.
Ha Dong Hoon aka HaHa also married a popular singer named Byul recently, showing us all that a sense of humor does indeed help with the ladies. Oh and that you don't have to be 180cm to score a quality girl.
Kang Hee Gun aka Gary

Kang Hee Gun aka Gary is the rapper for popular group LeeSsang along with Gil. Despite his friendly nature, make sure not to pick a fight with this guy as he has 10 years of boxing and an 8th degree black belt under his belt.
Gary and Gil were part of the highly successful Kpop group Honey Family from back in the 90's. He gained a lot of fame due to his likable character on Running Man, as well as having a pseudo romantic relationship with Song Ji Hyo.
Jeong Hyeong Don
One of the original Infinite Challenge members, Jeong Hyeong Don was donned with the rather bizarre nickname of Awkward Pig due to his rather introverted character. Also known for his ability to excel at everything outside of comedy, the former engineer broke out on the popular show Gag Concert.
After receiving the member of the year award, he teamed up with Jeong Jun Ha to become the Fatty Brothers. Yea, if you hadn't noticed yet Korean humor can be rather childish at times. Jeong sports some pretty questionable fashion and is part of a hip hop group with rapper Defconn.
Jeong Jun Ha
Jeong is the easiest member of Infinite Challenge to spot due to his large frame and head which is affectionately referred to as the Helmet. He also leads the Fatty group with the rather unenviable nickname of Super Fatty, which is quite appropriate considering he is famous for his insane appetite.
Jeong plays a completely tactless and rather brain dead character, which makes him a constant target of ridicule. Jeong had the last laugh when all the members took an IQ test and he placed 1st to the astonishment of the crew. It's no coincidence that the God of eating runs a restaurant in Gangnam, so check it out for yourself and maybe you'll spot his huge head around there.
Kim Jong Gook
The burly muscleman is plagued by a high pitched and rather whiny voice unbefitting of his physique, which has lead to the nickname of Mosquito. Kim was a former member of the extremely popular Kpop group Turbo that entertained hordes of Koreans during the 90's. He is well known for his role in Running Man, where he is referred to as Sparta due to his imposing presence and high acumen.
Kim was also a very popular regular on Xman due to his witty comments and constant love affairs with the guests, in particular Yoon Eun Hye which sparked a real life "scandal." He even had a supposed scandal with one of Korea's all time hottest woman in Lee Hyori. Man, this guy has it good.
Kim Jong Min
Much like the others on this list, Kim gained fame on X-man due to his extremely goofy attitude as well as being part of the Kim Jong Brothers with Kim Jong Gook. Jong Min was a former dancer for several top notch Korean music acts and eventually become the lead singer of the popular dance group Koyote. He has been on many shows, and is still part of 2 Days, 1 Night as of this writing.
Kim was in a relationship with a popular celebrity named Hyun Young but the two broke up mainly due to his military service. Check out his "of course" clips from Xman, some of them are hilarious.
{youtube width="600″}cV_lqDd3VUQ{/youtube}
---
Related Articles and Videos on our trip to Seoul, Korea:
1. Indepth of Aesthetics and Plastic Surgery in Seoul, Korea by Key Opinion Leader, Professor Beom Joon Kim [Video]
2. Korean Author, Jeong Suhyeon, Talks about her Book, Face Shopper, and how Women can now Shop for a New Face, at iLomys Showroom [Video]
3. Aegyo Sal, Plastic Surgery & Aesthetics Enhancement Prevalent on the Streets of Apgujeong, Seoul [Video]
4. Interview with Mikyung Song, Platelet Rich Plasma procedure (by Dr Moon) Patient at Mifamoon Dermatology Clinic [Video]
5. [Editor's Review. Viewers Discretion Advised] Innofill Procedure Live Demo at Mifamoon Dermatology Clinic in Seoul, Korea [Video]
6. How South Koreans take their Beauty Products Seriously
7. Fashion Spotting in Garosugil, Seoul, Korea
8. Not only a Beauty Mecca, the Winds of are Blowing the Worlds' Interest to the Streets of Seoul, Korea for Fashion
---