"Every year the women of New York leave the past behind and look forward to the future…this is known as Fashion Week." – Carrie Bradshaw
New York Fashion Week is a week that inspires us. Week that sets the trends for next year and a week of journey in the next year's fashion with a glimpse of history turning fashion world in a total frenzy.
Mercedes-Benz Fashion Week is New York City's single largest media event, taking place twice a year – February and September, previewing Fall/Winter and Spring/Summer collections. With more than 80 designers shows over 8 days, it is known as the premier event worldwide where style, beauty, supermodels and celebrities come together to celebrate the best in fashion. New York Fashion week runs from 5th September to 12th September showing majority of the shows at the pop up Mercedes Benz showroom/theatre that sits right in Lincoln Center.
Industry heavyweights and several newcomers unveiled their lines for next spring, and one designer made history by staging the first show for plus-sized women. Hometown designer Eden Miller become the first to present a collection for plus-sized women during Fashion Week, showing her Cabiria line as part of the Fashion Law Institute showcase. In the ultra-skinny fashion world, where angular model typically strut the runways, Miller dressed voluptuous models sporting sexy but glamourous looks from a colourful mini-collection.
Though New York Fashion Week is but mere eight days, so much happens in that short amount of time. Of the more than 300 collections shown during New York Fashion Week, here were the ones that created the most buzz and left the biggest impressions on fashion editors as they headed off to the next round of shows in London, Milan and Paris.
Oscar De La Renta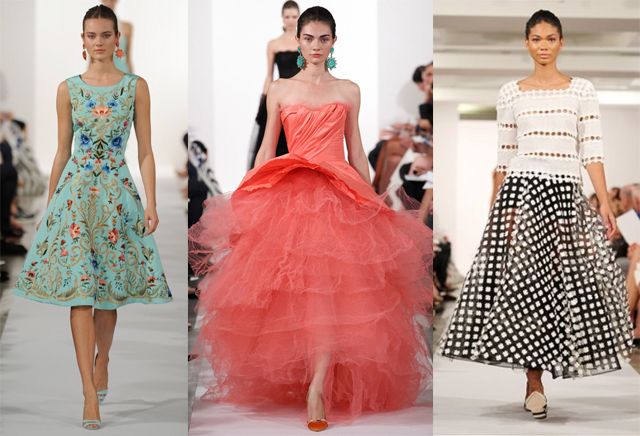 It was an exuberant expression of springtime femininity, floral prints, polka dots and full skirts galore, when Oscar de la Renta, the lovable patriarch of American fashion showed his spring collection.
The Blonds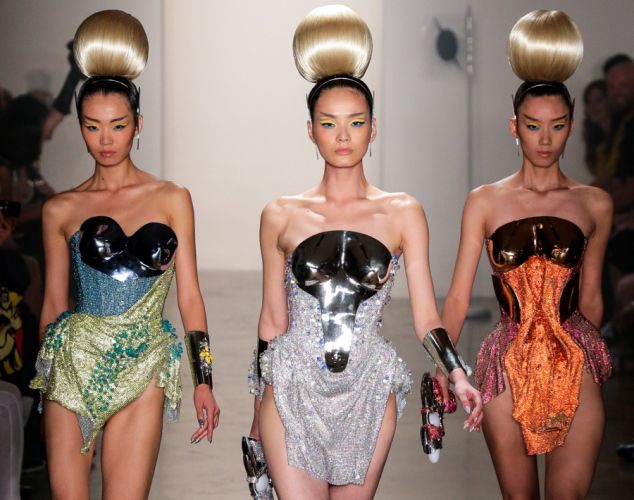 Famous for their corsets and pop culture themes, this season is no different. Sporting beehives down the runway, the models put on a spectacular display in some futuristic designs.
Rachel Zoe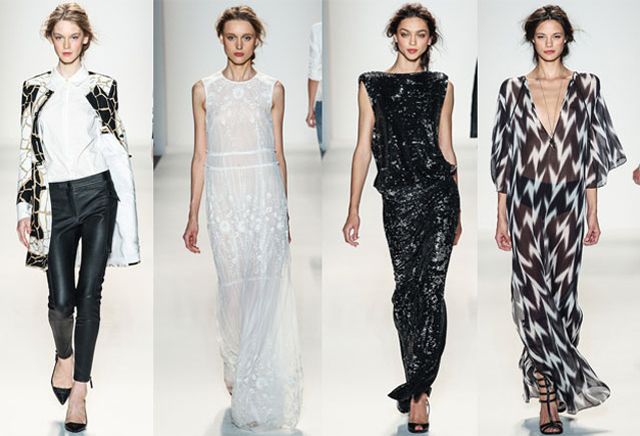 Models from Rachel Zoe's Spring 2014 collection strut their stuff in the catwalk donning monochromes hues.
Carolina Herrera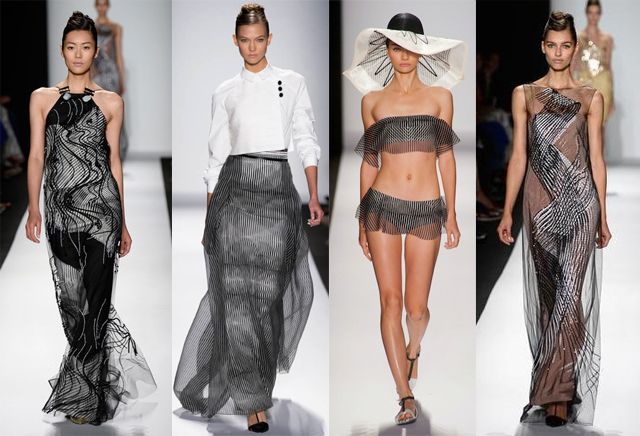 Her optical illusion prints do the talking for a New York Fashion Week show inspired by Kinetic art.
Kate Spade New York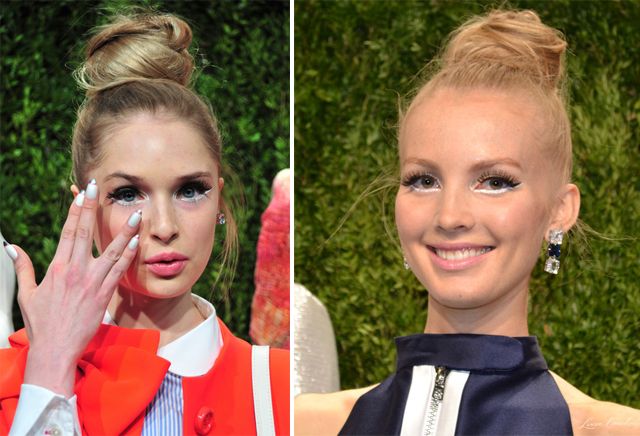 Icy shadow and winged eyeliner gave models a retro look at Kate Spade Spring/Summer collection.
Michael Kors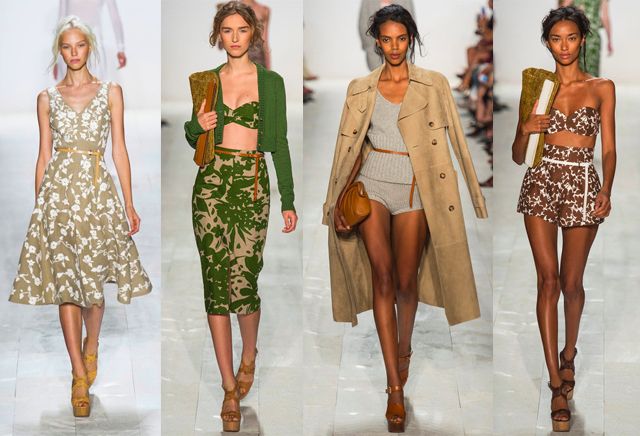 Michael Kors showcased effortlessly chic ensembles for his Spring 2014 collection in earth tone colours.
DKNY
The label celebrated its 25th anniversary on 8th September and Rita Ora made an appearance on the catwalk as she closed the DKNY show.
Marc Jacobs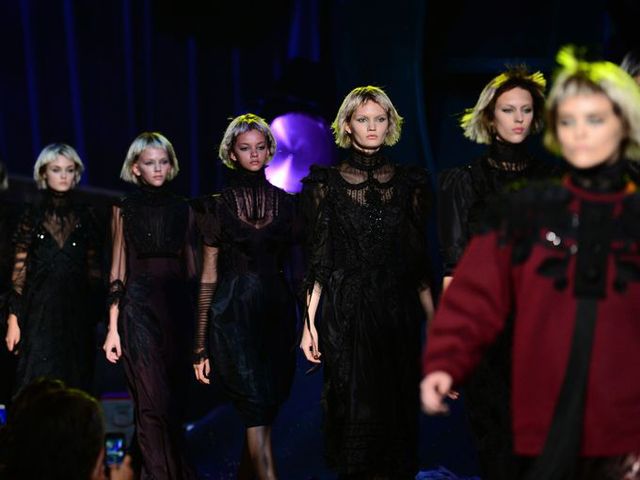 Marc Jacobs went for an androgynous look at his Spring 2014 show. Models were given a boyish makeover.
Prabal Gurung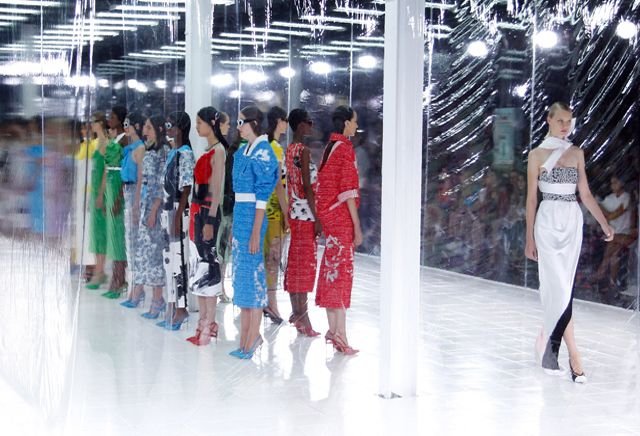 The designer can do more than make beautiful clothes. He can also put on quite the Fashion Week production. Gurung had all his models come out at once, into a plastic-encased runway, and take turns walking the catwalk.
Alexander Wang
Logos are in. The designer name appeared (discreetly) on many of the looks from his spring collection – they were laser cut into tops, gloves and even running up and down dresses.