Envy Corner, a company selling sexy Halloween costumes and women's lingerie, announces the Top Ten Sexiest Halloween Costumes of 2013.
From the newly released Halloween costumes, they surveyed Pinterest and Facebook users. Over 1,500 users participated in this survey, and ten costumes were selected to be the ultimate and most popular Halloween costumes of 2013.
Imagine how much time and effort it takes to come up with Halloween costume ideas, and ultimately choose the best costume. Every year we pick and choose from hundreds of costumes from many locations in hopes that our costume becomes the ultimate "hit" or at least among top 10 at Halloween. Waste no more time. 
Here are the results from Envy Corner's survey of top 10 Halloween Costumes. 
Most popular 5 piece Halloween Costume by Roma. This sexy costume includes a hot long sleeve crop top, sexy tight pants, belt, and holster with gun. Just picturing yourself in this sexy outfit makes you wish it was Halloween already. 
6-piece Halloween must-have, featuring removable zip front top with red bra top, pleated skirt, garters, and nurse's cap with stethoscope. This Halloween costume is sure to please your "patients." 
Hot costume: cute Native American style Faux Suede Mini Dress with attached Hood and Fringe details. 
Sexy camouflage costume is set to make you the center of attention with hot zipper front print catsuit and matching camouflage hat. 
Truly seductive pirate costume with top and corset. Includes rhinestone buckle belt, capri pants and sword. 
Be the highlight of court with this three piece Halloween costume; includes a sequin lace-up corset with ruffle details and diamond print, a skirt with sequin panels and bells, and a white ruffle neck piece. 
Seductive look with sexy white top with puff sleeves includes a lace-up black corset and layered skirt with gold coin belt and sarong. 
Be the talk of the party with 5-piece sequin jacket with coattails, sequin corset and shorts, whip and hat.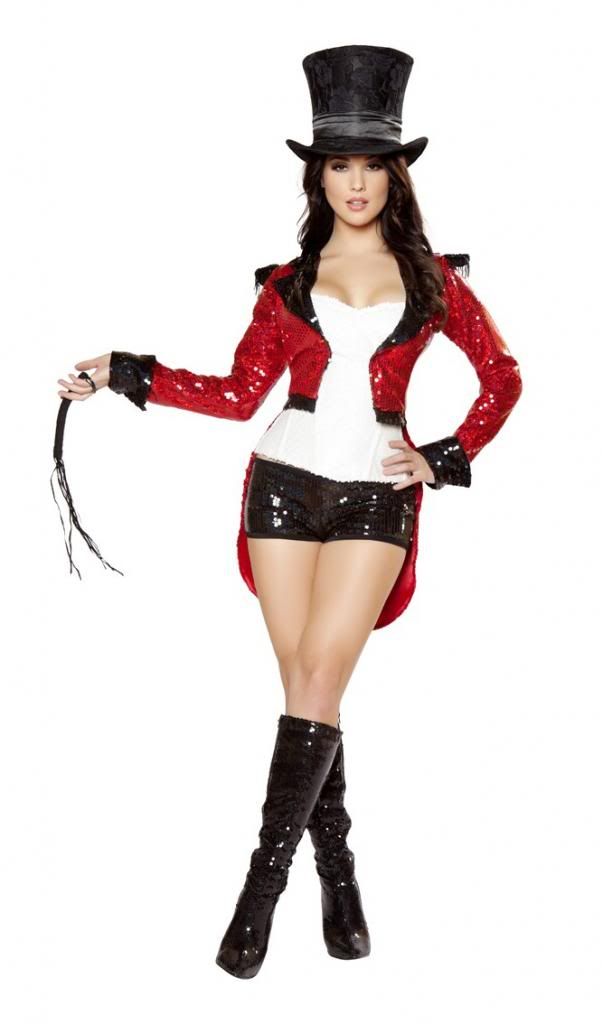 Cheerful cheerleader costume includes a two-tone tie top with matching two-tone pleated shirt and a pair of white pom-poms. If you're looking for the ultimate sexy cheerleader costume, you just found one. 
This set comes with a black tube dress with built-in white apron and back bow. Includes a feather duster, detachable sleeves and headband. Time to tidy-up for naughty fun. 
Take advantage of Envy Corner's unbeatable prices with current specials on Halloween costumes and get ready to be the ENVY of YOUR party!