Here it is, folks. The one we've all been waiting for. None of the international fashion weeks attract mega-watt celebrities quite like Paris Fashion Week, and with brands like Chanel and Louis Vuitton presenting in the French capital, you know that the handbags on the arms of the guests will be just as lust-worthy as it gets.

 
Spring 2014 didn't disappoint – from beginning to end, attendees toted their best, most photo-worthy bags, and luckily, photos were indeed taken. We've assembled the best of the best after the jump for your (and our) viewing pleasure. 
Sofia Coppola
We'll start with one of the most memorable parts of Paris Fashion Week – Marc Jacobs' swan song at Louis Vuitton. Naturally, his bestie and sometime collaborator Sofia Coppola showed up to support him carrying the Louis Vuitton SC Satchel that she designed. Pick up your own via Louis Vuitton for $4,850.
Miranda Kerr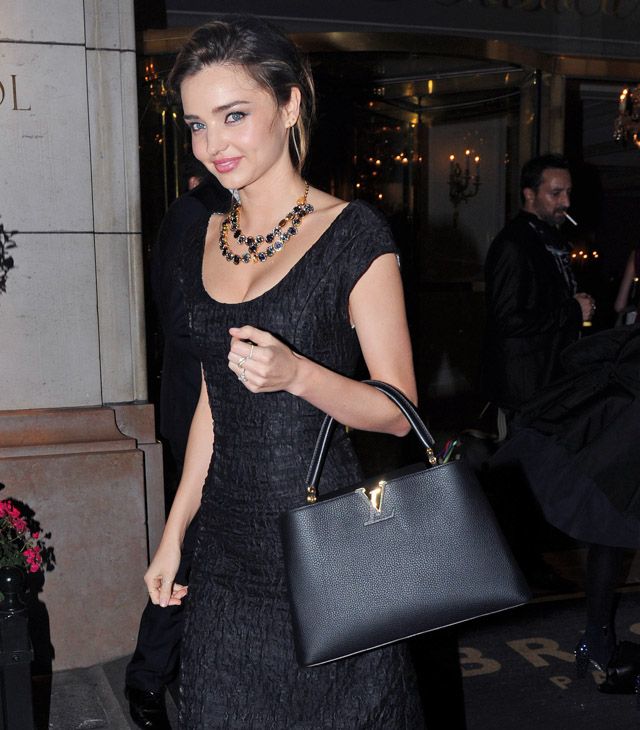 The night before the Vuitton show, Miranda Kerr took her brand new Louis Vuitton Capucines Bag to the premiere of the documentary Madame C. $5,150 via Louis Vuitton. 
The next day when arriving to the Vuitton show, though, Miranda Kerr carried her trusty Balmain x Aurelie Bidermann Pierre Bag in grey suede.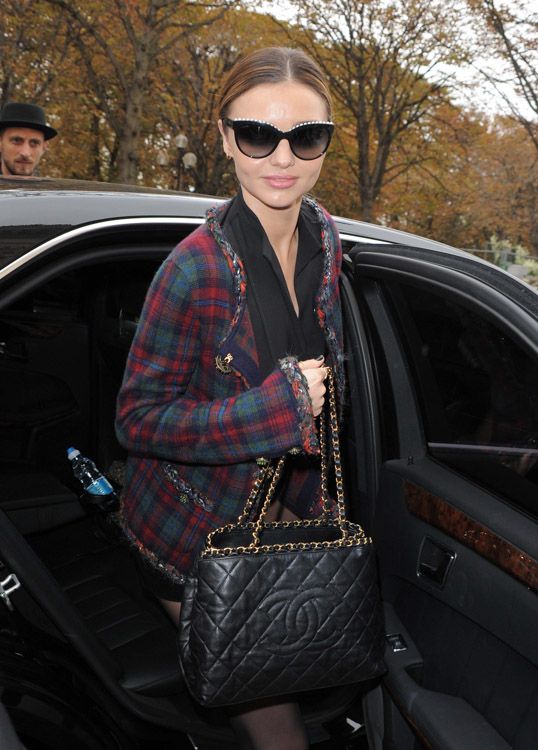 Check out her totally lovely Chanel Chain Trim Tote.

Princess Charlene of Monaco
Also at the Vuitton show, Princess Charlene of Monaco demonstrated how to carry the Louis Vuitton Capucines Bag with the front flap exposed and the LV hardware hidden. Discretion is important for royalty, after all. $5,150 via Louis Vuitton. 
Elsewhere at Paris Fashion Week, Princess Charlene of Monaco was similarly discreet with a petite Akris Ai Bag. A larger version can be yours for $2,190 via Neiman Marcus.
Dakota Fanning
Back at the LV show, Dakota Fanning was carrying, you guessed it, a Louis Vuitton Monogram Flat Clutch. (If you know the design name of this piece, let us know in the comments.) Shop via Louis Vuitton.
Hailee Steinfeld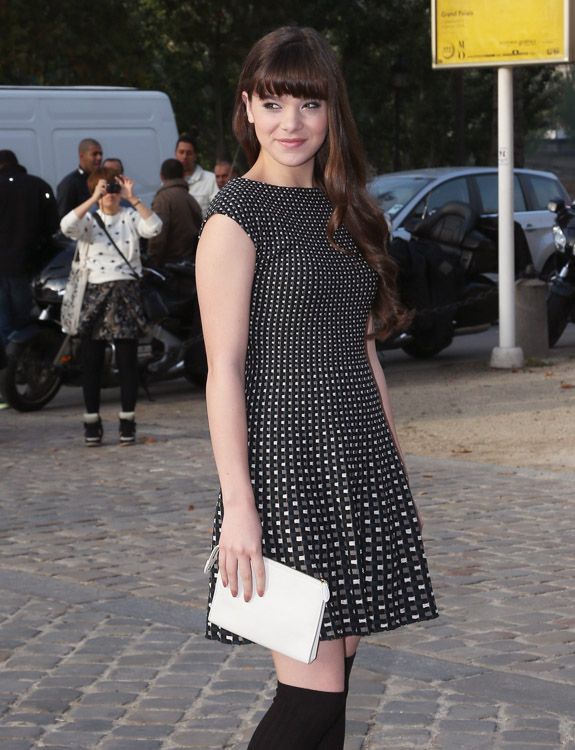 Hailee Steinfeld also attended the Vuitton show, she with a white Louis Vuitton Clutch in hand. Shop via Louis Vuitton.

Miroslava Duma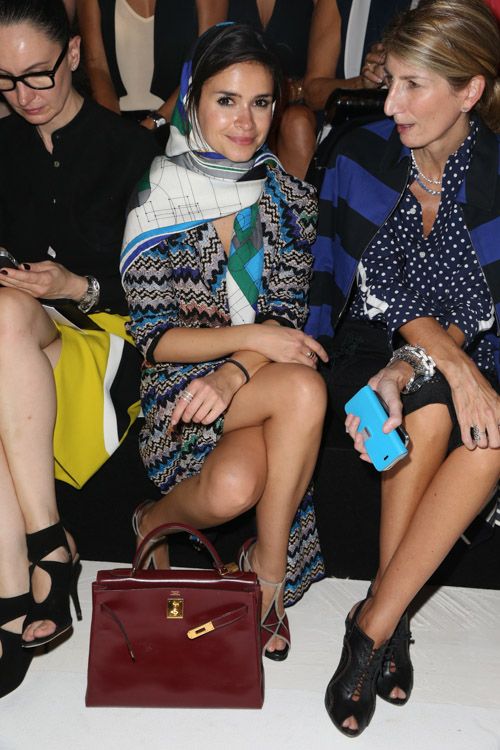 Next up, one of everyone's favorite street style stars, Russian fashion editor Miroslava Duma. She was all over Paris Fashion Week carrying bags like this gorgeous, glossy Hermes Kelly Bag.
Miroslava Duma also carried this chic, petite, totally luxurious Hermes Kelly in crocodile. (Or maybe alligator. We can't get close enough to tell.)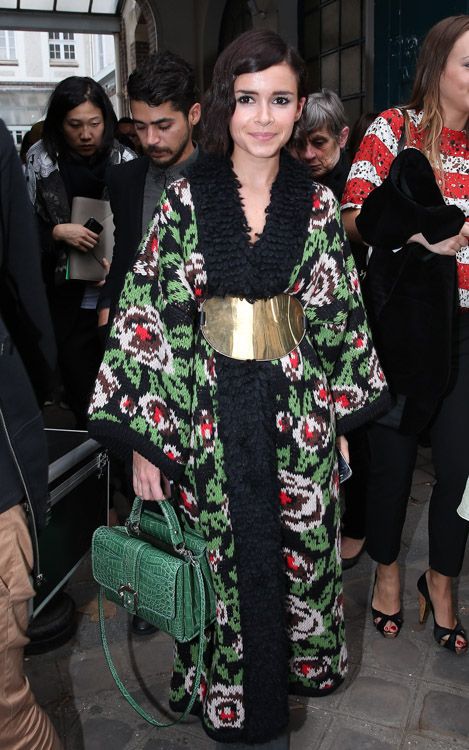 To compliment her sweater coat, Miroslava Duma selected this Paula Cademartori Faye Satchel in green croc. Pick up a similar Paula Cademartori bag for $2,300 via farfetch.com.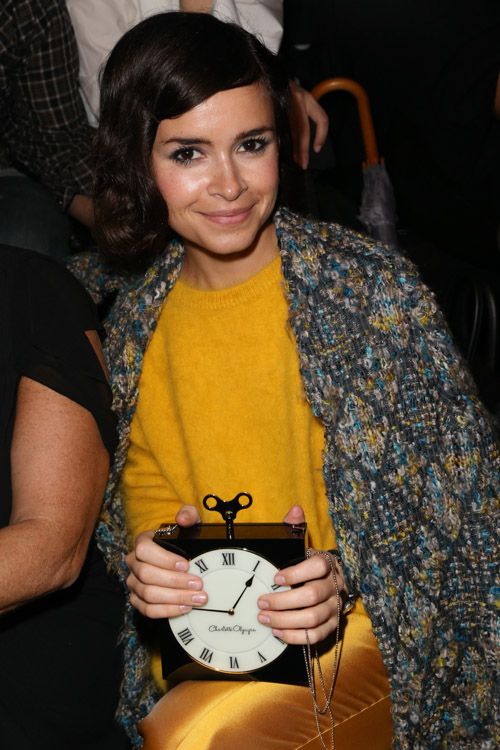 This Charlotte Olympia Timepiece Box Clutch was Miroslava Duma's companion for several days of PFW. This bag is no longer available, but you can shop Charlotte Olympia via Net-a-Porter. 
When attending Chanel, you carry Chanel, and that's exactly what Miroslava Duma did with her Chanel No. 5 Perfume Clutch. (We'll talk more extensively about Chanel shortly.) 
Salma Hayek
Of course, there are other reasons to carry a particular designer's bags, other than being invited to a show. For Salma Hayek, being married to the head of luxury conglomerate Kering means that she's required by marital obligation to carry this Stella McCartney Faux Napa Flap Clutch to McCartney's show. (We're sure she didn't mind.) Pick up the shoulder bag version for $1,230 via Neiman Marcus.
Same goes for Salma Hayek and her Balenciaga Maillon Bag – Balenciaga is controlled by Kering. Pick up the small version for $1,445 via Balenciaga. 
Natalia Vodianova
Supermodel Natalia Vodianova both attended Stella McCartney and carried the Stella McCartney Faux Napa Boxy Shoulder Bag. Get it in grey for $1,230 via Neiman Marcus.

Kate Upton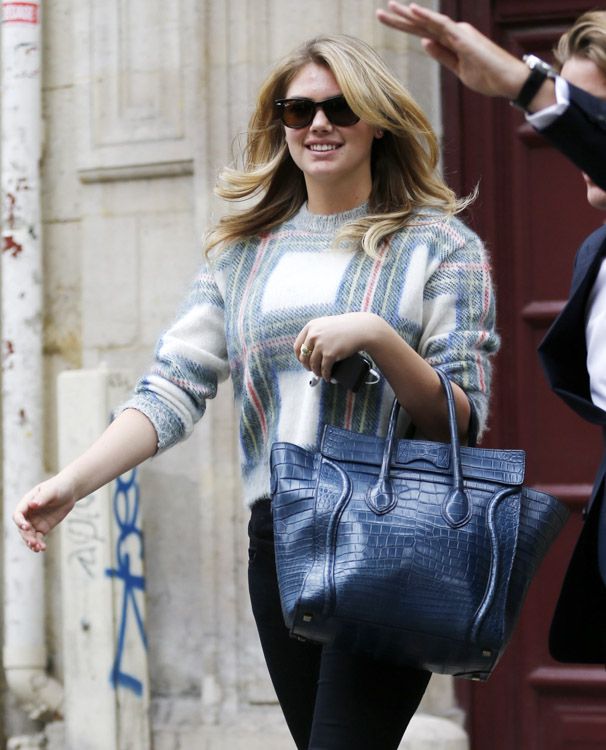 Model Kate Upton was in town for the Chanel show, but in her downtime she carried a gorgeous blue crocodile Celine Luggage Tote.
Anna Dello Russo
Speaking of blue crocodile, editor and style star Anna Dello Russo carried the most adorable blue croc Bvlgari Isabella Rossellini. A pink version can be yours for $11,000 via Bulgari.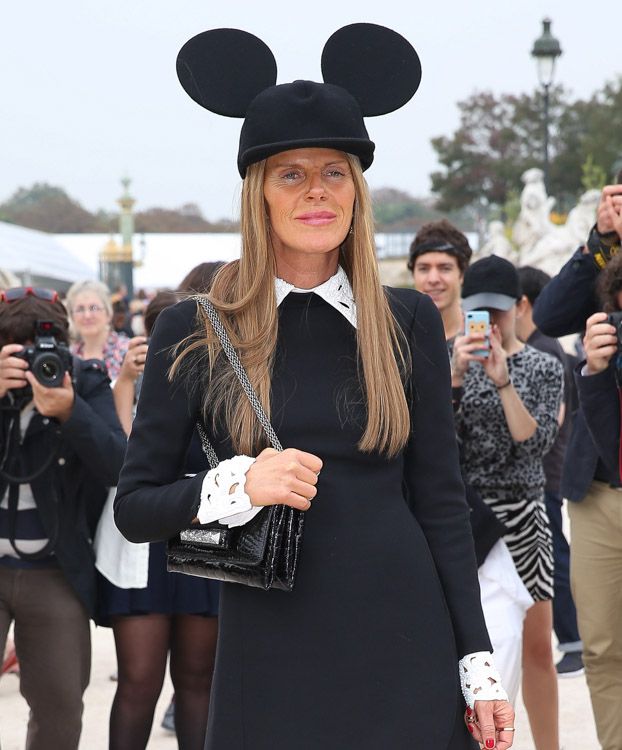 Anna Dello Russo also paired a python Valentino VaVaVoom Shoulder Bag with Mickey Mouse ears. Get the regular leather version for $1,749 via farfetch.com.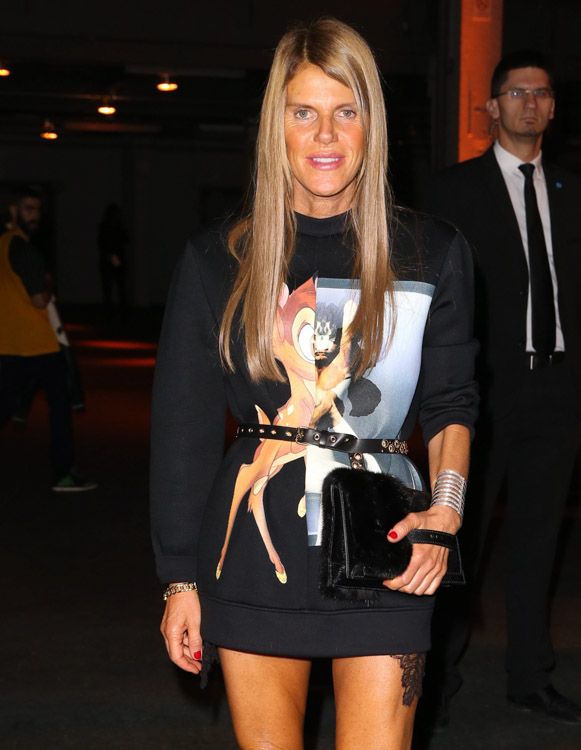 Anna Dello Russo wasn't done with Disney characters – she accessorized her Givenchy Bambi Sweatshirt with a Valentino Dual Fur Runway Clutch. Get the red leather version for $1,845 via Neiman Marcus.

Atlanta De Cadenet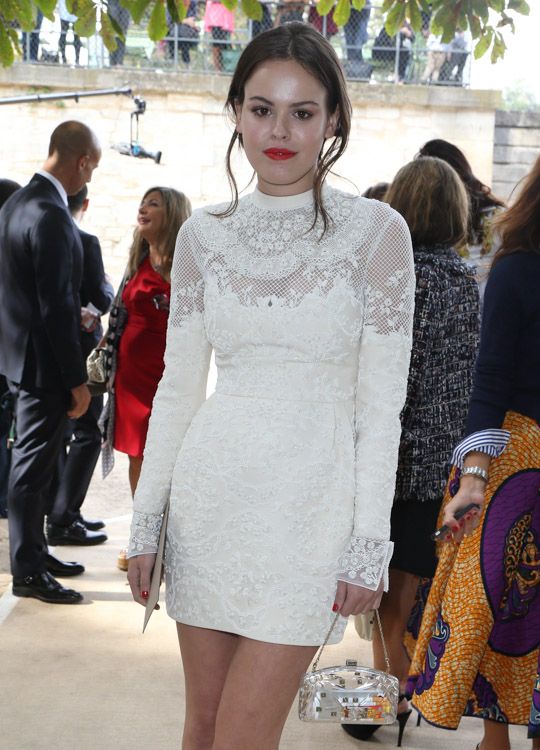 Atlanta De Cadenet should probably fire her makeup artist, but her Valentino Mimetic Minaudiere is pretty cute. Shop Valentino via Net-a-Porter. 
Ginevra Elkann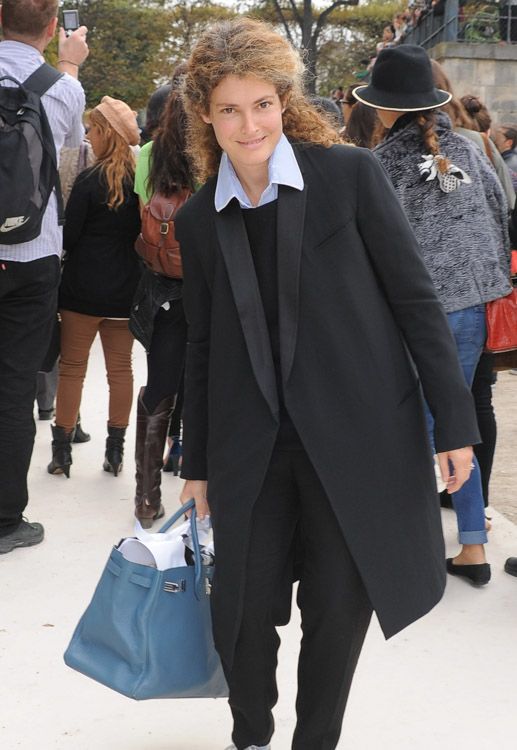 Italian heiress Ginevra Elkann chose a blue jean Hermes Birkin, stuffed to the brim, for her appearance at the Valentino show.

Kasia Smutniak
Model/actress Kasia Smutniak carried a Valentino Rockstud Mini Crossbody to Valentino at the Tuileries. Shop Valentino via Net-a-Porter.
Jessica Hart
Model Jessica Hart went with a small Chanel Quilted Clutch – always a strong choice when in Paris, even if you're going to a different designer's show.
Marjorie Bridges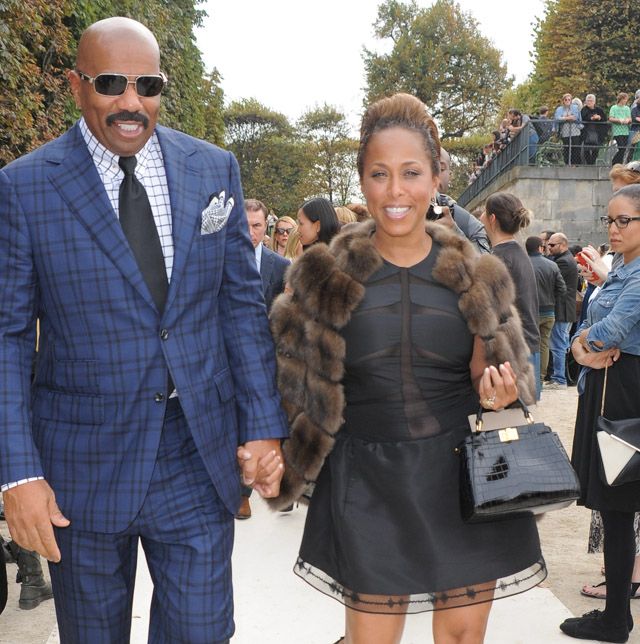 Ignore, for a moment, that Steve Harvey went to the Valentino show and you didn't. Instead, focus on wife Marjorie Bridges' lovely Fendi Crocodile Peekaboo Bag. (Marjorie is apparently a major shopper.) Pick up the leather version for $3,250 via Neiman Marcus.
Bianca Brandolini d'Adda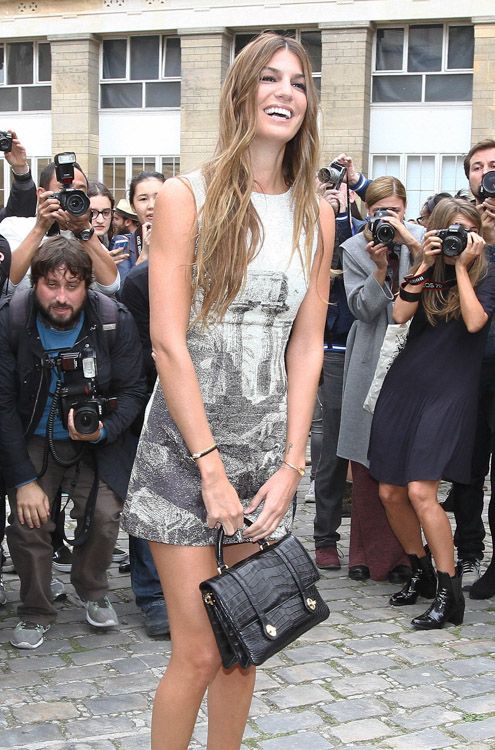 For some reason, I had it in my head that Italian socialite Bianca Brandolini d'Adda's crocodile bag was vintage Hermes, but now I can't find anything to support that instinct. Little help, please? It sure is a beautiful bag.
Leigh Lezark 
Speaking of It Girls, American DJ and vague fashion person Leigh Lezark was everywhere, including carrying a Chloe Alice Clutch to the brand's show. Buy through Saks for $475.
Leigh Lezark also made an appearance outside the Viktor & Rolf show, carrying the popular Viktor & Rolf Bombette Bag. 
The Chanel Lego Clutches were distributed to a lot of celebs, including Leigh Lezark, a longtime friend of the brand.
Olivia Palermo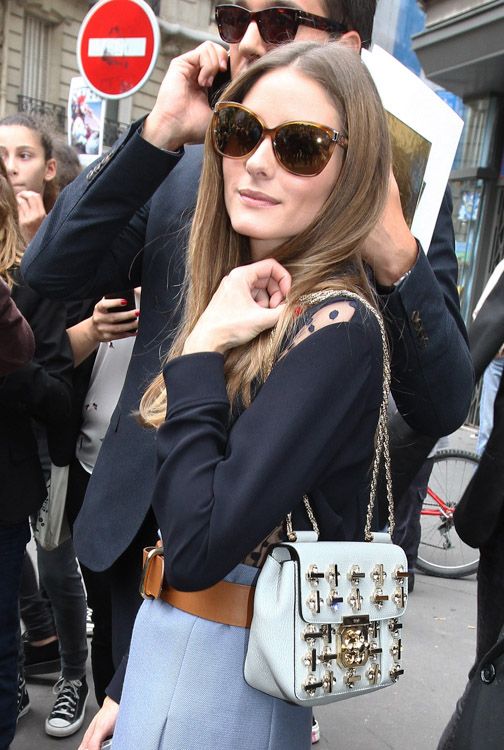 Back at Chloe, Olivia Palermo represented the Americans well with her Chloe Elsie Bag. Pick up the plain leather version for $1,495.
Angelababy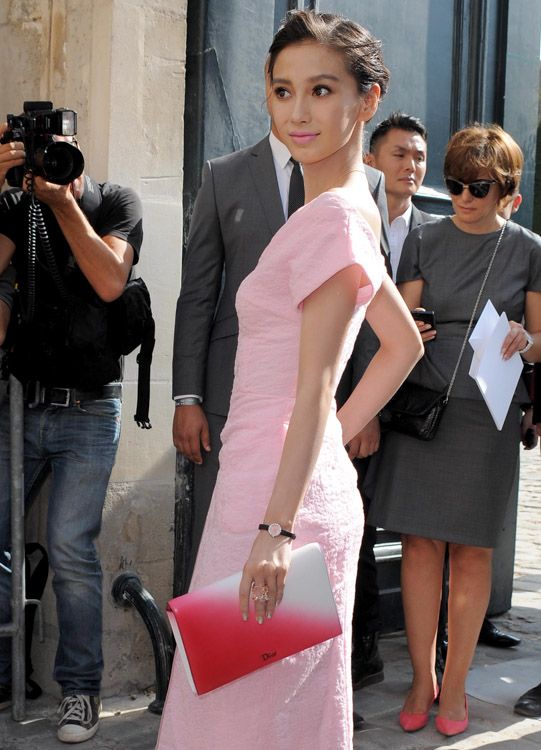 Celebrities weren't quite as numerous outside of Dior as they are some seasons, but we did catch Chinese model Angelababy with a Dior Ombre Clutch.

Katy Perry
Finally, Chanel. No designer is better at getting celebs to turn up at his shows while carrying his bags than Karl Lagerfeld, and we counted well over a dozen international celebs and fashion people at this season's show, starting with Katy Perry and her Chanel Lego Clutch.
Leila Bekhti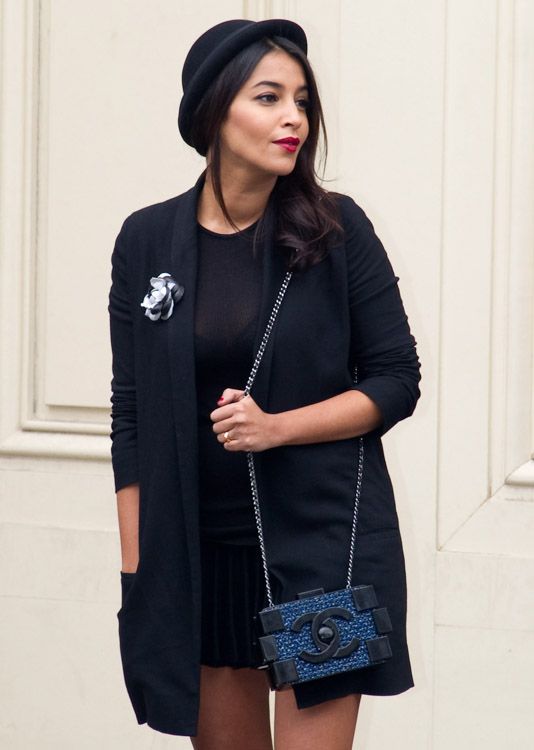 French actress Leila Bekhti also sported her requisite Chanel Lego Clutch. It's no surprise that Chanel would want these bags in the spotlight – they cost nearly $10k apiece and have sold like crazy. 
Lou Doillon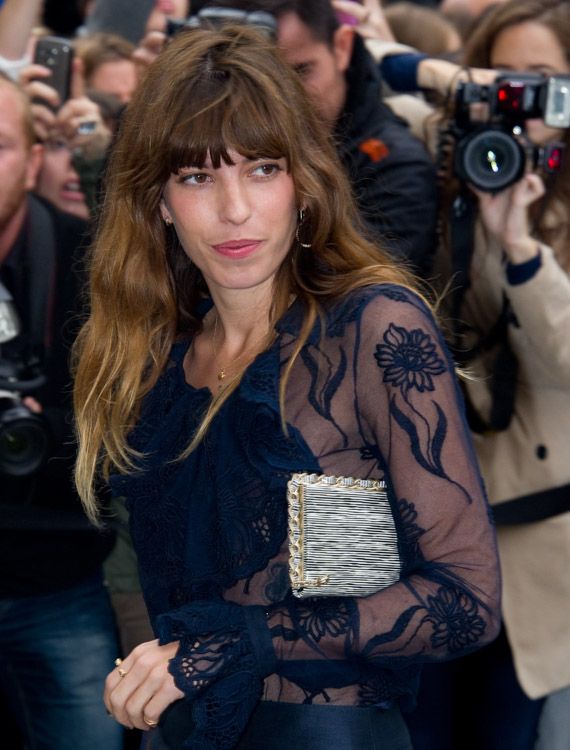 Amazingly cool French person Lou Doillon, on the other hand, chose a more traditional Chanel Clutch.
Zoe Kravitz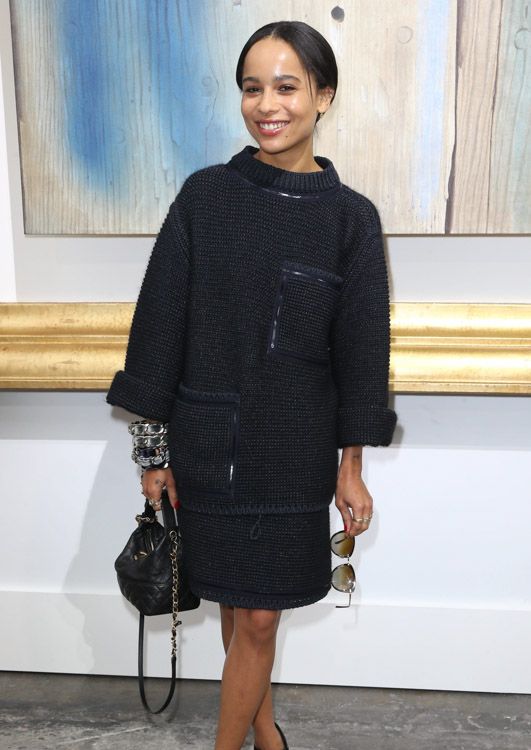 Inside the show, Zoe Kravitz carried a small Chanel Quilted Shoulder Bag.
Source: Purse Blog