K-Beauty Make-up Brand, ETUDE HOUSE, launched its fall's trendy lip point make-up with enchanting pink rose colour. This collection is the third unique seasonal theme of princess-fairytale from ETUDE HOUSE – inspired by 'Sleeping Beauty'!
Global Make-up brand, ETUDE HOUSE, presents 2013 fall make-up collection, '& Rose.'
This is ETUDE's third princess-fairytale makeup campaign followed by 2013 Spring 'Sweet Recipe' and Summer 'Bling in the Sea'. The new '& Rose' collection is inspired by the fairy tale 'The Sleeping Beauty' that demonstrates a pure girl blooming into an enchanting princess.
The '& Rose' Collection presents 4 rose-themed product line. Velvet cream type tint with innovative sponge tip, eye shadow palette, eyeliner and nail art kit to express pure girlish make-up.
The heroine product of this fall collection, Rosy Tint Lips, provides the velvety soft texture and rich rosy colour like a petal with a unique sponge tip in tube which can achieve different ways to express variety of lip point make-up from full stain to gradient lips.
Rosy Tint Lips and the series of &Rose collection represents the enchanting bloom of a rose bud.
Rosy Tint Lips S$16.00 (7g)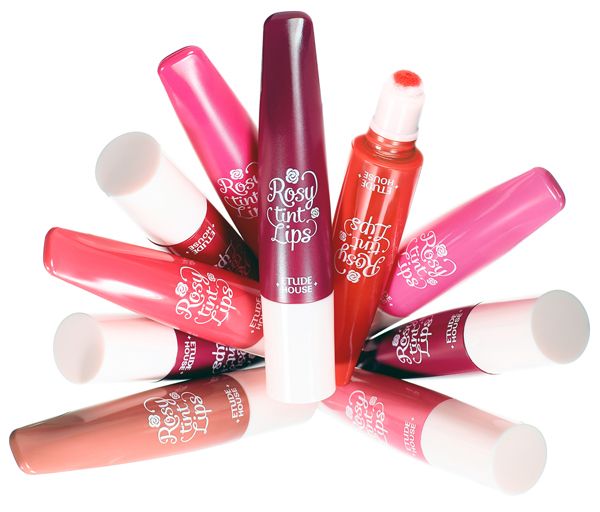 Intensive rosy color and soft texture, like a rose petal, to express delicate and enchanting velvet tinted lips. Its velvety soft texture smoothly glides onto your lips with rich and vivid pigment for a matt and soft finish.
The versatility of the Rosy Tint Lips is that it is able to give either a full coverage or gradated tint.
The formula does not leave the lips dry as it uses Powder Printing Technology where the silky powder containing hydration wrap lips like satin. The ingredients include Sheer butter and rose oil extract to keep lips moist.
The Tip Applicator is a Soft sponge tip on top of the convenient tube type container that makes it easy to dab or glide.
2 Styles of 'Rose Lips' with Rosy Tint Lips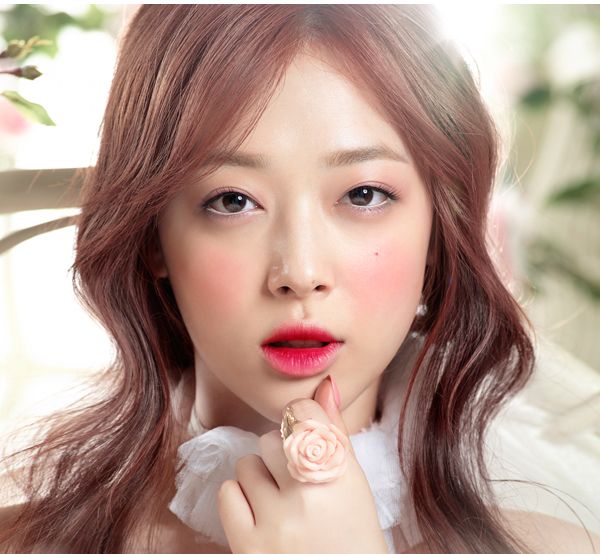 To achieve this Girly Pink Petal Lip Gradation, dab a certain amount onto the center of upper and lower lips. Use tip to evenly spread across the lips. For the cheeks, dispense and dab a small amount onto both cheeks. Blend the colour with your fingers to create petal-like soft-looking cheeks.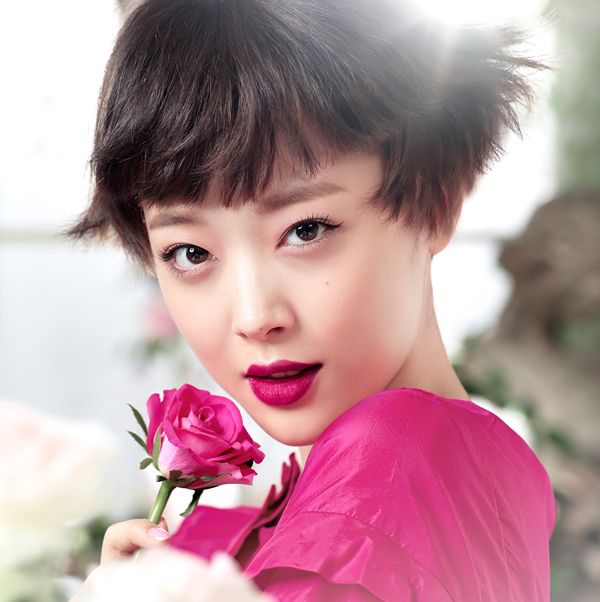 To look like a Rose in Full Bloom, smoothly glide onto lips, starting from the inner to outer direction. Use the same Rosy Tint Lip shade as a blusher by dabbing lightly onto both cheeks and blending quickly with fingers.
8 Shades of Velvety Soft Texture and Rich Rosy Colour
Rosy Tint Lips is a cream type tint with velvety soft texture and rich rosy color for rose petal lips. It comes in 8 shades for different skin tone and colour preference.
Etude House's Lip Tint Products Comparison
Etude House is renowned for and synonymous with lip stains. From water jelly and chou cream base to balm and gloss, this K-beauty brand has always been lauded for its innovative product and charming packaging. Below are the variety of lip stains Etude House carries.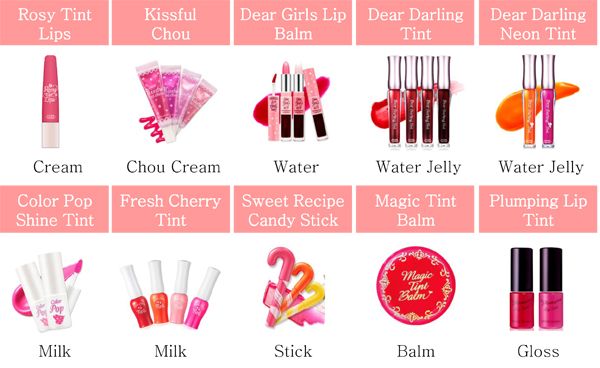 The '& Rose 'Collection is available at ETUDE HOUSE SINGAPORE from early October, 2013
Visit Etude House Singapore stores today!
Store Locations: 313@Somerset #B2-30 Bugis Junction #01-62 Causeway Point #B1-K02 ION Orchard #B2-54 Jurong Point #01-57 Lot One #01-19 Nex #01-63 Parkway Parade #01-K4 Plaza Singapura #B1-26 Suntec #01-098 Tampines1 #01-15 Vivocity #01-K3 Wisma Atria #B1-36 Clementi Mall #03-34 Chinatown Point #01-12 Jem #02-44