More than just a dress, once a symbol of status and nobility, the elegance of Kebaya has been connecting the past and present time.
In it, we may observe the reflection of a woman's beauty, values passed down from generation to generation. Its curvy floral motifs collaborate harmoniously with sublimity of Batik, therefore creating such graceful alignments.
The majestic effulgence from the mix-and-match of sequins and crystals on Kebaya constitutes unparalleled elegance in a woman who wears it. At the time of donning it, there are myriad of splendour to show.
The kebaya is a traditional form of clothing worn throughout Southeast Asia nations, including Indonesia, Malaysia, Myanmar, Singapore, Brunei, and Thailand. The word "kabaya" actually comes from the Arabic word abaya, and its design is influence by Arab clothing, presumably from the Arab traders who had contact with people from these areas hundreds of years ago.
Pre-1600, the kebaya was considered the dress of royalty since most of the laypeople were bare-chested in their everyday wear. The kebaya is also a form of clothing that has been worn by Indonesian women's rights activists throughout the nineteenth century and into the modern day as a form of female empowerment and anti-colonalist resistance. Kebaya have also been worn by Indonesian first ladies such as Tien Suharto who was also a prominent advocate of the Kebaya.
Apart from traditional kebaya, fashion designers are looking into ways of modifying the design and making kebaya a more fashionable outfit. Casual designed kebaya can even be worn with jeans or skirts. For weddings or formal events, many designers are exploring other types of fine fabrics like laces to create bridal kebaya. Modern-day kebaya now incorporate its design with modern Western tailoring innovations.
These days with a contemporary twist, Kebaya can be worn by women in a modern society. Considering that colours, prints and textures are huge in fashion right now, it will prove an easy transition for anyone.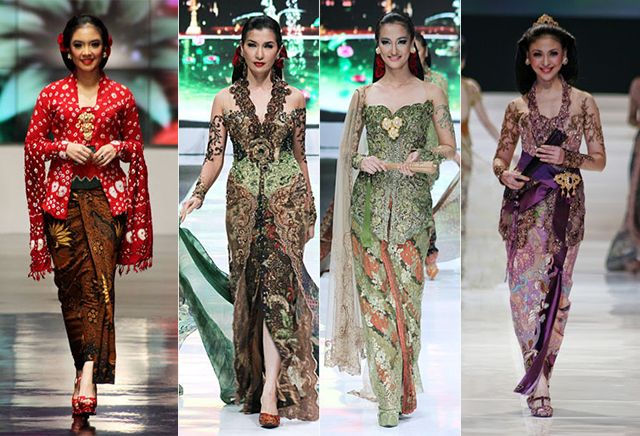 To our Muslim readers and friends, Selamat Hari Raya 2014! Here's to the fashion of Kebaya!