When it comes to designing handbags, Anya Hindmarch is constantly on a quest to find beauty in the banal.
Fashion goes fun! Anya Hindmarch, one of Britain's most esteemed accessory designers, unveiled her SS15 handbag collection at London Fashion Week today.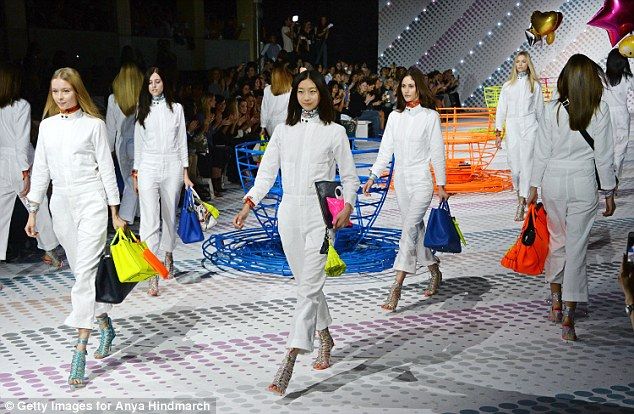 Fun at the fair: Always one to put the fun into the last day of London fashion week, Anya's catwalk was modelled on a fairground.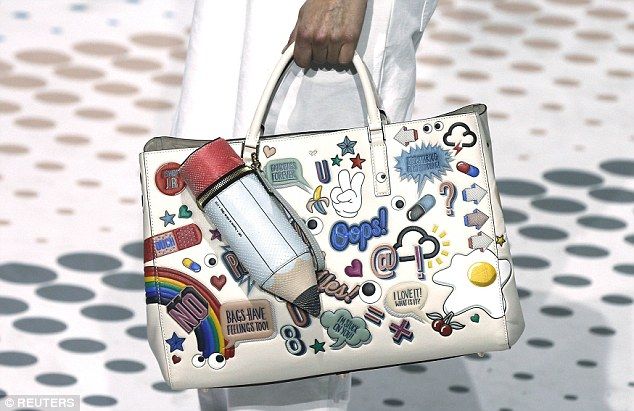 Back to school: Her new season totes came emblazoned with customisable stickers and quirky slogans.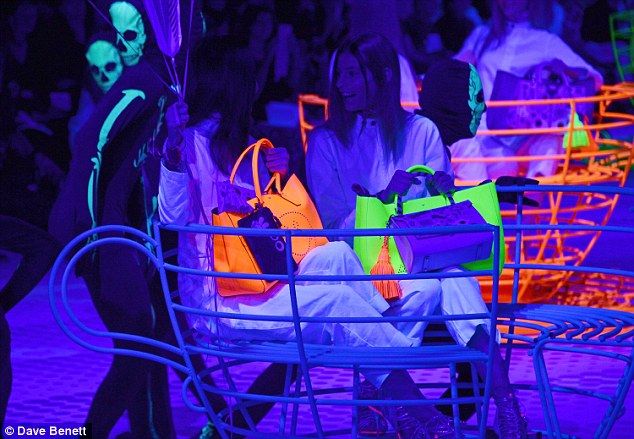 The perfect rave accessory? Lots of her handbags, which came in neon colours such as orange and yellow, which glowed in the dark.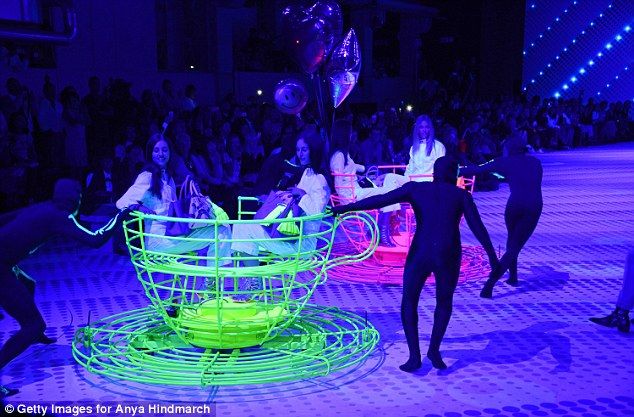 A fun end to fashion week: As London Fashion Week draws to a close today, Anya was clearly keen to have some fun on the runway.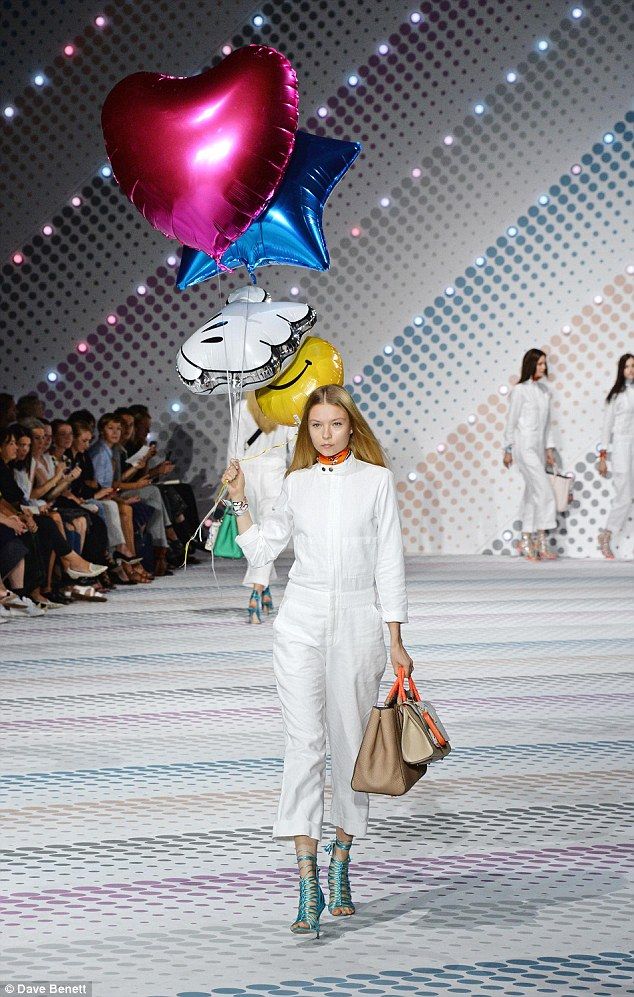 Famous fans: Hindmarch's career began at the age of 18 when she was studying in Florence, Italy and her handbags are now loved by the likes of Poppy Delevingne and the Duchess of Cambridge.
Last season saw the British accessories designer transform her London Fashion Week catwalk-turned-conveyor-belt into supermarket sweep with dancing salesmen, glamorous lady shoppers pushing trollies and all the usual household essentials transformed into handbags.
Anya's AW14 totes, which came emblazoned with washing detergent and cereal packaging became the season's must-have arm candy. So what has she got lined up for SS15?
Always one to put the fun into the last day of London fashion week, Anya's catwalk was modelled on a fairground, complete with skeletons, giant teacups and, of course, handbags.
Her totes were as bright as her catwalk and, perhaps in a nod to back to school season, came emblazoned with customisable stickers.
The sticker bags for grown-ups were plastered with giant pencils, rainbows and slogans such as 'bags have feelings too'. It's these quirky details that really define Anya as a designer.
Proving to be the perfect rave companion, most of her handbags are glow in the dark and come with huge chandelier tassels and paint splatters.
Discussing the inspiration behind her designs, Anya said: 'SS15 was inspired by the idea of taking stickers that were my schoolgirl version of "personalisation" but making them beautifully and handcrafted in leather. My idea was that you can "sticker up" your handbag or phone or notebook and make it into your own personal artwork or buy bags that already have sticker designs worked into the leather.
'I love the combination of a grown up snakeskin handbag smothered in leather stickers.'
Watched from the front row by super-fan Poppy Delevingne, as well as Richard E Grant and Caroline Sieber, Anya's colourful show had Twitter abuzz.
Read more at the Daily Mail.