Bright lips, jewel-threaded knots, and artful, handwoven braids: This week's best Milan Fashion Week moments were born from the city's obsession with concept and craft, not to mention its loyal contingent of supermodel fans. The beauty message? True decadence is in the details: Forget about playing it safe.
Photographed by Taylor Jewell
It's time to go graphic: Milan's modernist influences turned up on eyes in the form of sharply shaded crimson wings at Max Mara and wobbly black edges at Prada. At Fendi, makeup artist Peter Philips put a conceptual spin on color by painting on a thick layer of black liquid eyeliner as a base, then using a pro glue to attach slim pale blue leather micro-strips over top.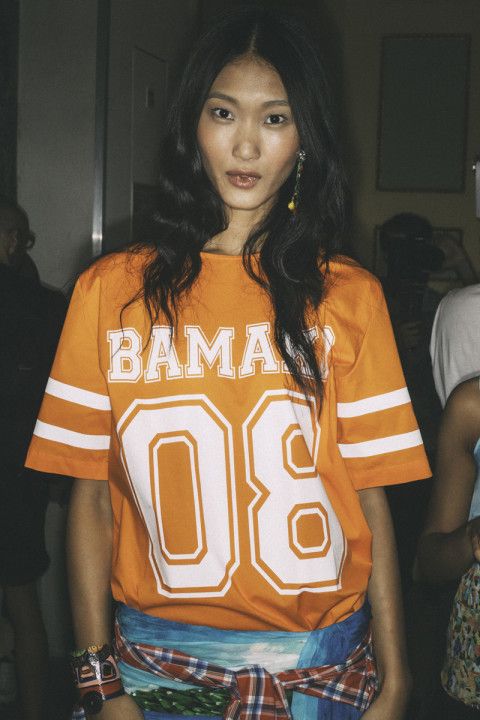 Photographed by Margherita Chiarva
The flushed skin and slightly rumpled hair of a good workout is your new beauty baseline. At Bottega Veneta, Tomas Maier offered the quickest day-to-night spin on gym hair yet, confirming that the easiest way to dress up a casual bun is with a few well-placed sculptural combs and headbands. Also giving good sport: Italo-Haitian designer Stella Jean, who sent her contingent of football fans down the runway with tomboyish waves that made for a win-win combination with her oversize Port-au-Prince jerseys.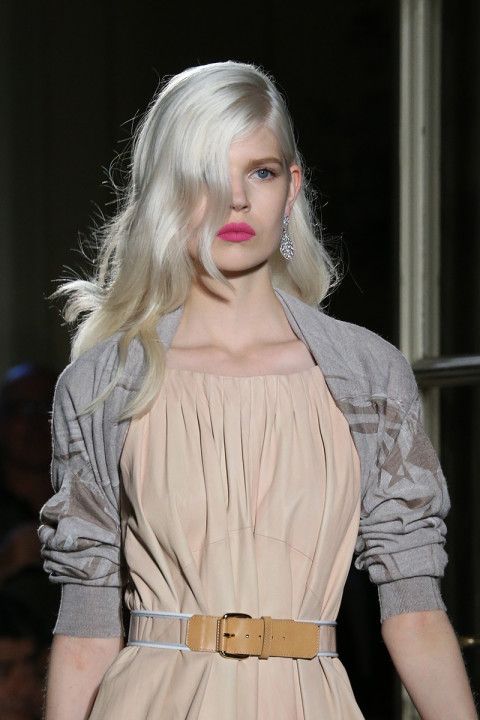 Photo: Courtesy of Aquilano.Rimondi
The invitation for Moschino's over-the-top, Barbie-inspired runway spectacle was a pink plastic hairbrush—which made for a kooky precursor to the head-to-toe palette models wore for the show, including their fuchsia lipstick. Elsewhere, the color showed up as a diffused watercolor lip stain at Aquilano.Rimondi and took an unexpectedly cool turn when Pat McGrath used a sheer iridescent rose powder on the eyelids and cheekbones. Come spring, you are going to want to reconsider the possibilities of pink.
Photographed by Kevin Tachman
Amateur arts and crafts enthusiasts, this is your moment: The best of the season's decorative hair pieces had a spontaneous, handmade feel, from Marco de Vincenzo's colorful woven braids, to Missoni's printed turbans, and Fendi's luxe leather ponytail holders.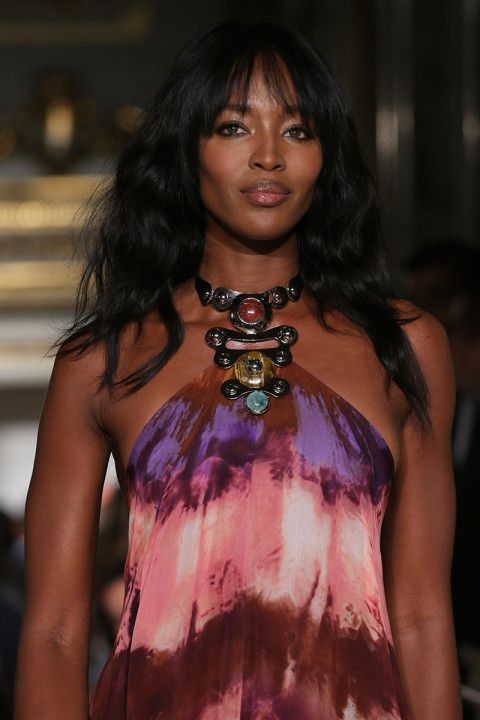 Photo: Marcus Tondo/Indigitialimages.com
A fresh pop of color or brave new cut will surprise and delight each season—but there's also much to be said for the power of a signature look. This season, Milan saw the return of the industry's powerhouse models, who clearly understand the meaning of working what you've got. Take the feathery, bombshell bangs of Naomi Campbell at Emilio Pucci—or the voluptuous, heavy-browed beauty of Isabeli Fontana at Gucci. And who didn't sit up straight in their seat at the sight of the cool-skinned, fair-eyed Gemma Ward's thrilling surprise appearance at Prada? Linda Evangelista skipped the runway to sit front-row at Dolce & Gabbana—and while she's a case study in the timeless appeal of good skin, great bone structure, and supermodel glamour, she's also living proof that when it comes to holding a room, a little confidence goes a long way. ​
Source: Vogue