Cosmetic quick-fixes are becoming a norm and more people are going for procedures which take less than an hour. If you are looking at something non-invasive and yet at the same time feed your skin with some nutrients, why not do it over lunch at Prive Clinic from 11am to 2pm on weekdays?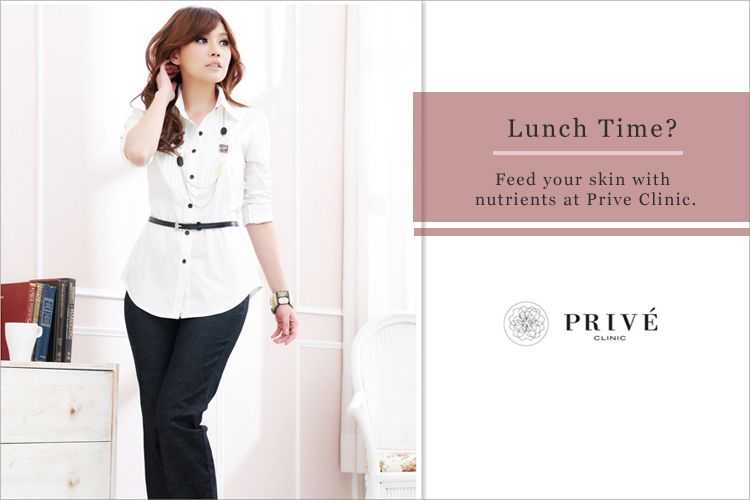 Visit Prive Clinic at Palais Renaissance on weekdays from 11am – 2pm and get to enjoy lunch time treatments at S$108.
Lunch Time Treats (11am – 2pm) @ S$108
Hydrating Quench Facetherapy
Sculpting Lift Facetherapy
Zen Calming Facetherapy
Crystal Clear Facetherapy
Collagen Lift Facetherapy
And if you need to go return to work after that, here at Prive Clinic, they go the extra mile to provide the following facilities to ensure that your needs are met.

1. Touch Up Room

Comes complete with Bobbi Brown make-up for your facial touch-up needs, hairdryer and perfume so that you will make an impression at your exit.

2. Fast Food?

Order your food (P.S. Café) before your treatment and have it served by the time your treatment is done. You'll never need to go hungry again.
Privé Clinic establishes its reputation as one of Singapore's most trusted medical aesthetics brand. Privé suits someone of style and substance, wanting to look their absolute best from head to toe. Understanding that being well-groomed and exhibiting quiet confidence is paramount to success, Privé represents their passport to perfection.
Loving comfort in private surroundings, personalised services and quick pick-me-up treatments, Privé's non and minimally invasive procedures make their day in the office and nights out in town. Our experienced team, led by Dr. Karen Soh, have undoubted belief in research, innovation and safety as being key in unlocking your true beauty inside out.
At Privé, your needs are their first and only priority.

Privé Clinic
Blk 390 Orchard Road #03-03
Palais Renaissance
Singapore 238871
Opening Hours
Mon to Fri: 10am to 8pm
Sat: 10am to 6pm
Sun and PH: Closed

Tel: 6737 6639 Hp: 9848 2888 Fax: 6737 8984
For bookings & general enquiries:
This e-mail address is being protected from spambots. You need JavaScript enabled to view it

Website: Privé Clinic