I want to thank Tokyo Bust Express again for this second invitation to their Square 2 Novena Branch, went to their CitySquare outlet previously. Was greeted by their friendly staff when I arrived!
Great ambience but the dim lighting makes it so difficult for picture-taking except for this consultation room, however thanks to it, I can rest comfortably throughout the whole treatment session.
Mediacorp Star Award Post Party – Tokyo Bust Express had a prize presentation 'Tokyo Bust Express Perfect Curves 2013" and the winner is Belinda Lee!
Having a perfect curves body is not difficult at all with the help of Tokyo Bust Express, they are specialize in helping women to improve their body to boost up their confidence in a safer way.
Like what Berlinda Lee said "No pain, No gain".
Changed into their robes before the consultation started.
They make a breakdown of 'Breast Structure' for me so that I can understand how the whole things work and also my specialist will customize the treatments according to my condition.
They also mentioned that visible result can be seen after 1 treatment but it wouldn't last for long as few session is needed in order to let the result stay.
My specialist – Evonne, explained everything from the start for me to refresh my memory.
After that she measure my bust for before and after, still feeling so excited to see the result even when I did this treatment before. It's really amazing!
After the consultation I was guided to the treatment room, the bed was decorated with roses petals as per usual.
The treatment started with a comfy collagen scrub to cleanse our body and allow all the essence to absorb easier and faster! Next, my specialist applied toning essence and followed by TT push up machine.
This step took about 20 minutes and I dozed off.
After the treatment, my specialist measured my bust again.
I did a before and after picture for you guys:
Noticed that the measurement became lesser? It's because after the treatment my breast became closer to each other, it's firmer and perkier now. Isn't it amazing?
Thank you Tokyo Bust Express, you girls never fail to impressed me!
Visible result for every pampered treatment, friendly staff with great service.
Can't wait to go for my next appointment again!
Call 6262 6161 to book an appointment now!
OR
Simply sign up for an exclusive promotion from Tokyo Bust Express this GSS here : Link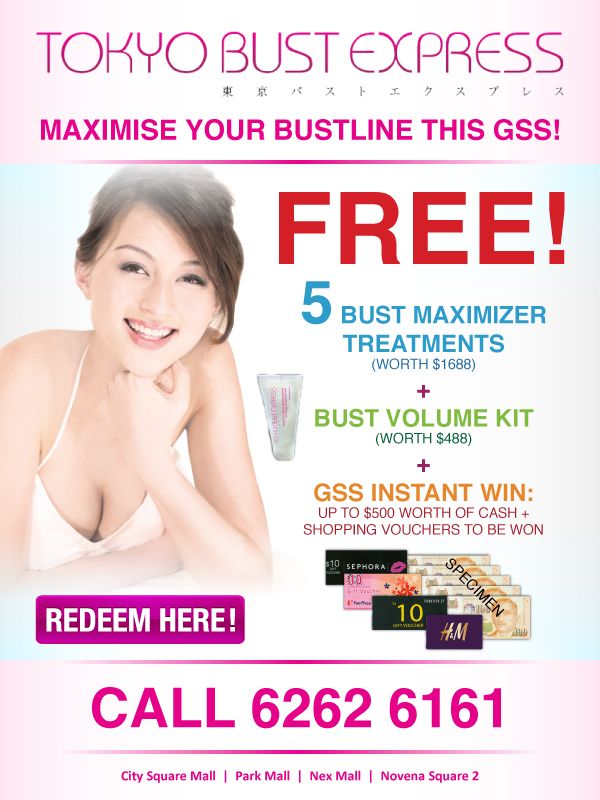 Terms and Conditions to apply:
• Females above 18 years old and above only • Strictly by appointment only. • Promotion valid for 2 months
Location (Tokyo Bust Express) :
• City Square Mall 180 Kitchener Road #B2-39 Singapore 208539 • Park Mall 9 Penang Road #11-06 Spore 238459 • Nex Mall 23 Serangoon Central, #03-32 556083 • Novena Square 2 10 Sinaran Drive #B1-111 307506