Diane Bonheur, the highly popular haircare range that was trending on Instagram amongst Japanese ladies is now available on our shores!
It is always great to know that beauty products are taking steps toward sustainability (read on to find out how you can donate your tote bags at Diane Bonheur's pop-up stores). Diane Bonheur ("Happiness" in French) represents the happy connection between farmlands, Mother Nature, manufacturers, and their customers, and it adheres to five stringent standards of selection and production — fair trade, traceability, sustainability, organic certification, and cold-pressed, to ensure that they are using the purest and highest quality of organic oils.
Natural ingredients to care for your hair
Diane Bonheur shampoo and conditioner is formulated with 100% plant-derived cleansing ingredients for a luxurious hair washing experience. You can be assured that there are no harsh chemicals and surfactants used in the products that may do more harm than good to you. All Diane Bonheur products use 100% cold-pressed single origin oils, and for the uninitiated, single origin oil refers to the oil's traceability in terms of location, personnel, and method of production. The oils used in the hair care products are meticulously produced by artisans to provide the best for your hair.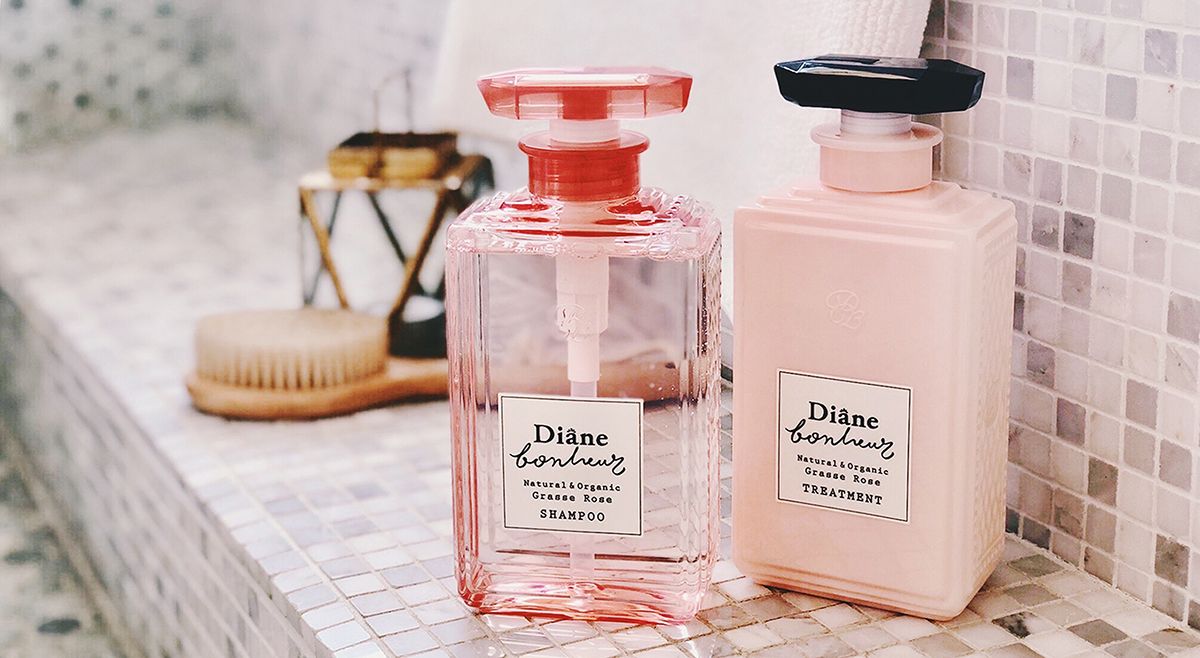 Diane Bonheur Grasse Rose range revitalises dry and damaged hair caused by constant perming or colouring. It deeply repairs the hair from within for nourished locks that feels soft to touch. The Orange Flower range, on the other hand, restores dull and dry hair to achieve a luminous finish. It helps to tame frizziness and prevents dryness for healthy-looking hair.
Smell great with the fine fragrances from Grasse, France
Diane Bonheur shampoo and conditioner is well-loved not just for how it revitalises dull and damaged hair, but also but its sweet scent that is left in our hair after use. Now, if only everyone takes note of how their hair smells, taking the public transport would definitely be a more pleasant experience.
Each bottle of Diane Bonheur is lovingly crafted with exquisite fragrances. Rose de Mai, a rare variety of roses that are used in the Grasse Rose range, and Orange Flowers (Neroli), the white flowers from the Bitter Orange plant that are used in the Orange Flower range, are both harvested from France. Diane Bonheur crafted the scent for their haircare products with the hands of top perfumers from an established fragrance manufacturer that boasts a 200-year history, and it is no wonder that the scent is so sweet and calming.
Now you can leave your house not just with hair that looks great, but hair that smells great as well!
Visit "The Origins of Bonheur" Experiential Pop-Up to know more about Diane Bonheur
9-15 September 2019
Bugis Junction Level 1 (outside Sharetea)
10.30 am to 10 pm daily
23-29 September 2019
Orchard Central Level 1 (outside Uniqlo)
10.30 am to 10 pm daily
In line with Diane Bonheur's sustainability initiative, there will be a reuseable tote bag collection drive set up for the public to donate their clean and unused tote bags. Shoppers can opt of one of these reusable bags to store their Diane Bonheur purchases instead of paper bags. After the duration of the pop-ups, all remaining tote bags will be donated to Zero Waste SG's BYO Singapore campaign to be given out at their roadshow.