With all the experience Dr. Sankeerth Reddy from Astute Aesthetics Laser Clinic has, we got him to answer some of our questions on current beauty trends and aesthetic treatments. What are some of the pressing beauty concerns of Singapore women and what are some of the treatments available for us?
Pssst, we even got Dr. Reddy to share if doctors do aesthetics treatments on themselves, and if there are times that he has to reject a patient's request. Read on to find out more!
1. What was it that led you to become an aesthetic doctor?
My focus shifted from disease and illness to wellness after my public health training. My love for holistic beyond functional treatments for myself and my friends, led me to pursue aesthetic medicine, which gave me the best cocktail of science and art. The more I practised, the more I fell in love with the science of beauty.
2. What are some of the most common aesthetic problems that women come to you for? What are some of the possible treatments that can address their concerns?
Most women seek a better skin quality. Depending on the skin condition, it could be anti-aging treatments, scar removal or pigmentation problems. There has been a sharp rise in face contouring treatments lately, using thread lifts and bio-stimulators fillers. Different kinds of lasers can also be used to address different concerns raised.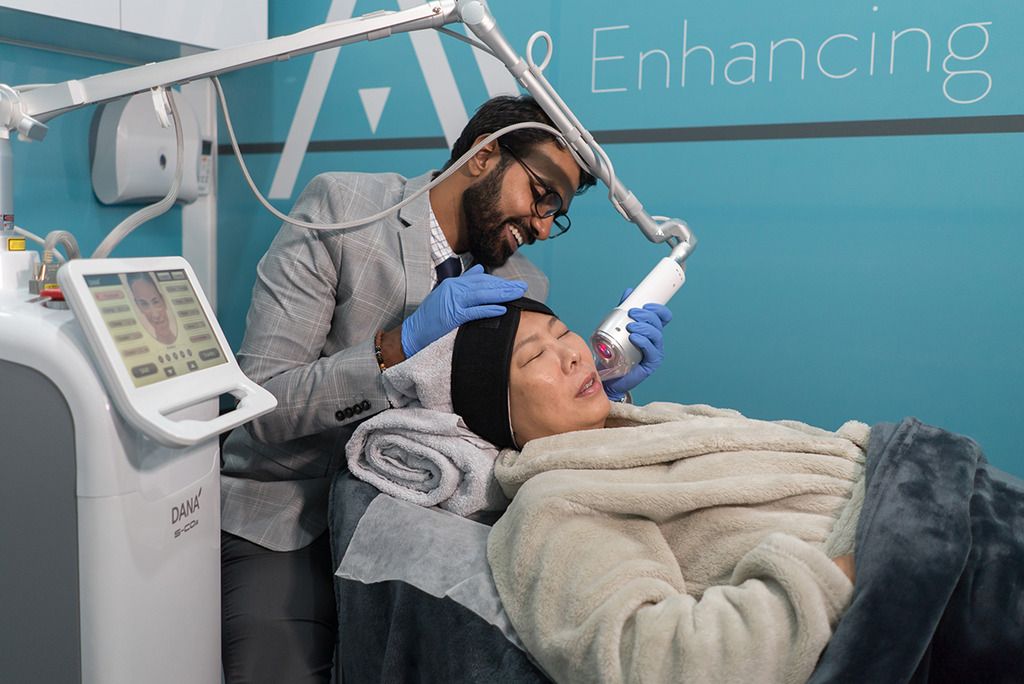 3. We know how pop culture can affect our eye for beauty. Do you have clients requesting to look like certain celebrities? Which celebrity is the most popular one?
Of course. Celebrities and pop stars are harbingers for beauty trends. With the rise in the popularity of Korean pop culture, many Singaporeans (most Asians alike) have sought face contouring treatments. The Korean V-face and Korean glass skin are the most sought after in recent years. Park Shin Hye and Tzu-Yu are definitely idols for many!
4. Are there times when you have to reject a patient's request?
Not very often, but definitely yes. I had previously refused to inject fillers for one of my clients who wanted to get prominent cheeks because she already had fat grafting done a year before on the same area. This would have increased the risk of infection and granuloma significantly.
Another time, I had to advise against Dysport injection to the forehead, as it could have led to droopy eyelids post injection. I strongly believe in a two-way discussion to understand my clients' needs and negotiate expectations.
5. A lot of Asians aren't exactly happy with the way their noses look, and we know that nose fillers and nose thread lift are non-surgical solutions to augment the nose. What is the difference between the two, and which is better?
Nose jobs are definitely one of the most common aesthetic procedures. With the advent of safe techniques and good quality threads, non-surgical rhinoplasty has blossomed. The biggest advantage of the non-surgical treatment is its lower risk and the zero downtime. Fillers are useful to those who need levelling or shaping of the nose bridge, while the threads are used to create a nose bridge in those that want a higher nose bridge. Often we combine the two for optimum long-lasting results.
6. There are so many new treatments with names like SkinBoosters and Rejuran. What exactly are they and are they really effective?
Many injections in the market claiming to be skinboosters are a combination of Hyaluronic Acid (HA), growth factors, or both. Some even claim that they are stem cell treatments that promise to improve skin quality. It's good to note that HSA hasn't licensed any stem cell treatments, including PRP, in Singapore. That said, there are few reliable growth factor treatments that can improve overall skin texture. Rejuran is the next generation bio-stimulatory skinboosters that contains polynucleotides that rejuvenates the extra cellular matrix, collagen and other protective proteins in the skin naturally. This has benefits ranging from wound healing, anti-wrinkle, skin brightening, hydrating, and tightening. The skin improves inside out and studies showed a significant reversal of the signs of aging.
6. A lot of patients are curious to know if doctors do aesthetic treatments on themselves? Do you?
Hahaha. I know a few friends who contoured their nose for themselves, using threads or fillers. Personally, I had injected under eye fillers to lighten my dark circles.
7. Any funny anecdotes in your medical career to share with us?
I love this one! I have a client who underwent thread lift and fillers a couple of years ago, after which she went on to live with her family abroad. When she returned recently to see me again, she looked younger by at least 1-2 decades. We had a good laugh comparing the after treatment pictures with her daughter' current pictures.
8. Last but not least, any beauty advice for our readers?
It can be empowering to see how life changes for many on their beauty journey. Never shy away from pursuing your dreams and beauty goals. It starts with a 10-minute skin care routine every night before bedtime. This goes a long way to keep you looking young and healthy.
About Dr. Sankeerth Reddy
Dr Sankeerth Reddy graduated from the prestigious Jawaharlal Institute Post-Graduate Medical Education and Research (JIPMER), India. His keen interest in public health and global health research set him on a track to obtain his Masters in Public Health from the National University of Singapore. He is passionate about evidence-based medicine and practices holistic medicine. He has a Diploma of Aesthetic Medicine from The American Association of Aesthetic Medicine (AAAM). He is a fully accredited doctor under the Singapore Medical Council.
His experience and expertise in Aesthetics include face contouring using various techniques and Stem Cell therapy. He is well versed in the latest techniques with dermal fillers, BOTOX/ Dysport, face thread lifts, liquid lifts andnon-invasivee treatments including HIFU, various LASERS, IPL and Radiofrequency microneedling.

Astute Medical Aesthetics
252 Tembeling Road
Tembeling Centre #01-08
Singapore 423731
Opening Hours
Monday to Saturday: 11:30 am – 8:30 pm
Closed on Sunday and Public Holidays
Contact:
info@astuteaesthetics.sg
+65 6581 9633
+65 6581 9733