Casio's TR series have been crowned the ultimate selfie camera for the longest time and just last Friday, Casio Singapore unveils the new EXILIM EX-TR80 for us to up our selfie game. Now bolder and sleeker in outlook, the new EXILIM EX-TR80 comes with new and enhanced features for seamless selfie-taking. No more unworthy selfies on our Instagram feed anymore.
Credit: Instagram sheenaphua
Comes in three colours: Black, white, and pink.
The TR series' beauty mode has always been highly raved about and this time round, TR80 has six fully customizable makeup settings with 2 new functions — dark circles remover and face slimming. With the six fully customizable makeup settings, there are more that 9000 possible variations of makeup settings that you can choose from. Seems like there is no need for photo editing apps anymore.

Blogger Regina testing the Casio EXILIM EX-TR80. /Credit: Instagram reginachow_sg
TR80 also comes with a wider screen display that is 30% larger than its predecessor, and two LED lights instead of one to ensure that our complexions are beautifully illuminated, even in low-light conditions.
One studio station with studio lighting, and one dark room station with very low light were set up at the launch for the guests to try out the camera in different conditions. The influencers tested the cameras and they were very impressed with the quality of the photos taken by TR80. A side by side comparison of their photos taken with their phone camera and the new Casio EXILIM EX-TR80 showed a huge difference, and the latter was, of course, the preferred one.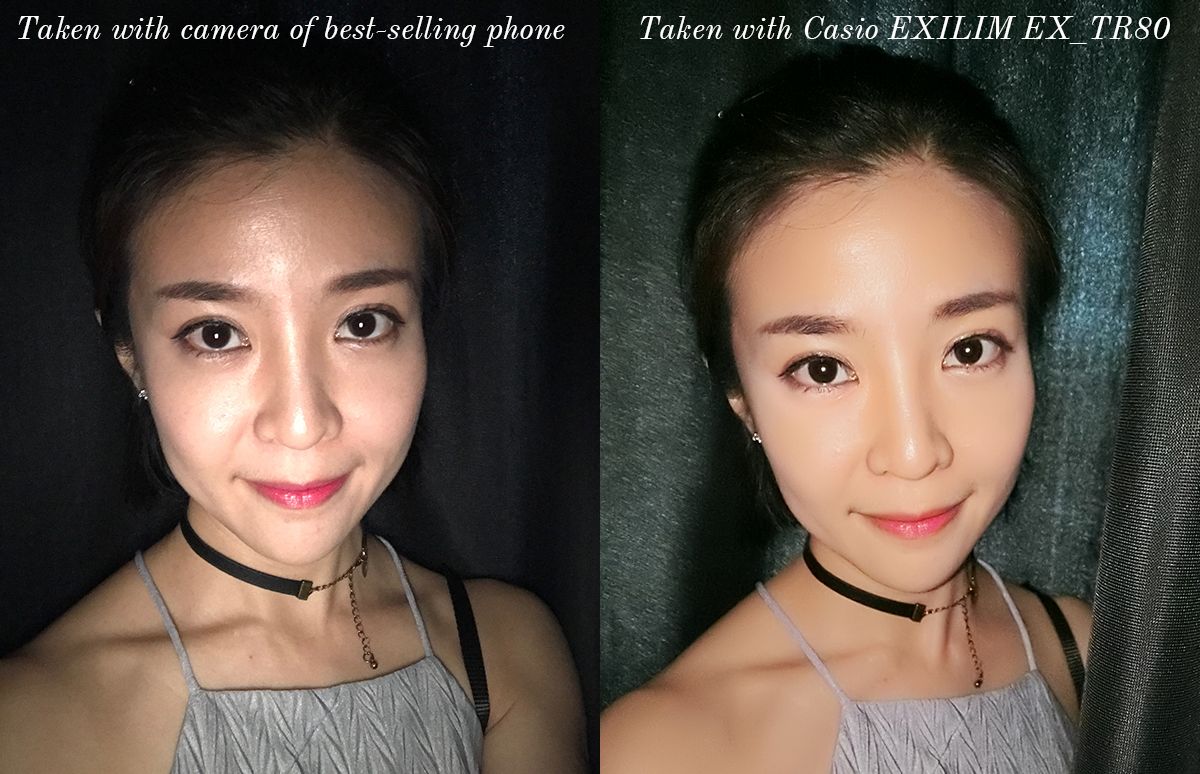 More features of the EXILIM EX-TR80
The versatile EX-TR80 is equipped with various functions to offer a seamless selfie experience from image capturing to editing and sharing:
1. Streamlined camera design
Crafted with the user's convenience in mind, the EX-TR80 exudes elegance with its slim, wedged-shaped design.
2. Refined user interface
The EX-TR80's intuitive and accessible interface keeps photo-taking and editing simple and hassle-free.
3. Significantly enhanced technology for better complexion
The EX-TR80 automatically detects and adjusts skin quality regardless of the amount of make-up worn, producing glowing selfies while retaining beauty naturally. Better selfie touchups are enabled with the camera's Smooth Skin, Face Brightness, Sculpt, Dark Circles Remover, and Slim Face editing features.
4. Fast and responsive shooting
Featuring dual-CPU and two parallel image processors, the EXILIM Engine HS Ver. 3 ensures high-speed advanced Make-up Mode processing.
5. Mirror-image shooting enabled by inverted processing function
The EX-TR80 automatically inverts selfies from left to right to process an image as it appears on the screen, eliminating the need for users to manually flip selfies to get their good side.
6. Quick access to favourite images
Favourite images can be saved and retrieved through the Favourites tagging function for ease of sharing with others later.
7. Personalise selfies with Selfie Art
Users can add their own artistic flair and further improve images already made beautiful with Make-up Mode by using the six Selfie Art effects. Options available include adding a soft ambience to the image with the Foggy effect, and using the Fairy effect to give the image a more feminine quality.
8. Enable constant connection to smartphone with Bluetooth®1 Smart
Bluetooth® Smart, or Bluetooth® low energy, enables and controls a constant connection between the camera and a smartphone installed with the EXILIM Connect application2. Even after when switched off, the EX-TR80 can be started up via a smartphone for viewing and transferring of images.
9. Automatic image-sharing with EXILIM Auto Transfer Function
The EXILIM Auto Transfer function enables images to be captured and transferred simultaneously. With just a press of the camera's shutter button, the captured image is automatically transferred to a smartphone to facilitate sharing on social media.
10. Image-sharing made more convenient with Scene app
Using the cloud-based photo-sharing app Scene, images taken with the camera can be automatically uploaded to a cloud-based photo album so that favourite moments can be shared with family and friends while on the go.
11. Produce personalised stories with Instant Movie
Create stunning memories by simply holding on the EX-TR80's Instant Movie button to record and link multiple video clips, turning the clips into an exciting mini-movie for sharing on social media. Make-up effects3 can be added to enhance the movies.
12. Create shareable highlights through EXILIM Album smartphone app
Users can automatically generate a Highlight Timeline or video clip from an album with footage selected by the EXILIM Album smartphone app based on shooting data. The highlights can be saved on a smartphone4 for quick and convenient sharing.

Photo takened with TR80 with no editing. /Credit: Instagram tris_soh
Pricing and availability
The Casio EXILIM EX-TR80 comes in white, pink and black models at a suggested retail price of S$1,299. The camera will be available from 22 February 2017 at the Casio Concept Store in Tampines and licensed retailers.