It has been so long since I did a facial and I am honoured to be working with Annabelle Skin for this collaboration, and I'm super glad that I did.
Remember my first ever IG story snap with Annabelle Skin? (If you guys watched it) I commented that I just had the best facial of my entire life and my skin never felt so clean.
Why did I say this? Well, it is because I love how customized the treatments were for me and I know that it is the good stuff (Dr Belter products are made in Germany) they used on my skin that help improves my skin condition.
Annabelle Skin differentiates their treatments and facials from others. Although they are a small humble shop in The Adelphi, it has got so much more to offer. Everyone received different facial treatments because what might work for you might not work for me, hence I would really recommend you guys to try out Annabelle Skin!
My very first session, the lady boss did a skin analysis for me.
She pointed out that my skin could be a little thinner on certain areas, especially below my eyes and on my forehead, and therefore I would need to take extra care of those areas.
Off for my treatment!
I have tried Annabelle Skin's treatments for about 3 months.
Thoughts:
They never fail to rejuvenate my skin. My skin is getting pretty worn out through the long late nights even though I make it a point to stick to a strict skincare regime. Therefore, this facial treatment I am doing monthly is a good perk-me-up!
My makeup seems to stay longer on my skin than before. I guess a better and plump-up skin does make a difference when it comes to having makeup on too. My skin not only feels plumper, but it is incredibly smooth, almost like a baby's butt. HAHA! Wish I could let u all feel it, but nope haha!
My skin really glows after the facial treatment, a classic example of it as shown right down below in my picture, which I took right after the facial!
My favourite part of this PhysioMarine Caviar Treatment?
The PhysioMarine Caviar Balance mask.
It left my skin soft and bouncy!
The whole masking treatment took about 15mins, and the soothing mask cream comes with a light comforting scent. I am not sure how to describe the scent, but it definitely helps me relax and unwind from the entire hustle and bustle I face every day. It is so comforting that I fell asleep LOL! I guess facial is always a good time to have a short snooze in between.
Other than the masking, I've tried their Eye Gua Sha because Shirley, the laoban niang, mentioned that my eyes looked really puffy.
She is definitely right because I am always having a lack of sleep. The Gua Sha is supposed to help de-puff my tired eyes.
During the treatment, it may sound really scary because gua shas are never painless. Surprisingly, it was comforting!!! Like an eye massage kind of comfort? I felt zero pain, in fact, my eyes really looked less puffy after the treatment!!! No eyebags!!! & btw, I swear I didn't edit the eyebags off my picture (the one below).
No eyebags, checked.
Glowing skin, checked.
Smooth skin, checked.
So if you have puffy eyes like me, do the eye guasha!!! Swear it works, n not pain one!!!
One of the products I would love to share with you guys is this Aqua Silk Serum from Dr Belter's BioClassica range.
I have been using it for the past 1 month ever since they gave this bottle to me.
The texture is light, and if you know me well, you will know that I hate putting on heavy and oily products on my skin.
This serum is used on my skin before moisturizing and after toning. It helps to lock in the moisturizer better and also adds on more hyaluronic acid, leaving my skin super refreshed and refined. Can't find a better serum than this so far!!! I do see myself using this product on a daily basis from now on.
I always believe in a strict skincare regime, having monthly facial does not mean that you can neglect your skin on a daily basis okay! Do take note!!!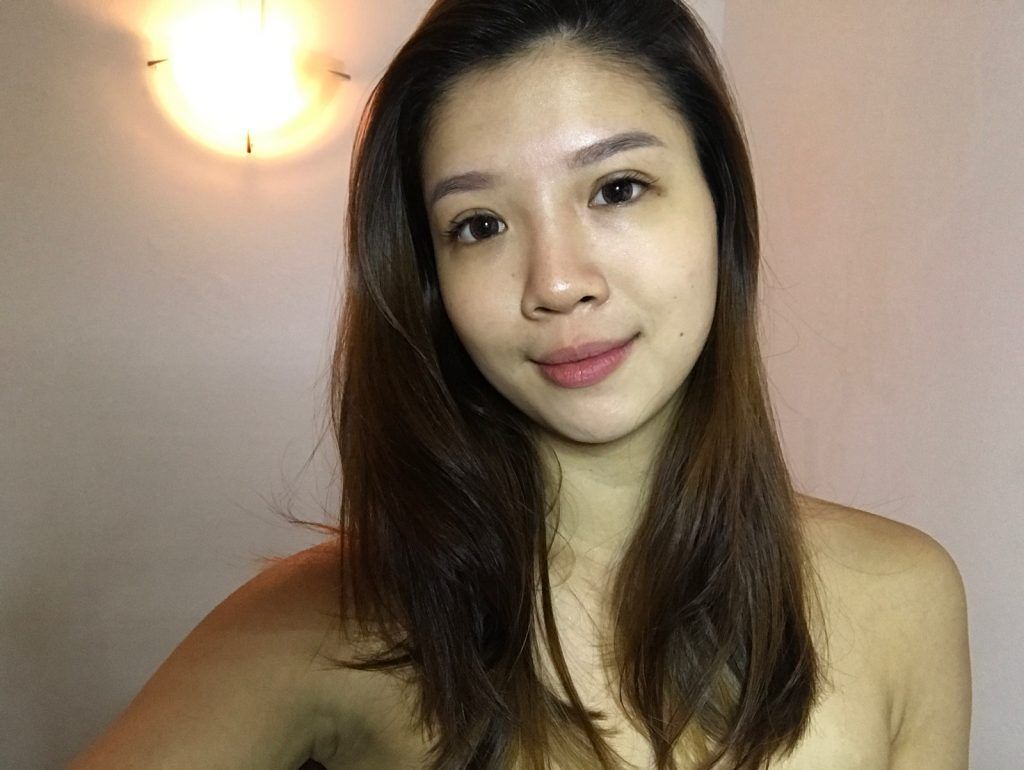 Not forgetting to mention, my skin is visibly glowing.
It gives me the confidence to go out without makeup.
The best kind of makeup is being confident. I believe that having good flawless skin gives me the confidence I need.
Thank you, Annabelle Skin!
If you are keen, simply quote my Instagram @Eexuan to enjoy 50% off your first treatment at Annabelle Skin!
Annabelle Skin is located at:
The Adelphi, 1 Coleman Street
#02-42, Singapore 179803