Hello babies, once again I'm elated to announce the store opening of Topp Care Hair Solutions (click HERE for my previous post) which offers fixed price hair and scalp treatments at $80 nett! I am more than happy to share my experience I had with them!
The hospitality of the staff of Topp Care was tip top. I was warmly greeted upon arrival by the staff Store Manager, Helen, and was brought to the refreshment area for a bite before being introduced to Topp Care, and what they've got to offer.
I have always been a fan of salons that conduct consultation and analysis before executing their services to clients unique needs. It is an imperative step to identify the problem and recommend the suitable treatment to achieve the desired result of a healthy scalp, and not by suggesting any treatment that does not suit or resolve the existing problems. Just by looking at my hair before Helen starts the analysis and treatment, she said that mine would be an oily scalp. I told her firmly that my scalp is dry and, it was never oily, and the oiliness was due to the application of bio-oil onto my hair ends before I left my house.
Could you have guessed that the below analysis was done after I've washed my hair in the morning before heading to Topp Care?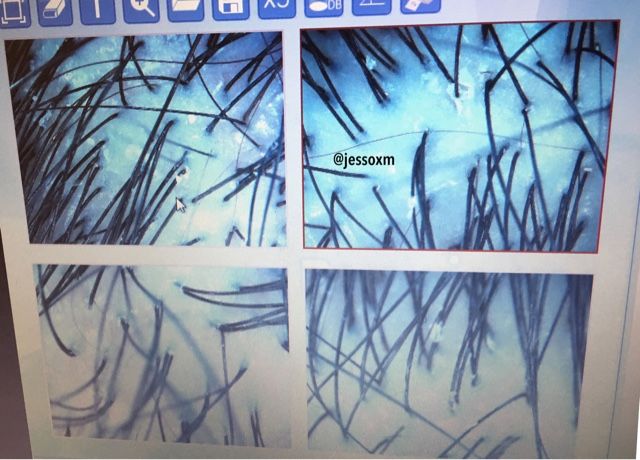 Just by one look, Helen could tell what is the problem with my scalp, OILY on the inside with visible dandruff and clogged pores. I really thought that my scalp was dry! She asked if I sleep immediately after washing my hair, which is really what I usually do. I know I'm in good hands because they do know their stuff.
I'm sure you're curious which treatment I went for. I was recommended the Detoxdren Scalp Mask (头皮排毒膜) to target the clogged pores to ensure healthy hair growth, and to make my hair more manageable.
Specially formulated for dandruff and oily scalp, Detoxdren Scalp Mask balances excessive oiliness leaving hair light and clean. This intensive treatment renews and strengthens hair follicles while calming the scalp.
The main ingredients include:
• Yeast that helps to perfectly moisturise hair shafts and stimulates collagen production
• Horse Chestnut which protects your scalp from the sun and promotes blood circulation
My career requires the use of hair spray, and a bottle would usually be used up within 2 weeks to ensure neat and sleek hairdo on board. My hair and scalp had to adapt to different climates and different shampoos that were provided by the hotels while I was at work. As mentioned, shampooing alone is not enough to get rid of all the build-up of dead skin in my hair follicles, which causes dull, greasy hair, and slow hair growth. In my case, I've have hair fall problem, which I'm really worried with every hair wash especially after a flight.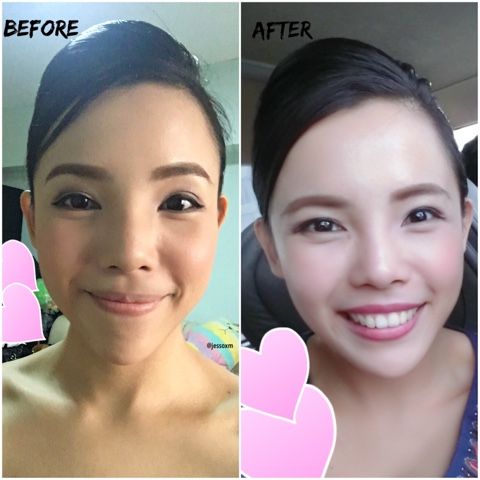 That's the difference before and after the 9+ hours flight hairdo, still on point isn't it?
During the scalp detox treatment, the skilled beautician explained every step of the procedure to me.
1. Spray to kill germs – this spray was introduced at the beginning of the treatment by the skillful assistant. The solution was massaged in to help penetrate my scalp.
2. Detox mask – A massage with suitable pressure which is really comforting to relieve the hectic work stress.
3. Cleanse, shampoo, condition and massage again. It was great cos I love massages!!! hope the picture didn't scare you.
4. Moisturizer and UV protect (usage of top range hair products) – I didn't know our hair needs moisturizer too?! This is to protect our hair from the harmful sun rays that caused our hair to be brittle, and of course, to make it more manageable and easy to comb through.
5. Blow dry weeeee~ love it when people dry my hair for me. Hehehe. Such a luxury~
To ensure healthy hair growth, I took a step forward and went for scalp treatments. Do note that it all starts from taking care of the scalps' roots and not hair strands. We spend so much time and money on products that make our hair look good, yet neglect the reason why we have it in the first place.
Look how visible my roots are now! Heheh. My head feels really light-weight after the 45 minutes treatment Detoxifying your scalp is a great process to include in your healthy hair care regimen at least once or twice a month!!
TOPP Care offers various kinds of intensive treatments to target hair loss, itching, inflamed scalp, dry brittle and chemically treated hair to promote and regenerate hair growth at an AFFORDABLE yet FIXED PRICE. Totally no hidden cost. Aren't you game to have radiant and healthier looking hair during this promotion period?
Thanks again for making me feel welcomed, and for the relaxing scalp boosters treatment. My head feels much lighter and more manageable now!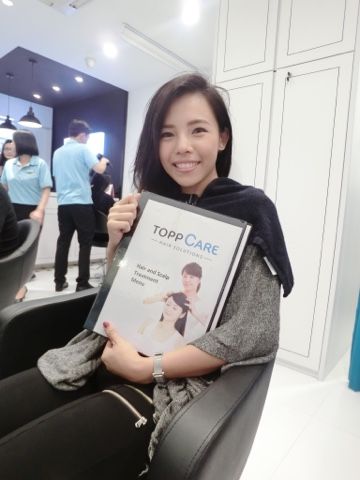 As mentioned earlier, regardless of which treatment a customer chooses, the charge is only $80 w/GST from 1st December; excluding hair colouring which will be charged according to individual hair length. But for now, Topp Care is running a special promotion on Groupon!
Special offer on Groupon
Scalp Treatment with Massage and Styling at Topp Care Hair Solutions (worth $80) S$16 for 1 session
S$28 for 2 sessions https://www.groupon.sg/deals/singapore/topp-care-hair-solutions/105558050
Topp Care Hair Solutions
Hair Care Centre: Block 201D Tampines Street 21 #01-1131, Singapore 524201
Hotline: 6645 3020
Facebook: https://www.facebook.com/ToppCare/
Ciaoz,
With love,
Jess