Baddiewinkle turned 93 years old this year, and age isn't stopping her from becoming an online sensation with a 3.8 million following, and to collaborate with a beauty brand to launch a collection of her own.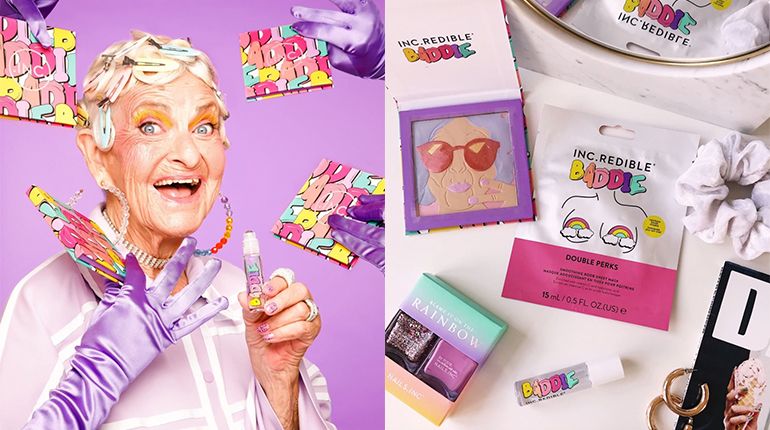 For the uninitiated, Baddiewinkle is an American internet personality who inspires people to live their best lives and be true to themselves. She became an internet sensation at the age of 85, when her great-granddaughter posted a photo of her wearing a pair of cut-off denim shorts, a rainbow tie-dye tee, and a pair of socks with marijuana leaf prints on them.
View this post on Instagram
This badass old lady has since gone on to star in fashion brand Missguided's campaign, and even served as a muse for beauty brand Urban Decay. Even celebrities like Miley Cyrus and Paris Hilton follows her on social media. In addition to all the milestones mentioned, Baddiewinkle recently collaborated with INC.Credible Cosmetics and debuted her beauty collection that consist of 3 products shown below.
INC.redible Baddie's Got The Gold Rainbow Highlighter (USD$18)
View this post on Instagram
A highlighter emblazoned with Baddiewinkle's face, which is just like how she is, the rainbow of your life. Give your face and body a nice, shimmery glow with this badass palette.
INC.redible Baddie Rollin' It Back Rainbow Rollerball Lip Gloss (USD$10)
View this post on Instagram
It's been a while since we saw any rollerball lipgloss in the market and this is definitely a major throwback to the '80s. It moisturises lips and gives your lips a nice sheen with a yummy, strawberry scent.
INC.redible Baddie Double Perks Rainbow Sheet Boob Mask (USD$9)
View this post on Instagram
Not the usual sheet mask you will find, the INC.redible Baddie Double Perks Rainbow Sheet Boob Mask is meant for your boobies. Infused with a serum that is packed with vitamin C, it promises to firm and moisturise your "Double Perks".
However, the bad news is, there is no news that the collection is coming to Singapore anytime soon. They are available at Sephora in the U.S. You may want to ask your U.S friends to purchase and send it back for you, or go pick them up if you are making a trip there soon. Regardless, we are looking up to Baddiewinkle who is living her life to the fullest!