MyFatPocket and Aesthetics Hub are proud to be, once again, the Media Partner of Aesthetics Asia. This year, is the 1st edition of the Aesthetic and Anti-aging Medicine Asian Congress and Aesthetics Asia 2014 held in September from 25th – 27th at the biggest MICE facility in Singapore renowned Marina Bay Sands Sands Expo and Convention Centre.
Over 700 industry professionals in the aesthetics field and with a showcase of latest innovations and techniques of beauty and skincare products to state-of-the-art facial lasers and body sculpting machines, the 1st AMAC & Aesthetics Asia 2014 was deemed quite a success.
The organisers: EuroMediCom & Informa Exhibitions
EuroMediCom, part of Informa group whose forte is in Aesthetics and Anti-aging medical events, has collaborated with the Aesthetics Asia team to bring the know-how and network to Aesthetics Asia 2014.
Informa Exhibitions operate around 130 trade and consumer Informa events covering a wide spectrum of economic sectors including aviation, agriculture, commodities, electrical & electronics, energy, entertainment & leisure, environment, finance, food, healthcare, industrial, lifestyle, life sciences, maritime, medical, property investment & development, printing, publishing, safety, security, telecommunications, travel & tourism, transport & infrastructure etc.
They aim to make Aesthetics Asia 2014 a more comprehensive event by catering the right and interesting content.
70 prolific speakers from 27 different countries
Widely regarded at the landmark aesthetic event in Southeast Asia, the joint meeting between 1st AMAC and Aesthetics Asia 2014 holds an important position within the industry as the main event for industry professionals to attend to witness the latest innovations and techniques.
Aesthetics Asia 2014 was also an ideal platform where like-minded professionals network and catch up on the latest happenings in the aesthetics market globally as well as in Asia.
70 speakers from 27 different countries conducted presentations on Aesthetics and Anti-aging related topics such as:
Anti-Aging updates in 2014
Lifestyle Medicine – Renewal of Mind, Body and Weight
Hormones and Beauty
Inflammation & Aging
Hormones and Obesity
Anti-Aging for Appearance
Case Management of Metabolic Syndrome
New Issues and Studies
Facial Anatomy Aesthetics course was organised with a scientific approach and around the essential facial anatomy covering the main six areas of the upper, middle and lower face. Topics include:
Injectables – From Basics To Clinical Excellence
Beautification Of The Lower Face – Focused On Lips & Perioral Area, Jawline &Neck
Beautification Of The Middle Face – Focused On Tear Trough, Nose, Cheeks
Beautification Of The Upper Face – Focused On Forehead, Temple, Periorbital area
During the 3-day event, the programmes were conducted by industry experts with the aim to deliver interesting topics and insights revolving around the latest trend and innovations within the field.
The landmark event in the Aesthetic industry in Asia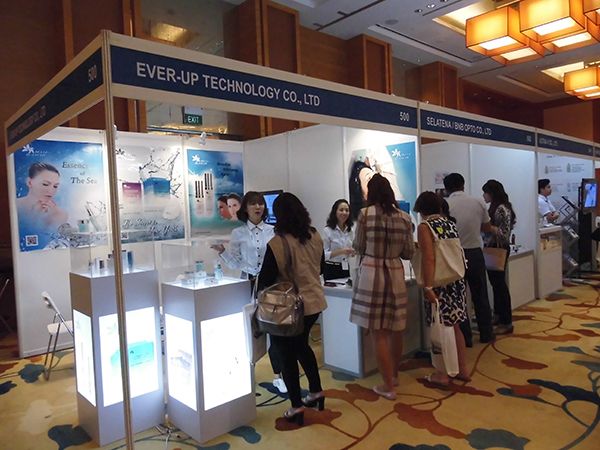 Over 70% of the delegates who attended were from Asia such as Indonesia, Japan, Philippines, Thailand, Singapore, South Korea, etc. Meanwhile, delegates from Europe took up the next biggest share of approximately 13%. This group consists of delegates from France, Germany, Russia, Netherlands, and United Kingdom.
Positioning itself as the landmark event in the Aesthetic industry in Asia, 1st AMAC and Aesthetics Asia 2014 live up to its expectations.